I think that when most people head to Vegas, they plan on making their first stop at the casino, the club, a landmark like the Bellagio Fountains or the iconic "Welcome to Las Vegas" sign. However, I propose that your first stop in Vegas should be Pinkbox Doughnuts. It's always mine!
Pinkbox became my favorite doughnut shop the very first time I stepped into their storefront in Las Vegas. It's quite an unassuming storefront in a strip mall, but oh my goodness, from your first steps in the door, you know that this place is something special.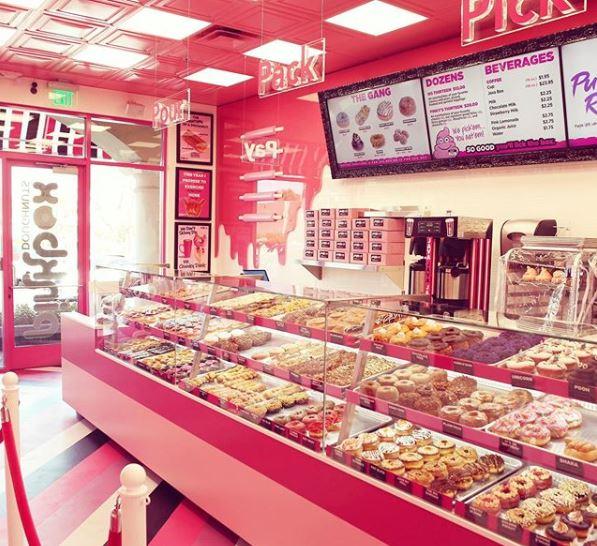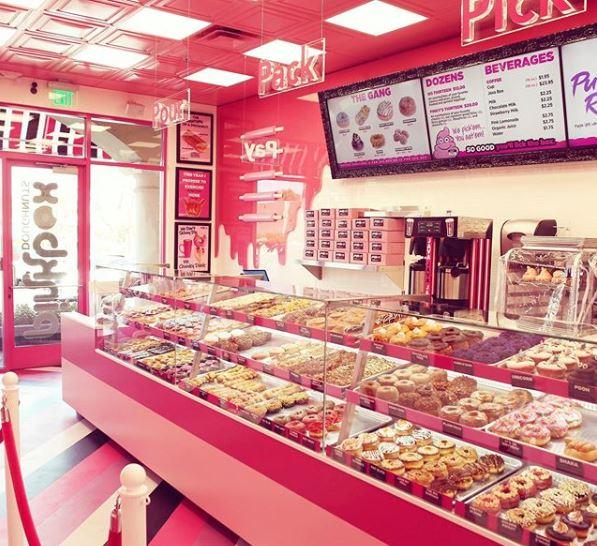 About Pinkbox Doughnuts
Pinkbox is a relatively new institution, but I'm betting they'll be around for a long time to come. They opened their doors in 2012, and have since gotten new owners. The new owners brought fantastic social media management skills to the table, so if what you've read thus far has piqued your interest, do hop on over and check out their Instagram for a better idea of their goodies!
Despite being relatively new, Pinkbox has quickly become a big deal, winning recognition as Best in Las Vegas in 2017, 2018, and 2019!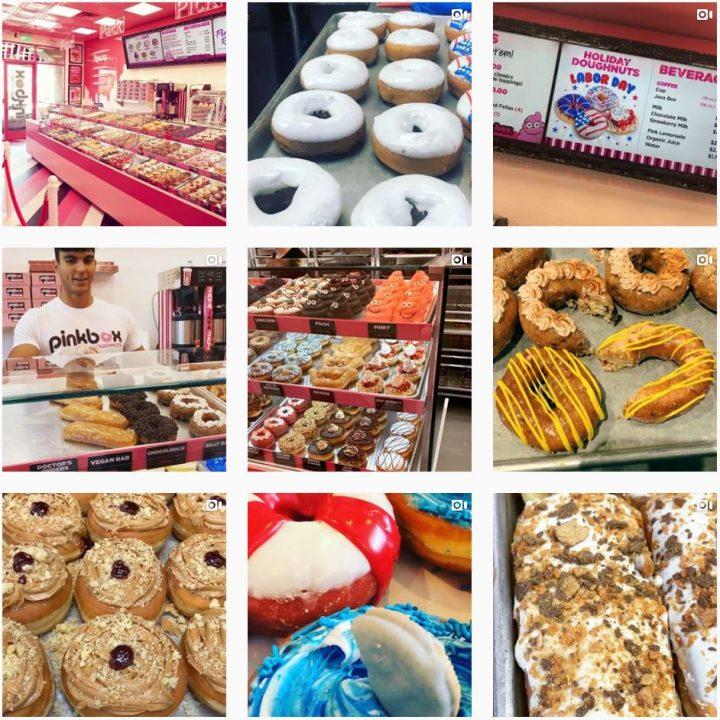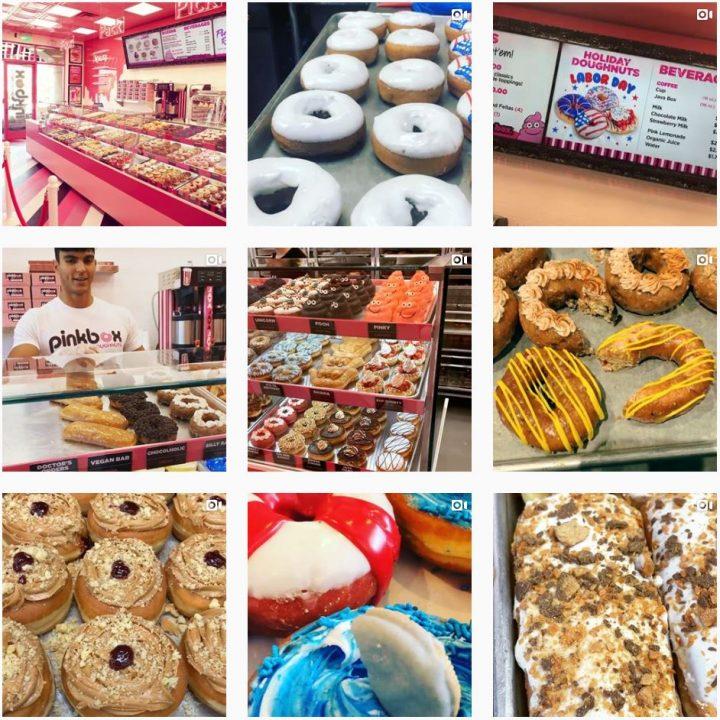 Where is Pinkbox Doughnuts
Pinkbox has three locations, with a fourth in Las Vegas coming soon! On top of that, they're expanding pretty majorly out West, with multiple locations planned for Utah, California, Arizona, and Nevada in the near future.
10251 S. Eastern Ave., Henderson, NV
Of the locations in Vegas, one is in Henderson, which is not far from the Strip! It's exactly 17 minutes from the Strip, according to Google. However, if Pinkbox is going to be your first stop in Vegas (as it should be!), then it might interest you to know that this location is only 12 minutes from the McCarran Airport!
7531 W. Lake Mead, Las Vegas, NV
This location is only 15 minutes away from the Strip, so they're about equidistant. This is the original location that opened in 2012. This is also the location that I have gone to, each time I've had Pinkbox.
9455 W. Tropicana Ave, Las Vegas, NV
This location is also only 15 minutes from both the Strip and the airport! This is their newest location that opened in late 2019. I have yet to make it over to check this place out, but based on the pictures I've seen of it… This is a very photogenic place to eat some very photogenic doughnuts!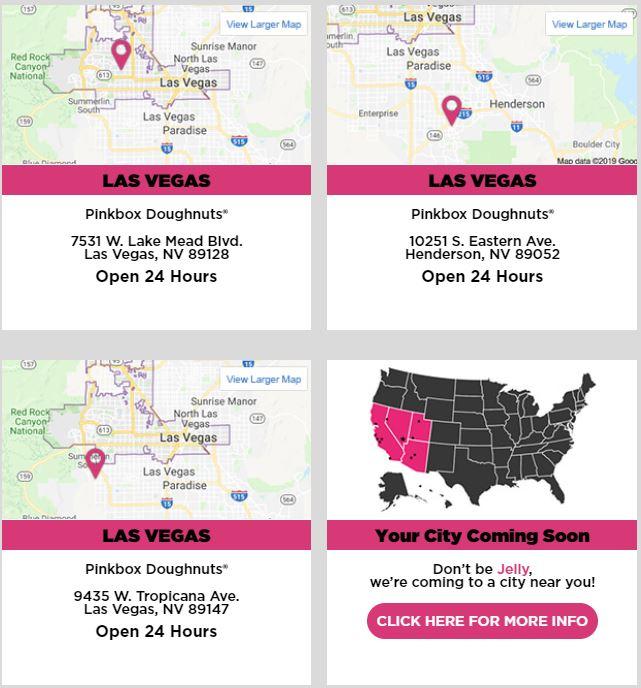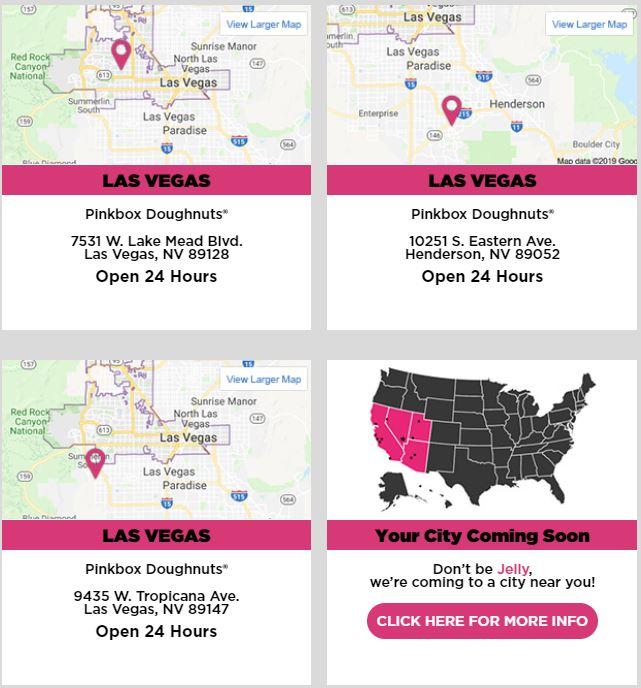 All three locations are readily accessible off of main thoroughfares, so getting there is a breeze. I love Vegas because of how easy it is to get to everything! Pinkbox is no exception.
While they're not located on the Strip, they are absolutely worth taking 40 minutes out of your day to check out. They're also open 24 hours, which means if you've had a bit too much to drink out on the Strip, you can Uber right on over to get some delicious drunk food!
They also cater to several of the hotels on the Strip, so maybe check out if the place you're staying sells any Pinkbox goodies? Unfortunately they don't offer delivery or shipping because they want to ensure that you are only tasting their goodies fresh out of the kitchen!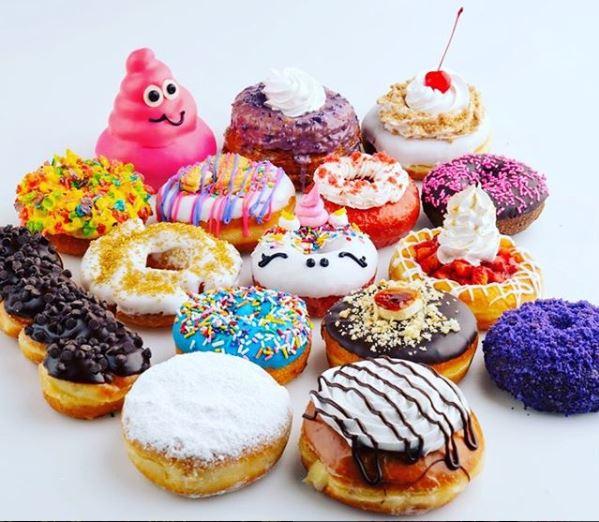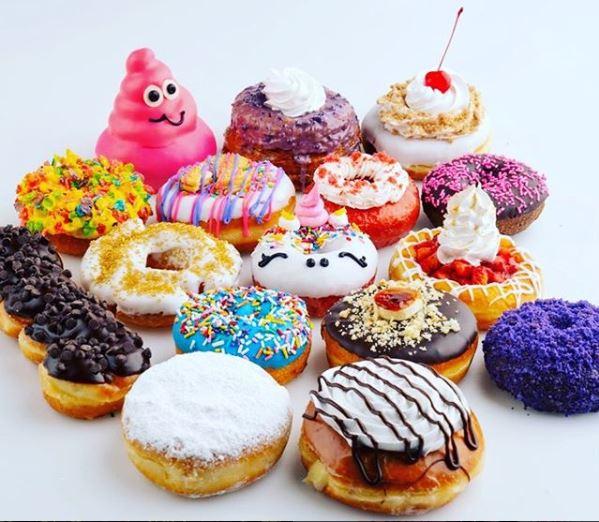 Their Donuts
Now to talk about the doughnuts. Oh my. They're simply the best. In case it's not clear, I consider myself a doughnut connoisseur due to my years working behind the counter of a doughnut shop. So believe me when I tell you that these doughnuts are the best of the best.
My favorite doughnut is known by many different names. I've heard "cronut," "la'ssant," and many other variations, including "doughcro," as they're called at Pinkbox. For those unfamiliar, this is basically the lovechild of a doughnut and a croissant. My two favorite foods merged into one! What more could a girl ask for? Pinkbox's Doughcro is quite honestly, one of the best things I've ever eaten. Holy smokes do they knock it out of the park! Perfectly flaky, croissant-y and doughnut-y are the same time, they're like little pieces of heaven. I've found many places make their cronuts too sweet and sugary for me, but Pinkbox's are juuuuussssst right (saying that makes me feel like Goldilocks, but it's true!)
Beyond the Doughcro, Pinkbox is known for their quirky and unique doughnuts. I've had a poop emoji doughnut (or as they call it, the "Pooh" doughnut), a unicorn, and other amazing creations! Their iconic doughnut "Pinky," is the face of the brand, but I actually haven't tried it yet! Another key doughnut in their lineup is the Pretty in Pink doughnut, which is pink velvet. Nope, you didn't hear wrong. They upped the ante from red velvet to pink velvet, and let me tell you. You can't go wrong with a pink velvet doughnut.
They have a rotating selection, so it's not a place you can just go once and try everything. There is something new each time you go! I actually just popped over to their Instagram and saw they're currently serving a CHURRO DONUT. Um…. Yum! Get in my belly, now. I could go on, as Pinkbox has a variety of over 100 different goodies, but I think you get the gist.
They also do custom doughnut orders, so if you're interested in a custom order of something they don't offer on the daily, they can get that made for you easily!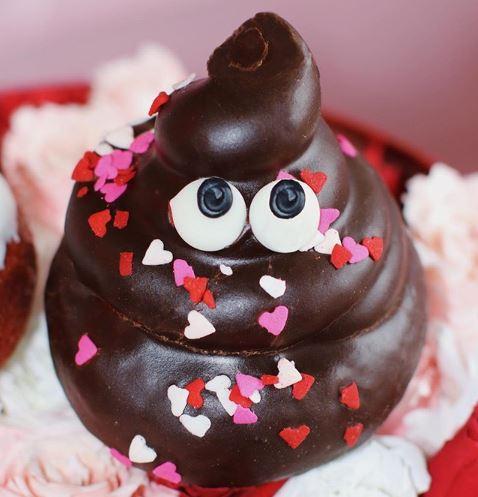 What a trip to Pinkbox is like
When I arrived for my first ever Pinkbox Doughnuts, it was a Saturday morning, and the line was nearly out the door. The employees at Pinkbox operate with impressive speed, boxing up doughnuts and moving the line along quickly and smoothly.
Pinkbox intrigued me, because unlike most doughnut shops, and unlike the doughnut shop where I worked as a teenager, they don't grab doughnuts out of the display case to box up for a customer.
Instead of reaching into the display case and grabbing a doughnut, they simply have one of each doughnut in the case for you to see what they're offering that day. When a customer points to the doughnut in the case, the employee turns around and grabs the requested item off the baking rack behind the counters.
Although I've never seen it done this way anywhere else, I actually really like it. This allows the most perfect and pristine doughnuts to be on display and to remain undisturbed, and makes it easier on the employees. I recall days where we ran out of chocolate long johns, and we would have to pull the entire tray out of the display case, restock it, and squeeze it back in there all while our coworkers were running around trying to fulfill requests. The way Pinkbox does it makes a ton of sense (at least to me, a former doughnut shop employee).
Despite arriving to find a line that was out the door, we had our doughnuts in hand in well under ten minutes. I was highly impressed by the swiftness and smoothness of the service, and the delicious doughnuts were the icing on top of the cake!
Oh man. Ordering a dozen at Pinkbox is a dangerous endeavor because I promise you, you'll want to try them ALL. I had to have at least a bite of every single doughnut in the box, because I was sure they'd all be phenomenal. And believe me… They were!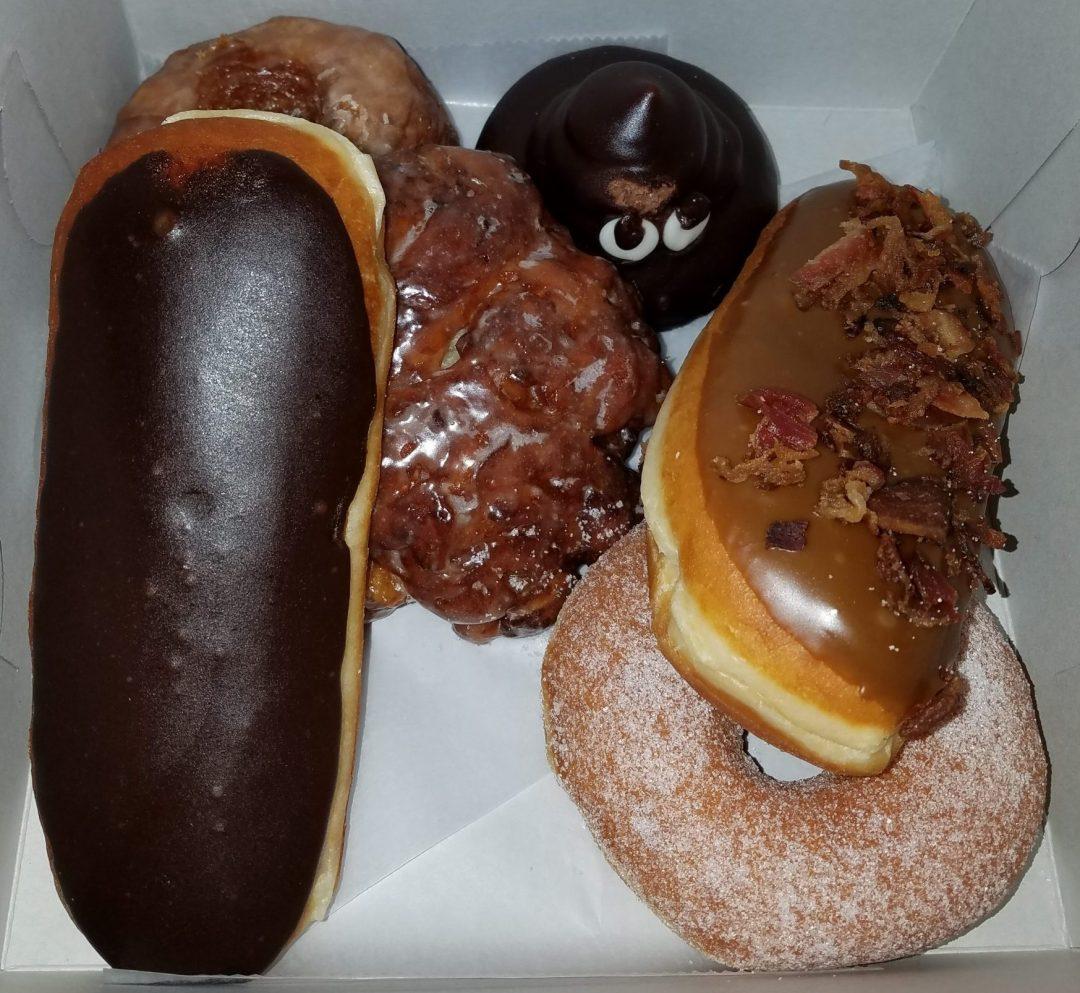 The Wrap-up
Pinkbox is really the best of the best. They've won awards in Las Vegas, I think it's time we get them worldwide attention. They absolutely deserve it.
Serving up 100 varieties of award winning doughnuts, open 24/7, and located in close proximity to the Las Vegas Strip, Pinkbox should be the king of the doughnut world.
Have I sold you yet? Are you now a Pinkbox convert? Well, I guess it's time to book your tickets to LAS, because it's well worth it. I promise you, you won't regret it.
Do you have a favourite Donut Shop that should be a part of the Worldwide Donut Guide?
Let me know in the comments below and I will be in touch with what we need from you to have your review published.