Why Great Barrier Reef Drive needs to be on your Roadtrip Bucketlist
Some say that the best travels aren't so much about the destination and rather who you are with but why not have both? Especially when there are places in the world like Tropical North Queensland and a JUCY rentals squad!
As an Aussie living down the coast from this magical place it was always seen as more of a fly in and fly out location to get yourself to a beach, snorkel, or dive in the famous Great Barrier reef and all that other good stuff but what I and so many others didn't or don't realise is that it is the perfect place for a roadtrip. A place where you get to do all of that good stuff and so much more.
Whether you want to go for a weekend or a whole month I assure you, you could never get sick of this place and will want to get back there as soon as possible.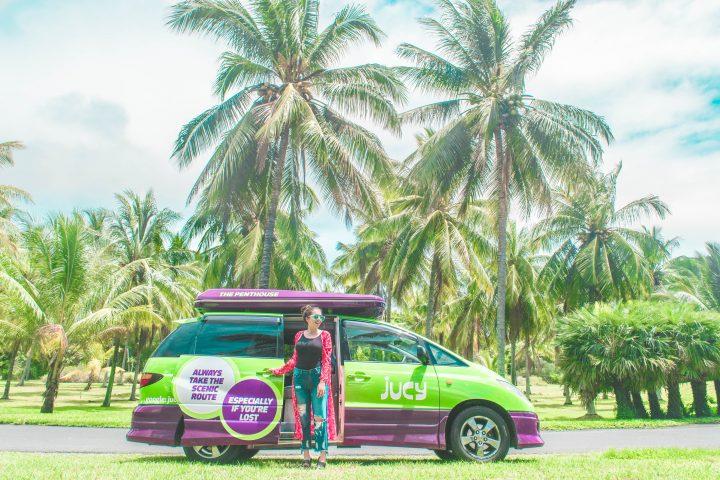 If for some strange reason you aren't convinced enough already to add this to your bucket list then strap in because I am about to take you on a wild ride. Oh, and even if you are convinced and booking your roadtrip right now you should strap in too, just for safety!
There are so many incredible National Parks and landmarks to explore in Australia but here is what the Great Barrier Reef and Daintree Rainforest need to be at the top of your bucket list.
The perfect place no matter the weather
What is even crazier about Port Douglas and the Daintree Rainforest, which are the stars of the Great Barrier Reef Drive, is that even though it is famous for its sunshine it is mighty fine in the rain too. If you think about it, you can't have a rainforest without a little rain, or in our case a lot!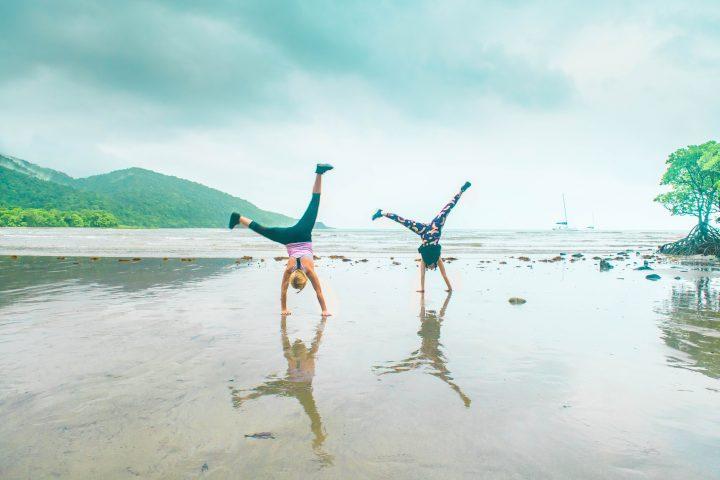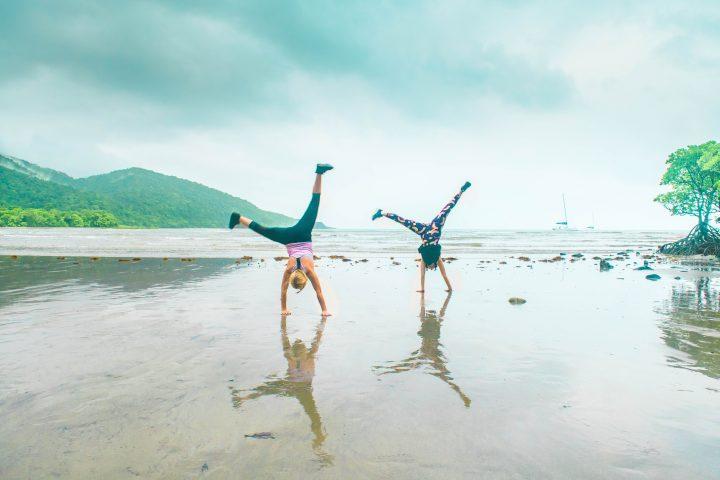 However, when the sun is shining it isn't hard to see why it is so famous. The warm rays smiling down on you, tickling your face through the palm tree, what more could you ask for!?
In saying that it may be hard to believe but the rain can make this place even better which leads me to my next point …
There are infinite surprises along the way
One of my favourite little surprises came from a slightly flooded clear water creek on the way to Port Douglas from Cairns. This might have been an inconvenience for some but a true blessing in disguise for us.
Not only was this one of the only places around not filled with crocodiles making it perfect to paddle around in but the best surprise of all was three friendly dogs coming to play too!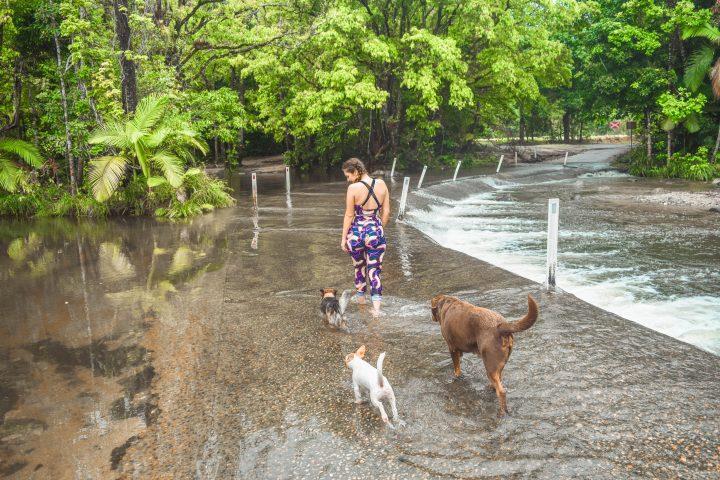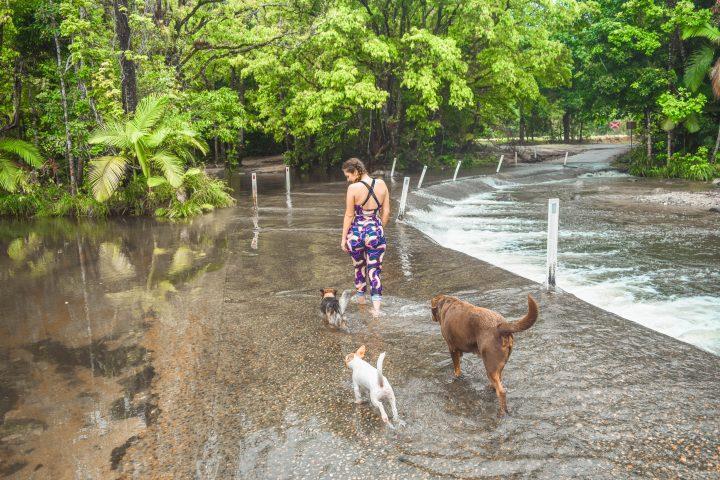 Those little surprises are always wonderful but the Great Barrier Drive is also full of places and things to do that you can plan to see and do as much as your heart desires.
I could write a full book on this even though there are places that I haven't even wandered to yet, but here are a few of my favourites that further prove my point that this place deserves to be on your bucket list!
Thala Coconut Reserve
This was the spot that grabbed my attention straight away so I set a mission to get my butt under these aesthetically pleasing trees as soon as possible.
I was not disappointed. The photos don't do justice to how cool this place is not only to see but to run around like a maniac. Especially if you get lucky enough to have the place to yourself.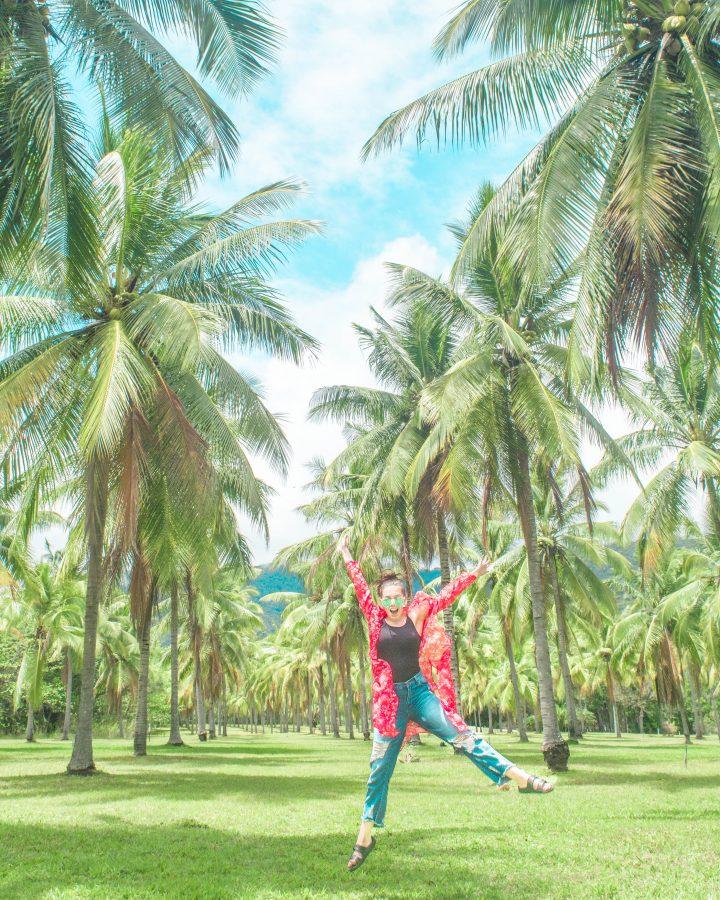 It's a really easy drive between Cairns, where you will pick up your Jucy, and Port Douglas and this is the best way to start or end your extraordinary adventure. I mean it's only 15 minutes from the heart of Port Douglas.
Speaking of Port Douglas …
Spend a Sunday morning at Port Douglas Markets
Exploring markets is one of my secret addictions especially when these markets hold my other addictions…DONUTS!
This is up there with some of the best market locations I have ever been. Literally on the edge of the beach, next to a park full of palm trees and all round views that almost distract you from the Market itself.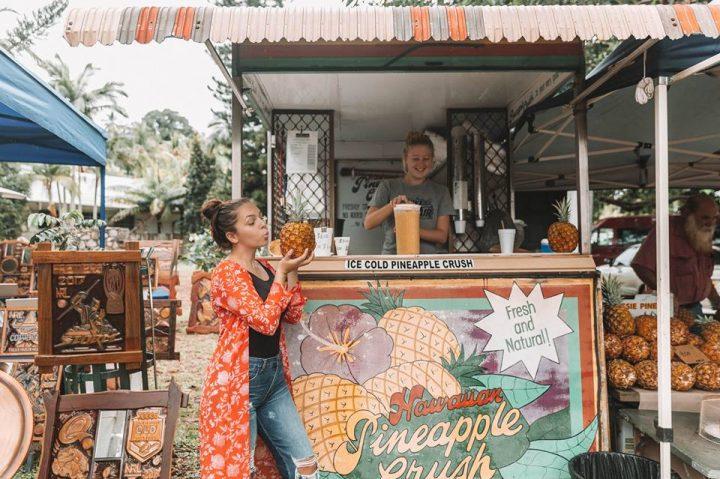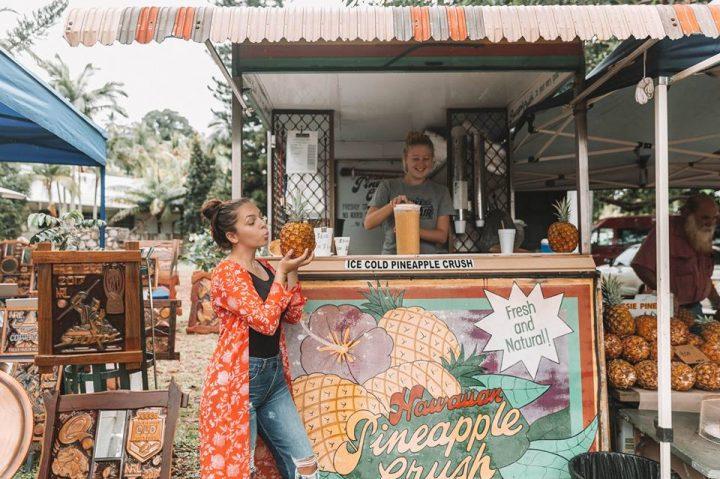 Only ALMOST though because the market is full of intriguing things. What I love is that there is no stall selling the same things as another, unlike so many other markets. No matter what path you get lost in there is something new and ridiculously cool to discover.
Do you want to know something else ridiculously cool?
Snorkeling the Great Barrier Reef
Already on so many bucket lists (mine included), the Great Barrier Reef is nothing short of heaven.
I had a morning with Ocean Safari making friends with all of the fish, a couple of turtles, eels, Nemo, clams, a sting ray, and even saying hello to a dugong! Whether you snorkel or scuba you will have the time of your life.
I have never felt as comfortable underwater as I have on the reef and yet the complete opposite when hopping into the boat!
Mini story time
"the entire trip we were warned about crocodiles especially paddling at the beach because (not to scare you too much) there is a large chance that it will be your last swim. So of course like any intelligent person would I avoided paddling at the beach. That was until we had to walk into knee-deep crocodile-filled water to make it to and from the boat! Anxiety mode immediately kicked in strategically positioning myself in the middle of the group to avoid being the croc's first pick hahaha"
If you get tired under water you can also go the complete opposite and fly above the Daintree Rainforest Canopy with…
Jungle Surfing
No surfboards involved!
Jungle Surfing is pretty much ziplining with a few twists and turns. You make your way up and above the oldest rainforest in the world and fly through the air. It is one of those things you never expect or hear about when it comes to a Great Barrier Reef trip but definitely deserves a little more credit and love.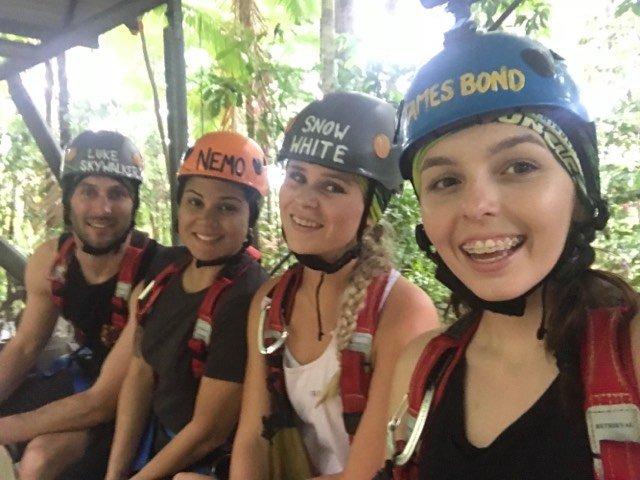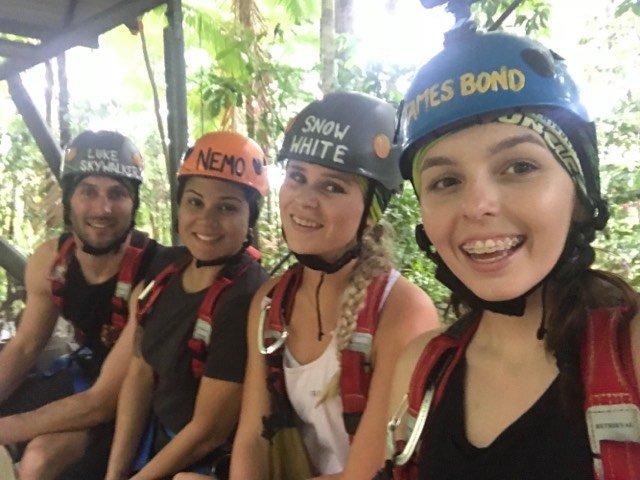 From the personalised helmets (by this I mean each helmet has a name like Snow White, James Bond even Nemo!), a giant hamster wheel that is human-powered to carry up each couple to the first zippy platform, tandem ziplines, and my favourite, zipline racing you will not be disappointed.
I imagine it would get extremely hot up there but I can't say too much about that because the rain was bucketing down the entire tour which was an awesome experience in itself!
However, you don't have to be up above the rainforest canopy to get amazing views of Tropical North Queensland because…
The entire drive is full of lookouts
It does make a lot of sense to have so many lookouts because no matter where you are there is something beautiful to see and Tropical North Queensland sure knows how to make the most of that!
Unfortunately, I have not yet been to them all which I am now using as another excuse to get back quickly but the ones I did make it to were well worth the stop. Not only is stopping at these lookouts pretty much essential for a road trip with your bestie, but they are also usually the perfect photo op for you to really step up your Instagram!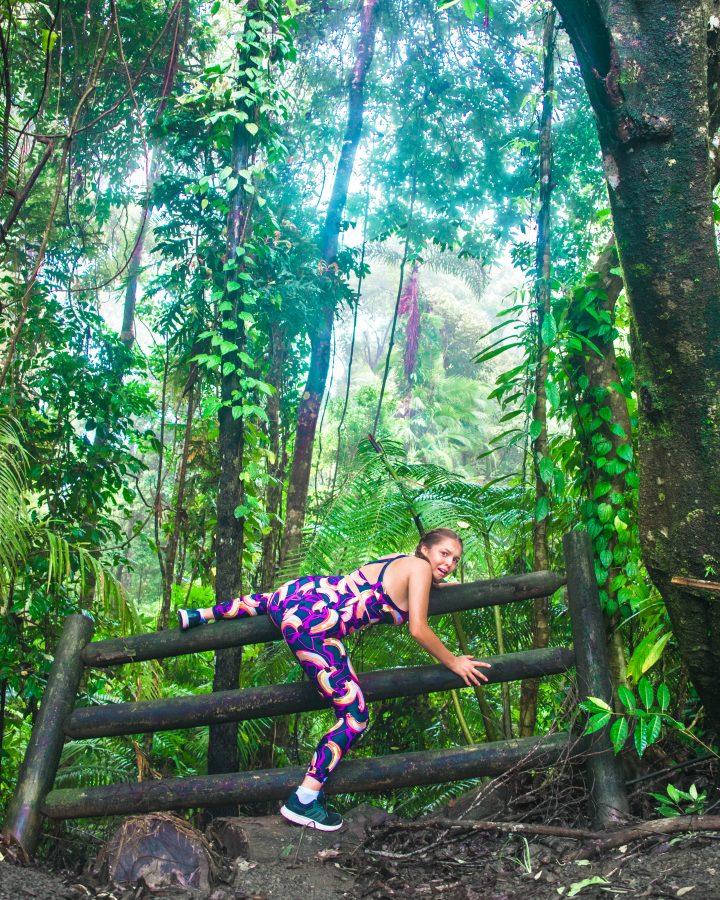 Two of these incredible lookouts to add to your Great Barrier Reef Drive bucket list are Alexandra Lookout (only 15 minutes south of Cape Tribulation) and the Cape Tribulation Beach Lookout (Surprisingly it is on Cape Tribulation Beach! hahah)
There are a million more to mention but I am leaving it up to you now to decide your favourites! (let me know when you do so I can add it to my bucket list)
Another must-do photo op comes from Cape Tribulations as well…
The heart of Cape Tribulation
The heart made from vine right on the beach is one of those things that you really should get to just for the fun of it because you havent really been to Cape Tribulation if you didnt get a cheesy photo with the heart.
Get creative and wild especially when you have the beach to yourself (and maybe a few crocodiles lurking nearby).