Underrated Travel Destinations : Solomon Islands
Your instagram feed is likely flooded with photos from Hawaii to Fiji yet one of the most beautiful countries of the South Pacific remains mostly a secret.
Tucked between Papua New Guinea and Vanuatu, the Solomon Islands are calling your name.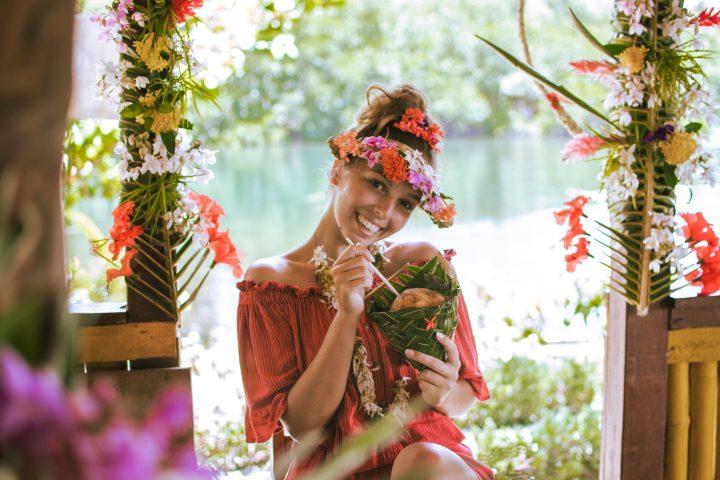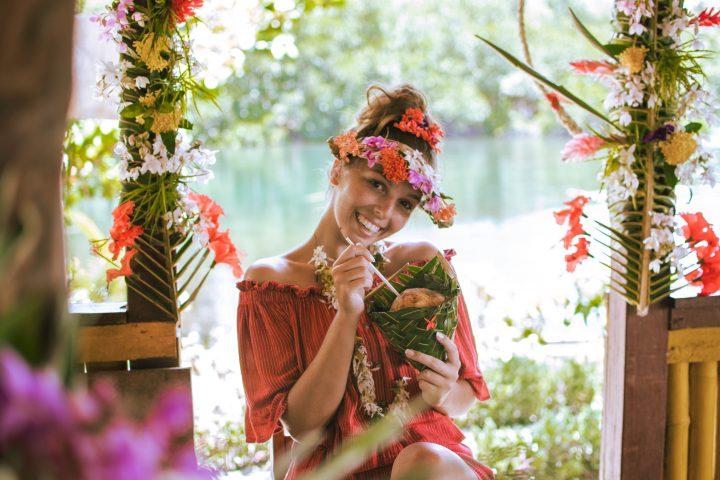 Getting to the Solomons
You will find flights connecting to Honiara from Brisbane and Sydney (Australia), Nadi (Fiji), Port Moresby (Papua New Guinea) and Port Vila (Vanuatu).
Solomon Airlines is the national carrier and flies to Honiara from Brisbane four times per week, from Sydney once a week, and provides weekly flights from Nadi, Port Vila and Port Moresby.
Visit Solomon Islands recommends those travelling from North America, fly through Los Angeles and either Brisbane or Nadi. Those travelling from European countries will most commonly fly via Brisbane with many choosing to stop over in countries such as Singapore, Hong Kong, Thailand or Dubai.
As of March 30th Solomon Airlines have commenced a same-day direct Brisbane-Munda-Brisbane service after the opening of the Munda International Airport.
This has now opened more opportunities for further connections with Solomon Airlines domestic services to Gizo, Seghe in the Marovo Lagoon and Suuavanoa on Santa Isabel.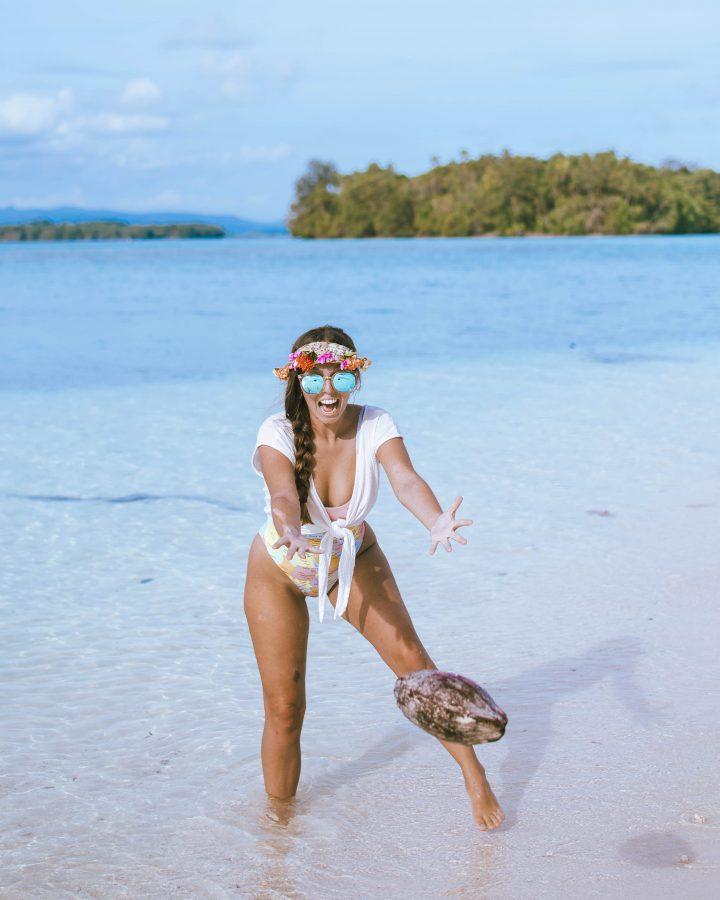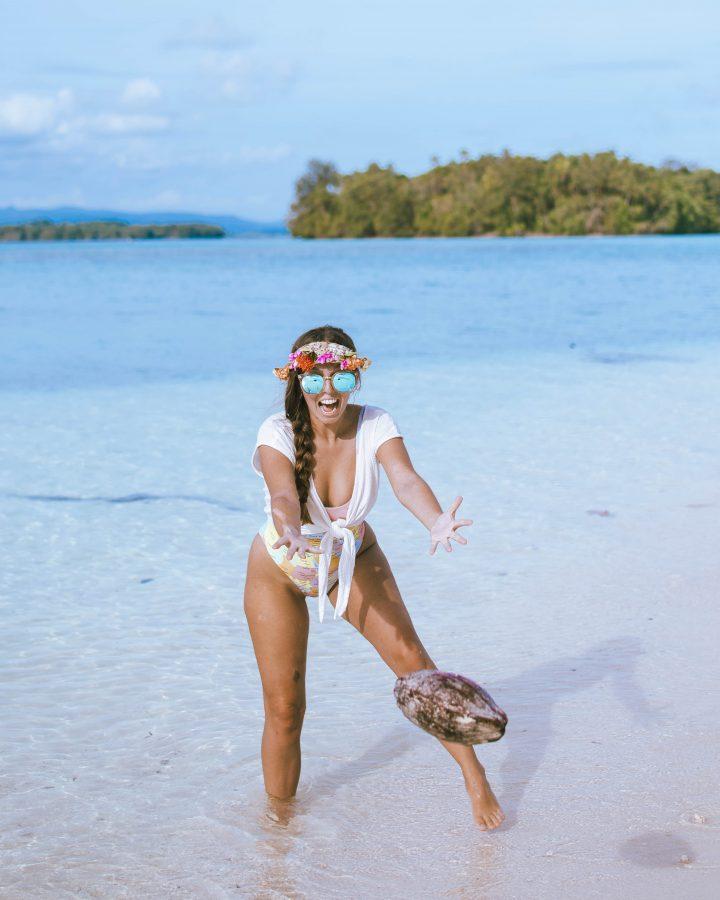 Solomon Islands weather
"The Solomon Islands has an equatorial climate typical of many tropical areas, meaning it is usually hot and humid all year round. The islands have an average temperature of about 27 degrees Celsius with only very small changes from season to season. However the country does have two distinct seasons – a wet season from November to April and a dry season from May to October. " – Visit Solomon Islands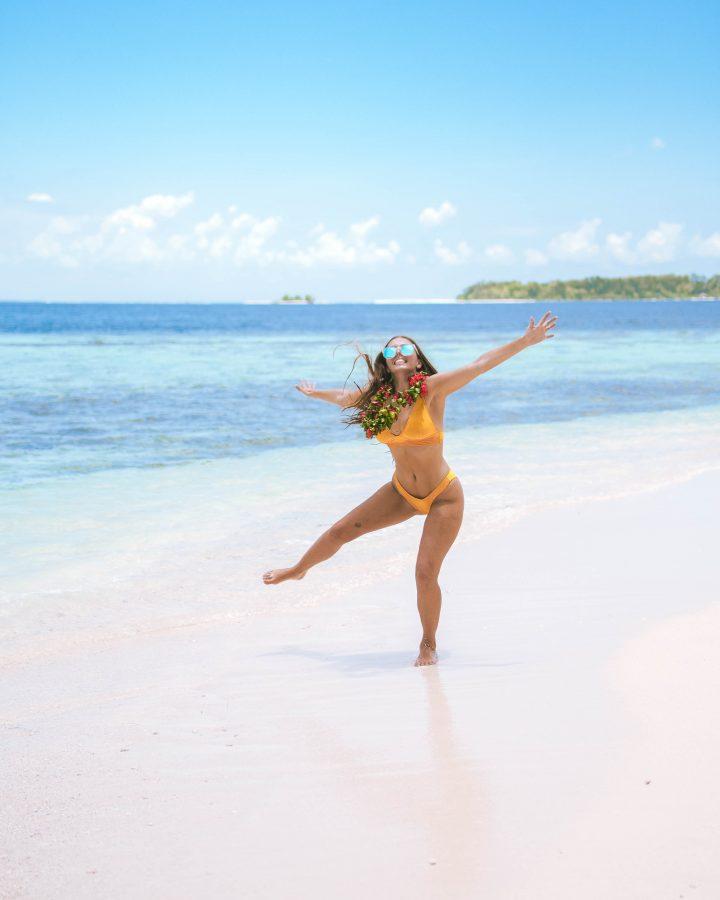 How are the Solomon Islands still such a secret?
Despite being part of the famous Coral Triangle; hosting some of the world's best reefs and diving opportunities, the Solomon Islands has been a bit of a travel mystery for a few reasons.
From the information I picked up along the way, price plays a huge factor in this. I will touch on this a little more further on in this post, but to sum it up: until recently the Solomon Islands had very minimal flights coming in, out and around the Islands causing the prices to be very high which turned a lot of people away.
The problem with that is it fell into a cycle of needing the prices to be high to cover the costs due to not enough tourist activity to not enough tourism activity because of the prices being high.
Speaking of tourism activity in the Solomon Islands, it is still very much so a third-world country that has not yet tapped fully into the tourist market. It was held back for a long time because of its complicated and devastating past.
In saying that, it is amazing to see the Solomons persevere and grow, with many locals becoming more and more aware of how tourism can make a positive impact on their country and lives.
Once again, it has only been quite recent that there has been a big push to build tourism in the Solomons islands yet remaining focused on what keeps the islands so special and pure.
With more and more eco-lodges upgrading their facilities and social media helping shine light on this underrated destination, I really do have high hopes for the Solomon Islands as long as they stay true to who they are.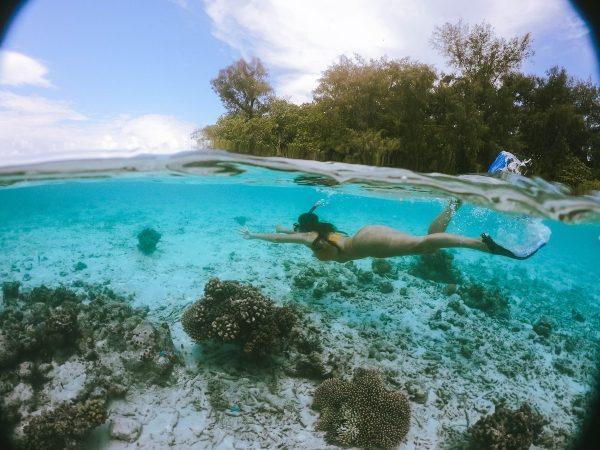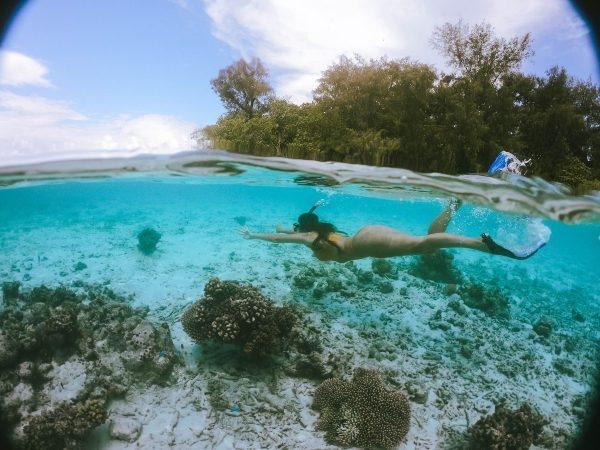 My expectations of the Solomon Islands
Things to do
Being part of the South Pacific and with the name Solomon ISLANDS, I expected a lot of island hopping. Along with the usual activities that go hand in hand with that.
Everything from snorkeling/diving to fresh seafood feasting.
Speaking of feasting, I was beyond excited for the freshest of fruits, especially to take in during the local market visits.
Not only the local markets but to be visiting the local villages. Getting to know where the 'Hapi Isles' gets its name by meeting as many of the locals as possible… this includes the wildlife!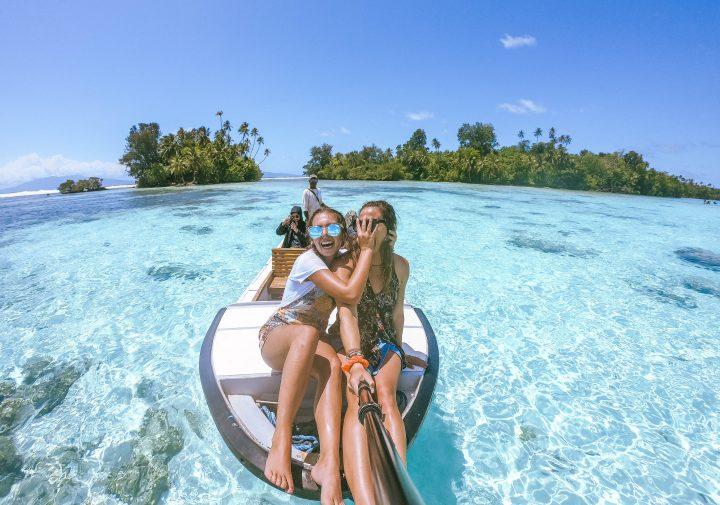 I was aware the Solomon Islands had some pretty amazing wildlife, especially underwater, yet quite clueless as to I would get the chance to hang out with. Besides the usual fishies and undoubtably mosquitoes.
Of course, I knew bits and pieces of the important war history throughout the Solomons but wasn't sure what to expect in the way of how the country/trip would focus on it. Maybe a few museums and shipwrecks here and there, however, nothing quite as extraordinary and interesting as it truly is over there… but I am getting ahead of myself.
To put it simply, I presumed things to do in the Solomon Islands would include:
Island Hopping
Snorkelling and top notch diving
Wildlife watching
Local markets and village visits
WWII site seeing
Island exploration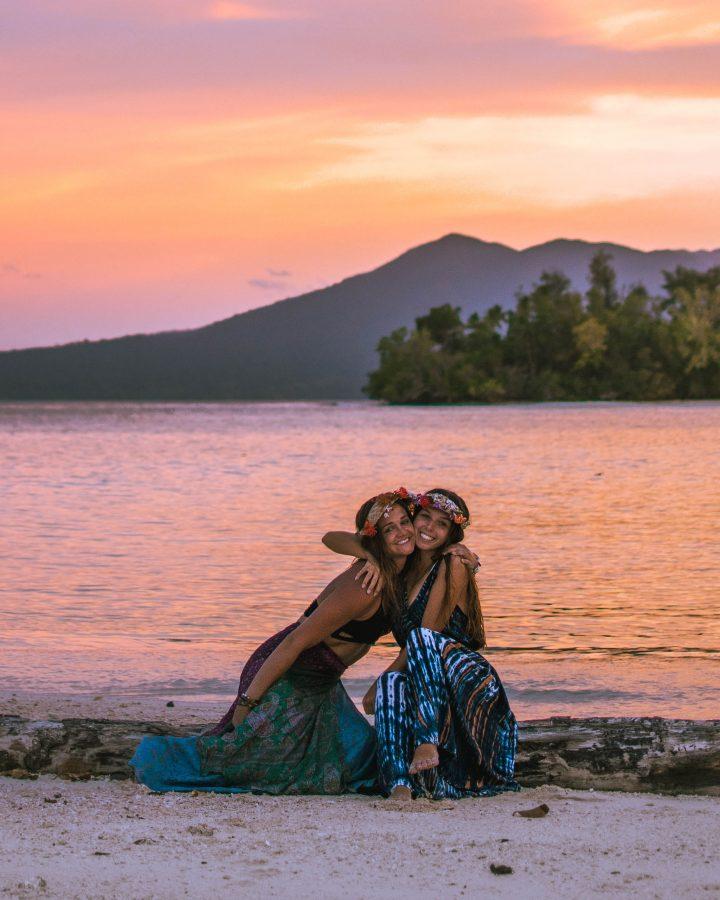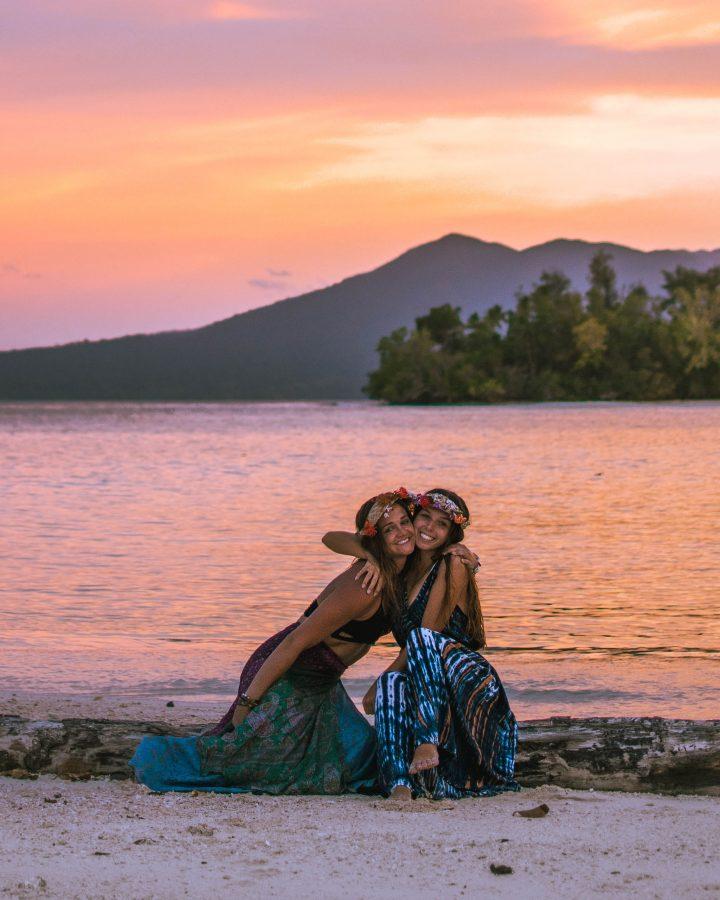 Budget
Due to my visit being a Press Trip, thanks to VISIT SOLOMON ISLANDS, I hadn't looked into budget as much as I usually would have because everything was already locked in for us prior.
However, from the minimal research I did before hand alongside everything I picked up along the way, it is quite expensive. I do have a feeling there will be a big shift in this very soon.
Already proving to be true with the flights now that the second international airport in the Solomon Islands is open in Munda. Thanks to the extended flight options, flight prices have already dropped.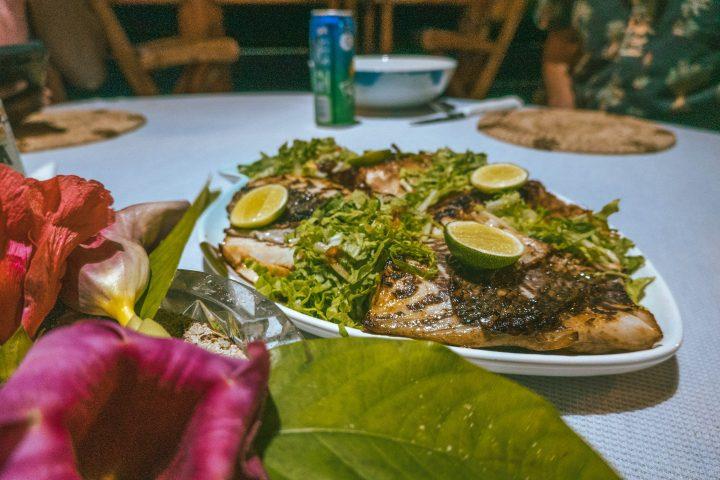 Food
Other than logically thinking there would be a lot of fresh seafood available, I had no idea what to expect of the food in the Solomon Islands.
Even asking the limited people I could find who had been before, I was unable to get much information on the topic.
Online wasn't much help either as it seems the Solomon Islands is unlike many other parts of the world such a Mexico, China and/or Italy with a strong food culture so I went into this trip with almost no expectations of what I would be eating or what would be available to eat.
Most places now seem to have at least one foodie spot going viral or social media, like 9 course dessert in Bali, but again nothing was to be found.
People
It is called the 'Hapi Isles' (Happy Islands) for a reason right?!
One of my biggest expectations about the people would be beaming and radiate positivity, after all, the locals of Solomon Islands are said to be some of the happiest people in the world.
Not to mention that due to the still very low numbers of tourists that past through there would be many times I was likely to be the only white person on the island so locals, especially the kids will be very intrigued yet, hopefully, super welcoming.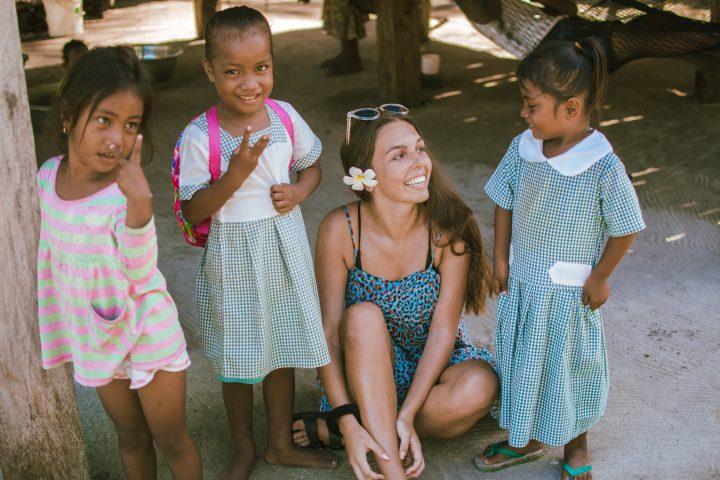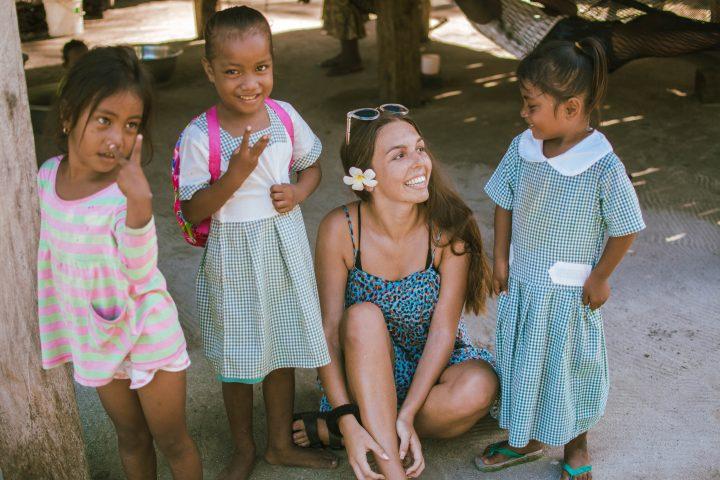 Health and Safety
As is with most third world countries, it is recommended to avoid drinking the tap water.
However, boiled water is completely fine along with bottled water that is available in most stores and accommodations.
It is also recommended to obtain malaria medication. Don't forget to be using insect repellent and sleeping under a mosquito net where possible, especially, in remote areas.
The reality of the Solomon Islands
Flying from Brisbane to Honiara
With my first ever business class upgrade thanks to Solomon Airlines, we flew very comfortably into Honiara from Brisbane.
By we I mean, myself and the very talented, adventurous, music-loving, beautiful human, @kimmconn . My temporary #instahusband for the week and creator and travel blogger of www.adventuresnsunsets.com !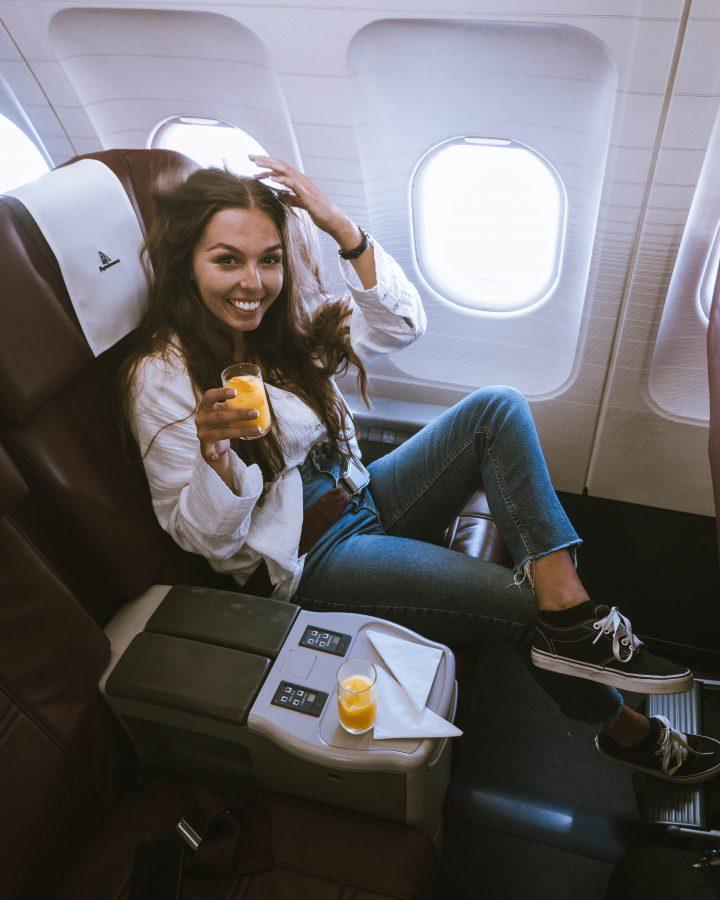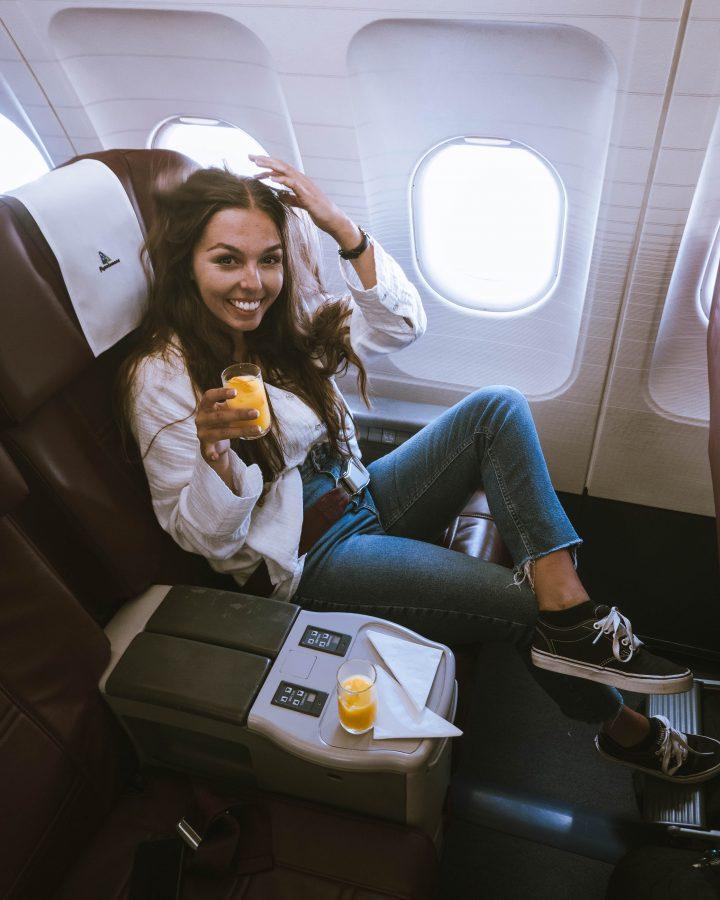 Arriving in the Solomon Islands
The humidity didn't seem to hit as hard as most tropical destinations tend to do when you step off the plane. it was a pleasant surprise, although, the air conditioning in the immigration building was still very much so a relief.
All bags and people collected, the whole team was now together and we were already on a tour. Getting things started with the heartwarming memorial park just down the road where each person was buried alongside a tree, allowing them to continue to grow and live on.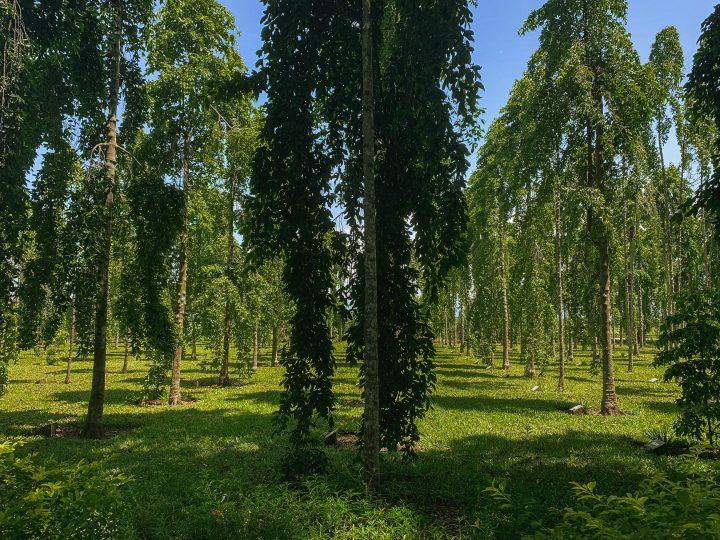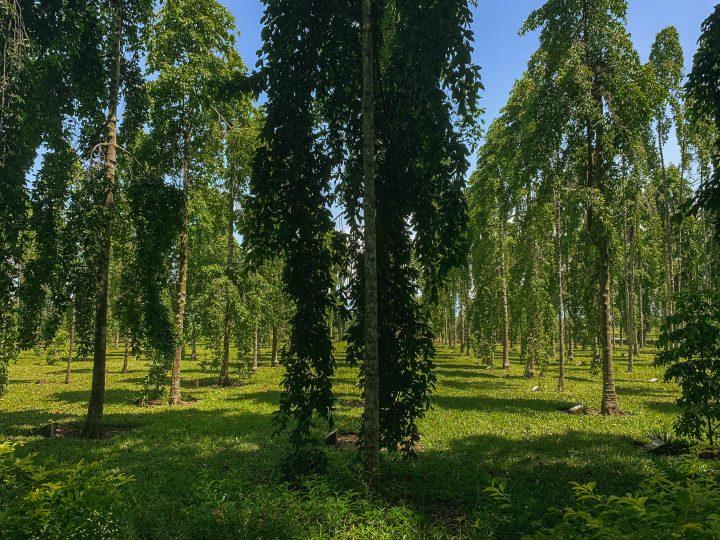 Next was a different kind of memorial where all of the major WWII battles between the American and Japanese soldiers were to be remember. Perched on top of a hill with an incredible view over the island, each memorial wall points towards one of the horrific and historic battle sites of the war which now look lush and peaceful.
A few museum stops and art galleries later, we had already managed to squeeze in so much new information about the unbelievable history and present of the underrated travel destination, Solomon Islands.
All museumed out, it was check in time at Heritage Park Hotel Honiara.
Settling in to my huge hotel room, which was more like an apartment, as the tropical rains came out of nowhere. It was the perfect excuse to chill out for the rest of the day before eating way too much delicious food at one of the hotel's restaurants for dinner.
Honiara day (Savo Island cancelled)
I was really looking forward for a day out on Savo Island but due to weather concerns our whole day was cancelled.
Unfortunately missing out on a wild dolphin nursery, small volcano hike, hot springs, local lunch feast and more. I understand it was for the right reasons we had to cancel but it was a really slap in the face when the weather decided to be perfect for the entire day!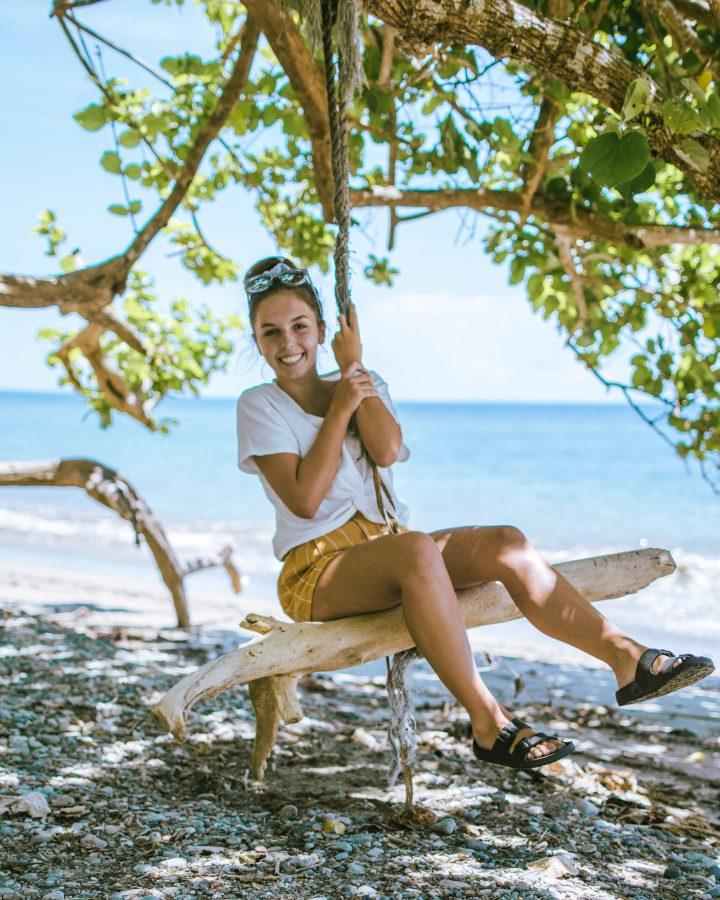 Instead we spent the morning exploring Honiara and for me, pretty car sick. Outside of the main streets of Honiara the roads start to turn into a 4WD course that my body was not prepared for, although the endless palm trees and beachside views made it a little better.
Shipwrecks, more museums and wrapping the morning up with our first local village stop.
We were invited to sit down with the whole family and taken step by step through the traditional welcome ceremony before moving through to a range of other traditional workshops.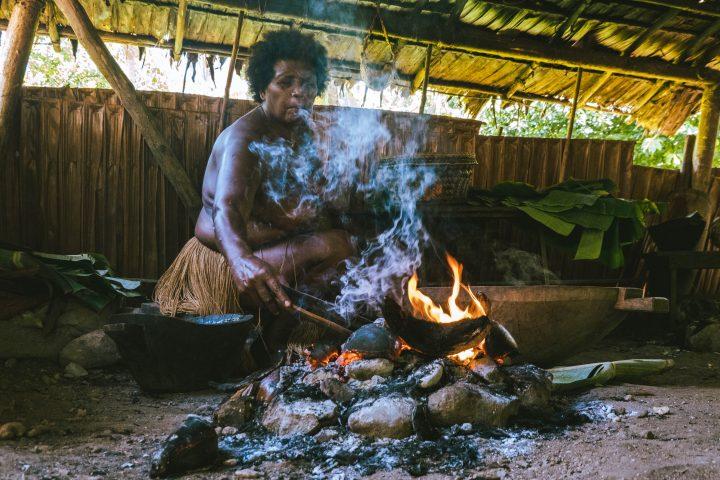 Although the family no longer live like this it was an interesting way not only for tourists to learn about the culture but also the younger generations.
Before long we were back in the hotel curing my car sickness with an already much needed afternoon in the pool.
Honiara to Gizo
Repacked and refuelled after our last buffet breakfast at Heritage Park Hotel, we were ready to GizO!
Waiting patiently at the airport, we were informed by a fellow passenger about the free for all plane seating.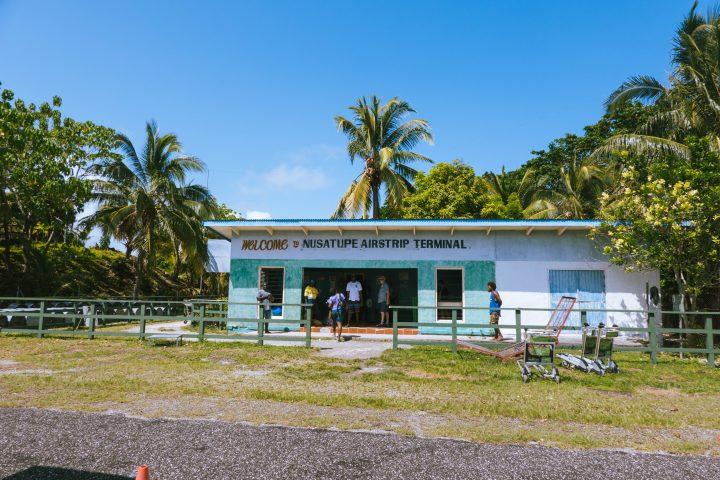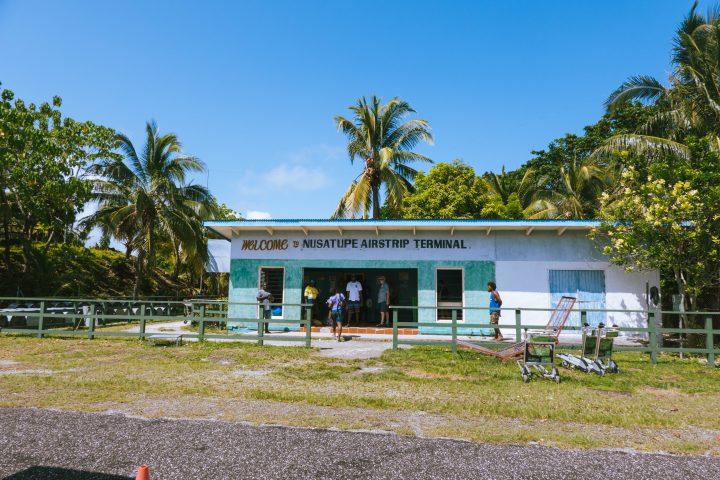 Repacked and refuelled after our last buffet breakfast at Heritage Park Hotel, we were ready to GizO!
Waiting patiently at the airport, we were informed by a fellow passenger about the free for all plane seating.
So, we rolled up our sleeves and eagerly hovered by the door as boarding approached to secure the ideal window seat. You're going to want to do that same on your Solomon Islands trip because the views will take your breath away.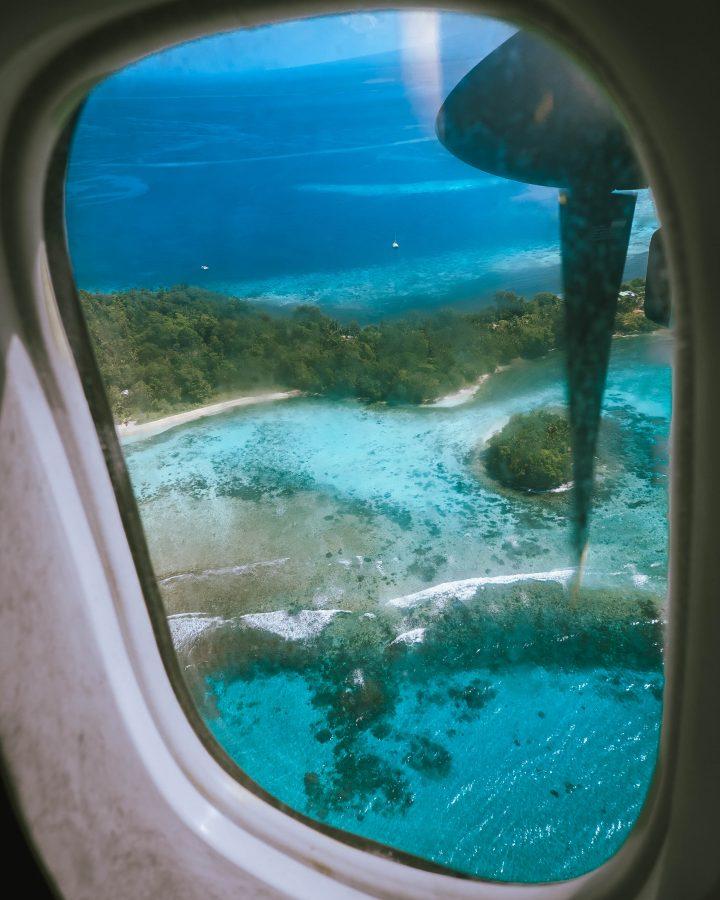 It may be a short 1 hour and 20 minute flight but your eyes will be treated to enough insanely extraordinary plane views to last a life time.
The Gizo airstrip is an entire island on its own with the airport only having three walls and the beautiful views only getting started as we landed.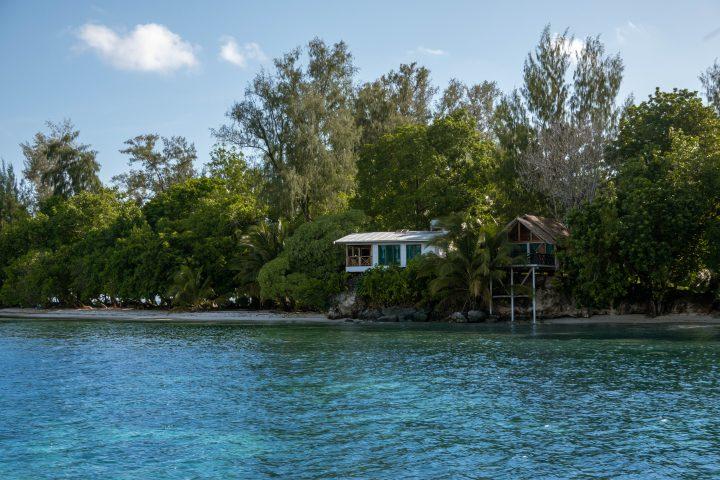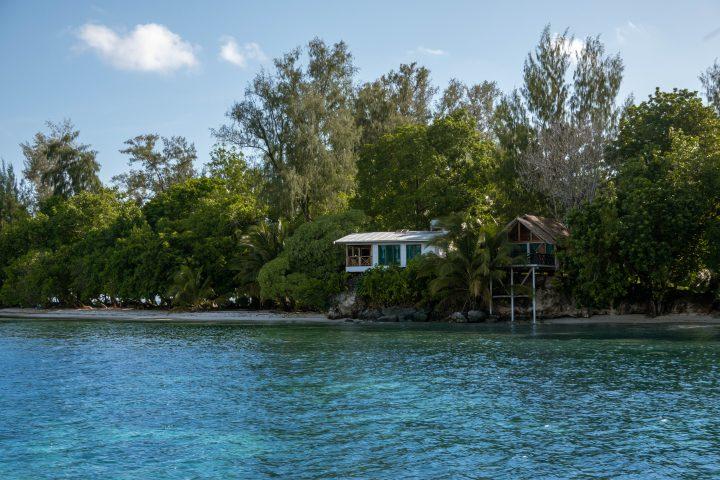 Less than 50m from the plane our airport pick up, in a boat, met us to take us to our little slice of paradise for the next couple of days.
Plonked into the boat, Fatboys Island Resort was only a 5 minute cruise, through some of the clearest and bluest waters I had seen, away. Little did I know, this was nothing close to as mystical as what the next couple of days had in store.
We were dropped off onto the floating restaurant, showered with flowers and a welcome drink… Fatboys had already won me over.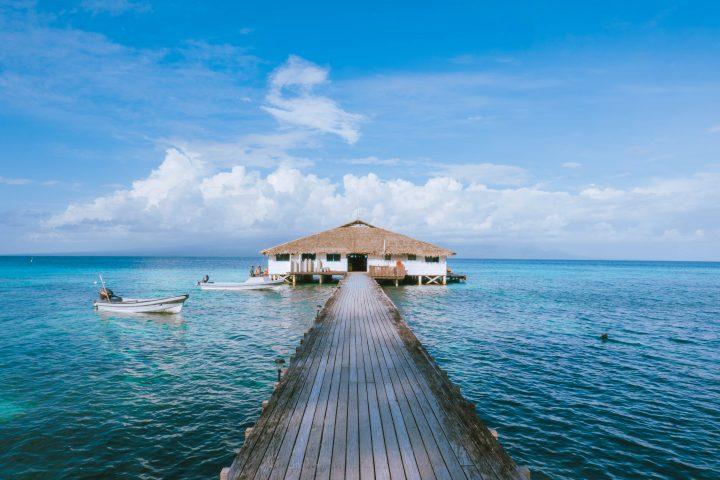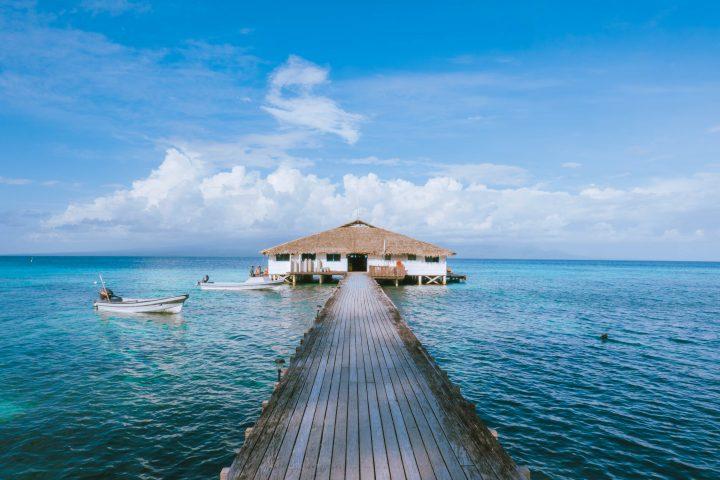 Less than 50m from the plane our airport pick up, in a boat, met us to take us to our little slice of paradise for the next couple of days.
Plonked into the boat, Fatboys Island Resort was only a 5 minute cruise, through some of the clearest and bluest waters I had seen, away. Little did I know, this was nothing close to as mystical as what the next couple of days had in store.
We were dropped off onto the floating restaurant, showered with flowers and a welcome drink… Fatboys had already won me over.
A speedy, bag drop and change in our incredible beach bungalow sitting pretty on small cliff edge. After only just checking in we really did not want to leave but that seemed to happen almost everywhere we went in the Solomon Islands.
Another adventure awaited and my goodness, it was well worth getting out of bed for!
Kennedy Island
This tiny island can actually be seen from Fatboys Island Resort and is only another 5 minutes by boat to be able to dig your toes into the silky sands.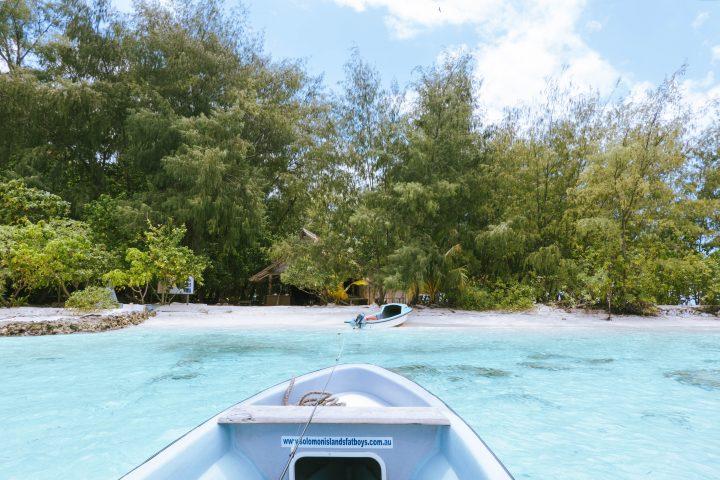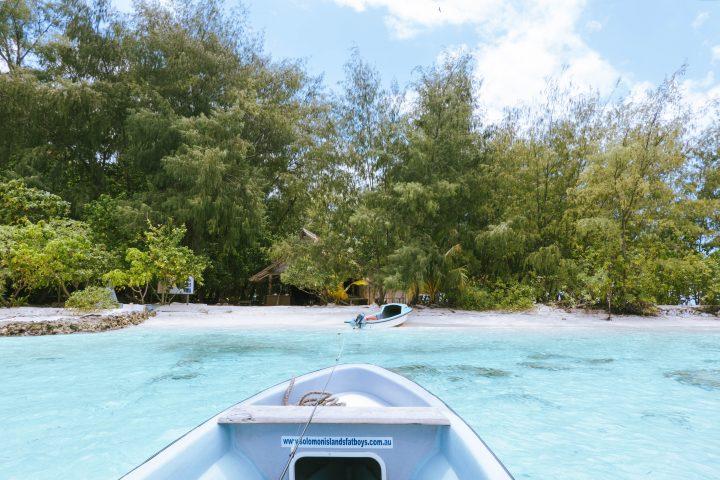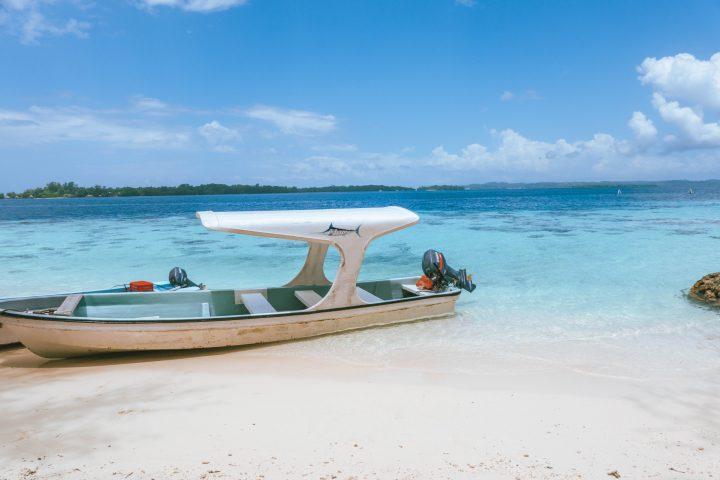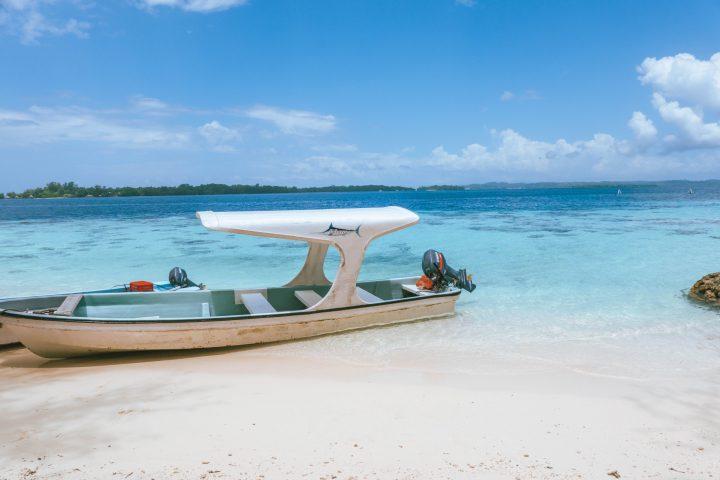 The minutes flew by with a brief but fascinating history lesson of Kennedy Island. It gets its name from John.F.Kennedy who found himself on the island after his ship and crew were wrecked by the Japanese during WWII.
You can still find Kennedy on the island… just in the form of a very colourful and cheeky bird.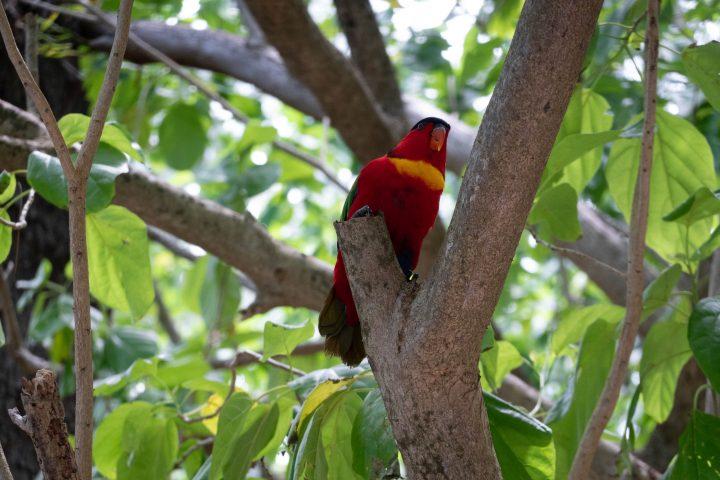 It is hard to imagine what it must have been like during the war as you are left speechless stepping off the boat. The fluorescent greens and blues of the sea against the warm white sands that go hand in hand with the opulent forestation on the island, transport you to a whole new world; heaven.
Kimmie and I eagerly wandered off around the island on a very important insta mission. More than prepared thanks to my 12 poses to stand out on Instagram guide. You can lap the island within several minutes but it seems ever couple of meters you have a new view and patch of coral wanting to be admired in detail.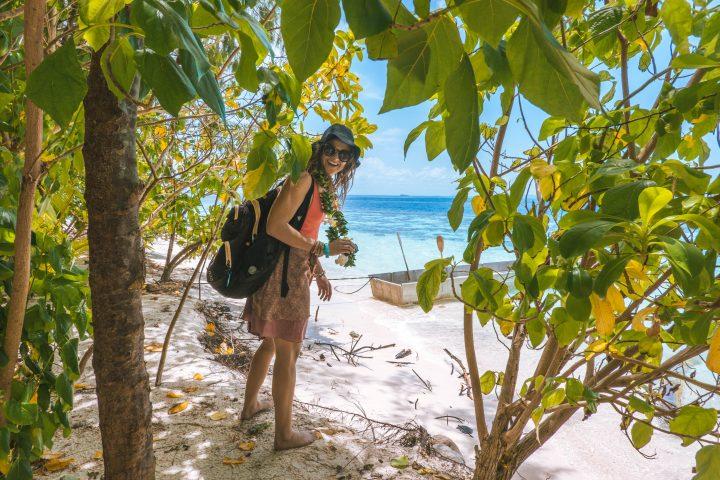 Its very easy to lose track of time by getting caught in awe of this place. So, in what was either a couple of minute or a couple of hours, our barbecue lunch was served with Kennedy watching our every move.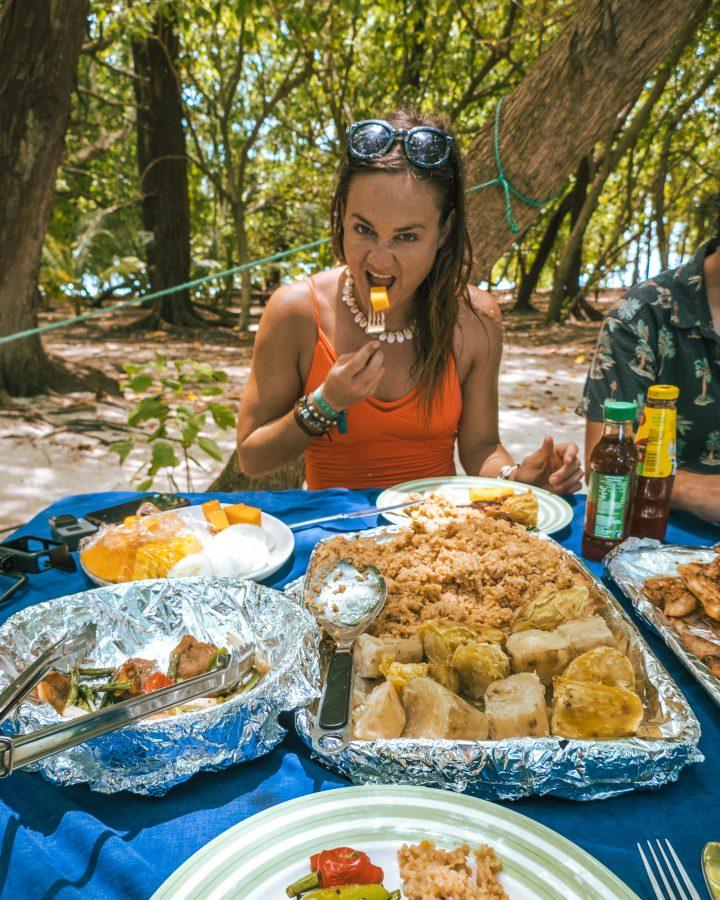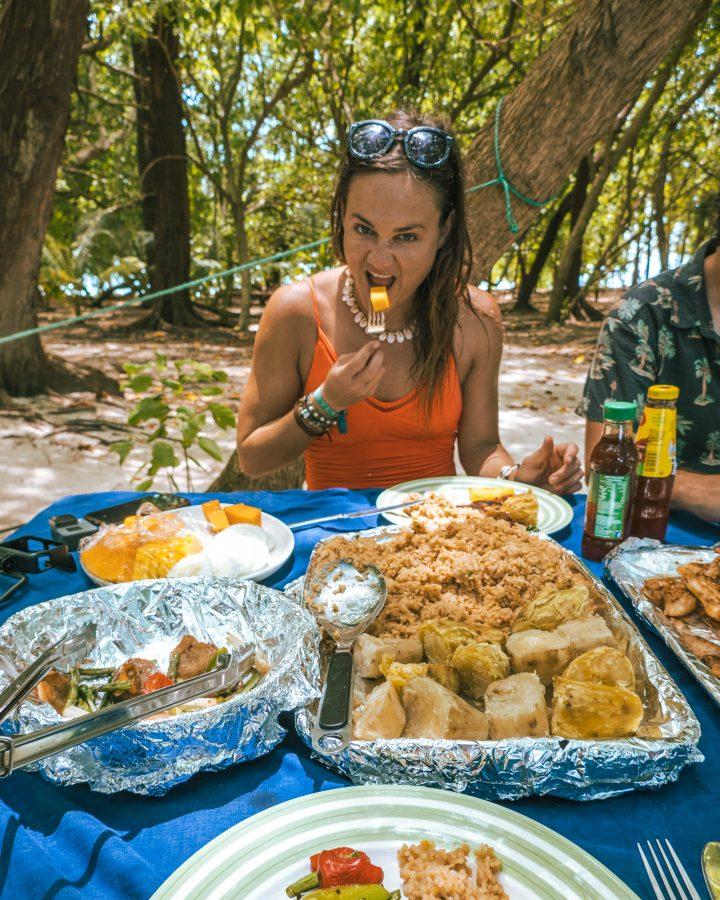 We had just enough time left to adore the sea life and develop a dislike for flippers, that caused me a large amount of discomfit throughout the snorkel, before a heartbreaking goodbye to Kennedy Island.
Kimmie and Mike switched over boats as soon as we made it back to the resort, on a mission to catch something good for dinner. Expectations were high as the Solomon Islands also happens to boast world class fishing.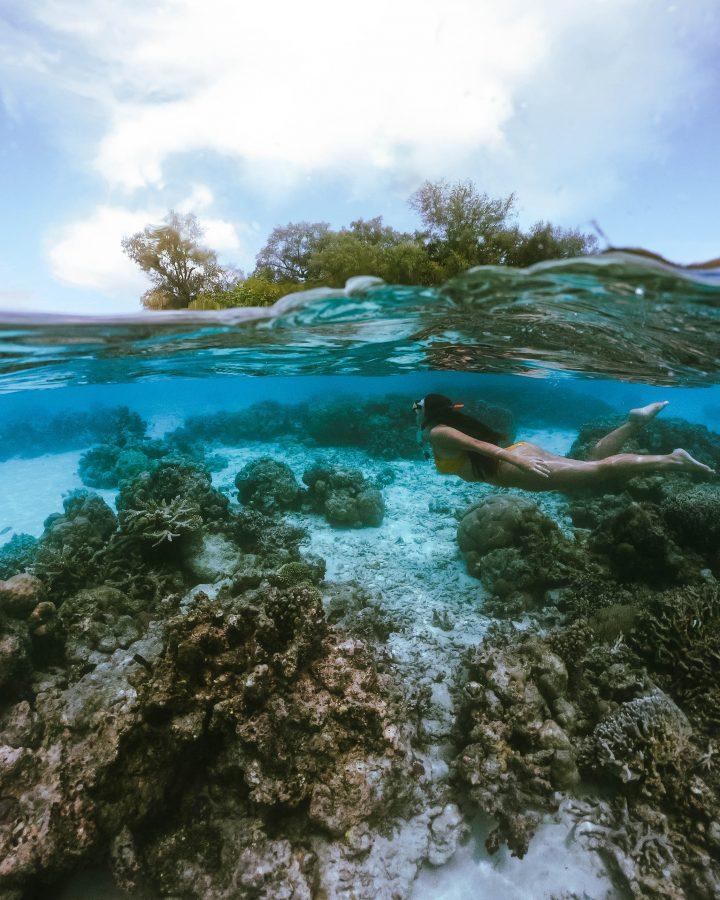 I on the other hand enjoyed some quality time with the hammock.
Not only did Fatboys resort cook up something amazing for all of us but the crew brought back an impressive fish. I can not remember what type of fish it was but I do remember it tasted mighty fine and the reef sharks agreed!
Yep, we got to share our meal with the reef sharks that swim up to the floating restaurant almost every night to enjoy the leftovers. Not a bad way to say goodbye to the day I guess.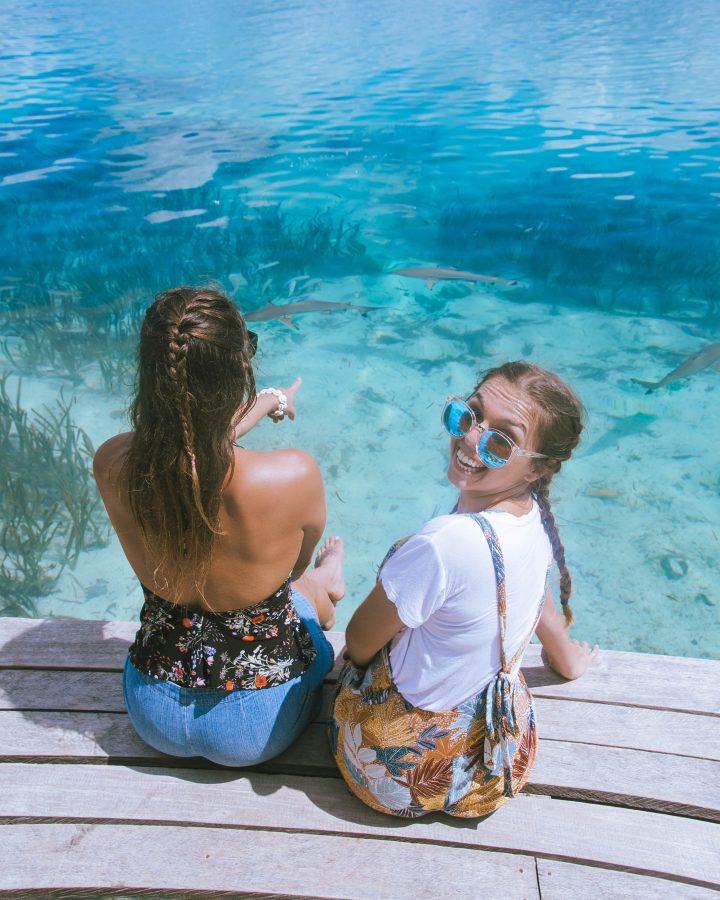 Gizo island hop
I would say bright and early but it was still before sunrise so it was just early. Some might say too early (Kimmie hahaha) but you gotta 'do it for the gram!'
I could hear the waves gently crashing beneath our room and the sun slowly peaking over the horizon all from the comfort of the bed.
It was incredibly difficult to motivate myself enough to get out but well worth it once I saw the panoramic views from the balcony… then from the beach hammock… and oh boy, it was pure magic from the beach with the waves washing over our feet.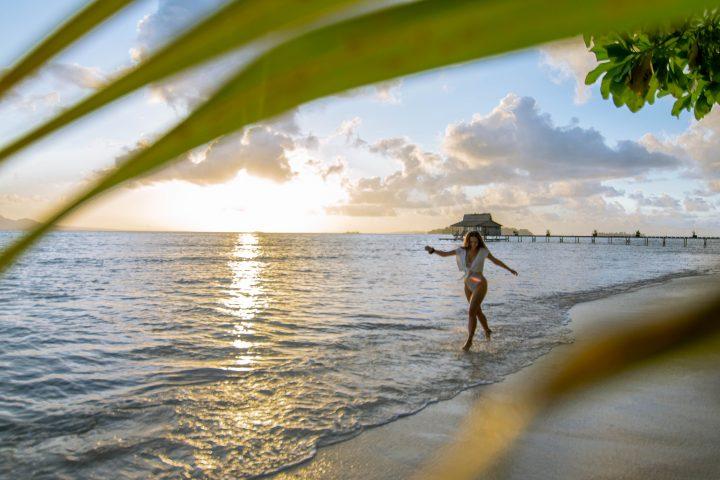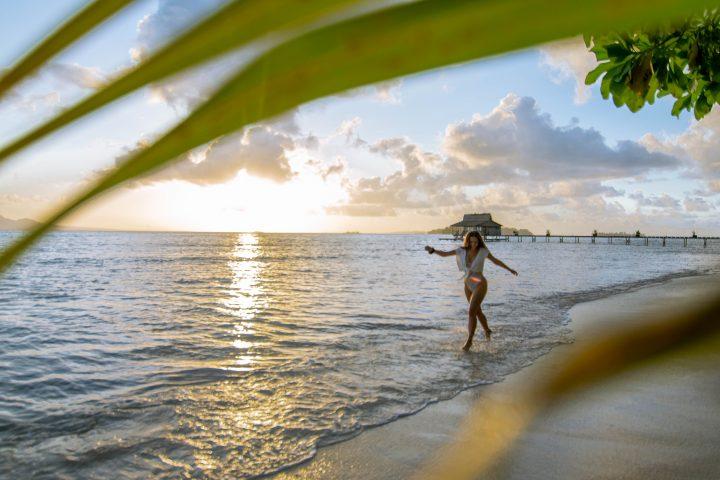 With the camera back to sleep, so was Kimmie but I was wide awake and ready for the day. Especially because I found out it gets started with breakfast banana pancakes.
fun fact: I fell in love with banana pancakes during my month in Bali where I ate so many every single day I earned myself the nickname Pancake. It is not a surprise that most of my nicknames revolve around food.
We did not have to go very far to get to our first island of the day as it happened to be the same one we were already on.
Following one of the locals into the jungle as they lead us on an adventure to the local village and beyond. The most important thing to note: Always keep an eye out for falling coconuts!
Wandering through the village was quiet until we passed by the school where all of the adorable kiddos rushed up to the windows to see us. There also happened to be a few cuties excited to give out high fives and hugs outside too.
Their smiles and curiosity filled me with so much happiness. This really was one of the most memorable moments of the trip.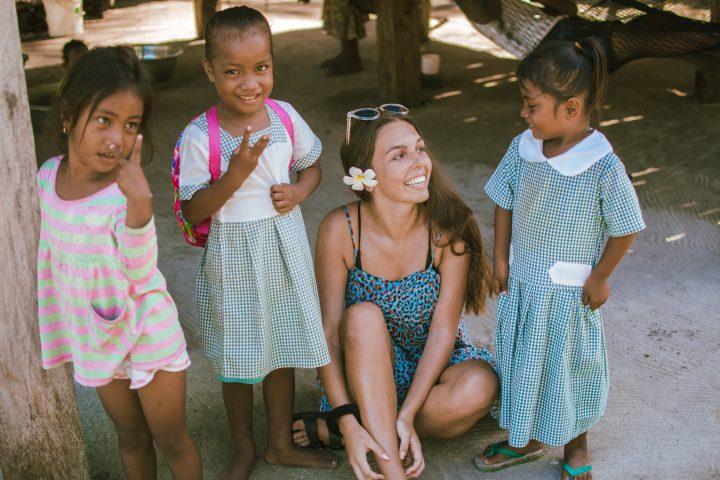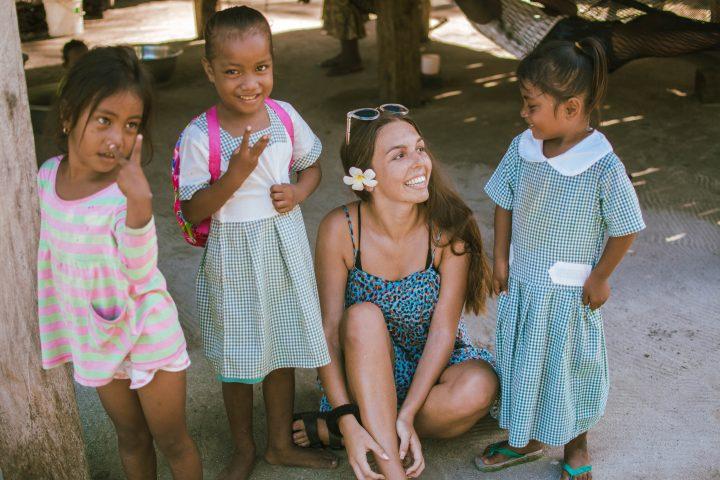 Trekking a little further, we arrived at another perfectly located eco lodge, Sanbis Resort. Rehydrating while getting a quick tour of the property before our chariot whisked us away into our island hopping day…
Just when you think you have seen the most spectacular water you will ever see, it somehow keeps getting better!
The unreal scenery had me in a trance only to be taken over whole new sensory overload;
Gizo markets
Stacks of vibrant fruits and vegetables created a maze while the outskirts of the market were lined with betelnut sellers.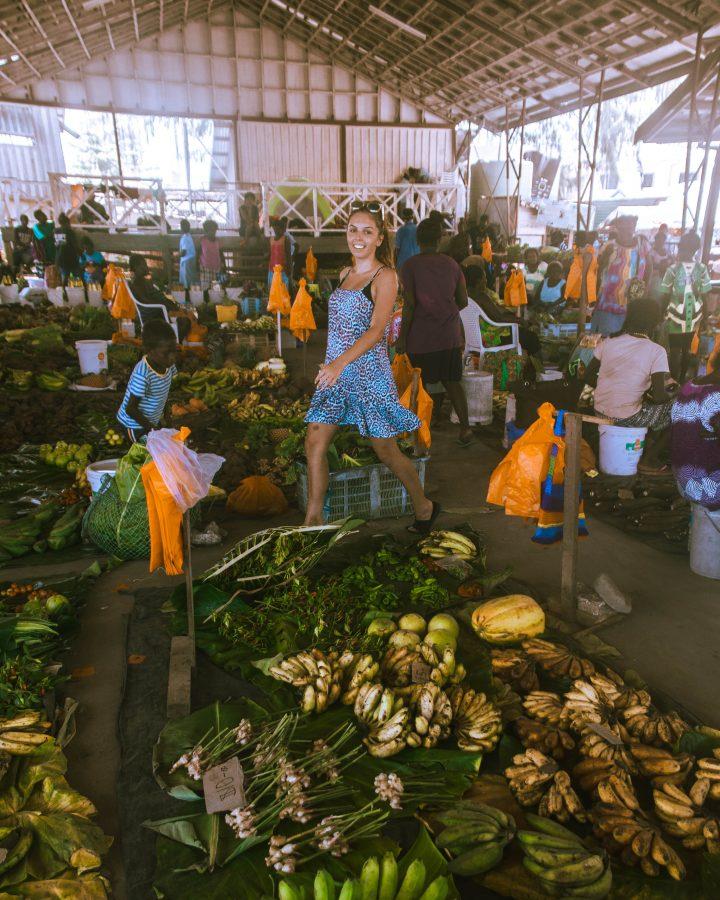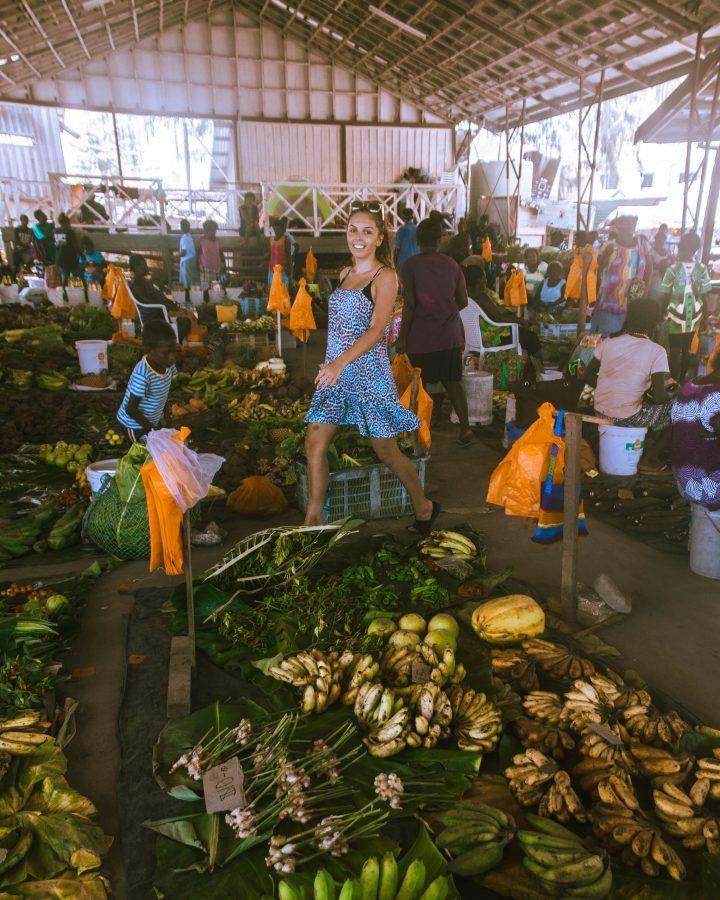 Betelnuts are the seeds of the Areca Palm. Hugely popular throughout the Solomon Islands as a mild stimulant, similar to drinking kava in Fiji.
Although I was not game enough to try them myself, hanging around the stands with the locals was a hoot. Bright red stained smiles and contagious laughter kept us there so long Kimmie and I had lost the rest of our group.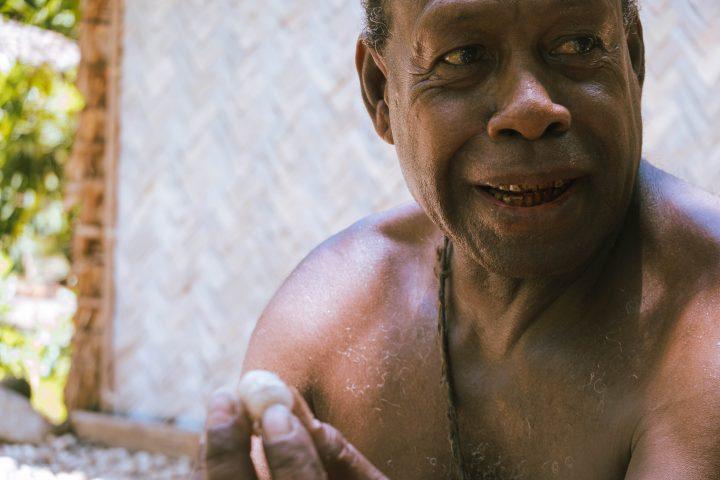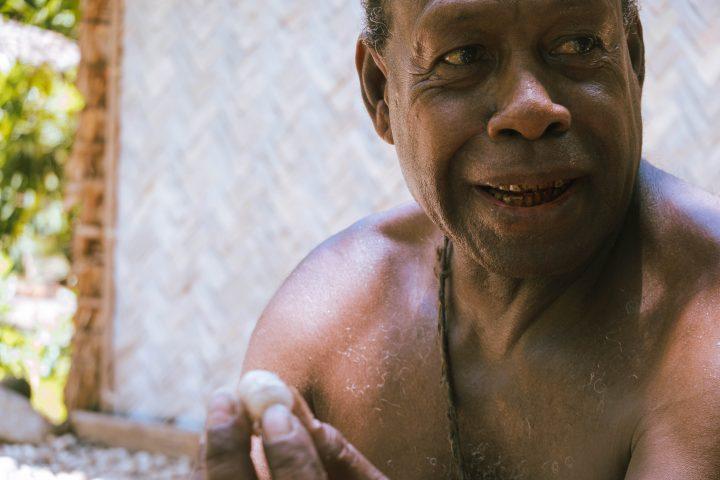 Knowing there were fresh bananas and chilled coconuts on standby, we found our way back in no time.
Content with coconuts we checked off the only hotel and dive shop on the island before going back under the spell of the Solomons scenery.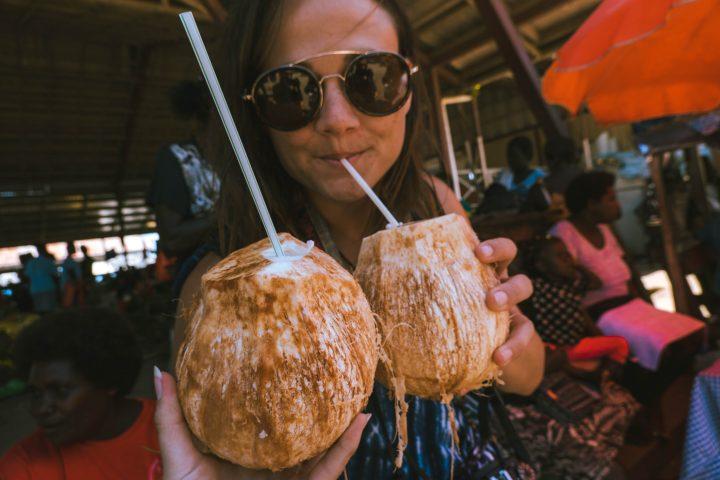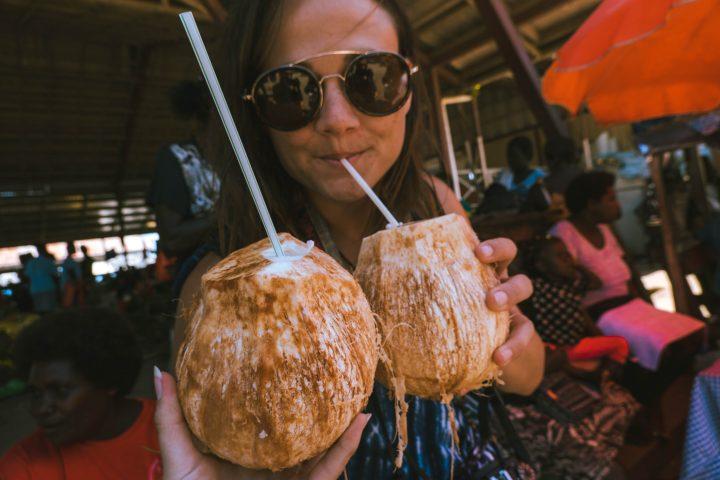 Njari Island
Kimmie screamed with joy realising we had pulled into the island Dive Gizo raved on about as one of the best spot in the Solomon Islands. I tell you what, it isn't hard to see why.
A squad of squid swam beneath us as we strolled down the jetty into the enchanted Njari Island.
A local father and daughter lead us to the most jaw dropping sand bar I have seen in my life.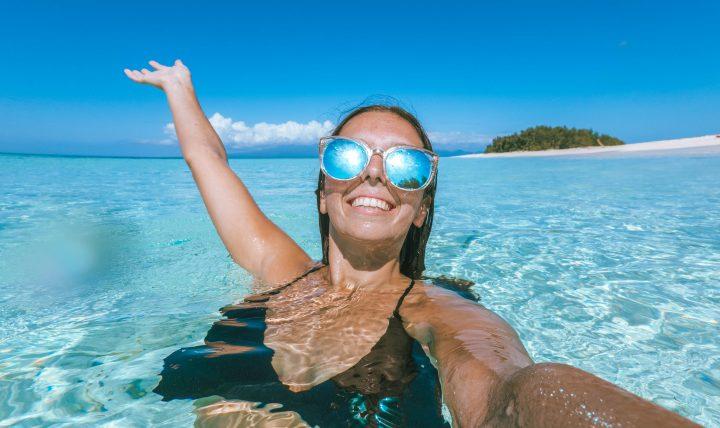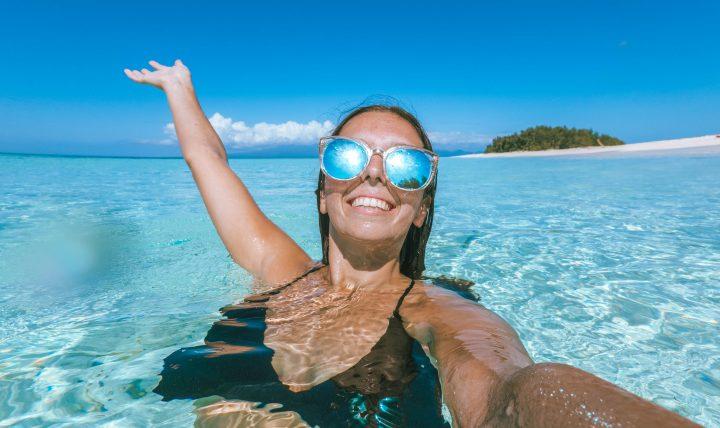 It was like walking on a cloud, with the occasional chunk of coral reminding you you're still on a beach.
Flawless water proudly twinkled a kaleidoscope of blues, the sun tickled my skin and I was packed to the brim with happiness.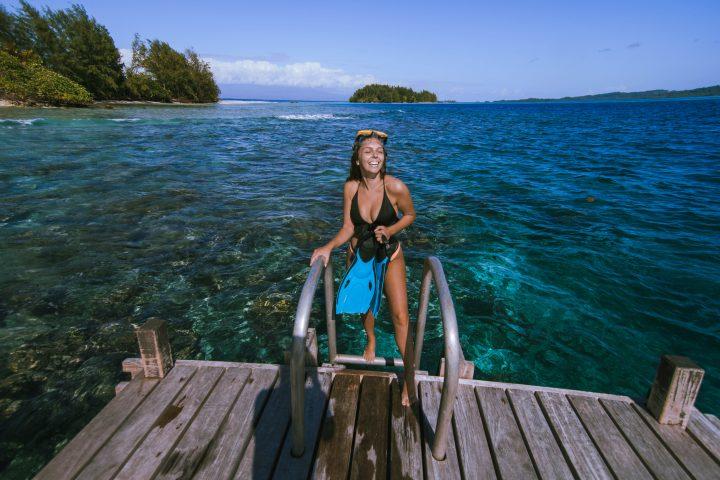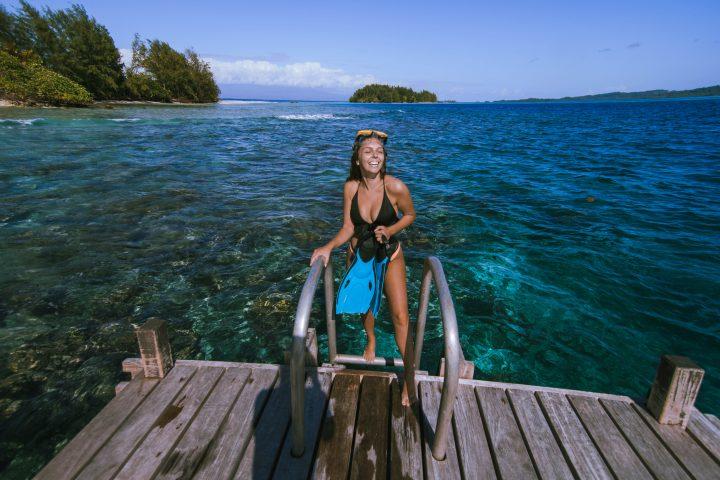 An hour here was not enough. To be honest, I wouldn't have minded if the boat had left me behind.
Alas, we had one more island stop on our island hop; Imagination Island.
Imagination Island
The bliss from the sun abruptly switched to exhaustion. Lucky for me this island was a little different. Focused more as a fishing base and overwater accommodation more so than a sunny beach hotspot. Offering plenty of shelter and more importantly, hammocks!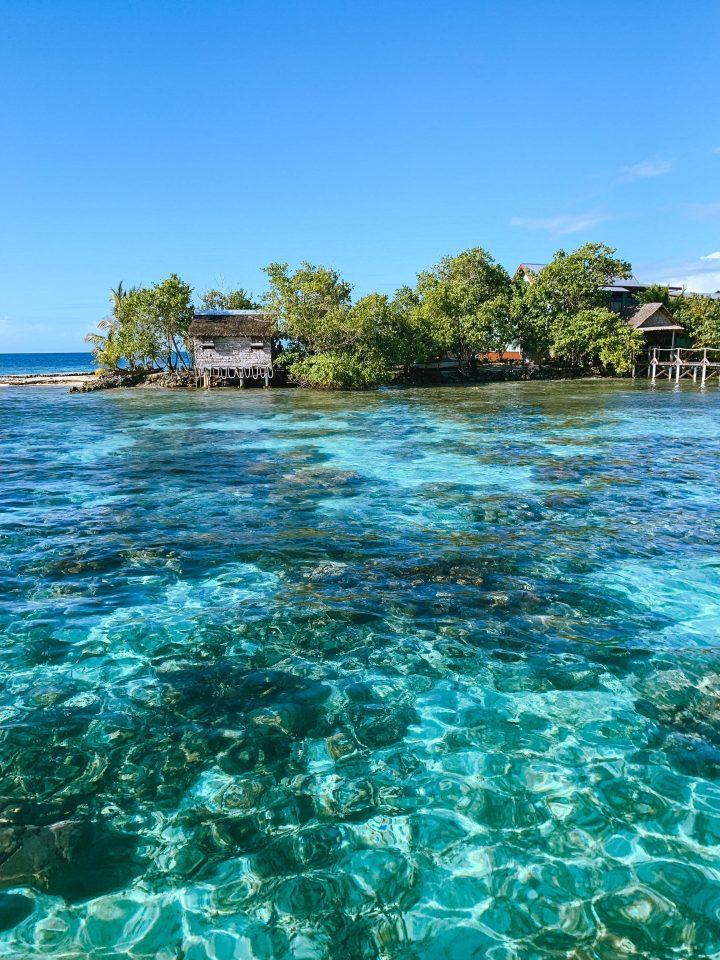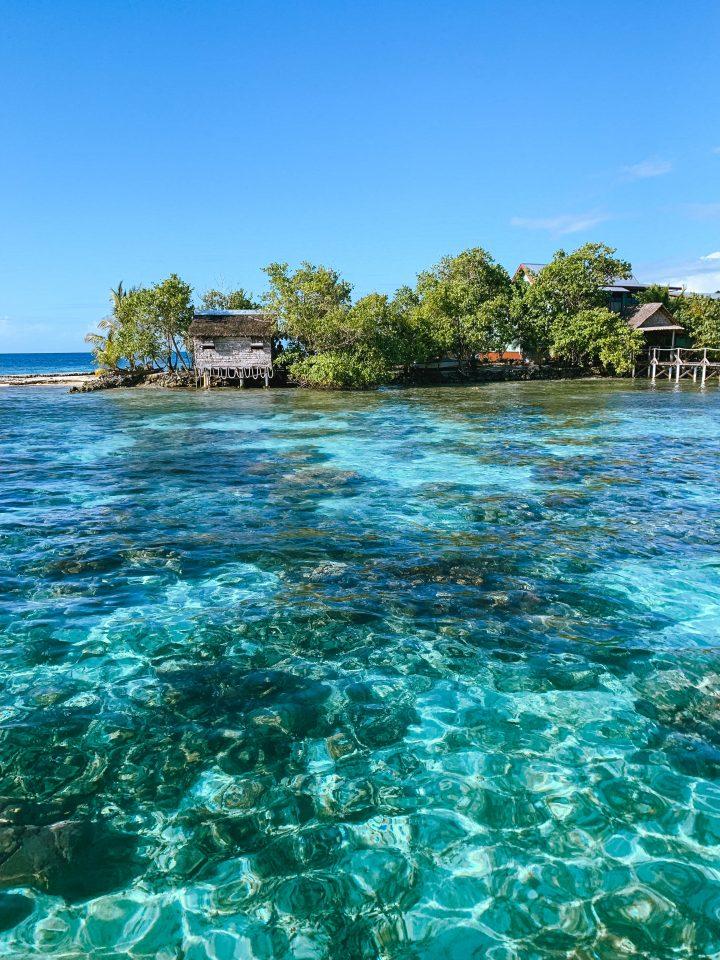 Okay, maybe I lied about Imagination being the last island of the day because there was one final surprise.
A quick refresh and essential boat restock at our home, Fatboys Island Resort, set us up for a successful sunset wine down.
Yes, you read that right…SUNSET WINE DOWN.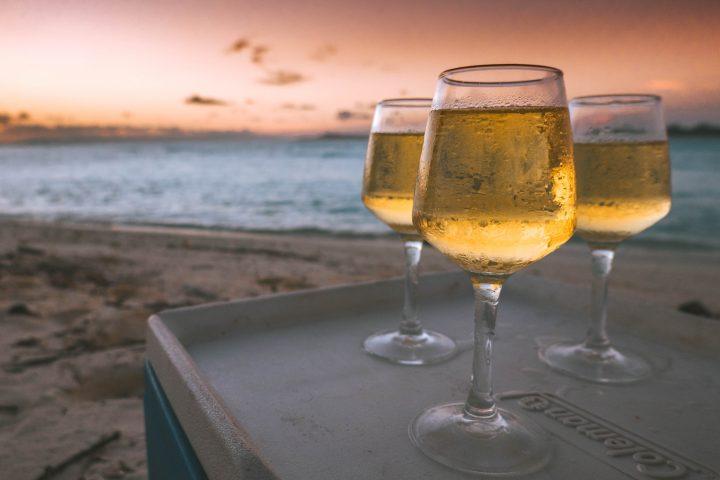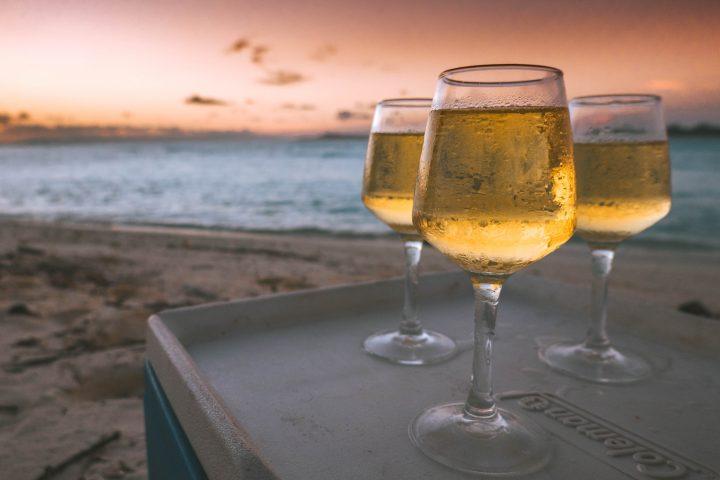 This was printed on our itinerary yet I had assumed it was a spelling error from sunset wind down. Alas, the wine gods had spoken and a wine down was to be had!
Zipping across to a mystery island, I was back on a natural high.
In no time at all we were settled into our temporary camp with a wine in hand, feet in the sand and the sky putting on a colourful explosion of a show.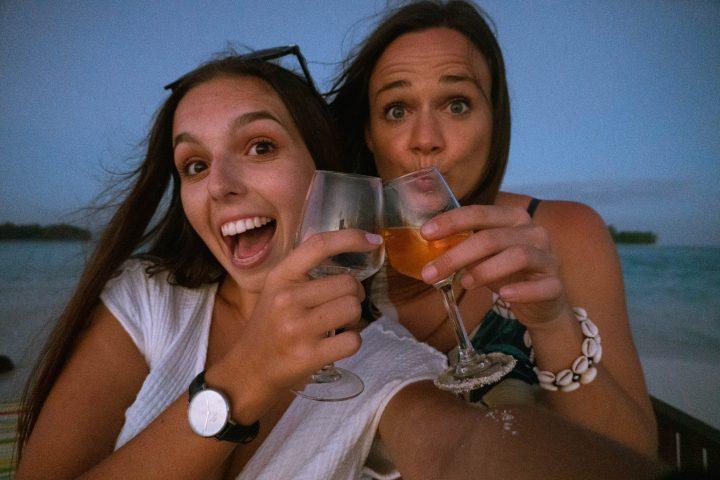 It was one of those moments that felt like it lasted a lifetime yet disappeared within the blink of an eye.
Next thing I knew we were back on the floating restaurant swapping the wine for the freshest of fresh Fatboys specialty coconut cocktails.
Live entertainment provided by the hotel staff and guests as things heat up with a pool competition to finish off a phenomenal day.
Gizo to Munda
Who would have guessed, Kimmie and I managed to get up for another sunrise!… certainly not me hahaha
As difficult it may have been to get out of bed, as always, I wanted to relish every last moment we had at our beach bungalow.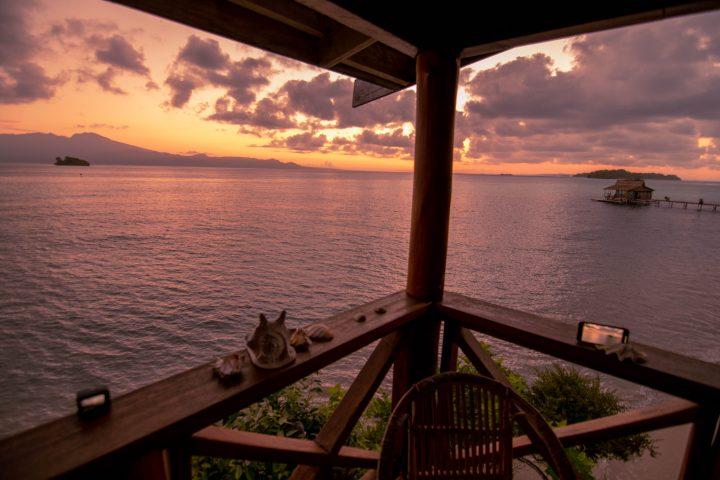 It is a big call but I think the Solomons turned me into a morning person with it's awe-inspiring sunrises. Not to mention those breaky banana pancakes make any morning better!
However, there are not enough banana pancakes in the world that could have made our departure from Fatboys Island Resort any easier.
Another day, another boat this time loaded with several suitcases. We were en route from Gizo to Munda for the final leg of our journey.
The glasslike waters we had become so used to turned to mirrors, seamlessly reflecting the white tufts of cloud into the now mangrove landscape.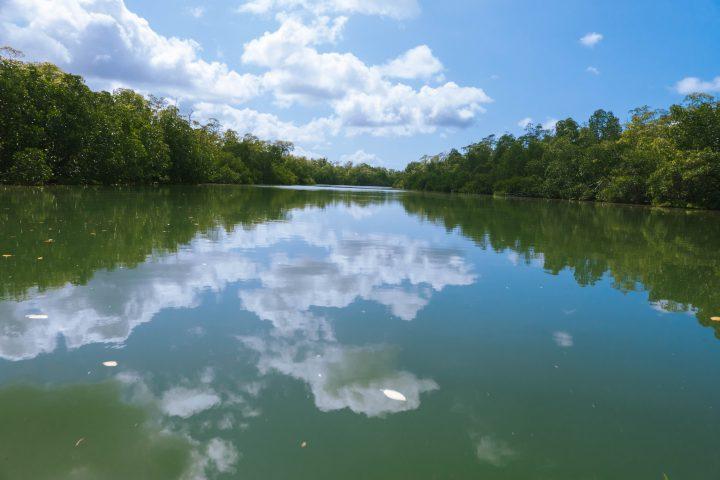 With my hair strategically pulled back into braids, after learning my lessons from the nightmares of our previous Island hopping adventures, Kimmie and I perched at the tip of the boat for optimal viewing and sea breeze goodness.
Beyond the mangroves, things got pretty choppy for a second. I was dreading getting seasick but I reminded myself that I had survived a wild week on Yachtlife Croatia and powered through!
Gleaming in the distance, as we emerged from the mangroves, was the peak of Solomon Islands unbelievably magical waters.
Engulfed by such clarity and vivid surroundings, I still can't wrap my head around it beautiful and how it hosts one of the most unique islands in all of the Solomons.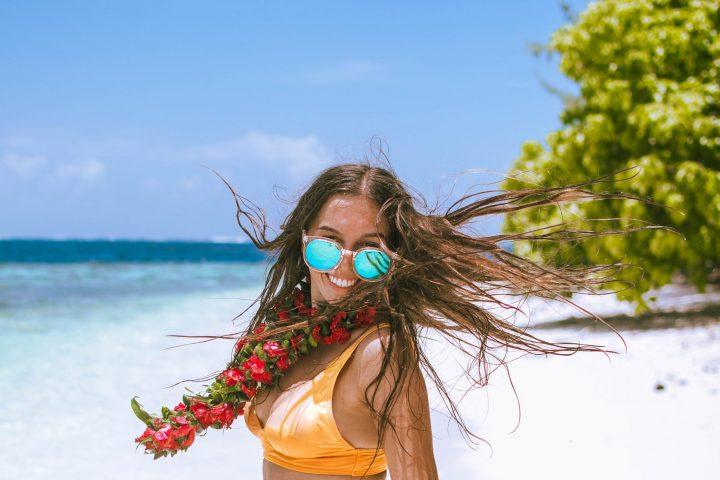 Skull Island
I must say, this was not first on my to do list. It seemed creepy, invasive and somewhat disrespectful to visit an island full of skulls, however, my experience there changed my perspective.
Although the island, where all of the remaining skulls from the Solomon Islands headhunting days now call home, still had me feeling uneasy, I was surprisingly calm.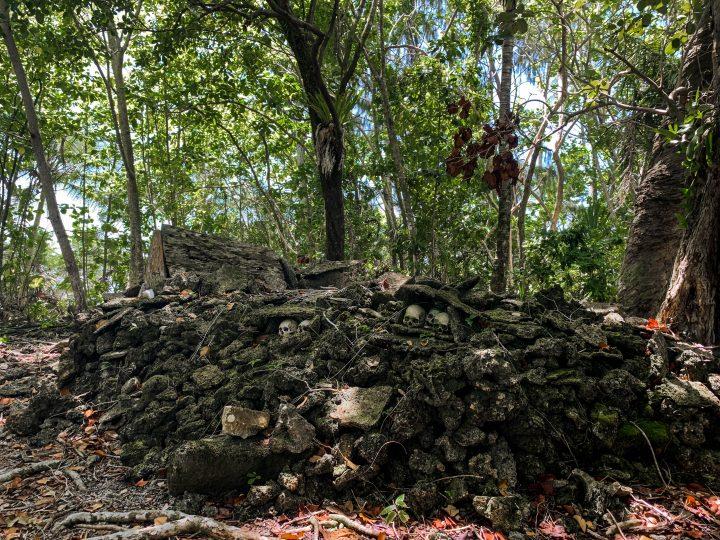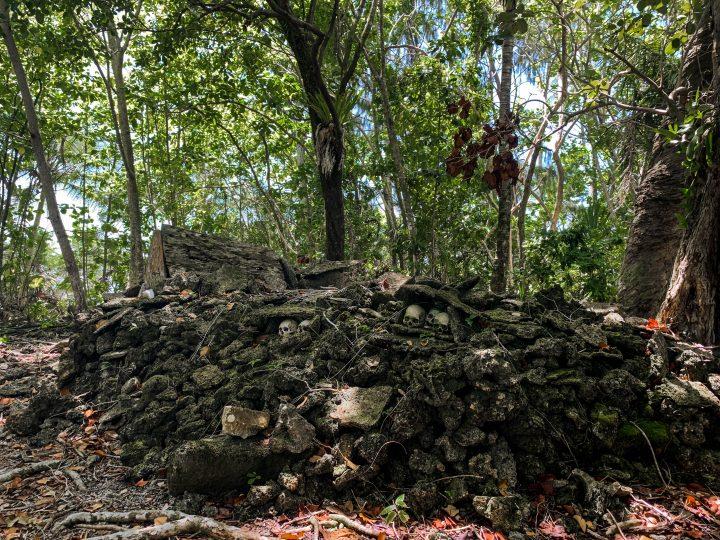 As long as you follow instructions and always listen to local guides, it will not cause any disrespect.
As intrigued as I was by Skull island, I was relieved to be back floating on the dazzling waters. Even if you don't hop onto Skull Island yourself, the area where it calls home is well worth the trip.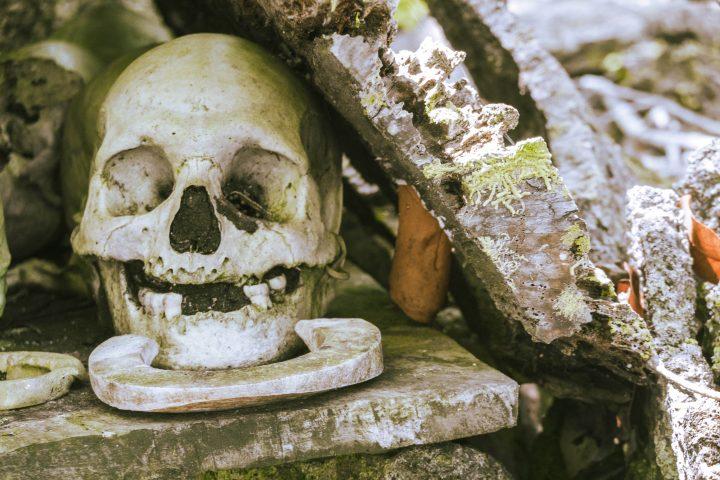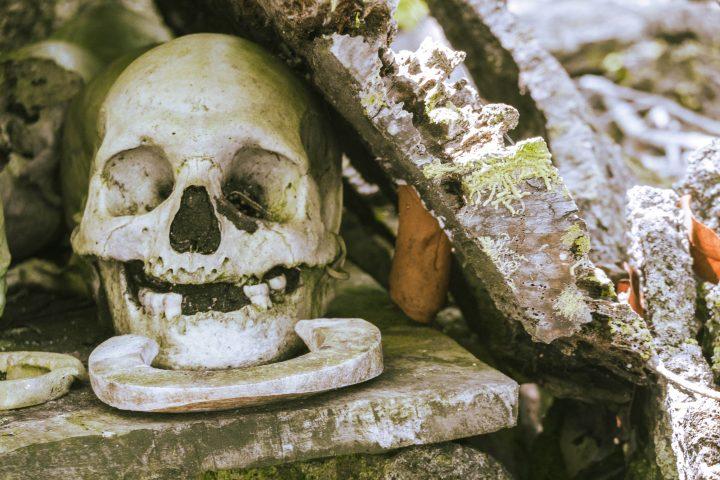 Our Eco Lodge crawl continued to Zipolo Habu Resort, Lola Island for a much needed lunch.
This welcome party was a little different than the rest with a small school of reef sharks gracefully gliding around the pier and a sleepy snake hanging out in the lobby.
Trying to ignore the fact that there was a wild snake just chilling a couple of meters away, I was able to savour a delectable stir fry lunch.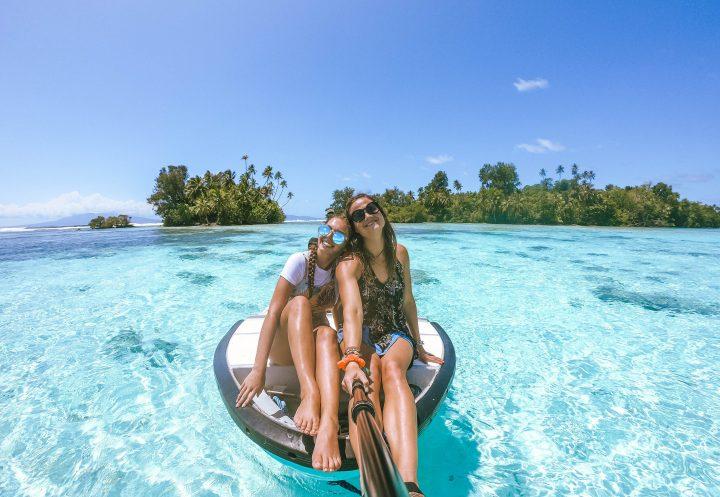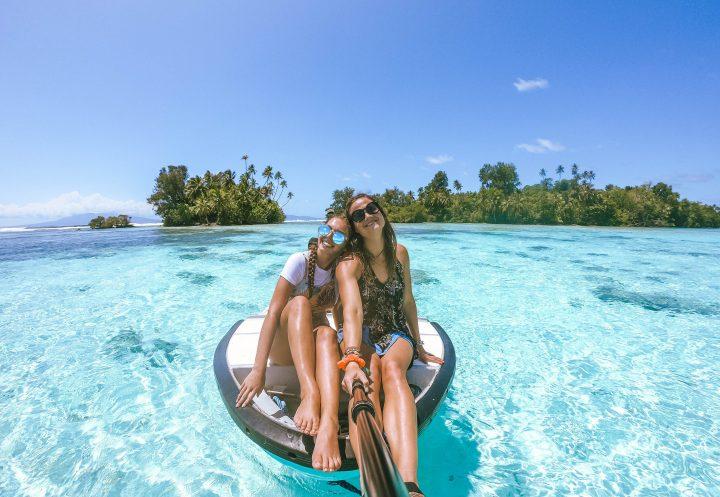 Munda Town
One lucky last stretch on the boat with the sun beating down stronger than ever, we made it to Munda.
It was bittersweet checking into the Agnes Gateway motel as it was our lucky last stop in the Solomon Islands but there was still so much to explore.
Munda Town consists of one main street. With the airport at one end and the market a couple hundred meters away at the other.
Only a short, adventurous drive into the island, the best museum stop of the trip is tucked away; The Peter Joseph Museum.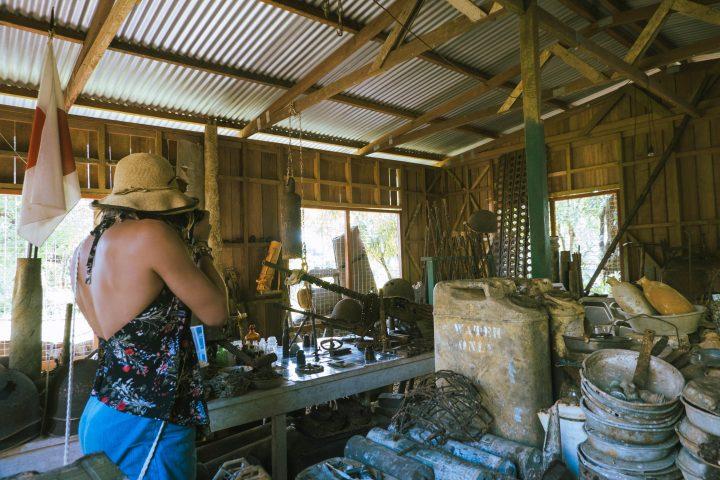 Unlike anything else we had seen, this one mans dedication and passion for collecting all kinds of remnants and relics from WWII has created the most fascinating and hands on museum experience in the Solomon Islands.
From dog tags, artillery, armour, games, wine bottle shaped lighters that still work to this day to first aid kits and grenades, you are able to hold and appreciate a huge part a history.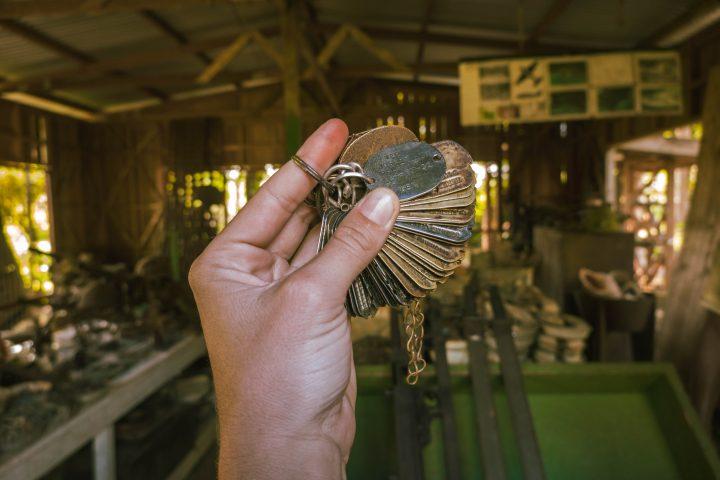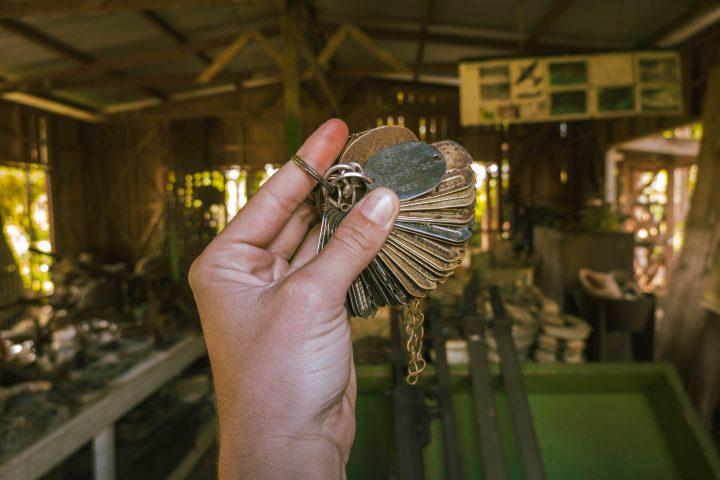 Still trying to wrap my head around the incredible finds and stories the Peter Joseph Museum holds, a seaside dinner was all that was left for us to do today.
Munda
Treated to a sleep in along with a kick of caffeine, we couldn't have been more ready for one lucky last day in the Solomon Islands. More islands to hop and the finale of our eco lodge crawl.
The Munda scenery was noticeable different to Gizo with the Roviana Lagoon featuring deeper, yet just as captivating, blues and towering mountain ranges.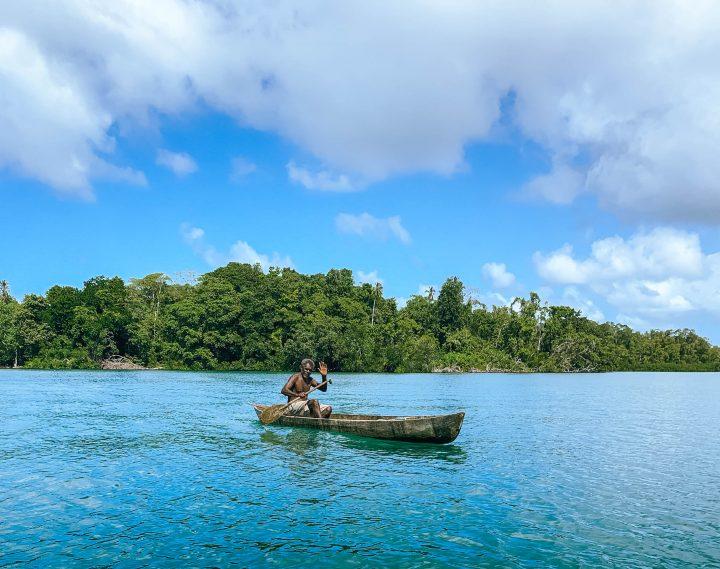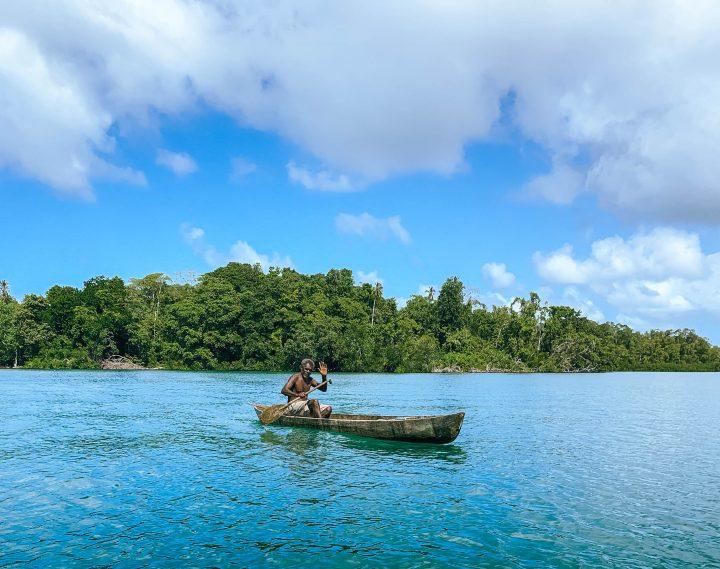 Rendova Island
Turning into a private cove, melodious voices, blessing my ears, became increasingly louder.
A colourful reception by Titiru Eco Lodge, generously gifting us the funkiest weaved, flower dazzled, visor and matching coconut.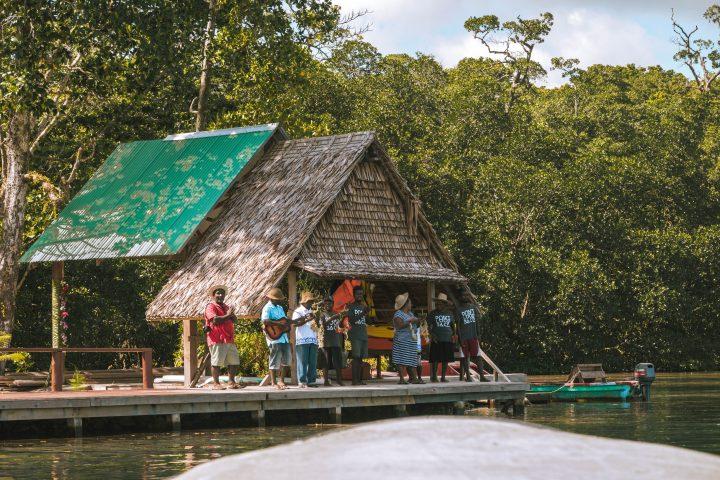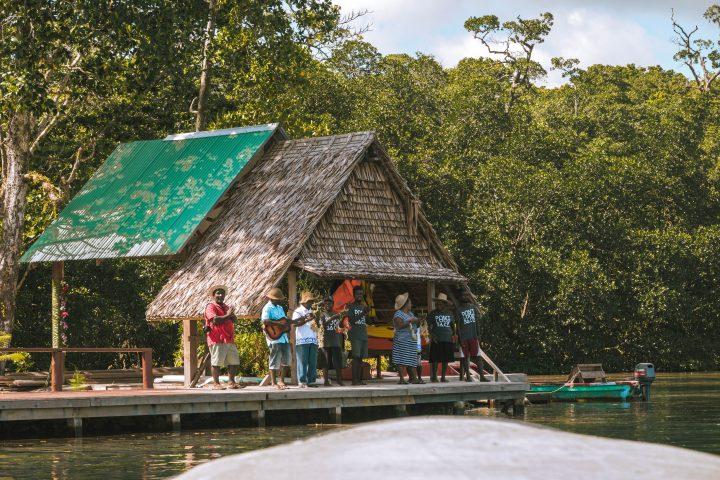 It was such a tease touring the various bungalows on site and not being allowed to stay forever. It was extremely tempting to flop onto one of many hammocks to soak in the sun and surrounds for the rest of the day. Alas, there was a whole island ready to be wandered.
As we ventured into the jungle, the sun ducked briefly behind the clouds but the humidity was not going anywhere and neither were the flies.
However, the never ending scattered palm trees and alluring pathways guiding us were quite the distraction. Almost ever turn, Kimmie and I couldn't help but take photos.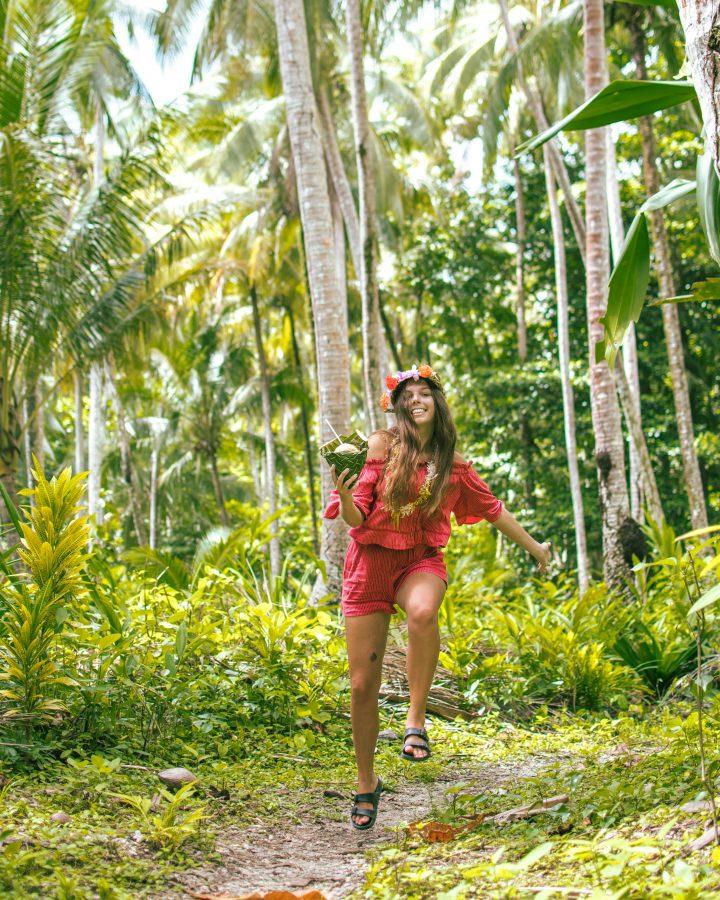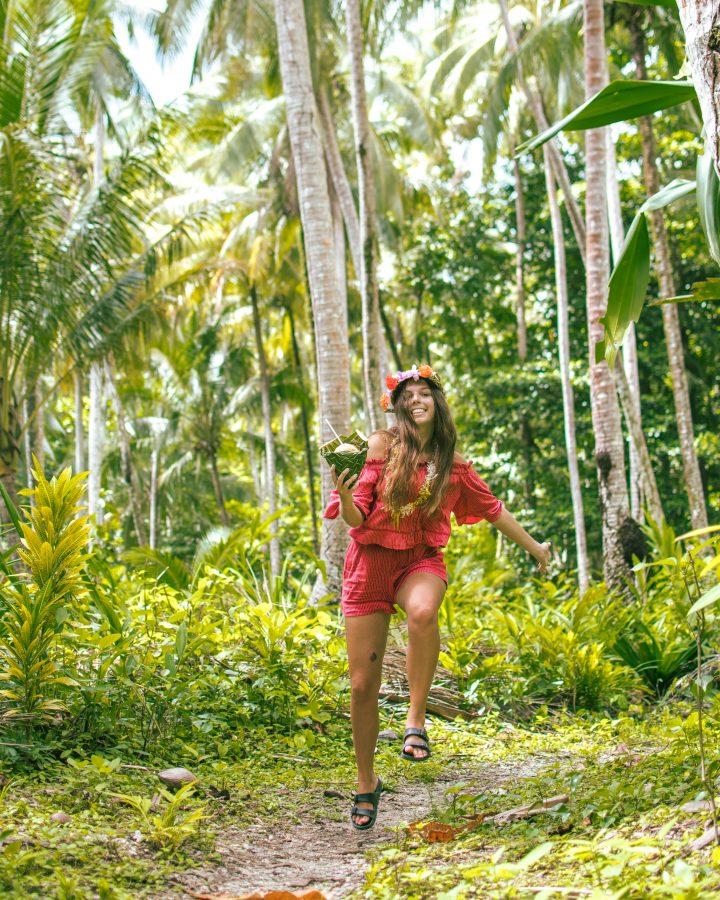 A quick detour lead us to an underwater river and the rich vegetation was bursting to life around us. All was so tranquil until a mysterious clay covered man pounced from the bushes, SCREAMING, what seemed, incoherently.
I was shocked to say the least. My heart continued to vigorously race even after we were filled in that it was a reenactment of what would have happened in the past when foreigners were coming the the local village. Both an intimidation tactic, as the Haka is the New Zealand, and a way to communicate with their tribe if this was a threat or not.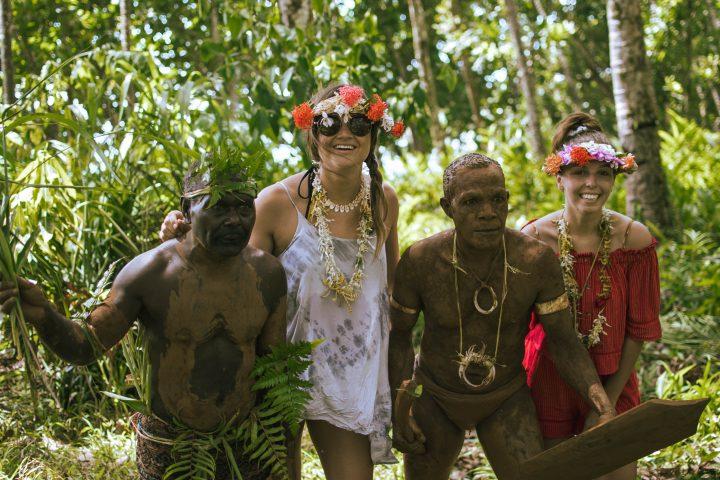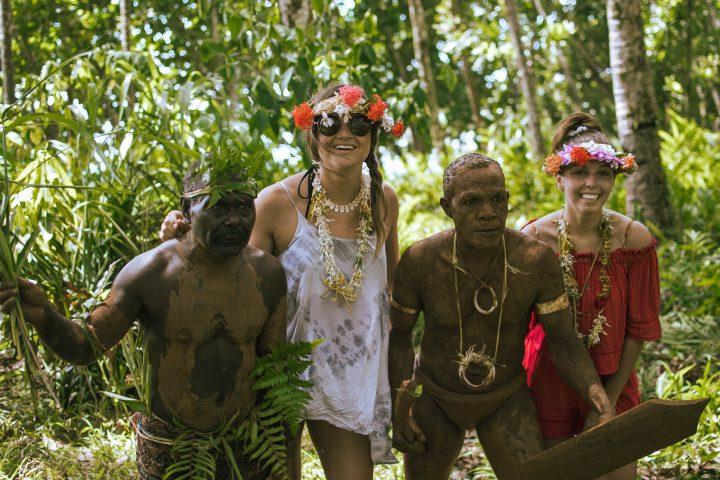 I am the least threatening person you may ever meet so it was no surprise we were all cleared and welcome into the community.
Similar to our first local village visit in Honiara, but on a much bigger scale, we were taken through traditional workshops. From washing in the rivers to drying off by the fire, cooking up a storm in banana leaves to weaving techniques and the endless possibilities of what can be created when implemented, wood carving and making clothes, not to mention, meeting the local eels in the river. All the while almost all of the children of the village followed us every step of the way.
As the only white people on this island, many of the kiddos were skeptical at first but by the end their smiles shined bright and they didn't seem to want to leave our side just as much as we now didn't want to leave theirs.
All good things must come to an end as we were ushered onto another boat back to the eco lodge where a classic Solomon Islands feed was being served alongside a jug of fresh lime juice; a new favourite, we all couldn't wait to guzzle.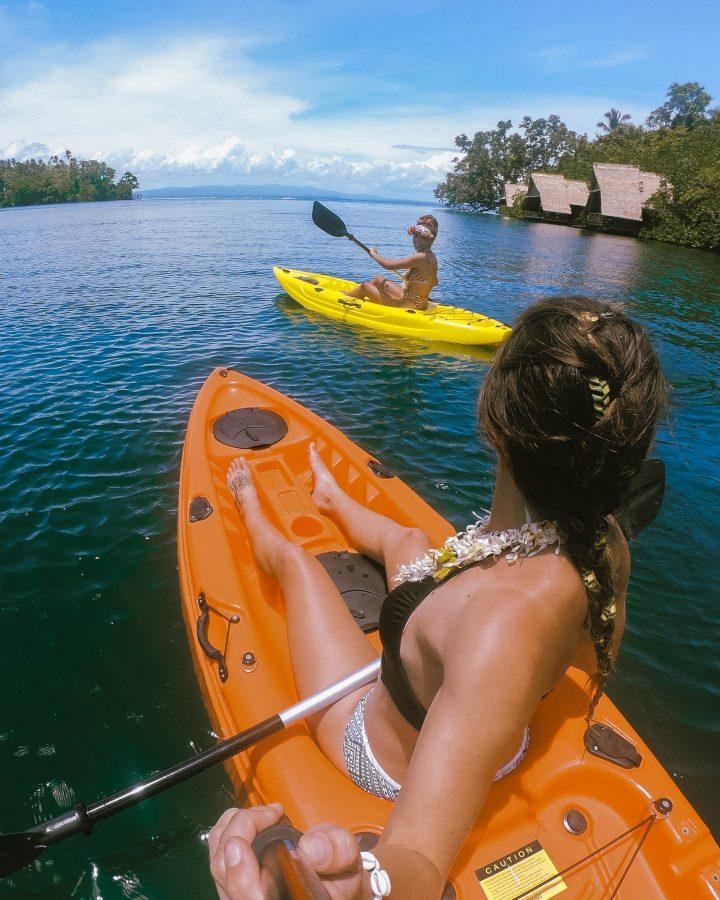 Not ready to leave Titiru Eco lodge just yet, Kimmie and I picked up some kayaks and went for a short lived adventure around the cove. The currents are easy to manage in the kayak, water is pristine and there are so many hidden gems to find along the way but the sun was overbearing. Already feeling the burn, I had so masterfully avoided the entire week, it was a sign it was time to go.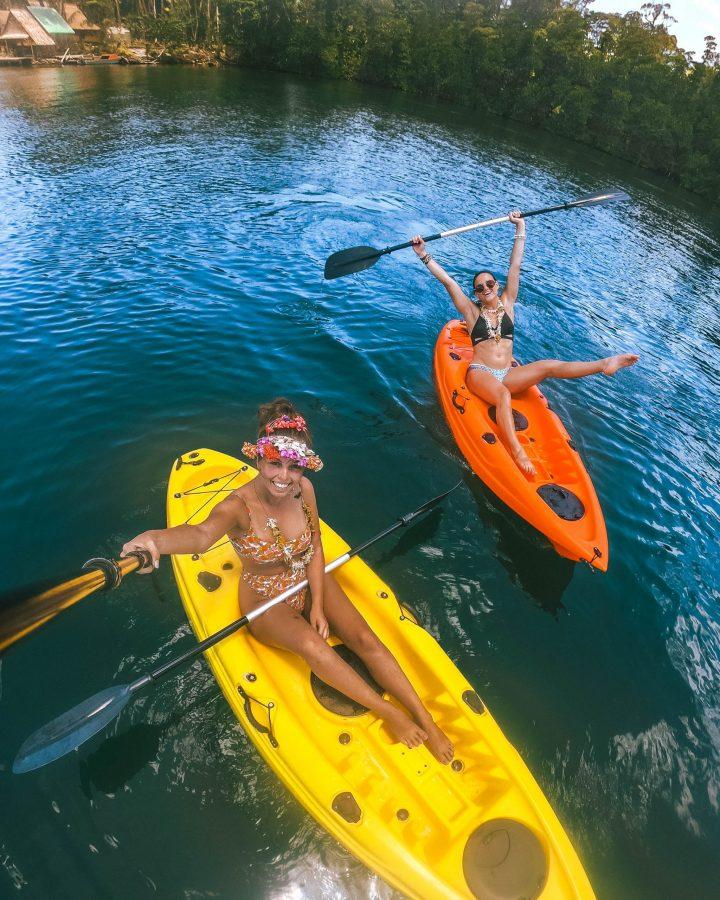 A couple of hours of air-conditioned downtime in Munda was more than enough time to prep for the last evening of 'our Solomon Islands honeymoon'. Kimmie and I were absolutely knackered from the whirlwind week but the adventure wasn't over just yet.
With a strange haze washing over the sky, already scattered with clouds, my expectations were low for the final sunset. Oh my, did the Solomons prove me wrong by sending us off with a bang.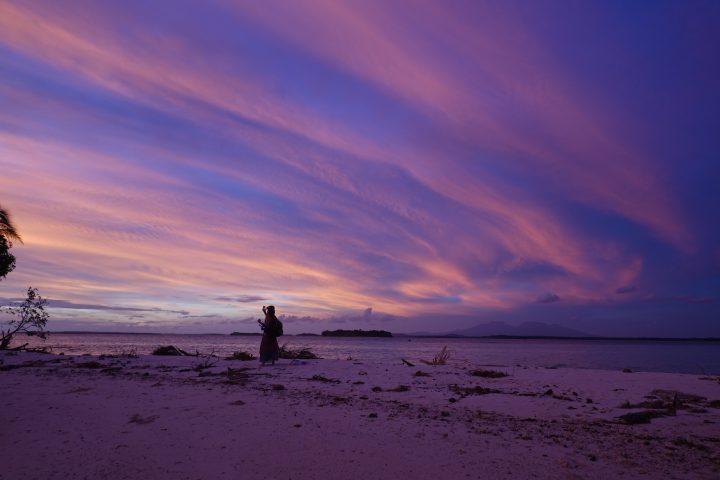 From a small island, that we once again had all to ourselves, we watched as the sky burst on fire at the very last minute.
Even though I was sick, in pain, tired and all instagrammed out, this is a moment I will be eternally grateful for.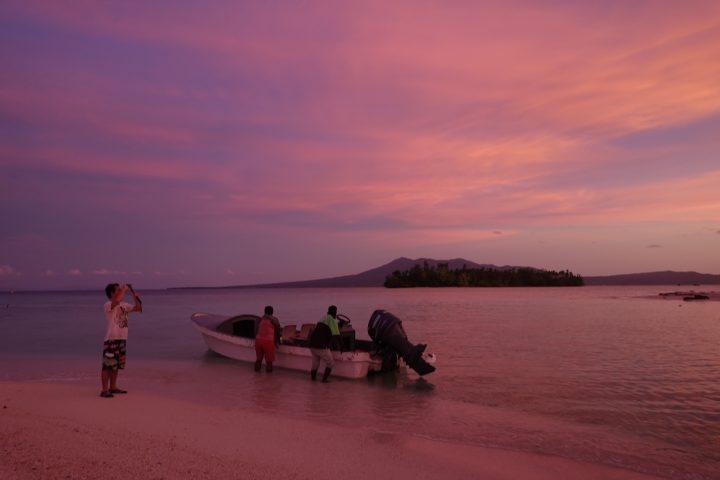 Munda to Honiara to Brisbane
A very short walk to Munda Airport still gave me way too much time to let the fact we had to leave this beautiful country today sink in.
No airport security and a handwritten boarding pass was a new experience.
Although, we were no longer new to the Solomon Airlines self seating. We were prepared to snag another window seat.
Honiara bound, the plane views were equally as impressive as the last time we were up in the air.
The landscapes of the Western Provence were so surreal I left wondering if, maybe, the whole week was one wild dream.
While transferring from Honiara domestic to international airport, reality was setting back in. This eye opening week in the South Pacific's best kept secret was complete. However, with enough memories and photos to last a lifetime, this trip will last forever in my heart…wow so cheesy I know, but justifiably cheesy nonetheless.
Budget
While the Solomon Islands currently remains a relatively expensive destination, it does provide a lot of value for money.
With an average meal comparative to Australian meal prices of $20-$30. It may not be the cheap eats you were hoping for but there are still plenty of bargains to be had.
Keep an eye out during your local food market visits for the best and cheapest fresh fruit. Not to mention, when you find out how inexpensive fresh lobster is, you'll be wanting to eat it every night.
Accommodation is where a lot of budget backpackers will be turning down the Solomon Islands as their next travel destination. With most eco-lodges, hotels and bungalows averaging AUD200 per night.
Although these properties don't ooze 5-star luxury, they offer a very unique experience and priceless locations that make the price well worth it.
Food
I have never been a huge seafood fan but I think I may be now after the delicious array of choice the Solomon Islands provide.
The same with coconuts! Seriously, I would have had more coconuts during 1 week in the Solomon Islands than I have had my entire life.
Both are not something I would usually have everyday but the Solomons gave me that opportunity and my tastebuds are so glad I took it. You should take it too!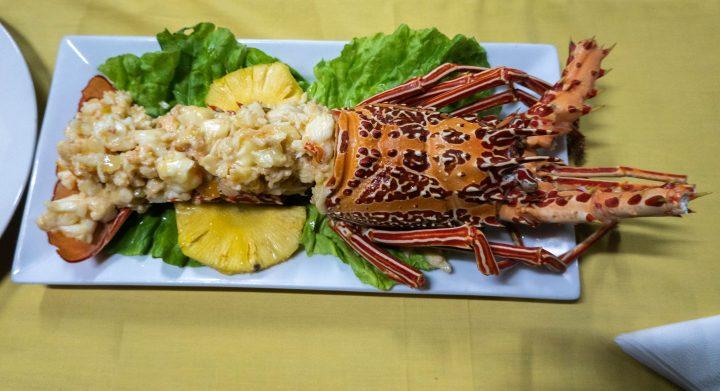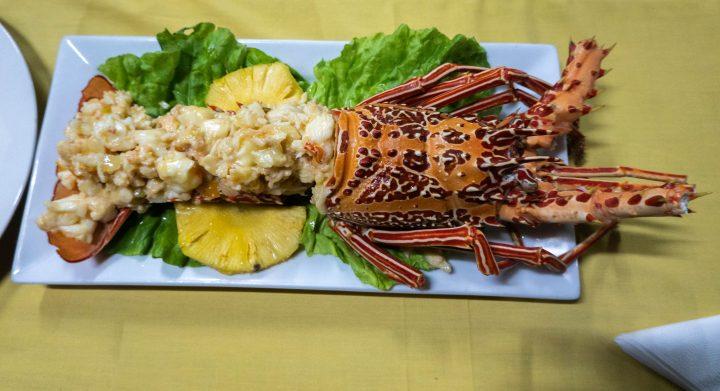 As expected, there is not a strong food culture. The closest you will get to a traditional social meal is visiting the local villages where the focus is on traditional cooking practices and not so much the food itself.
In saying that, it does not mean there is an abundance of tasty food waiting for you on the Islands.
Besides the obvious, seafood, most restaurants offer anything from steaks, burgers, pasta, salads, stirfry to curries.
Do not forget about the fresh fruit!
People
I can confirm the people of the 'Hapi isles' are indeed, HAPPY!
It still brightens my day looking back on our times with the locals. Especially those infectious smiles the kids carried with them as their curiosity encouraged them to follow us around.
Understandably, there were still a few hesitant to interact, particularly around the markets. However, it doesn't take much for them to open up if you are willing to put the time and kindness into a conversation.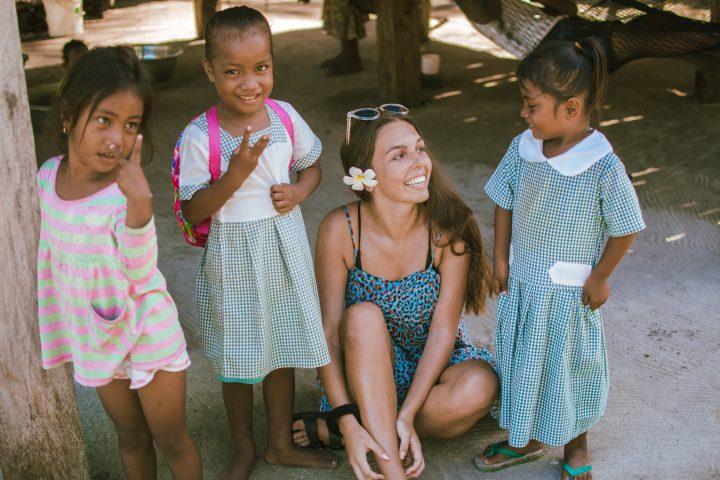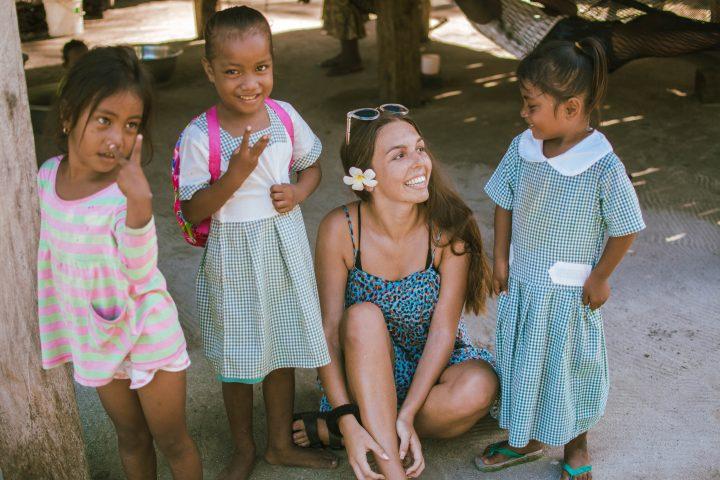 Health and Safety
Malaria is nowhere near as prominent as I expected. Not that I was going into the trip expecting to contract the disease, oh no.
However, almost everywhere I travelled during my time in the Solomons was no longer affected by the infection with new technologies and treatments preventing it from spreading.
It was crazy how many of the locals we had talked to, had suffered from malaria at least once in their lives and how casually it was talked about. Thanks to those medical developments it is both easily treatable and almost nonexistent across the main islands.
As mentioned prior, safe drinking water was easy to obtain and if the water was still a concern to you, it was even easier to grab a coconut!
Final thoughts on the Solomon Islands
While the Solomon Islands may not be the next big budget backpacking destination any time soon, it shouldn't be turned away so quickly.
If you are like me and love value travel, the Solomon Islands is certainly a bang for your buck as it offers something very rare in the world today; unique experiences in a relatively untouched country.
The few other tourists we crossed paths with had all extended their stays and it isn't hard to see why, it truly does feel like paradise, especially in Gizo.