Our next stop on the Worldwide Donut guide brings us to one of Boston's local favorites!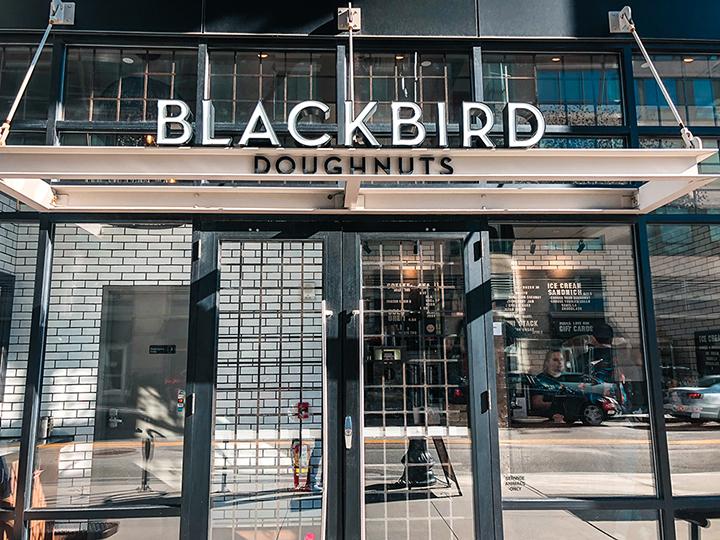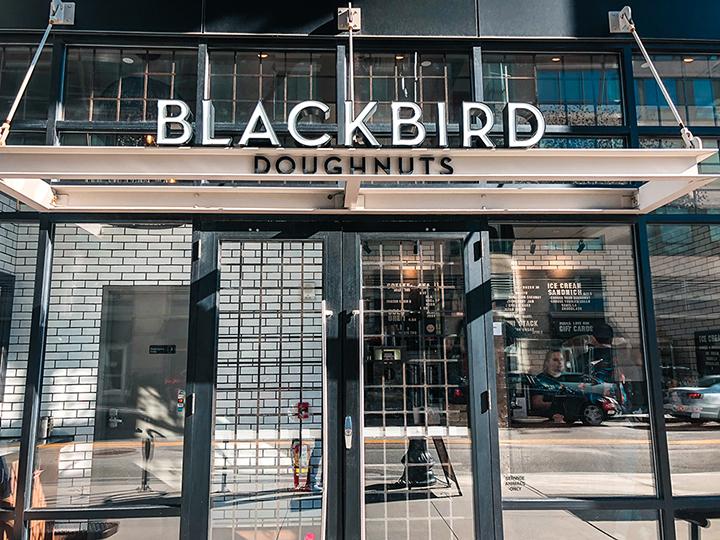 About Blackbird Doughnuts
Blackbird Doughnuts was officially opened to the public in 2015 by Seth Yaffe and his business partner Rebecca Roth Gullo. The two partners had initial success with The Gallows, a favorite restaurant in Boston's South End.
They knew they wanted to stay in the area, but didn't necessarily know initially that they wanted to start a doughnut shop!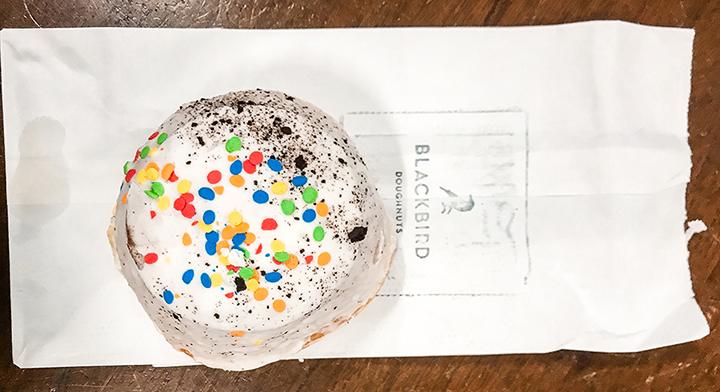 After a visit to Chicago in 2013, Yaffe and Gullo realized that there wasn't a big doughnut culture in Boston at all, and they wanted to change that. It's very different eating a homemade doughnut versus a doughnut from Dunkin' Donuts.
Since their soft opening in the South End, Blackbird Doughnuts has expanded to Fenway, Harvard Square, Brighton, and Newton Center. They have yet to expand past the Boston area, but that's what makes it such a local treat!
Where is Blackbird Doughnuts?
All Blackbird Doughnut locations are in the Boston area! There are many different locations to check out:
The original location in Boston's South End: 492 Tremont Street | Boston, MA 02116
Fenway, the location I visited: 20 Kilmarnock Street | Boston, MA 02115
Harvard Square 15 Holyoke Street | Cambridge, MA 02138
Brighton 100 Holton Street Bay 4 | Brighton, MA 02135
Newton Center 55F Union Street | Newton, MA 02459
Since there are so many locations, it's super hard to not make it to a Blackbird Doughnuts while you're in Boston! The most common ones to visit are definitely the original one in the South End, where you can see doughnuts getting made, or their newer location in Fenway. Expect it to be busy no matter which one you visit!
Their Donuts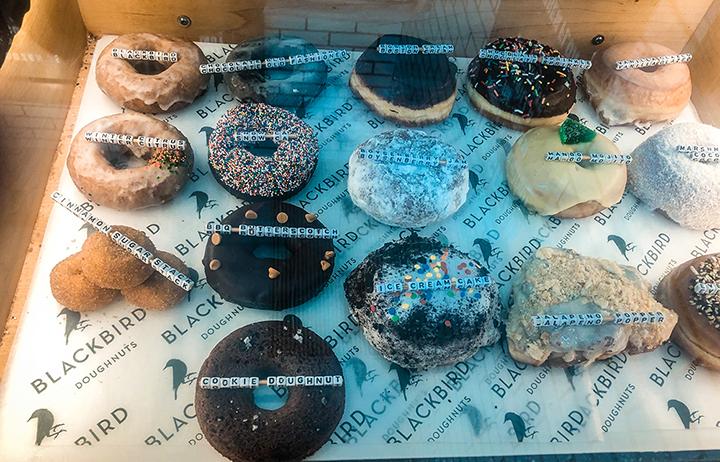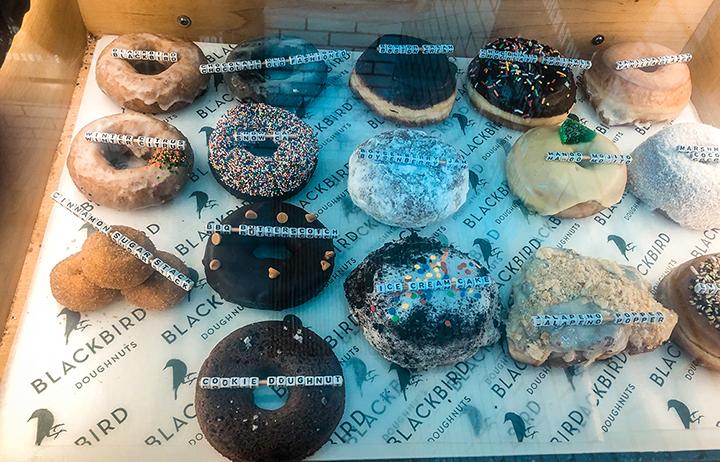 Blackbird offers a range of doughnuts, a lot of which are seasonal! For example, some of their winter menu options for the next few months include Winter Citrus (vanilla doughnut with lemon, grapefruit, lime, and orange), Marshmallow Coconut (brioche doughnut topped with coconut marshmallow sauce and coconut flakes), and Snow Cap (chocolate doughnut with dark chocolate ganache and sprinkles).
The menu is rotated out every few months, with a few classics always staying. They offer both raised doughnuts and cake doughnuts. The raised doughnuts at Blackbird are made with brioche dough, while their old fashioned cake doughnuts are made with cake batter!
Looking for something more fun than just a doughnut? Blackbird Doughnuts offers miniature doughnuts in sets of 50! You just have to order them ahead. Some flavor options are Vanilla Glaze, Chocolate Ganache, and Cinnamon Sugar. There's also doughnut cakes and pies, which is exactly what it sounds like it is!
The cakes feature two layers of doughnuts and you can order either Chocolate or Vanilla. As for pies, they're currently just offering an apple pie, made with apple cider doughnuts, graham crackers, and brown sugar filling!
Blackbird Doughnuts also has soft serve at both its South End and Harvard Square locations. They recently added the option to turn any doughnut in an ice cream sandwich as well, which is perfect for any summer day! In addition to their doughnuts, many Boston locals frequent Blackbird Doughnuts for their coffee options, which pair great with their doughnut options.
Must Haves
BBQ Butterscotch
The BBQ Butterscotch doughnut is a chocolate cake doughnut with BBQ chocolate and butterscotch chips on top. Crazy, right? Though it doesn't sound like they pair well together – they do!
Chocolate Chip Cookie Dough-Nut
Not a fan of doughnuts? Well, you're in luck! This "dough-nut" is basically just a chocolate chip cookie shaped like a doughnut.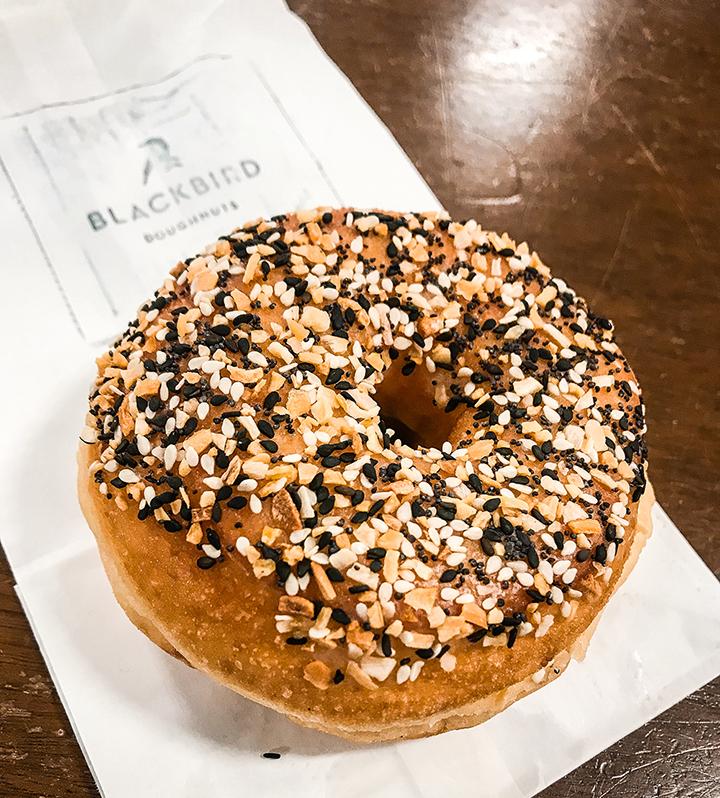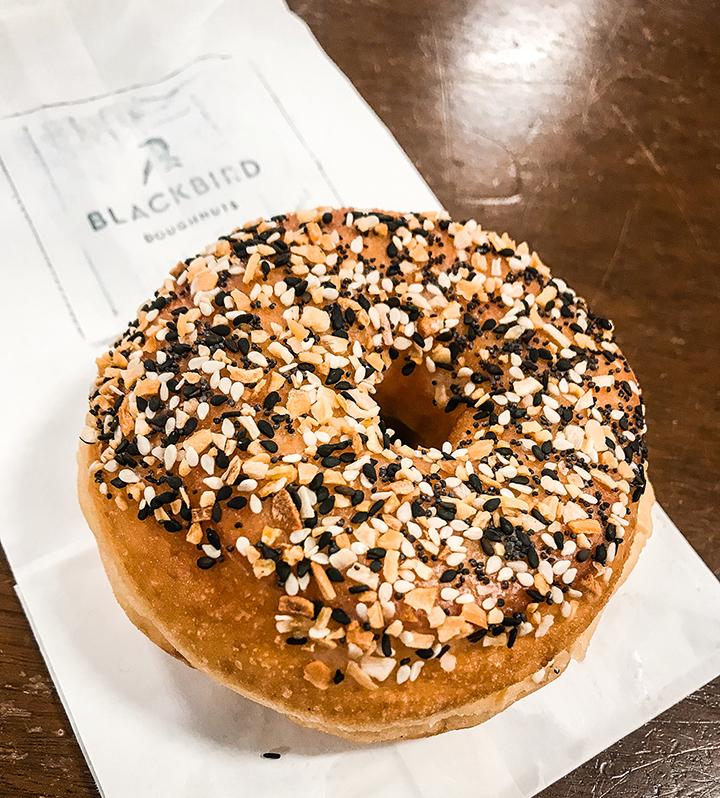 Everything Bagel Doughnut
Now, I know this sounds crazy, but this is seriously the best doughnut I've ever had in my life. I'm a sucker for everything bagels with cream cheese, but this takes the flavor to a whole new level. This brioche doughnut is topped with everything bagel seasoning and is filled with whipped cream cheese. Don't knock it 'til you try it!
Vanilla Glazed
You can't go wrong with a vanilla glazed doughnut, and I happen to think that Blackbird's brioche take on this classic is amazing. I've had a lot of glazed doughnuts too, since it's my favorite flavor, yet Blackbird's version consistently stands out to me.
The Blackbird
It's always a good option to try a doughnut named after the doughnut shop you're visiting. Known as Blackbird's signature doughnut, The Blackbird is a vanilla bean cake doughnut with vanilla glaze.
Boston Cream
If Adele likes it, then you have to try it. Plus, it's Boston, what better way to celebrate than trying a Boston Cream? This brioche doughnut is topped with chocolate ganache and filled with vanilla bean custard.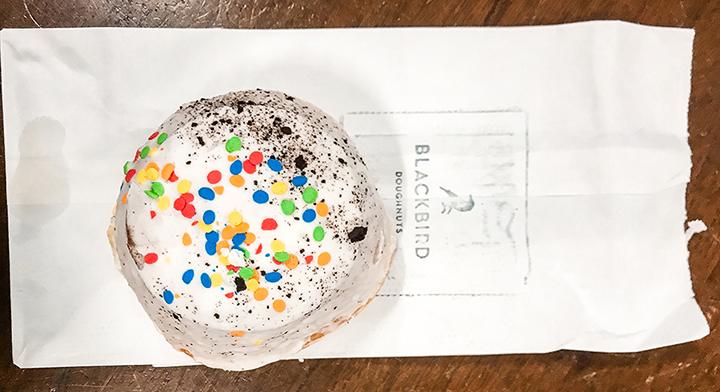 Ice Cream Cake Bismarck
As one of Blackbird's current seasonal doughnuts, Ice Cream Cake Bismarck is only here for a short time. Definitely get it while you can – it's filled with chocolate mousse and topped with vanilla glaze, sprinkles, and Oreo cookies!
Fun Facts about Blackbird Doughnuts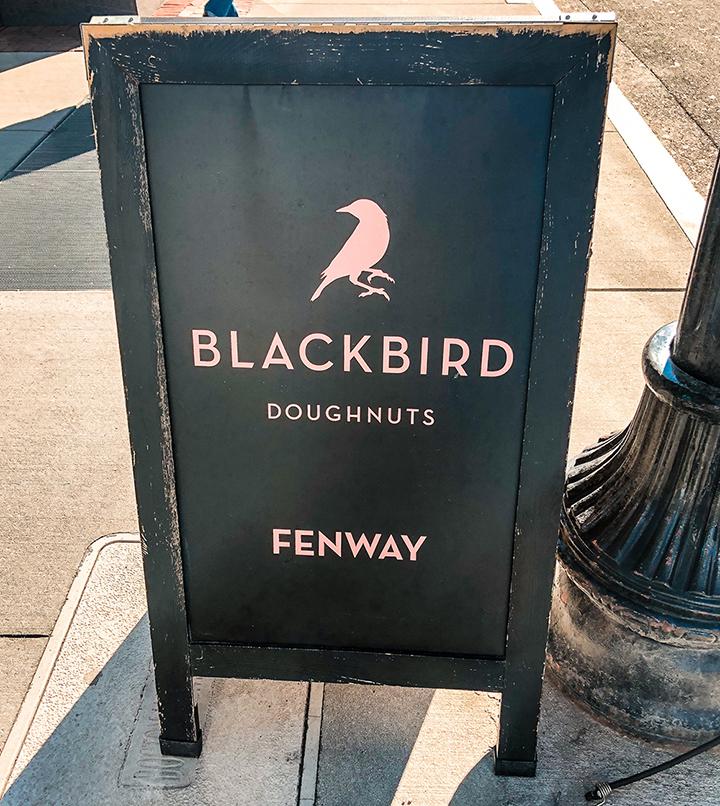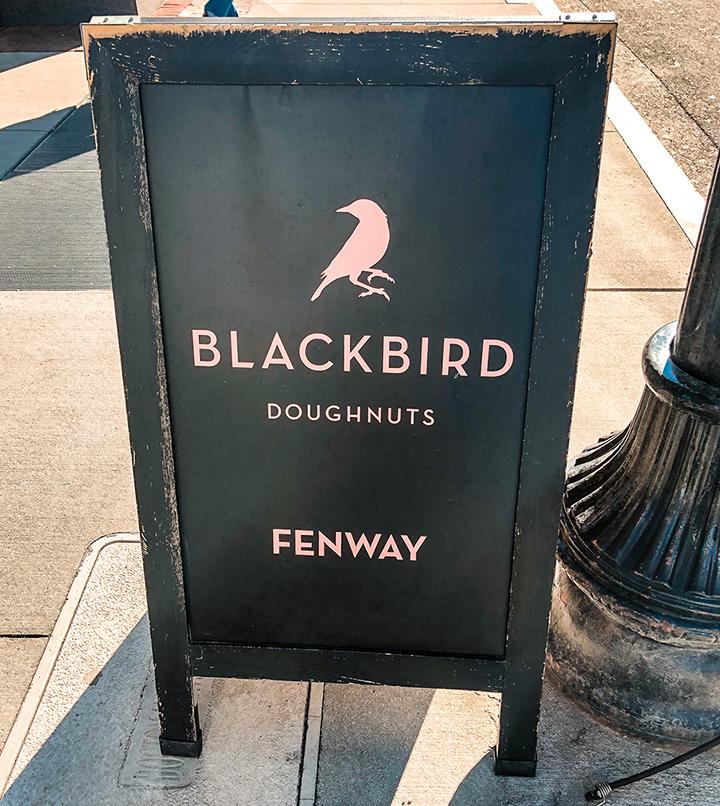 They have seasonal flavors! Every few months, the menu completely changes and new flavors are released. Keep an eye out on their social media – they'll tell you there when the new flavors are coming out, and what they are!

The logo for Blackbird Doughnuts is the same exact bird from Yaffe and Gullo's restaurant logo for The Gallows.

When they initially opened the doughnut shop, they had around 100 unreleased flavors! They were really planning ahead.

Blackbird Doughnuts takes pride In offering unique flavors. These aren't the same sort of flavors that you'll find in your average Boston doughnut shop!

Though they don't offer gluten-free doughnuts, they currently have a vegan option of their signature doughnut flavor.

Adele tried the Boston Cream Bismarck at Blackbird Doughnuts and said that it was one of her favorite doughnuts during her performance at TD Garden in Boston in 2016.
---