Sleep and Eat Queenstown: Jucy Snooze and Miss Lucy's Pizza Bar
Queenstown has an abundance of accommodation and foodie options that is only getting bigger now that Jucy Snooze and Miss Lucy's pizza bar have officially opened their doors and Instagrams!
Jucy has quickly become one of my favourite travel brands/experiences. From zipping around South Island New Zealand with my bestie late 2017 in a classic green and purple van to exploring the famous Great Barrier Reef from the comfort of the Penthouse 'Campa'. Now, to have the opportunity to take a step back from van life to test out a whole new side to the company I love so much, is something I couldn't pass up. Plus, whenever there is pizza involved, I am in!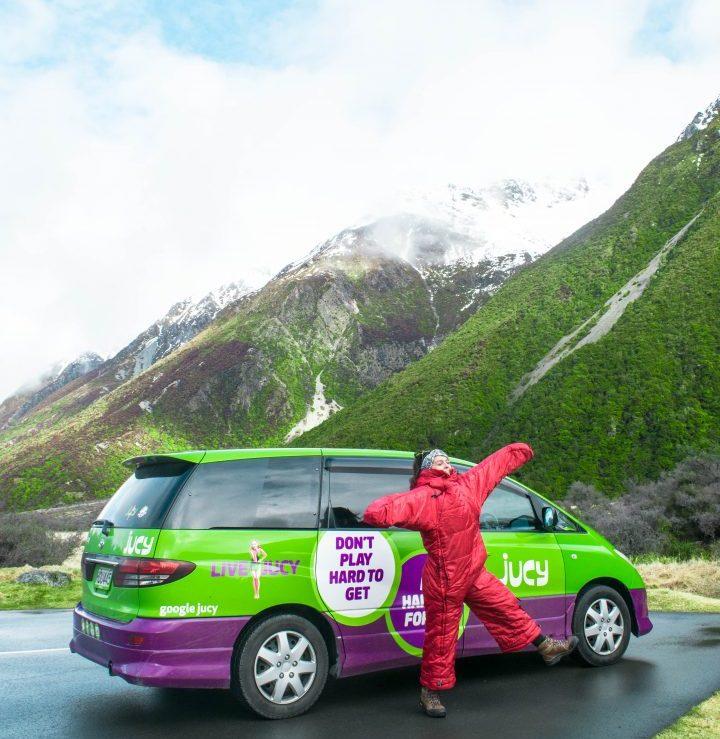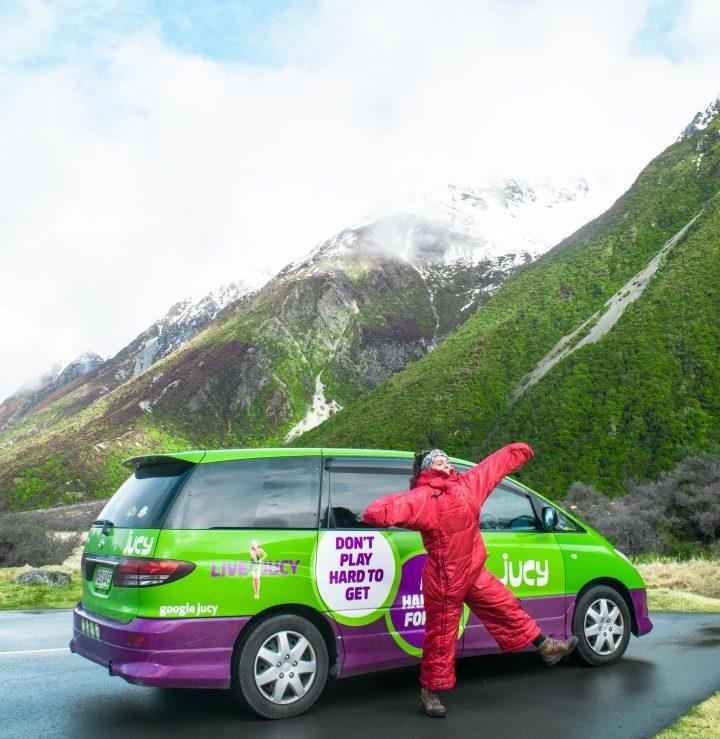 For all of my previous Jucy blog posts, I would usually tell you to buckle up so we can get into the good stuff but I guess is more appropriate this time round to tell you to get checked in so we can jump into this real, honest and JUCYlicious review of the brand new Queenstown Jucy Snooze and Miss Lucy's pizza bar.
What is Jucy Snooze?
The Jucy vehicles become like a game of spotto; once you start seeing one, you never stop seeing them.. EVERYWHERE.
Staying true to its well-known and hard to miss colour scheme and message. Bright and fun-loving experiences for bright and fun-loving people! The newest creation from the well-known car and camper van rentals brand is Jucy Snooze, the brand new hostel experience with a twist!
Where is Jucy Snooze?
Jucy Snooze is spreading across New Zealand, allowing you to Snooze in Auckland, Christchurch and Queenstown!
Queenstown Jucy Snooze only opened in April 2018. This new addition to the family can be found in the heart of the town.
47 Camp Street,
Queenstown, 9300
FROM JUCY THEMSELVES: "THIS ADRENALINE FUELLED, PICTURESQUE TOWN IN THE SOUTH OF NEW ZEALAND IS SURROUNDED BY SOARING MOUNTAINS WITH A DEEP BLUE GLACIAL LAKE SAT PERFECTLY IN THE MIDDLE. THE HOME OF THE LEGENDARY FERGBURGER, BUNGY JUMPING, JET BOATING, VINEYARDS, VIBRANT BARS, AND AWARD WINNING RESTAURANTS, EXPERIENCE IT ALL FROM OUR BRAND SPANKING NEW ACCOMMODATION!"
Accommodation options
Pods
Between 4 pod rooms and 8 pod rooms. The Japanese-inspired capsules are perfect for a solo traveller or group of friends wanting to experience something a little different.
The room can be set up to socialise across each of the pods or with a quick pull on the blind, can be turned into your own private escape.
Each pod comes with:
Storage locker (under pod)
King Single Bed
Privacy blind
USB charging unit
Electronic socket
Storage net (built-in pod)
Fan
Light
Mirror
Free Wifi
All additional features, such as bathrooms and kitchen can be found outside of the rooms in the shared facilities.
Private Queen Room : No window
Couples or friends wanting a little more privacy than just a simple blind. The Queen rooms are another affordable option.
Queen Room: no window includes:
Queen Bed
Ensuite bathroom
Free Wifi
Smart TV
Hairdryer
Private Queen Room : Window
Still perfect for couples and friends wanting a little more privacy but also wanting to make the most of the Jucy Snooze location. Enjoy breathtaking views from your cosy queen bed.
Queen Room: window includes:
Queen Bed
Window
Epic Queenstown view
Ensuite bathroom
Free Wifi
Smart TV
Hairdryer
Air conditioning
Mood lighting
Charging outlets
Private Queen Room : Balcony
Still want that privacy but want to treat yourself to a little luxury. The Private Queen with Balcony is calling your name.
Really making the most of the views while providing an open and fresh feel.
Giving you a little more space the balcony is your personal getaway to observe the town and its surrounds.
Queen Room Balcony includes:
Queen Bed
Balcony
Ensuite bathroom
Free Wifi
Smart TV
Hairdryer
Air conditioning
Charging outlets
Quad Room
Scared of the pods but still want to have a room of 4 the Quad is what you are looking for.
The Quad includes:
1 bunk bed
1 queen bed
Free Wifi
Ensuite bathroom
Smart TV
Air conditioning
charging outlets
Twin Room
Want a bit more privacy not only from strangers but also from your mate without the extra price tag. The twin is for you!
With two single beds, it allows you to be with your mate but have your own space.
The Twin includes:
Free Wifi
Two Single beds
Ensuite bathroom
Charging outlets
Additional facilities
Travel Desk
Having trouble deciding how to make the most of your time in Queenstown? All you have to do is go downstairs to the travel desk.
With friendly staff offering their advice and experiences to ensure you have the best time in and outside of Jucy Snooze. They can help you pick the tours and activities best suited to your wants and needs. before you know it you will be on a giant canyon swing or jetting around the Shotover river!
Communal Kitchen
Although Queenstown is not short on food choices, it is nice to have the option to cook for yourself in the communal kitchenette.
Whether you are on a budget and are on a strict diet of two-minute noodles and toast or just want to make yourself a coffee. As long as you bring the food to cook Jucy Snooze has what you need to cook it.
24hr Reception
Whether you are having trouble checking in or simply want to check out. Maybe, you are having a problem working your locker or want to book an airport shuttle. Reception is always there to help.
Express Check-in with kiosks
More and more places are taking on self-service kiosks from supermarkets to airports. With Jucy Snooze joining the party you can now check yourself in with a few quick touches of a screen. Cutting down on check-in wait lines and providing a more efficient experience.
Free WiFi
The most important thing. How would we ever live without it!?
Rooftop Lounge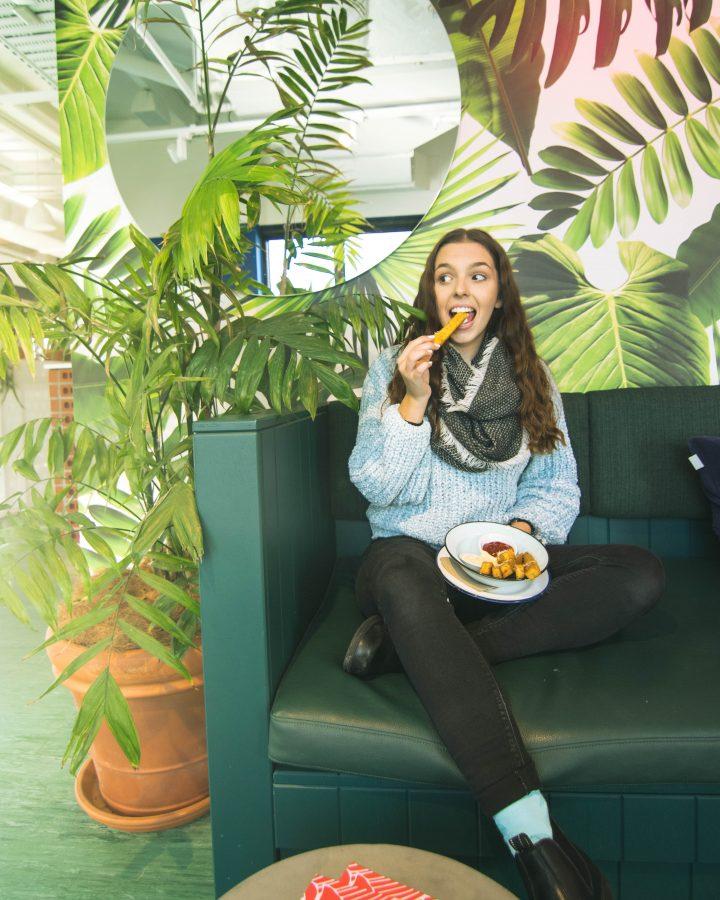 Besides the communal kitchenette, the rooftop lounge is the ideal place to hang out and catch up with friends.
Connected to Miss Lucy's Pizza bar on the rooftop (duh) this spacious hang-out is ideal to get some work done during the day and party at night.
Luggage Storage
Check-in/out times and flights don't always line up so there is luggage storage available upon request.
No one wants to be dragging their luggage through the long lines of Fergburger and certainly not when trying to bungy. All you need to do is ask reception and it is one less thing you have to worry about.
Laundry Facilities
Travelling can get smelly. Wearing the same clothes over and over while doing crazy activities or if you're like me spill anything you eat somewhere on your outfit. Lucky for you, you don't have far to get your dirty clothes feeling fresh again.
For a small fee per load you can tackle your pesky laundry just below your room and get on with the adventures!
Rooftop Cafe and Bar
Miss Lucy's Pizza Bar. Just keep reading.. you're almost there!
My experience at Jucy Snooze
Checking-in
After being stuck in cars, planes, and buses all day I couldn't have been more ready to check into Jucy Snooze for a Snooze.
Upon arrival, we were greeted with big smiles and two self-service check-in machines; perfect for us socially anxious folk. As I had a million questions, most of which were about food, I made my way straight to that friendly face behind the desk.
Quick, easy and all my questions were answered, plus more. We were ready to get our Snooze on.
Do you even lift?
It's hard to get lost in Jucy with the playful directions and signage spread throughout. Just back from check-in, we found ourselves drawn to the "do you even lift" sign on the floor outside the elevator. Jucy really knows what their target market (millennials) wants!
Unfortunately, this particular day the only thing we were 'lifting' was our luggage.
My bad luck continues with the lift being down the day we arrived. In no way was this Jucy's fault and I don't think a hotel should be punished for an unlucky and out-of-control issue like this.
As Jucy always does, if there is a problem, they always provide a solution. While the elevator was being worked on we had one of the staff offer to carry our luggage up the stairs for us. Before we knew everything was up and running with no problem at all.
My Private Queen Room
With one swipe of the room key we were in our private queen room with ensuite. Oh, and I can't forget about an incredible view!
It may look a little small upon first look but with large amounts of luggage storage under the bed and even a mini wardrobe at the door, there was more than enough room for two girls who had certainly overpacked haha.
The cosy bed was perfectly nuzzled into the back corner of the room allowing you to make the most of the sweeping mountain views. Each day everything outside the big, beautiful window felt like it was working just for us. From the moment the Skyline gondola started its rounds to the hang gliders floating down before our eyes, every moment felt special. I struggle getting out of bed in the morning usually but with that view it seemed impossible.
The super clean bathroom, again, made the most of the room it had. Plenty of hanging space and a brilliant shower that I was excited to jump into every day to defrost from being outside in the NZ winter.
The Jucy Snooze Pods
Although I didn't stay in the pods this time round I did run into a few friends along that way that did. Both the 4 person pod room with a giant window and the 8 person pod room tucked away in the building.
I have stayed in hostel dorms before but nothing comes close to how funky these pods are. It does feel like you are in a spaceship as you step inside.
Each king single pod felt almost as big as our private queen room. All kitted out with a built-in touch remote to control the lights, charging outlets, and fan. It doesn't stop there with a storage net, mirror, privacy blind, and a large locker for all of your valuables hidden below.
Getting around town
As mentioned above, the brand new Jucy Snooze is located in the heart of Queenstown.
There may be cheap paid parking across the road but if you are staying here you really do not need a car. Everything you need and more is all within walking distance. In saying that, all of the shuttles, buses, and taxis can be found directly across the road from the main entry for the extra bits and pieces you can't/probably don't want to walk to.
Is it time for pizza yet?
What is Miss Lucy's Pizza Bar
"AFTER A BITE TO EAT FOLLOWING AN EPIC DAY UP THE MOUNTAIN? LOOK NO FURTHER THAN MISS LUCY'S, JUCY SNOOZE'S VERY OWN ROOFTOP PIZZERIA AND BAR IN THE HEART OF QUEENSTOWN! SERVING UP TASTY WOOD-FIRED PIZZAS, SALADS, AND EVERYTHING IN-BETWEEN, MISS LUCY'S IS SURE TO PLEASE. COMPLETE WITH NZ BEERS ON TAP AND LOCAL WINE, IT'S THE PLACE TO BE FOR AN AFTERNOON DRINK, A BITE TO EAT, CHILLING OUT WITH YOUR NEW MATES OR SKYPING THE CREW BACK HOME!" – JUCY SNOOZE QUEENSTOWN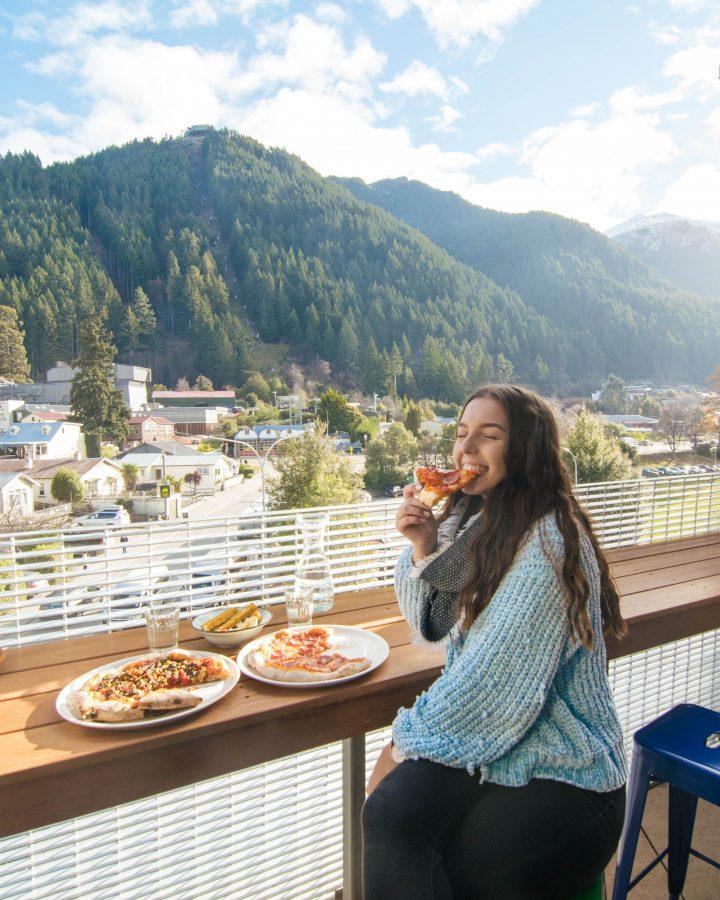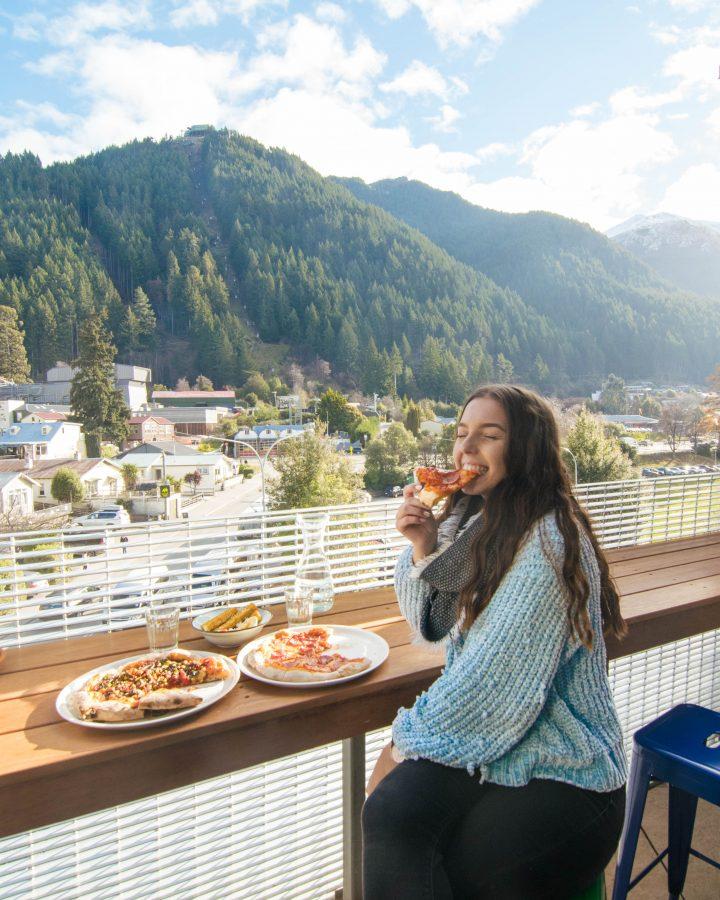 If that hasn't grabbed your attention yet let's hear from Miss Lucy…
"THE LATEST ADDITION TO THE QUEENSTOWN FOOD SCENE, MISS LUCY'S IS A ROOFTOP BAR & PIZZERIA LOCATED IN THE HEART OF TOWN. CONNOISSEURS OF WOODFIRED PIZZAS, JALAPENO POPPERS AND EVERYTHING IN BETWEEN, MISS LUCY'S IS YOUR NEXT SPOT FOR A TIPPLE OR A NIBBLE!"- MISS LUCY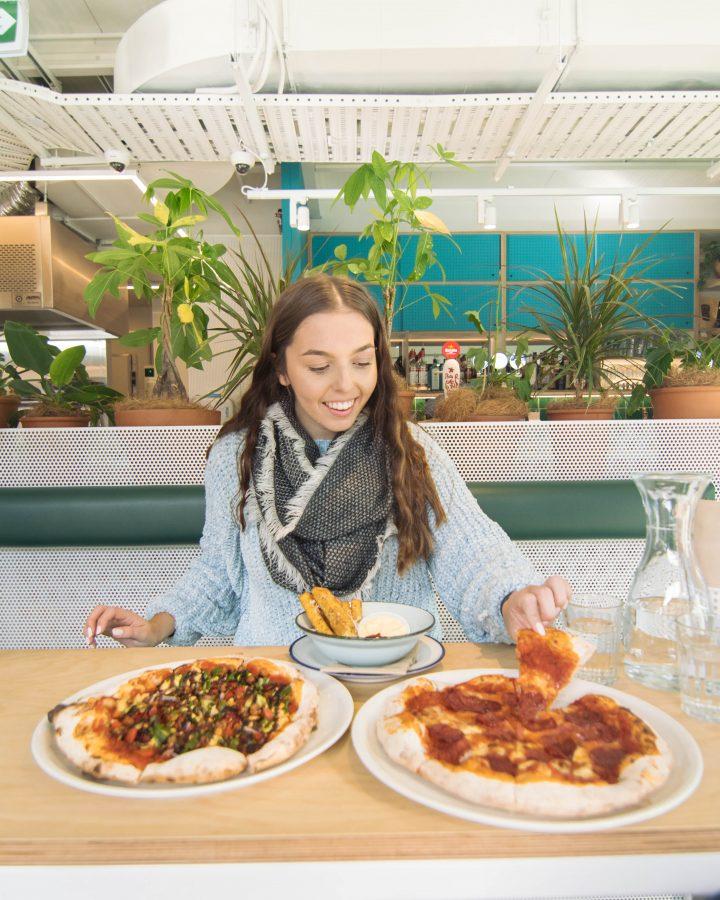 Where is Miss Lucy's Pizza Bar
Briefly explained above, Miss Lucy's can be found on the 4th floor of the Queenstown Jucy Snooze. With both indoor and outdoor space once on the rooftop and the best views from all of the Jucy Snooze you can't go wrong.
47 Camp Street,
Queenstown, 9300
Miss Lucy's Pizza Bar Menu
The Jucy Snooze Wrap
As one of my favourite places in the world I am always trying to plan my return Queenstown but with Jucy Snooze and Miss Lucy's Pizza bar now open I am even more excited to get back.
Going into this trip I wasn't too sure what to expect as I had only ever experienced the transport side of Jucy. I know I use this word a lot but I truly was excited seeing Snooze for the first time. Especially as I had seen it under construction almost a year ago on my previous trip to Queenstown. Then to see it come to life was, well, exciting!
The room wrap
I loved my extremely clean Queen Room with a window I spent most of my stay daydreaming out of but I do wish I had taken on the challenge of a pod. Then again, I really do appreciate the convenience of having my own bathroom. Either way, looks like I will have to go back!
Speaking of the pods I did get to explore them a little with a few friends travelling through the Snooze at the same time. I touched on it above with one being a 4 person pod room with a window and the other being an 8 pod room.
Each of the pods was all the same and all as awesome as each other but I do have to warn you that the rooms without windows can get a little stuffy. There is air conditioning and fans built into the pods themselves but with 8 people in one room it is bound to happen.
With the unbeatable location, I highly recommend a room with a window. Even though Queenstown is an amazing place to wander the streets of, being able to still observe the city and surrounds while inside makes you feel like you are still making every moment count.
The facilities and staff wrap
While on the topic of having friends travelling through it was a little hard to catch up in a communal space during certain times of the day. Due to the success of Miss Lucy's Pizza bar, the rooftop chill-out zone does often get overrun and very busy especially at night time when the bar takes over. This is something to keep in mind if you are wanting more communal space.
No matter what, the staff all went above and beyond. Always with a big smile and positive attitude makes it a very pleasant stay.
The Miss Lucy's Pizza Bar Wrap
Although there is plenty to explore in Queenstown, you won't have to go far at all for a good feed and a few beverages thanks to Miss Lucy's. On my last trip I pizza crawled my way around town and I was so ready to add another pizzeria to my list.
Its mix of indoor/outdoor space and vibrant colours and patterns made me so happy. I did love sitting on the outdoor balcony watching the world go by but inside was so toasty, I didn't want to move from any comfy seat I sat on (and I sat on a lot of seats trying to get some good pics for you! you're welcome haha).
The Miss Lucy's food wrap
None of us really care about seating when you're focused on the diverse menu with a bit of everything for everyone. I had a pepperoni pizza as well as the special vegan pizza of the day and my mouth is watering just thinking about it again. I really had to hold back the urge of wanting to eat here every night because it was so delicious.
Always so distracted by pizza but I can't forget to mention taste testing their fresh polenta chips. I had never eaten polenta chips in my life so I don't have anything to compare them to but let's just say I would eat them again and again and again.
Last but not least
Overall, It is easy to see that Jucy has put a lot of time and effort into this and in my own opinion, I believe it certainly paid of!
Thankyou again to Jucy, Jucy Snooze, and Miss Lucy's Pizza Bar for another unforgettable experience.
Are you more of a private room person or would you take on the pods?