Welcome to the first stop on the Worldwide Donut Guide, the famous Voodoo Doughnuts! Get up close and personal with the crazy cretors, their even crazier donuts and much more…
About Voodoo Doughnuts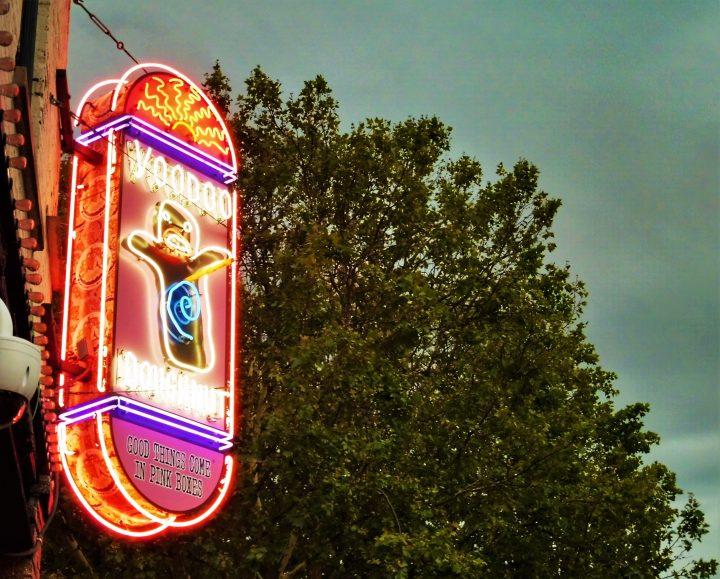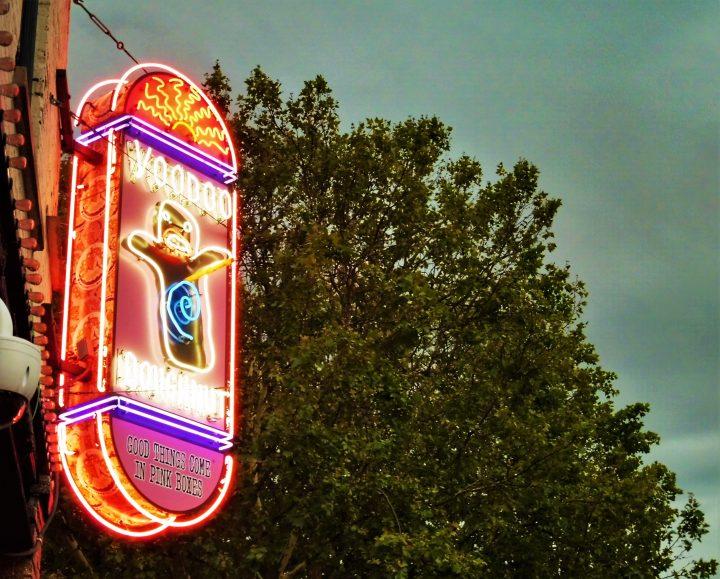 Voodoo Doughnuts is the famous donut shop that gives Disneyland a run for its money in being the 'Happiest Place on Earth'.
It is the masterpiece of the two creators Kennith "Cat Daddy" Pogson and Tres Shannon. One with a knack for business and the other with endless connections they were bound to be a success and well, look at them now!
Voodoo is not your ordinary donut store, oh no! In fact it is far from ordinary as it is home to some of the funkiest donuts you will ever come across in your entire life and weddings. Yep, you read that right, you can actually get married at Voodoo Doughnuts! If you are wondering if these weddings are actually legal, well, from the words of Voodoo, "100% legal, unless you don't want them to be!"
Where is Voodoo Doughnuts?
Voodoo was actually made to suit the particular needs and demands of one very weird city in America and that is Portland, Oregon. You can not go a day in Portland without seeing, smelling, hearing or thinking about a Voodoo Doughnuts.
However, this crazy donut shop will not stop growing, (Like my clothing size every time I visit Portland) and not only other cities but also other countries have taken on and falling in love with Voodoo Doughnuts quirky charm.
Here is everywhere you can find a Voodoo Doughnut:
Portland, OR – Voodoo Doughnut ONE (original location)
22 SW 3rd Avenue Portland Oregon, U.S.A. phone 503.241.4704.
Portland, OR – Voodoo Doughnut too (Two)
501 NE Davis St, Portland, OR 97232, USA
Portland, OR – Voodoo Doughnut CART-landia
8145 SE 82nd Ave, Portland, OR 97266.
Eugene, OR – Voodoo Doughnut Tres (Three)
20 E Broadway, Eugene, OR 97401, USA
Denver, CO – Voodoo Doughnut Mile High (Four)
1520 E Colfax Ave, Denver, CO 80218, USA
Austin, TX – Voodoo Doughnut Austin V (Five)
212 E 6th St, Austin, TX 78701, USA

Taipei City, Taiwan – Voodoo Doughnut Taiwan
No. 28, Lane 553, Section 4, Zhongxiao East Road, Xinyi District, Taipei City, Taiwan 110
Universal Studios, CA – Voodoo Doughnut Universal Studios
Universal Studios Hollywood, California, U.S.A
Voodoo Doughnuts Menu
I could go on forever about how outrageously delicious every single one of their donuts is but for now I am only going to give you a little taste of the Voodoo Doughnut magic. For a full list of their donuts check out the Voodoo Doughnut Website.
Must haves:
Voodoo Doll Doughnut – The signature Voodoo Doughnut. The one of the sign! A raised yeast doughnut filled with raspberry jelly/jam topped with chocolate frosting and a pretzel stake
Portland Cream – The tasty donut of Portland! "A raised yeast doughnut filled with Bavarian Cream. Topped with chocolate and two eyeballs, representing the vision of our great city."
Creators top picks:
Old Fashioned – Sweet and simple. A glazed cake donut!
Buttermilk Bar –The name says it all. A buttermilk dough with glaze.
My Favourites:
Maple Bacon Bar – It seems that most donut shops have their own twist on the maple bacon donut but Voodoo's raised yeast donut with maple frosting and bacon on top is just out of this world!
The Loop – Not only is it one of their most instagrammable donuts it is also one of their most delicious! A donut covered in froot loops, what more could you want!?
Fun Facts
Voodoo once held the record for the Largest box of donuts with 3,800 donuts in a giant version of their famous pink box! Don't believe me? Take a look for yourself…
We all know that Voodoo has some of the craziest donuts around but not all of them have worked out to be as delicious as the rest. In fact, they actually made an oyster donut! Around the corner from their main location is an oyster bar and one day they decided to team up. However, you won't be able to find this very strange treat anymore after everyone, including the owners, realised that it was quite disgusting as you could probably imagine.
Each month they sell a special donut to help raise money for charity. A new charity and new donut each month!
The owners had never made a donut in their lives when they first decided to open up their own donut business. It didn't stop them though. They were so determined that they managed to convince donut veterans in California to teach them the glorious art of donuts.
Voodoo Doughnuts changed my life and I hope, if they have not already, can change yours too.
[/fusion_text][fusion_text]