The Good, the Bad and the JUCY: A New Zealand Roadtrip
New Zealand is said to be one of the best places in the world for a roadtrip so of course, I had to go test it out for myself with a little extra help from my Instagram husband/ ( @puajohnston who I actually met on my Europe Schoolies trip! ) and Jucy Rentals. It is also a fact that I'm not the only one that wants to test it out but for many people it can often be overwhelming when trying to figure out the best way to do that.
Well, I am not here to make the claim that this is the ultimate roadtrip itinerary that you NEED to follow as if it was your religion but I am here to tell you how I managed to go on one crazy South Island New Zealand Winter Roadtrip. Whether or not this trip sounds perfect to you or there are bits and pieces you can take to piece together the puzzle that is your epic roadtrip, I am here and happy to help!
So buckle up your seat belts and here we go!
Getting started
By this I don't mean figuring out the location you will start your roadtrip, although we will get to that eventually. I actually mean getting started on all of the gritty details to get you to that starting destination.
For us, we were already filling our bucket lists and going wild with Pinterest boards before we had even booked anything for this epic adventure. However, no matter how many things we wanted to do, places we wanted to go and the food we wanted to eat it was going to be a little difficult to do without a vehicle. In saying that, there is usually one big problem for anyone under 21 when it comes to renting any type of car which is that you are too young to actually rent it. Lucky for us and our fellow victims of ageism, there is a very green and purple company here to solve that big problem.
Jucy was the perfect choice for us, and it seems like everyone else roadtripping New Zealand thought so too as the roads were being taken over by green vans! Not only did they let us hire our very own campervan BUT they also had a whole bunch of cool extras like GPS, WIFI, AUX cords, adapters, Ski4free, chargers and so much more.
I'm not going to lie, like most things in life, our time with Jucy wasn't perfect and was full of hiccups (like me) but the best thing about it was that they were always there to help us get over these metaphorical and literal bumps in the road as soon as they could.
For example, we ran out of gas for our cooker halfway through cooking lunch one day, left with a very sad half-cooked chicken but all we had to do was give Jucy support a call, purchase a new one, keep the receipt, and as soon as we dropped the car off Jucy were there to give us a full refund.
Once we had the car we were back in full force with bucket lists and Pinterest boards. Although we really did want to do it all, our time limitations and budget didn't seem to agree.
Our original plan was to drive both Islands but by cutting it down to only the South we were able to experience more while not feeling rushed and the best part is now I have an excuse to dedicate another entire trip to test out the North Island.
Although this is undoubtedly one of the best trips I have ever been on, there are a few things that I would do differently if I had the chance to do it all over again but before I ramble on with all of that here is the full trip itinerary:
Now that you have seen that, let the rambling begin…
Christchurch
We actually had a day or two in Christchurch before picking up the Jucy which allowed us to settle in a little and get our bearings. In a way I was very glad we didn't have the Jucy straight away because with the amount of construction and roadblocks as this city still recovers from its devastating earthquakes, it seemed a little stressful to be driving in because it was stressful enough to be walking.
Although I don't regret starting off and spending some time in Christchurch I would probably skip it in the future and drive off into the distance with the Jucy straight away or alternatively fly into a different location altogether. There wasn't a lot to see or do there and it is quite overwhelming to be in a place where 75% of an entire city was destroyed.
However, it does have its own Jucy branch and that is all we needed.
With a quick shuttle from the airport to that very branch, this wild roadtrip really kicked in after some essential paperwork of course. Once the Jucy Cabana was packed and we finally figured out how to open the door, we were on the road!
Mt Hutt – Methven
We had set our driving goal for the day to get to Methven where we would stay the night. There wasn't anything in particular that made us choose Mt Hutt as the first main stop of the journey but it was the perfect choice to cut down the driving times between Christchurch and Lake Tekapo, keeping the roadtrip pace very relaxed. Plus, it did exceed my expectations in that the people were ridiculously welcoming and generous.
Okay, I may have lied a little then because the first main stop for me was on the way to Methven which was the Springfield donut (not too much of a surprise hahah). It was maybe 15 – 30 minutes out of the way but I would have been disappointed in myself if I hadn't made the extra effort and now I want one in my backyard.
This oversized donut sculpture was put up as a promotion for the Simpsons Movie in 2007 because what better place to put it than in Springfield, duh! Something I wish I knew before going and want you to know before you get to this masterpiece is that even with some stairs, it is a lot harder than you expect to get up into the donut for maximum Instagramability, especially when you have short little legs like myself so having a friend to give you a boost is always handy.
Enough about my short legs, let's get back onto to road…
Lake Tekapo
This may have been the place I was most excited to see on this trip not only for its beauty in the day but also for the magic that happens at night. Lake Tekapo is supposed to be one of the best places in the world to not only see the milky way but also the Aurora Australis except for when I was there thanks to the stormy weather that seems to follow me around the world.
In saying that, I was lucky enough to have a brief moment when the clouds cleared just in time to grab a quick snap or two. Don't get me wrong, I still feel so lucky just to have been able to experience this place for myself and can safely say that is it still pretty damn impressive no matter what the weather. I remember driving around a corner which gave me and Pua our first glimpse of the Lake and our jaws dropped.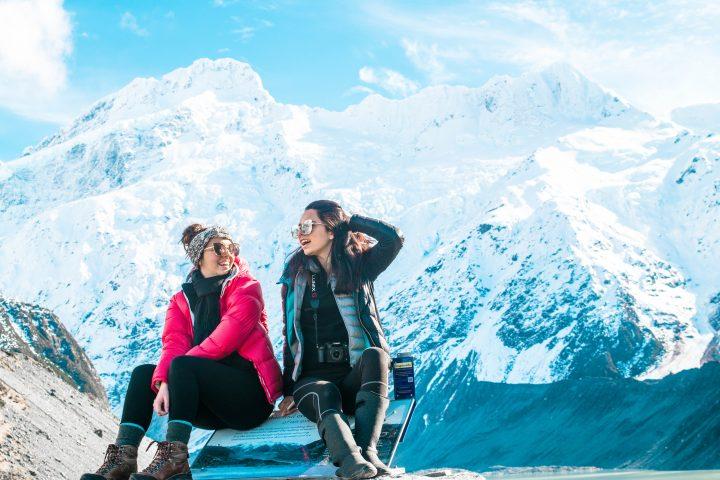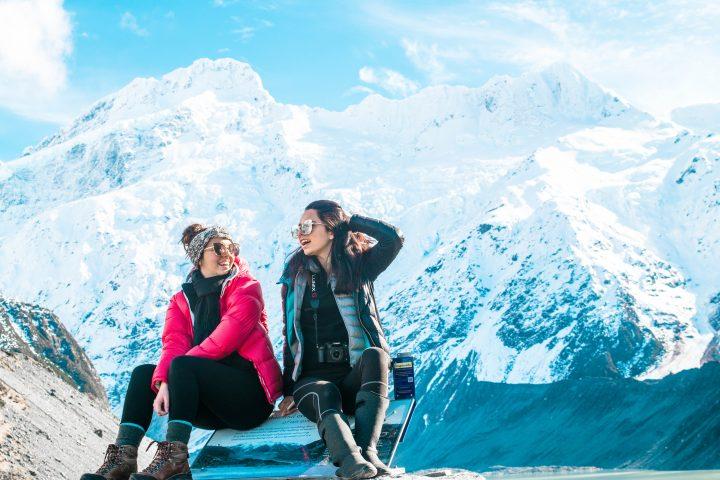 Speaking of driving… similarly to before we made sure we didn't have any major driving days to allow us to really take everything in so the drive to and from Lake Tekapo and everywhere else was no longer than 5 hours including the couple of times we got lost!
One day just wasn't enough for Lake Tekapo so we stayed for two but I already know I will be going back because there is still so much to explore and I am determined to see the night sky work its magic there.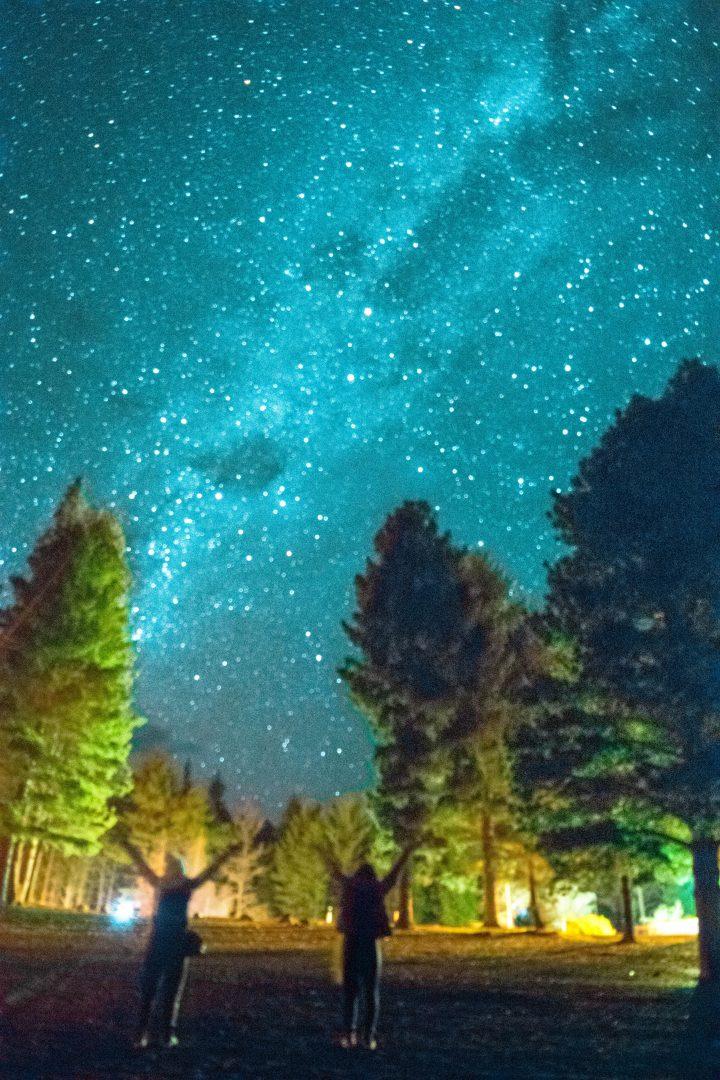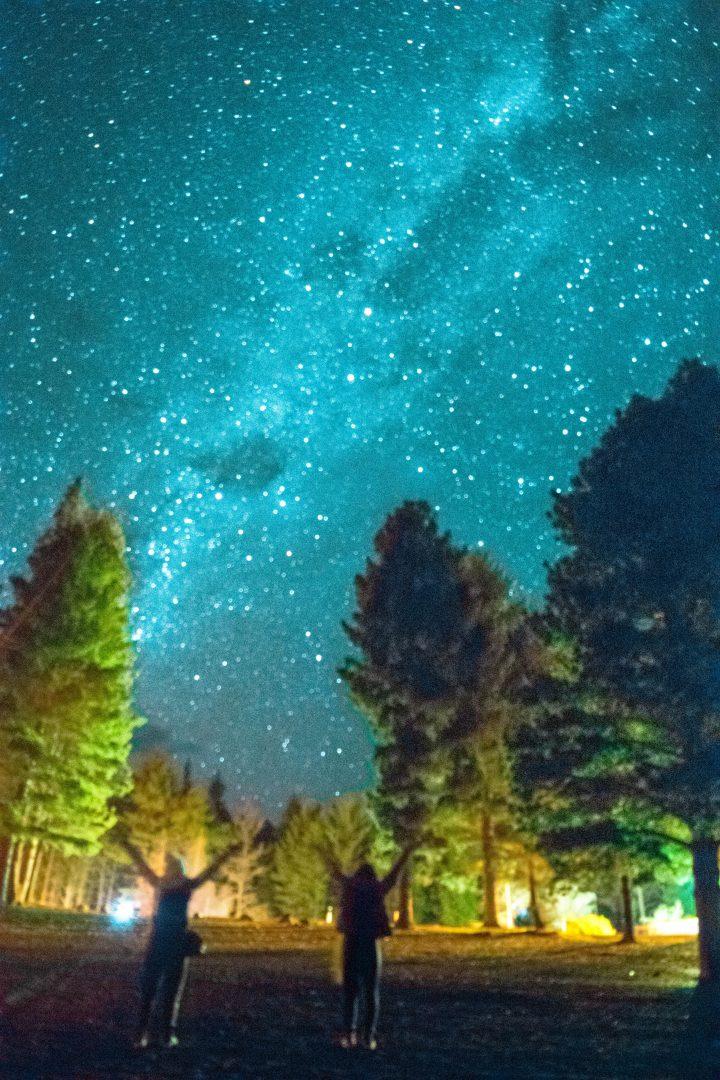 Having two days here allowed us the time to see and do everything we wanted to see and do as well as the time for some additional exploring. The best part about it was that we had extra time at the Church of the Good Shepard which we definitely needed as it felt like we had to wait an eternity to get a photo without being photobombed by the busloads of other tourists.
That additional day gave us the opportunity to test out Tekapo Springs and Adventure Park for ourselves. Believe it or not, this was a highlight of the trip filled with hot springs and snow tubing. you can read all about the experience here!
Mt Cook
I'm probably going to say this about every single part of this trip but Mt Cook is one of the most beautiful places I have ever been. I don't think I will ever have the words to describe its beauty and the photos don't even begin to compare to real life. In fact, seeing it in person doesn't even feel like real life, it is heaven.
Again, I'm going to keep saying this but the drive from Lake Tekapo to Mt Cook is also one of the most beautiful drives you will ever do. Especially when you find yourself at Lake Pukaki. This is a place that I would have already added to the list for next time to spend way more than an hour at whether that be for a cute picnic or to spend the night and to take even more epic travel pics. I am still mesmerised by the reflections and it was almost like we had the place all to ourselves!
However, we didn't get to spend much more than an hour at the Lake and off to Mt Cook we went straight to the instagram famous, Hooker Valley Track. I have one hell of a story to tell you about this hike but I think it deserves it's own post and if you have heard the small bits and pieces from my instagram (which you should definitely be following) you would probably think so too!
Regardless of the hike going a little differently than originally planned, I would do it again in a heartbeat and highly recommend you do the same! We both were very glad we had another day in Mt Cook just to recover but really I could have stayed forever.
One very important thing to note about Mt Cook is that there is only one self-service petrol station which may give you a little heart attack. That's not only because NZ fuel prices are so bloody expensive and Mt Cook even more so for being quite remote. It is because you may notice that $200 will be taken out of your account after your transaction! Of course, as the stress head that I am, I went into a complete panic but there is no need as after a couple of working days all excess money from the original cost goes straight back in.
Queenstown
A week in Queenstown may seem like a lot considering everywhere else we were only at for max. 2 nights but I am not exaggerating at all when I say I could actually see myself move to this incredible town and live there very happily for the rest of my life.
As the adventure capital of the world, you need at least a week to get a good adrenaline fix or if you aren't much of an adrenaline junkie, you still need at least a week to test out all of the delicious food (and bars) including quite possibly the best donuts I have ever eaten! Yep, I really just said that!
Just like Christchurch, Queenstown has its own airport and Jucy Branch which is probably where I would, or should I say will start off my next South Island Roadtrip.
Although there isn't much need to drive in the centre of the city at all because everything is so close and there is so much to see and do on foot, the Jucy still got a workout because Queenstown is surrounded by beautiful places to explore. We even tried to drive up to the snowfields one day but didn't quite make it due to the lack of snow chains. That is something to consider especially in winter.
We were pretty lucky in that I have a winter curse. You see, no matter where I go the winter never seems to be a true winter so we had no problems with any snow or ice on the roads but if you do happen to get that winter magic, remember to stay safe and be aware.
I could talk about Queenstown forever but like all good things it must come to an end (wow that was so cliche, I am sorry haha). The good news is that it isn't the end  of the roadtrip as we were off again to…
Franz Josef
Yep, you've probably guessed it by now, the drive from Queenstown and Franz Josef was also ridiculously beautiful.
There are a couple of different routes you can take but we went for the drive through Cardrona and Wanaka which did not disappoint. What did disappoint me was only getting to spend a short amount of time in Wanaka and in the future I would likely stay for a day or two. I can't complain too much because we did get to check out the famous Lake Wanaka tree but there are still so many adventures to be had there that I am already itching to go back.
To make up for the disappointment we did get a little bit spoilt the next few days at the Rainforest retreat in Franz Josef and while a monsoon hit we were curled up in our own little tree hut for the night and I unashamedly admit all of the next day too. Road Trips can get pretty exhausting especially when you or your buddy get sick so this little escape was well deserved and well needed.
Back in the van after the second night in Franz Josef and a quick drive to the glacier we were ready to make up for lost time in Franz Josef. Now that the sun was sneaking through and we were feeling refreshed, we took on the Franz Josef Glacier Hike. Unfortunately, not the heli-hike which I will go back just to do one day, just the free public hike. I make that sound like a bad thing but it was nothing short of amazing and a hike that almost anyone could conquer.
Some may think I am weird for saying this but it was the things along the hike that I enjoyed more than seeing the Franz Josef Glacier itself. the waterfalls were so fun to play in and around as well as the landscape that made you feel like you fell straight down the rabbit hole with Alice. Sure, the glacier was cool to see (no pun intended) but just know there is more to see in Franz Josef than just the famous glacier.
Greymouth
We may have gotten a little lost on the way to Greymouth but we did make it there eventually and one night was more than enough.
Similar to Methven, Greymouth was the perfect spot to break up the driving. However, in and around Greymouth were some pretty cool things that made this breakup stop worth stopping for. My favourite being pancake rocks while also getting a chance to explore the coastline a little more.
I don't have too much to say about Greymouth because it was such a short stop-over. What I can say is that I wouldn't be planning a trip just to go back there but for the sake of another roadtrip, I would probably have it somewhere on the itinerary.
Hanmer Springs
You have probably heard of the famous hot springs here and that's pretty much the only reason we made the decision to stay. We did also have plans of going on an ATV tour or even our last chance of a snow day but sometimes things just don't work out and we were stuck in this town a day longer than necessary.
The springs themselves were relaxing but in my opinion, a little overrated and besides the springs there isn't too much else to do in this small town. It was worth going just to test out the springs for myself but I wouldn't be rushing back anytime soon especially when there are so many other places to explore in the South Island alone.
From the hot springs all the way back to one last night in Christchurch.
Not much happened on our last night of the roadtrip besides eating our feeling as it was a very hard goodbye to the Jucy.
Overall
This roadtrip was one of the best things I have ever done and I feel so lucky that I was able to do it with my bestie and Jucy Rentals.
If I were to do it again would I change a few things? of course!
Do I regret doing this roadtrip? Hell no!
I am already trying to figure out when I can get myself back there to do it all over again with a few changes and extra bits and pieces here and there because there are still so many adventures to be had.
Even if you happened to follow this exact itinerary I know for a fact that you would have a completely different experience whether that is better or worse is something you will only know once you try it for yourself. In saying that, I am in no way forcing you to follow this itinerary and really hope that in any way shape, or form it helped you in the planning or execution of your own wild adventure.
What I do want to leave you with is that I highly recommend adding a South Island New Zealand roadtrip to your bucket list if it isn't already on there!
Thanks to JUCY for helping me make this roadtrip possible. Find out more at www.jucyworld.com and follow them on social media @jucyworld.