Cruising has rapidly become one of the most popular ways to travel. With more people than ever interested in testing it out for themselves it can be overwhelming finding the perfect First Time Cruise.
Well, lucky for us I was invited onboard the new Dream Cruises Explorer Dream to find out if this could just be the best first-time cruise experience we have been waiting for.
Who is Dream Cruiselines
Asia's largest Cruise line brand, winning awards for their high-quality service and extraordinary ships.
The Asian region has been their home since the launch of the company. However, as of October 2019 they are expanding to the Australian/New Zealand market as they continue to redefine luxury cruising in new ways.
Explorer Dream Itinerary
The new Explorer Dream ship will be taking on a couple of different Itineraries around Australia/New Zealand from 2020.
Including:
7 night New Zealand Adventure I and II :
Sydney – Milford Sound – Doubtful Sound – Dunedin – Wellington – Gisborne – Auckland / Auckland – Gisborne – Wellington – Dunedin – Milford Sound – Sydney

7 night New Zealand Adventure III and IIII :
Auckland – Bay of Islands / Milford Sound / Doubtful Sound / Dunedin / Wellington / Napier / Gisborne / Akaroa / Picton – Auckland

7 night Tasmania Explorer :
Sydney – Port Arthur / Hobart / Melbourne / Burnie / Eden – Sydney

7 night Australian Discovery (Depart from Brisbane) :
Brisbane – Cruising Coral Sea – Sydney – Newcastle – Cruising Coral Sea – Gladstone – Sunshine Coast – Brisbane
The Primary Dream Cruise lines Explorer Dream Itinerary and focus for this review:
7-NIGHT AUSTRALIAN DISCOVERY (DEPART FROM SYDNEY)
Sydney
Newcastle
Cruising Coral Sea
Gladstone
Sunshine Coast / Brisbane
Brisbane / Sunshine Coast
Cruising Coral Sea
Sydney
For all pricing information please refer to the Dream Cruises website .
Cruising Concerns
I am almost certain that everyone has a least one person in their life obsessed with cruises (Shoutout Aunty Lynne!). Despite hearing so many amazing things about cruising, mostly from that one person, I was never quite convinced.
The closest thing I had ever experienced was my wild week sailing Croatia with Life Before Work but a 50 person yacht is hardly comparable to mammoth cruise ships.
Seasickness
While I managed to avoid being seasick on my Yachtlife Croatia adventures, it was still my biggest concern which held me back from big girl cruising. Mostly because along with all of the good things I heard about cruising, there were always a few horror stories that seemed to stick with me more.
You know, where people spend the entire time that they should be living the dream, instead curled up in a ball of despair waiting for their whole body to stop spinning.
For me this seemed like the most realistic first time cruise experience. After all, I was prone to motion sickness and my Mother happened to be one of those 'horror stories'.
Feeling Claustrophobic
This might seem a little funny after just referring the cruise ships as "mammoth" but hear me out.
Cruises aren't often known for the spacious rooms. Sure, I've had my fair share of dodgy hostel dorm rooms you can barely move in but at least you could always go out and about or even better, leave.
It is not so much the rooms that put me off. It is knowing that you couldn't just leave the ship whenever you were feeling stuck, bad or bored… which brings me to my next point.
Will I get bored?
Cruise ships have essentially become floating cities, packed with activities. Dream Cruises are even introducing a rollercoaster on board one of their ships, how crazy is that!?!
However, being confined to the one place had me wondering if I will get bored. Bringing me back to the point of being unable to leave whenever I please, I assumed I would suffer from limited options and excitement.
Overcrowding
It isn't like I have never seen a cruise before. They are almost everywhere now!
Every time I have been around a cruise port, all I see is a stampede of people.
Contrary to popular belief about instagrammers, I don't mind people being around even when I want to take a photo. However, I do need my own space every now and then
My First Time Cruise Experience on Explorer Dream
Sydney Bag Drop and Check in
When you think of cruising from Sydney, you will likely think of the iconic Circular Quay port.
Perched between the Opera House and Harbour Bridge it is impressive but if you have ever been on a cruise from here, been around while a cruise is in or have made your way to Circular Quay in general, you know it can be a pain to get in and out of.
However, as the Explorer Dream is a medium-size ship and so its main dock is the White Bay Cruise Terminal.
A surprisingly easy spot to get to with an abundance of free car parking and even a ferry stop right next door for easy access from/to Darling Harbour.
Everything is well labeled and the staff is really efficient allowing the process to run seamlessly.
Keep in mind my experience here will be slightly different to most as I arrived early for the media ship tour.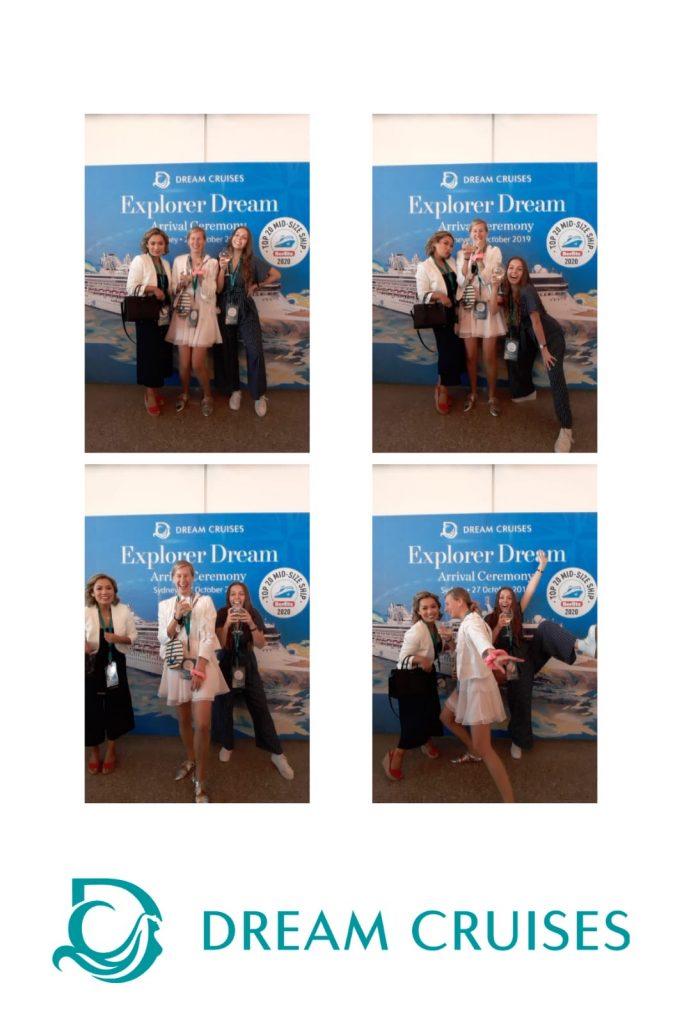 Regardless, my baggage had been delivered to my door before disembarkation, with no damage might I add, something which happens too often when I fly.
Dream Cruises Explorer Dream Room Review – Balcony Stateroom
I had a little sneaky peek of the rooms during the media tour however opening my own room for the first time was when all of my reactions sunk in.
I was barely in the room when I noticed what is quite possibly my favourite feature… ROBES and those slippers that I doubt ever fit anyone but are somehow still comfortable.
The robe was briefly hung, among a plethora of hangers, in a reasonably sized wardrobe before making its way onto my body as I continued my personal room walkthrough.
The Bathroom
The bathroom was the smallest part of the room but they were able to pack a lot in there.
With the toilet, shower, sink, storage space and towel rack all in one, it was all I needed. However, tall people may struggle especially around the toilet side of the bathroom as there is minimal legroom.
The good news is that the showerhead is adjustable and detachable so short and tall people can celebrate this win.
Another very important note is that the bathroom has its own tap of safe drinking water. Not to mention, I had no issues with water temperature during my stay and water pressure is great.
The Bed
It had already been a huge day despite being early afternoon but the bed was calling my name.
The pillows and puffy sheets morphed around my body as I sunk in to the extraordinarily comfortable mattress and didn't want to leave. To be honest, with light switches and power outlets at arms reach, I didn't need to leave.
It was two single beds pushed together to make one so the defined line in the middle was noticeable but not really an issue.
I don't know about you but I am obsessed with pillows. To have four squishy pillows to myself AND finding two more in the wardrobe was a dream.
Tucked next to the bed is the couch that also happens to be a sofa bed. While I didn't test it out and can imagine it makes the room feel much smaller but it is still crazy to think just how much they can put into these rooms.
Extras
I introduced the wardrobe earlier, the one that holds the mighty robes and has several compartments, safe and spare pillows, and blankets waiting for you. Not that you will need an extra blanket because, my goodness, those things could keep you warm in Antarctica.
Attached to the outside of the cupboard is a bonus storage space and somewhat of a tiny kitchenette; mini-fridge and kettle. This is where you will find your two complimentary bottles of water a day that I started to stockpile in my mini-fridge.
Across the room is a small desk or ideal makeup station thanks to its gorgeous adjustable lighting. Here you will find more power outlets and a stool.
After I miraculously peeled myself out of the bed, I wandered out to the balcony. After all, this is the BALCONY stateroom.
It was as wide as the room and held two chairs and a small table out there. You know, normal balcony stuff.
The rooms are impeccably clean thanks to the most efficient cleaning staff I have ever met. They will usually run in as you are out of breakfast and then again around dinner time to prepare your room for sleep. I got way too used to this happening now life at home will never be the same haha.
If you are really lucky, you'll get a cheeky towel animal or two.
What is the Explorer Dream 'The Palace'?
I was lucky enough to spend some time in the Palace during my week sailing on the Explorer Dream, although only a minute of which was spent checking out the Palace suites. Maybe next time I will be able to stay in one of these insane rooms, preferably the one with the personal hot tub.
While I can't go into detail about the FULL Palace experience, butler and all (because I am yet to have a FULL Palace experience) I can share a few things with you. Including, IS IT REALLY WORTH IT?
You are immediately transported into a world of luxury the moment you enter the Palace reception.
To get out to the private Palace pool you have to walk through the restaurant. At least, I think you do because I didn't find any other way.
The restaurant itself is very fancy and what some may call, 'Pinterest goals' with stunning marble finishings and a luxurious colour scheme.
I eventually found my way outside. Drawn to the tower of sun huts looking over the pool and ocean.
I know the idea of having the Lido Restaurant overlooking the Palace is to show off to guests how amazing it is in hopes they want to upgrade or book there next cruise in a Palace suite but personally, I would prefer more privacy if I was spending the money.
The Palace does come with a bunch of extra perks that could make it worthwhile depending on how many shore excursions you would want to do, meals you eat, shows you go to and so on.
I could see it being an ideal honeymoon or treat for a special occasion but if you are on a stricter budget, this may not be the best option for you. Do not stress, as there are many affordable options onboard that will allow you to have an equally amazing experience in a different way.
Dining on the Explorer Dream
The buffet-style restaurant onboard is an international mix of food but currently still focused mainly around Asian and Indian cuisines as the Cruise line continues to discover the Australian food/produce scene.
Open for breakfast, lunch and dinner it is the perfect easy option especially being included within the cruise package. While I am to this day still craving the french toast, I have to admit this wasn't my favourite dining spot.

Pavilion
Despite being one of the main dining rooms, I didn't make it here for a meal.
Although, I did stop by to check out both of their menu options for lunch one day. Both Asian and Western. It sounded and smelt delicious but I wasn't up for the full feast on offer.
This was my first dining experience on the Explorer Dream and it immediately exceeded my expectations of cruise cuisine.
You are welcomed by a team of friendly faces and the room takes your breath away the moment you step into it. It oozes luxury and it is hard to believe this could possibly be included!
There is lots of choices and I can assure you, you won't leave hungry.
My Favourite experience here was on a solo lunch mission.
4 courses on offer which I knew it wasn't up for so I made the decision to knock it back to 3. Getting started with crispy calamari that I finished in no time and was instantly followed with an enormous Lamb shank for the main.
The heap of meat big enough to feed all of Australia fell off the bone and melted in my mouth. I was facing a dilemma of never wanting it to end but way too excited for dessert.
I think my lovely waiters saw me struggling so let me have a brief break between these meals. I was already in such an intense food coma I couldn't tell if it was for a minute or an hour but as soon as my dessert was placed in front of me I lit up.
The raspberry panna cotta among an assortment of other goodies was so light, fresh and left my tastebuds singing. The perfect end to what happened to be one of my final meals on the ship.
Specialty Restaurants
Mozzarella Ristorante & Pizzeria
It comes as a huge shock that I didn't get my pizza fix while I had the chance on the Explorer Dream.
The description from the website for this quaint part of the ship has me ready to book onto the next departure and spend the week here.
I am not a huge seafood fan so I wasn't too enthralled by the name yet I spent quite a bit of time around here thanks to it alternative options and particularly the cocktails.
It can get pretty cold and windy because of its location on the upper deck however blankets are provided the make the experience as enjoyable as possible.
I ate so much mouth watering food here, I would have to write a whole other blog post just to rave on about it all.
My only interaction with this Chinese restaurant was during the media walk-through where they had samples of crispy duck on offer.
Based on the several free samples I devoured I would recommend stopping for a meal here during your stay.
This was my first ever Hot Pot experience and I didn't really know what to expect.
It is one of the more intimate restaurants on the Explorer Dream and certainly one of the most unique.
I loved how social a Hot Pot is although I personally won't be rushing back to try it again. I am much too impatient to be cooking my food between each bite haha.
In saying that I don't regret it and this it is the perfect heart warming meal choice and it can be a fun experience.
I suggest doing a little research before hand to figure out what flavours you like and how it all works because I am still a little lost.
Primarily a Japanese restaurant but also where you will get to see the magic of Teppanyaki right before your very eyes.
Having been to a teppanyaki place before I was stoked to be testing it out on the Explorer Dream.
Being with the group made it even better as, similar to Hot Pot, it is a unique and social way to dine.
The Chefs are full of character and food is full of flavour preparing you for a night of laughs, singalongs and wow moments.
I didn't make it here either so once again here is a quick summary from the Dream Cruises Website.
I am happy to say I did find the time to test out the Explorer Dream Gelato and oh my, it went down a treat.
The scoop sizes are way bigger than expected and there is an array of flavours to choose from. Cookies and Creme being my preference.
Again, I only had the chance to eat with my eyes with this one. It all looked amazing and I am impressed I had the self-control to not eat at least half of the sweet treats on display.
From what I heard, this is the best place to get your specialty coffee for those of you who aren't like me and live off sachet coffee.
All you need to know is.. they sell DONUTS. Yes, DONUTS!
This spot is so cute and would be ideal for a fun insta snap and snack!
I had never tried Matcha until I was on the Explorer Dream yet funnily enough not at the Matcha bar. Instead alongside the Teppanyaki where I found out I do not like Matcha.
For those that do, you will love this place as it Matcha Heaven or should I say it is a Matcha made in heaven for you! (Okay, not my best work but what can ya do haha)
I went on wandering through this small corner store and I did not realise how endless the possibilities are with bread.
While the pastries on offer looked amazing I was too distracted by the bread sculptures around the store.
Dream Cruises Entertainment
Dream Cruises have won awards for their world-class entertainment.
I was excited to see what all of the hype was about during my time on the Explorer Dream and now, I am happy to be taking you with me.
While I would have loved to see every single show Dream Cruises provide, I am not there yet so I will only be highlighting the ones I did see.
If you are wanting more information about the Entertainment click here
Voyage of a Lovers Dream
The theatre was already buzzing and honestly, way too loud by the time I figured out what door to enter and then somehow found the rest of my group.
It thankful wasn't long before the show began and you could feel the excitement in the air.
I am still in awe of the talent these performers have.
They flip, fly, lift and dance so effortlessly it gives you a second of "wow that seems so easy, I bet I could do that" before it quickly turns into "wait, how can someone move like that omg". It feels like the Dream Cruises very own Cirque du Soleil.
If I am being really honest I am still a little lost within the storyline but it really doesn't matter. The costumes, staging and performers had me hooked.
Dream Boys
Dream Cruises take on ' Magic Mike'.
I am still speechless!
Explorer Dream Australian Discovery Review
I am sure you are well aware by now but in case you forgot, let me jog your memory… This was my first cruise.
By now I have caught you up on some very important components of my time on the Explore Dream, from food to robes, now, it is finally time for the full summary of my cruising experience with Dream Cruises.
Sydney
It was early to mid-afternoon. My luggage was all unpacked and I was already curled up in bed after a crazy morning of driving and media shenanigans.
SAFETY BRIEFING
I was pooped so if it wasn't for the mandatory Safety Briefing, I probably would have lost myself in the mountains of pillows for the foreseeable future.
Each room had a set safety brief location that you could find easily on your key and on the back of your door. Despite having the media tour before the rest of the guests arrived, I still had no idea where anything is.
HANDY HINT:
Check the carpet outside of your room. The fish printed on are always swimming towards the FRONT of the ship.
(This would have helped me so much if I hadn't found out on my second last day haha)
Thanks to an abundance of staff plonked around the ship, it was almost impossible to get lost on the way to the briefing.
Surprisingly, it was quite fun, at least before it started when I got the chance to chat with some of the amazing Filipino staff on board. It was efficient before I knew it and it was time to get cruisin' and boozin'.
SAILING OUT OF SYDNEY
It is hard for me to say considering my nonexistent cruising history but I am convinced Sydney Harbour is the best place to cruise out/in of.
White Bay Cruise Terminal is especially exciting as the medium-sized ships get to cruise underneath the Harbour Bridge.
I was worried as we departed quite late that we would miss the sunset but the warm glow hovered on the horizon long enough for us to sneak past the city.
Even for someone that is lucky enough to see the Opera House and Harbour Bridge quite often, this moment was still filled with so much magic.
Cocktail in and hand, new friends by my side and the city glistening behind me. I couldn't ask for a better first impression of cruising.
ROUGH SEAS
I was living my best life until we crossed out of Sydney Heads when it all came crashing down.
The seas picked up, I became well aware that I was on a ship and my concerns darted around my mind.
I have no doubt a lot of the motion sickness I started to feel was mostly in my head but nonetheless, I had to cut out amazing dinner short to hide away in bed until the next day.
What was getting me through was that tomorrow we would be on land. Not just any land but my home! Meaning, if I became horrendously ill and could no longer handle cruise life I could get off.
This is one of the best things about this cruise. Although I know it isn't always going to be stopping at your hometown, you always know that land is close and for first-time cruisers, it gives you a sense of comfort.
Newcastle
I woke up early for this one as I knew it would be special yet still not early enough to see the dolphins welcoming us to Newcastle.
Thanks to the kettle in my room and habit of packing my own coffee, I didn't have to go too far to take it all in. Perks of a balcony stateroom!
I spent most of the arrival trying to figure out where my parents were watching the ship come in so I could give them my best royal wave.
No matter if you were on or off the ship, it is insanely impressive to experience a cruise ship navigating a three-point turn like it is nothing.
Shore Excursion – Hunter Valley
I have lived in Newcastle my whole life yet never to this part of town.
We didn't hang around in Newcastle long as we were booked on to one of many Shore Excursions.
Sure, there are endless things you can do onshore on your own but the best part of booking through the cruise is that the cruise will wait for you if for some reason you are running late. With my luck, I don't know if I would want to risk it.
This was my first time exiting the cruise ship and it was much less dramatic than I expected. With the tour buses and shuttles into town waiting right outside, we were on our way in no time.
Wine O'Clock
I still don't know all that much about wine but I do know wine tours, especially Hunter Valley Wine Tours.
These Hunter Valley shindigs are a right of passage for Novocastrians and being less than an hour away from home, I had some experience working in the region too.
This was the first and one of the best wine regions in Australia so the gourmet Food and Wine Tour Dream Cruises offer is a real treat. Above and Beyond the usual party bus mess of a trip I am usually part of.
First stop, the internationally renowned McGuigans Winery.
We had the place to ourselves and a very enjoyable group tasting where I think I discovered a few new favourites.
That is saying a lot considering I was accidentally drinking from the plastic wine glass meant for pencils for most of the tasting.
The tasting wrapped up yet there was a little bit of time left before we trotted off again. I used this time very wisely by making the most of the free cheese samples next door.
More Wine
I couldn't tell if I was experiencing my first spell of sea legs or it was the wine talking but I was certain, I was having a blast.
Before we knew it, we were at our second stop of the day but things were a little different with this one.
Welcomed in for a walkthrough of the winemaking process at Glendore Winery. It may not be much this time of year but in a couple of months this is where all the magic will happen.
We were captivated by how extremely passionate the family is about their property, the process and the product.
However, it was the 2 family doggos that stole the show and my heart.
Lunch
All of that wine tasting really works up an appetite so it made us all very happy to learn our next stop is lunch.
What a surprise… it involved more wine! and beer?
It was overwhelming being confronted by the 4 filled wine glasses starring at me as I sat down. I was already so stuffed with previous wines, I decided against pushing my limits.
Alas, with different dishes sprawled across the table, there was something on offer for everyone and the perfect distraction from the copious amount of alcohol. That was until a platter of beer appeared right before my eyes.
I avoided most yet in hopes of avoiding any type of illness, I swooped into the Ginger Ale which went down a treat with the sticky date pudding dessert the size of the Explorer Dream.
Lucky last stop
I never thought I would admit this but I was glad this last stop didn't involve wine.
Instead, it was somewhere the girls and I had been looking forward to all day, frolicking through the vineyards.
From the top of the hill, there was an iconic view of the valley. All that was missing was a few kangaroos hopping through.
Home Time
About 45 minutes later we were off the bus and swiped back onto the ship with plenty of time to spare. Again, the boarding process was pleasantly rapid.
I waddled my way back to my room as quickly as I could as my robe was patiently waiting for me.
As much as I felt like taking the ultimate afternoon nap, I stayed strong and set up my camera and myself on the balcony ready to set sail.
I grew up here but Dream Cruises showed me Newcastle and the Hunter Valley in a whole new light.
Sailing out of Newcastle Harbour was a highlight of my week as it felt so special.
Self-timer on to hopefully snap up some of the magic and my royal wave ready, I was back on speakerphone trying to figure out where my personal paparazzi were (My Parents – La Vida Global)
Thanks to Mum wearing the brightest piece of clothing she owns, it was not hard to spot them and thanks to the very colourful suitcase I set up outside, my parents could easily spot me.
My face hurt from smiling so much and again, it may have been the wine still talking but it was a little emotional.
The day is not over yet
I wasn't feeling tired too yet and somehow still had room for more food.
The original plan was to grab something small from the Lido Buffer but instead, we stumbled across a huge poolside BBQ.
Jenny and I really were the Dream Team, splitting up to tackle as many stations as we could to allow us to try a little bit of everything.
It gave a sense of home and I loved getting to chat with the staff as they cooked up a storm in front of your eyes.
Bed Time
Bursting with gratitude, I rolled myself back into my room that I still can not believe they prepare for each night. Curtains closed, sheet folded back for easy access to burrito yourself in bed and the lights dimmed.
It was at this point I really started to understand why people love cruising so much.
Cruising the Coral Sea
I woke up reasonably early again to make the most of the Explorer Dream pool deck all to ourselves but not before mixing up a coffee in my room.
I love seeing the ship this time of day. It just had a certain glow I couldn't get enough of. Not to mention, all of the hot tubs were free!
We had another quick ship tour this morning too which I was very thankful for as I had not managed to get my barrings yet.
Something different about this tour from the first media one was an exciting last stop that you can purchase as an official tour on the Explorer Dream.
Bridge Tour
I am oblivious when it comes to ships so when I first read this on my itinerary, I thought I must be climbing an actual bridge.
It was exciting to be corrected to find out that this meant a hang out with the Captain in the 'Bridge of the Ship'.
It was a calm day and the whole Explorer Deam crew seemed happy about it. This must seem like a holiday compared to some of their usual routes.
Our captain was a cool dude and clearly passionate about what he does and the opportunity to share that with us.
We spent way more time and had much more fun in the Bridge than I expected.
It was fascinated seeing all of the controls, reading the weather and even testing out one of the fancy chairs for myself.
Cooking Demonstration with Mark Best
We finished up at the Bridge just in time for our Champagne brunch at the Mark Best Seafood Grill.
We were in for a treat as Mark Best was bringing it to life right in front of our eyes.
I was front row when he created this stunningly vibrant salad but took a step back for the remainder of the demonstration. It was a little too chaotic for me with so many people cramming into a tiny space.
I was peckish and itching to get my hands on some of the dishes accumulating on the counter.
I immediately came across my favourite… Pumpkin scones. These thick clouds of fluffy goodness paired with fresh Jam and cream were heavenly. I may have gone back for seconds and thirds… and fifths.
Free time
Each day there are a wide range of activities, events and offers onboard but all I wanted to do during my free time until dinner is chill out.
I opened the sliding door to let the sea breeze waft through my room.
Starfishhed on the bed in my robe (of course) enjoying one of those 'I can't believe this is real life' moments.
Teppanyaki
Yet to recover from any of my previous food comas, we were off for dinner again. One I was very excited for.
Our large group split into the two main rooms for what was nothing short of a very memorable evening.
I already touched on the Explorer Dream Teppanyaki so I won't bombard you with too many more details but here is a brief summary:
The food was delicious
The staff are hilarious and talented
More singing involved than I expected but I was not mad about it
I do wish there were a little more interactive aspects as I have had with previous teppanyaki visits.
Did I mention the food was delicious?!
I was in a constant food coma at this point by that's what cruising is all about right?! I want to make sure I was doing my first time cruise right!
Show time
The night was still young it was finally time to witness the award winning Dream Cruises entertainment; 'The Voyage of a Lover's Dream'
Again, you don't need to hear me ramble on about this again but I do recommend seeing it for yourself!
Gladstone
I knew this would be a big day but not even my morning coffee prepared me for this wild ride.
Shore Excursion – Great Barrier Reef
A short walk from the Explorer Dream to a much smaller boat, the Lady Musgrave Experience.
Most of us darted to score a seat upstairs but within minutes only a couple of us were left as the wind really picked up.
Jenny and I stayed strong and made the decision to stick around as the fresh air was quite nice as long as you kept a safe grip on your belongings.
We had to duck downstairs for a quick safety briefing as we got this show on the road.
It was almost instantly that I felt something was off and was starting to wonder if we made the right decision coming out today.
I said it got quite choppy coming out of Sydney heads but nothing like this.
As you know, I am prone to motion sickness so this was a nightmare but I was determined to stay strong.
While I could hear and unfortunately, occasionally smell that things were not going well for everyone downstairs I was not regretting my decision to stay up top with the fresh air.
Here are a few extra tips that helped me survive this nightmare:
Fresh air
Keep your eye on the horizon and avoid looking at your phone as much as possible.
Have something in your stomach. This puts a lot of people off because they think eating more will cause them to throw it up. I am no expert but I believe having more in your stomach actually means it usually sloshes around less and keeps you settled.
Tiger Balm is my best friend. I always dab a bit under my nose right before flights, long car rides and boats. It always clears out my sinuses and in this case, really helped me block out the odours wafting up.
Stay hydrated
Chat with a friend, keep yourself distracted
It's a miracle
After what felt like the longest two hours of my life I am so proud to say I made it to the Great Barrier Reef without vomiting.
I had been lucky enough to snorkel the Great Barrie Reef during my epic Port Douglas Daintree Road Trip back in 2018 but no matter how many times I could ever visit, I will always be excited to get back.
The boat kept on rocking as we tried to find the best place to jump in the water. Distracting myself by admiring the dazzling blues surrounding us I locked eyes with a friendly turtle.
We were all feeling ROUGH and everyone looked defeated. I really don't think the tour should have gone ahead but in saying that as soon as I jumped into the water I felt like a new woman.
The current was quite strong but visibility was good.
While I missed the chance to swim with our welcoming party (Mr. Turtle) I did come across two stingrays that I admired for a second before dashing off as swiftly as I could.
They are beautiful creatures, don't get me wrong, but after everything that happened with our Aussie icon Steve Irwin, I can never look at them the same.
The clouds were approaching and the swell was picking up. I don't know when this started to become an issue for me but flippers do not agree with me and cause me to start cramping.
I took the opportunity to put our hand signals we learned during our safety briefing to the test. Utilising the "It isn't an emergency emergency but I am not ok and can someone pick me up please and thank you" (not the technical name but it should be).
Get me back to dry land
This would be an amazing opportunity to explore the Great Barrier Reef if the conditions were a little friendlier. With many more departures with Dream Cruises Explorer Dream, there is bound to be safer weather so don't cancel out this completely for your future endeavors.
Going with the current and having some lunch on our way home allowed for a much better and faster experience. Although, I give most of the credit to my robe that I took along with me.
A collective cheer as we stepped off the boat and I was in no rush to get straight back onto another one.
We took a long way home to check out the markets the locals put on just for us. The highlight was undoubtedly the interesting looks and conversations I had thanks to my robe that I am sure you are not surprised that I am wearing in public still.
Recovery
I considered booking in for a massage at the Explorer Dream spa but once I showered and climbed into bed there was no getting me out.
Okay that is a lie, the promise of more food got me out of bed.
The girls are I headed back to Dream Dining for a recovery meal where we managed to score one of the best seats in the house.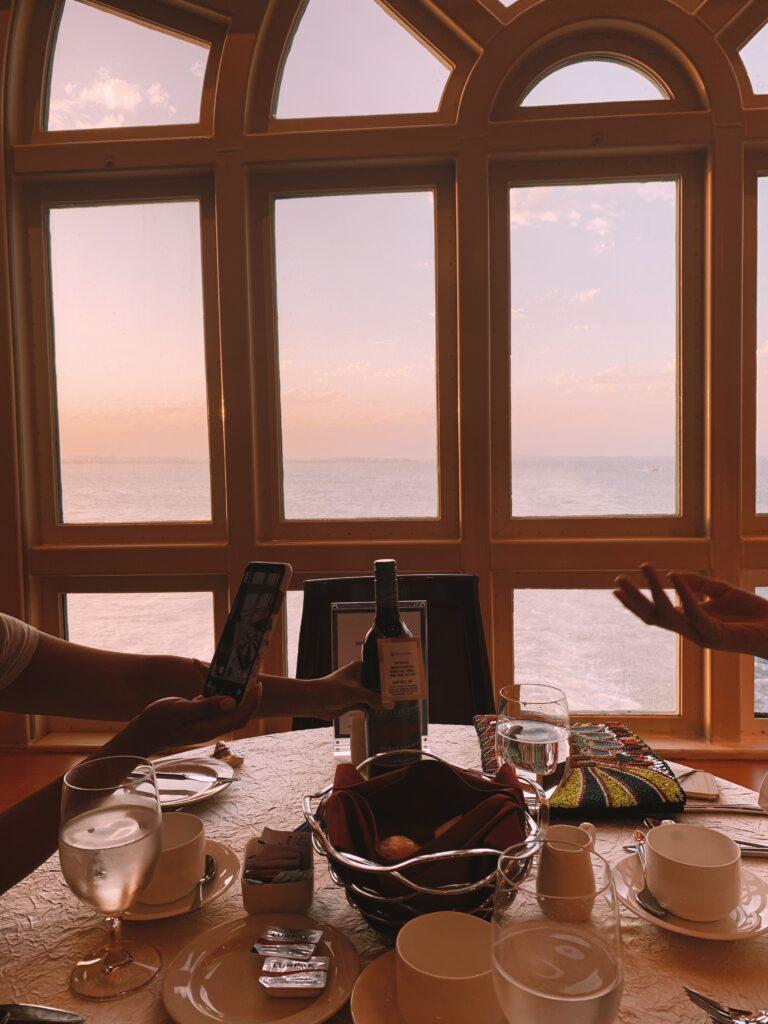 We admired the sun setting outside from the extravagant window right at the back of the ship as we chowed down on our 4-course meal.
With the sunburn on my legs trying its hardest to get my attention, I took it as a sign to head to bed.
Mooloolaba
Gladstone left me a little worse for wear so while the rest of the ship tendered over the Mooloolaba for some exploring, I made the most of having the pool and hot tubs to myself.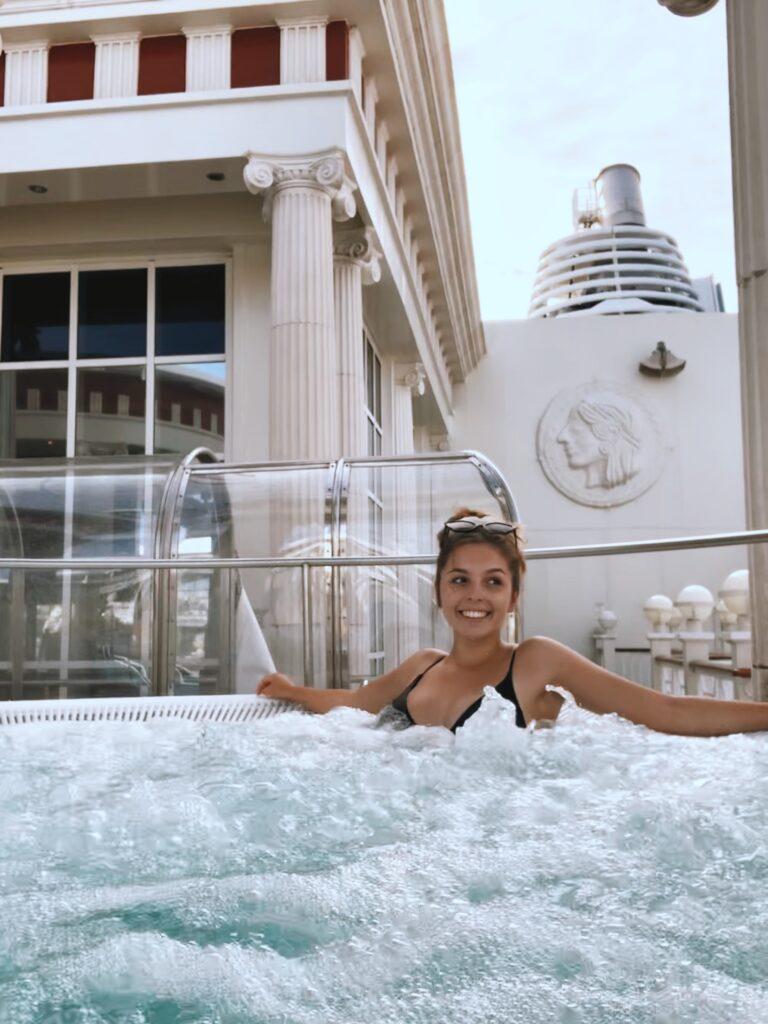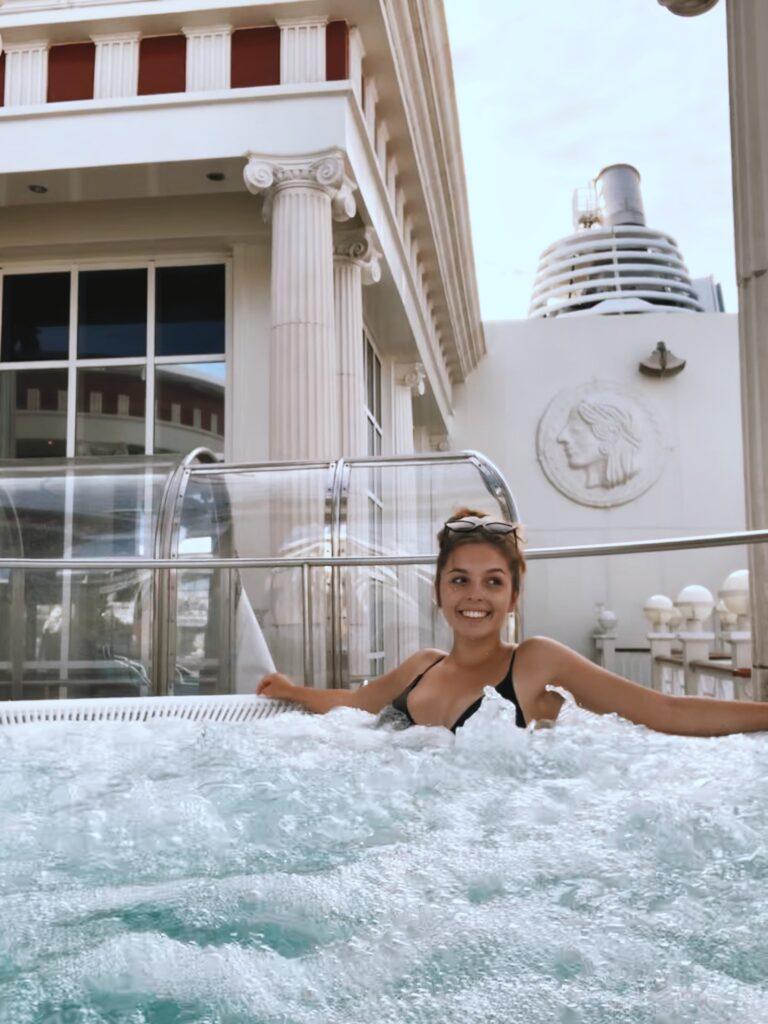 From what I heard about the tender, I know I made the right decision. Apparently it was packed to the brim as the battled some more below average conditions on a 45 min trek across to the shore.
I understand this is also part of the cruising experience but after the day we had before, I do not think I would have handled it well.
Important note:
I know everyone wants to make the most of every moment on their holidays but if you start to feel sick or run down in any way don't shy away from taking some time to rest up and recover.
It is way better to take one day off to rest than pushing yourself too far and ruining multiple days.
In fact, I still felt like I was making the most of the cruise now that I was finally using some more of its facilities and purely relaxing on board.
Wait, it's dinner already?
This was no ordinary dinner as we were invited to the special Palace BBQ. This is usually not available for us 'normal' guests but I still want to share with you in case you are interested in booking a stay/upgrade in the Palace.
I am still blown away by the beauty of the Palace. It is so classy and inviting.
We were spoilt with a glowing sky as the sun finally set and morphed into the most captivated blue.
The wind had thankful calmed down for this all you can eat BBQ under the stars.
Not only is the food out of this world but for me, it was the staff that made these moments so special.
With live music by the pool and the Palace glistening like a Christmas Tree, I couldn't have asked for a better way to say goodbye to another day with Dream Cruises.
Brisbane
You know the drill by now; robe and coffee as I get ready for the day and it was going to be a big one.
Shore Excursion – Mt Tamborine
We were a smaller group in a smaller bus today ready to take on our final shore excursion.
I have never been to Mt Tamborine or at least I don't remember visiting so I thought it would be a very exciting day.
It sure was but unfortunately for the wrong reasons. Motion sickness strikes again.
After taking a ME day, I was feeling better than ever but 30 minutes into the car ride my body was giving up on me. Turns out it wasn't seasickness I should be worried about for my first time cruise.
Swapped around to the front seat and the whole crew looking after me, there was no giving up although I was very close.
The rain was coming in heavy but what can you expect on your way to the rainforest.
It seems I am getting ahead of myself because we had one very important stop first. However, it wasn't easy to get too.
Afterall this was a 4WD tour and I think we are all still shocked that our minibus was capable of such things. Me, not so much.
Morning Tea
It was a struggle but scones make everything better.
Pulling up for morning tea at one of Mt Tamborine's iconic food stops.
The quaint restaurant was so warm and homey. Offering an array of hot chocolate, coffee and tea to pair up with even more impressive scones.
I would have been happy to base my self here for a little longer but more adventures were waiting so we were on the road again.
Rainforest Walk
I am very happy to say we were not in the car long before pulling up to our next stop.
Things were finally starting to turn around as the rain decided to hold off for us too just long enough to enjoy our walk.
The rainforest was shimmering thanks to the shower it had just received making the greenery pop.
It looked lush and was bursting with wildlife. Crossing paths with a HUGE spider, a cute paddymelon, some weird bush turkeys and quite a few other humans wandering through too.
Our guide wasn't sure if there would be much of a waterfall for us to see as before today everything had been so dry yet when we walked around the corner it was looking mighty fine.
In saying that, the biggest surprise of the day was that my white shoes stayed white!
Lunch
We may have only been an hour out of the city but it felt like we were in the middle of nowhere.
Somewhere in Sarabah, we stopped in for lunch.
I had started to feel a little better (the promise of food usually does that to me) but then sea legs hit me out of nowhere. This was the first time I had really felt it and funnily enough so did Jenny at the exact same time.
Within a couple of minutes, I was back to normal mostly thanks to a delicious piece of grilled chicken, some salad and a sugar kick from a soft drink.
We had planned some boomerang practice here but the rain made an appearance again cutting the activity short.
Wine and Alpacas
Down the road, we enter O'Reilly's Canungra Valley Vineyards for winetasting but all that I could pay attention to was Mountview Alpaca Farm on the same property!
Apparently this is a hot spot to Platypus watching too.
Jenny and I were all wined out (for now) so ran straight over to the Alpacas.
The Alpacas were, without a doubt, the highlight of my day!
I COULD ramble on about these funky furry creatures for a while but I'll let you enjoy the moment through this mini photo series.
It has been a long day
For the most part, the drive back was very scenic and much smoother than the drive out.
As there were people now checking in for the Brisbane Itinerary, the process to get back on the ship was not as simple as usual.
I believe this process will be easier as time goes on for the Explorer Dream but this time was a little messy and confusing for passengers.
Eventually, everyone was cleared through and I could reunite with my robe for a short period of time before more food.
Hot Pot
The weather was still pretty miserable so hot pot was a great choice for dinner and gelato was an even better choice to finish it off with.
It was a rollercoaster of a day but I was still loving time with Dream Cruises and couldn't believe we were so close to the end.
Cruising the Coral Sea
The ship was the busiest I had seen it all week during the early morning when I like to make the most of the pool deck.
After some last-minute photo shooting, Jenny and I checked out the Lido Breakfast again. This is where we discovered the heavenly french toast which was hiding at the back.
I was content.
With no plans until dinner, I didn't know what to do with myself.
The hot tubs were a bit too busy for my liking so I took myself on another walkthrough of the ship to soak it in one last time.
This was probably for the best as otherwise, I may have forgotten to pay my remaining tab at the lobby. Here you can also pick up a luggage tag if you would like your bag taken off the ship for you for tomorrow.
I decided against this option as I still needed all of my toiletries, a few clothes and so on.
This is also the day I had that amazing and ridiculous big lunch at the Dream Dining Room. After that, I treated myself to some more quality robe time and gazing out of my balcony as those I was in a soap opera or sad music video.
Mark Best Seafood Grill Dinner
Dinner snuck up on me but I was eased into things with a cocktail so all was good.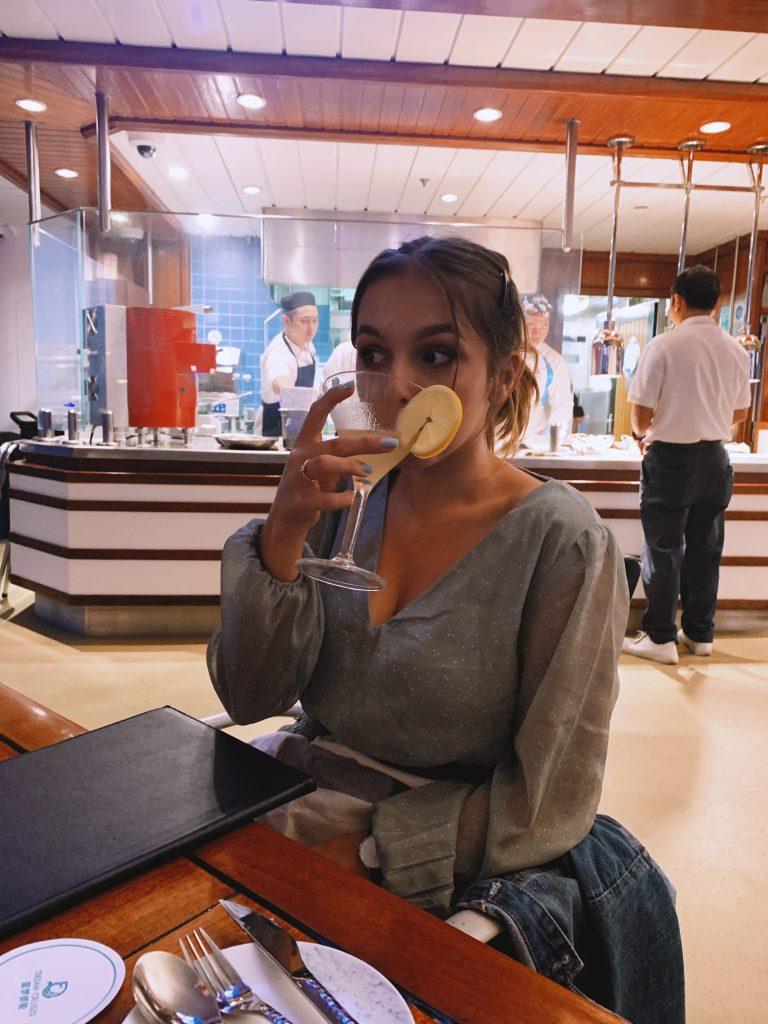 I was feeling fancy and fabulous for our last night.
We all order but suddenly all of these different foods began popping up in front of us. Starting with chips and guac, hot chips, bread.. it seemed endless. Not only were we getting a main but it seemed like we were being treated to a whole feast.
Some of the ladies ordered Oysters which came out the size of my head, others had fish, some opted for pasta and I took on a thick, juicy burger (and another cocktail because why not!?).
Then the most amazing thing happened… A FLASH MOB!
The sweetest Dream Cruises staff put together a whole dance routine to show off to us during our special dinner.
A few of us couldn't help ourselves and join in on the fun. The party was only getting started.
More food, more cocktails and plenty more laughs. It was a night to remember but still not over. I don't know how I was going to do it but I had to stay awake a little longer for the grand finale; Dream Boys.
I still have no words.
Sydney
I am so glad I made friends this trip that wanted to get up early to watch us cruise back under the Sydney Harbour Bridge.
You may be thinking this is so I had someone to watch it with but instead, it is so I could sleep in and live through their photos.
When I did finally wake up we were already docked and I was thrilled to find that my room wasn't facing the terminal this time. I actually had a lovely view of Anzac Bridge!
I didn't' get to enjoy it for long as it was drawing closer and closer to check out.
I could have stuck around a little longer if I wanted to but I chose to avoid the rush and honestly, I was looking forward to being on land.
Despite my choice to carry my own luggage out, it was a smooth walk off the ship.
Why Explorer Dream is the perfect First Time Cruise – Final Thoughts
Dream Cruises has a very bright future in Australia and I am genuinely excited to watch it grow on this side of the world.
For my Aussies, in particular, this is the perfect first time cruise as you are always so close to home. It takes away a lot of that initial panic that you will be in the middle of nowhere. It leaves you with a sense of comfort, safety and security that I think is important to ease you into cruising.
For everyone else, I think this is still really helpful for you as you know the land is so close by. Whether it is your home or not, you never have to feel like you are so far away from everything.
Another really good point of why the Explorer Dream is a great first time cruise is that it stays so close to shore, for the most part.
There are plenty of stops with plenty of opportunities to get out and about away from the ship.

Not only are the shore excursions going to keep you on the go, but there is also always something happening on board to help you avoid boredom.

Being a medium-sized ship there is never going to be too many people around. While some moments will seem busier than others, there is always space for you to breathe and stretch out.

You get to sail underneath the iconic Sydney Harbour Bridge… How cool is that?!

The length of the itinerary is short and sweet giving you enough time to really soak up the cruising experience without getting to the point of going stir crazy if it happens to be something that isn't for you.
Dream Cruises really exceed my expectations for my first ever cruise on the Explorer Dream.
While I don't think I am going to become one of those crazy, cruise obsessed people anytime soon, I would really love to try cruising again one day.
What are your thoughts on cruising?