Underrated Tours: Busabout Iberian Adventure
Busabout is well known for its flexible hop-on-hop-off style experiences yet many don't realise that the tour company has some impressive fixed tours on offer too.
In Europe alone they have a reasonably priced alternative to the famous Greek Island Hopping Tours (unless you're as hopeless as I am and accidentally book it twice) to what you have come to this blog post to read about… the underrated Busabout Iberian Adventure Tour.
Spain, Portugal and Morocco are often overlooked when it comes to the European summer but this week-long roadtrip is the perfect taste test and be warned, it will leave you wanting more!
Who is Busabout?
The award winning worldwide network self proclaimed, alternative stress-free way to travel Europe, Asia and North America. I could ramble on for a while (and will be doing so as you read down this post) but let's let Busabout explain this one for themselves…
"WE'RE NOT YOUR AVERAGE TRAVEL COMPANY. IT WAS 1998 WHEN WE FIRST LINKED UP THE BEST CITIES AND DESTINATIONS IN EUROPE WITH A COMMITMENT TO THE INDEPENDENT TRAVELLER TO MAKE THEIR TIME, CASH AND EXPERIENCES GO FURTHER. BY BEING THE ALTERNATIVE CHOICE WE HAVE REMAINED DEDICATED TO OUR FREESTYLE FORM OF TRAVEL AND OUR UNIQUE HOP-ON HOP-OFF FLEXIBLE COACH NETWORK. PUTTING IT SIMPLY, WE'RE A BUNCH OF MATES WHO REALLY ENJOY WHAT WE DO. SO, BY CHOOSING TO TRAVEL WITH US, YOU WILL BE SURE TO RECEIVE THE SAME QUALITY AND EXCEPTIONAL GOOD TIME."
What is the Iberian Adventure?
Well, to put it simply, it is a week-long adventure around the Iberian peninsula.
Up until the 2019 season release, the Iberian Adventure was Busabout's one of very few fixed tour that highlighted this underrated region. Exploring Spain, Portugal and Morocco in 8 days.
Let's let Busabout explain:
"ON THIS WHIRLWIND WEEK ADVENTURE, YOU'LL BE SEDUCED BY THE FLARE OF FLAMENCO DANCING IN GRANADA, PARTY IN THE COOLEST BARS IN LAGOS, SOAK UP THE OLD TOWN ARCHITECTURE OF SEVILLE, AND EAT YOUR WAY THROUGH THE LOCAL CUISINE"
How did I discover the Busabout Iberian Adventure?
Unlike many other parts of my trip, such as my wild week on Yachtlife Croatia, the Iberian adventure was booked rather last minute on a whim.
I had a week or so gap in my European summer so I took to Tourradar to get some inspiration. It wasn't long before I had stumbled into the Busabout Iberian Adventure that fit my needs almost too perfectly.
With a bargain price, ideal dates and surprising destinations that I had never really thought about, I was intrigued and relived that I had now filled the empty void in my trip.
My expectations
After booking I didn't look too much further into the trip which is so unlike me because I do love excessively researching my holidays. That didn't mean I was any less excited than usual for a holiday, in fact, the excitement was very much so still alive.
What excited me about this tour?
Spain, Portugal and Morocco flew under my radar for most of my life but after a brief scan of the Iberian Adventure itinerary I was intrigued about what this part of the world had to offer.
I have always been excited about exploring new places, cultures and eat ALL OF THE FOOD and this was no different.
It was the opportunity to learn new things, form new friendships, find new foods and the challenge to creatively capture a whole new part of the world.
What concerned me about this tour?
Any group tour can be hit or miss.
My main concern usually revolves around the people. Will they all be annoying? Will they all think I am annoying? time will tell. As much as I push on this being a concern it really isn't worth stressing over and is always out of your control. I mean, expect if it is YOU being annoying because you should tone that down a little.
For this trip, I didn't know what to expect because I still didn't really know what I had gotten myself into. At time of booking I had never been on a Busabout tour.
Being half way into my extended European summer travels, by the time the trip had come around I had managed to forget the itinerary all together.
The tour itinerary
Madrid – Cordoba – Seville
Although not included in the tour price it was suggested to stay in the Cats Hostels the night before to give yourself the best chance of making the 7:30am departure time.
We were all barely awake, shuffling around the lobby like zombies as we checked into the tour, attempting to introduce ourselves to each other, while simultaneously trying to make the most of the free hostel breakfast. Before we knew it was time to drag ourselves and belongings up and around a few streets to where our beautiful Busabout bus was waiting to meet us and take us on an Iberian Adventure of a lifetime.
I doubt many of us would remember the first chunk of this journey as we dozed back to sleep almost immediately after boarding the bus.
At a more acceptable hour of the day we had come back to life and arrived to our first pit stop – Cordoba, Spain!
The heat slapped you in the face the moment you stepped off the air conditioned bus but the promise of incredible architecture and refreshing ice cream got us through and it did not disappoint.
Some chose to pay entry to the mosque while I had already found another lovely lady, Emily, on my trip that looked like she knew what she was doing with a camera and my insta mission has begun.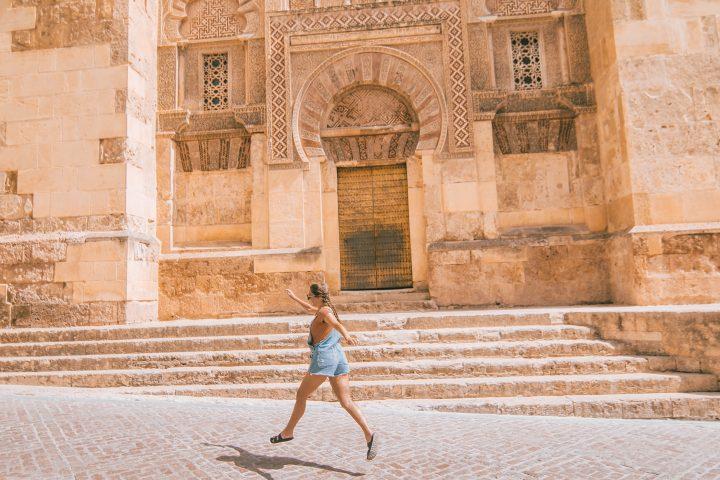 We spent most of our time getting lost in the Jewish Quarter and spent the entry money to the mosque on gelato instead. I still stand by this decision but would love to go back and explore more of this charming town.
Said goodbye to the gelato and Cordoba then a few bus games, stories and an extra nap or two later… Hola Seville!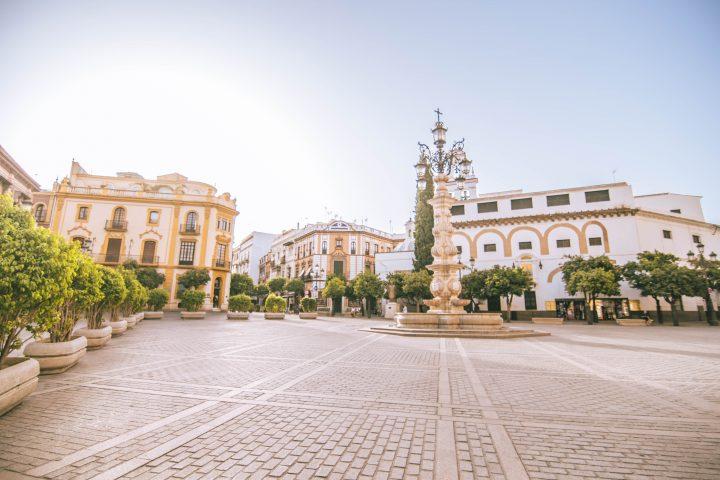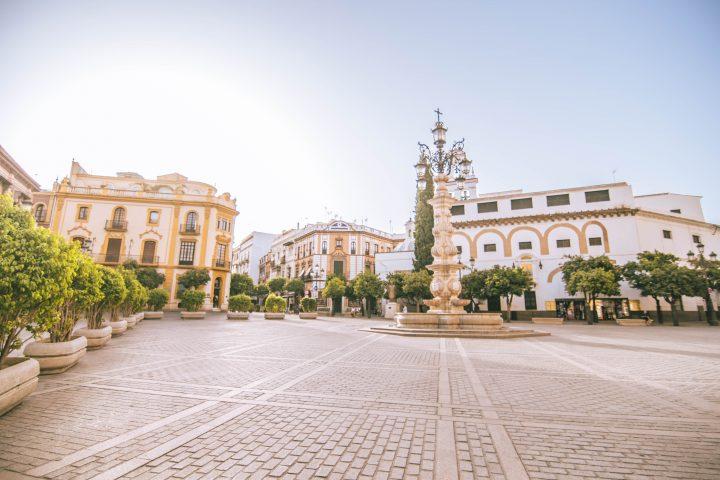 Checking in as fast as we could at our first accommodation of the trip (OH Palace) as we didn't want to miss our intro to Seville walking tour. Although, only a couple of minutes into the tour the heat was wearing us all down and I think had a few of us wishing that we had just hidden away in the air conditioning.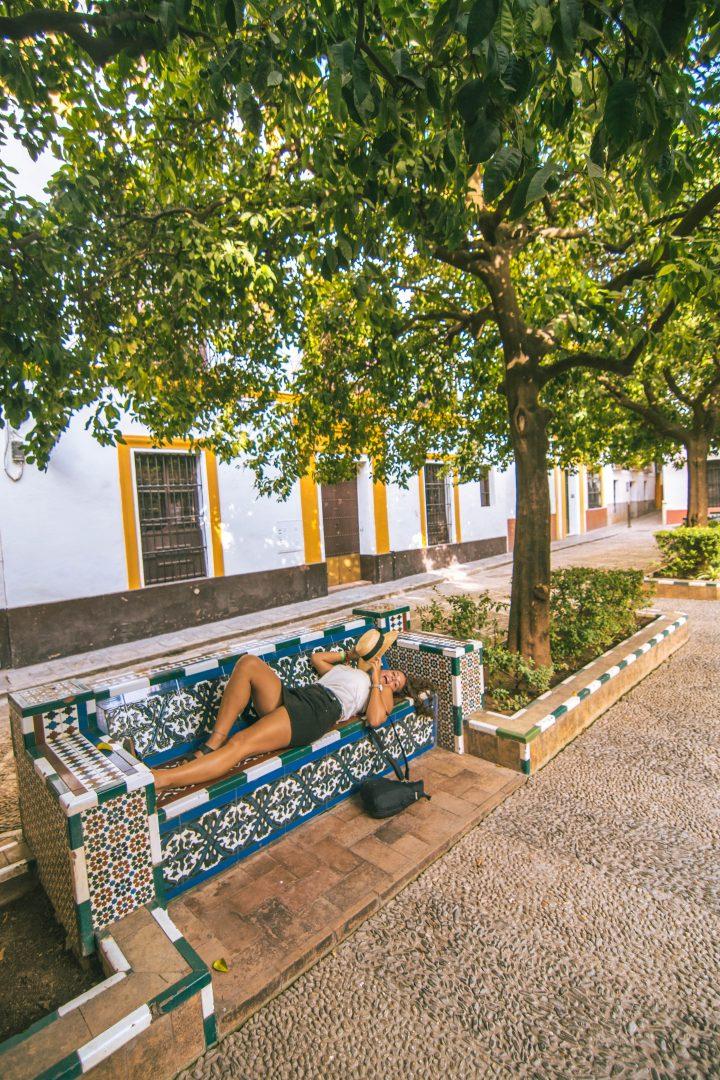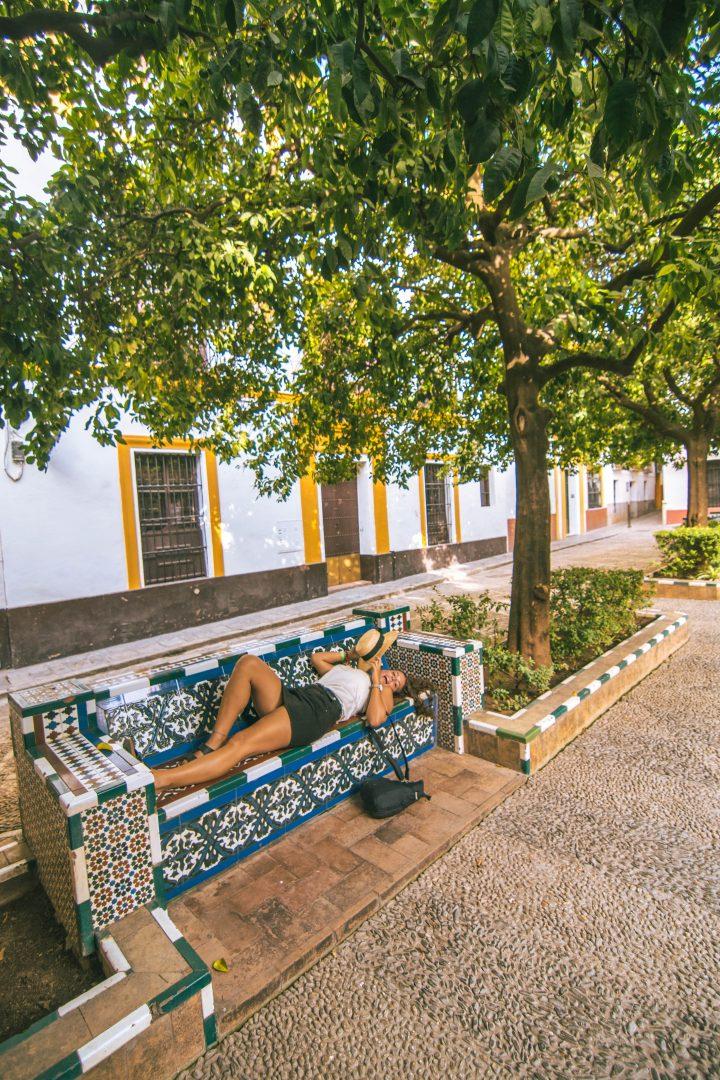 The walking tour itself was really handy even just to get our bearings of this incredible place.
Our walking tour guide may have left but our walking tour had one final stop at a local restaurant right by our hostel for TAPAS! It was nothing like we had expected yet so much better. I would even go as far to say it was the best tapas I have ever had.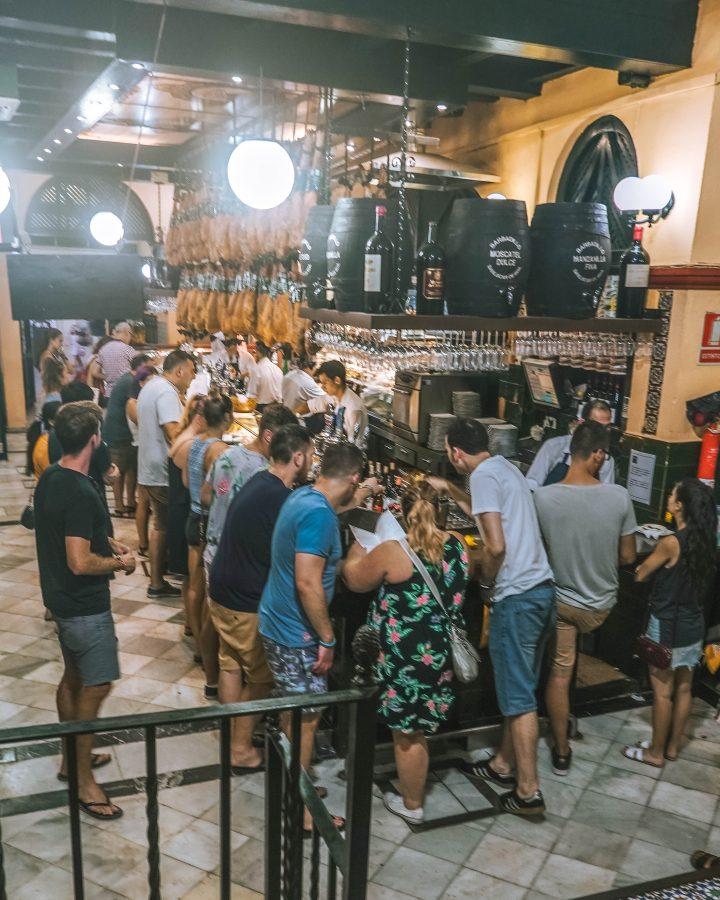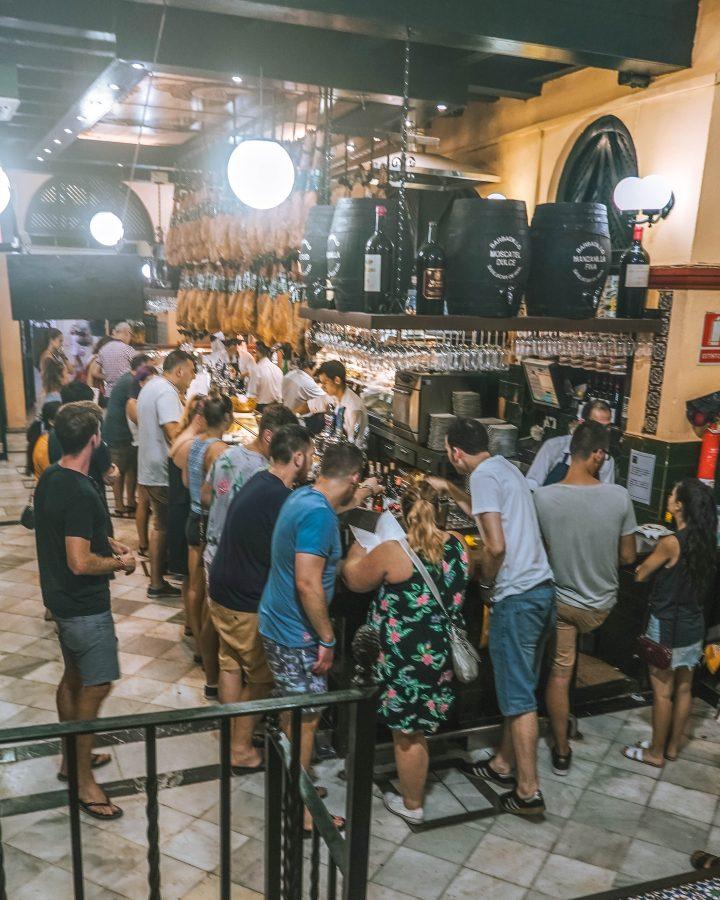 The group wrapped up our first day of the tour with a few drinks at the hostel rooftop bar. However, it didn't take long for most of us to disappear to shower and sleep.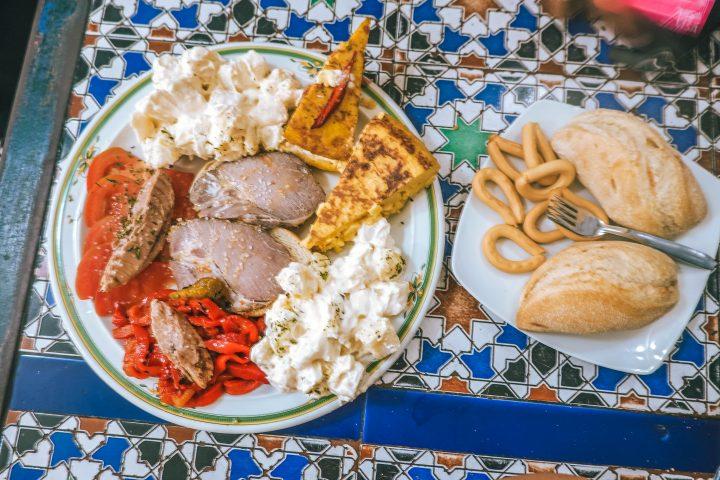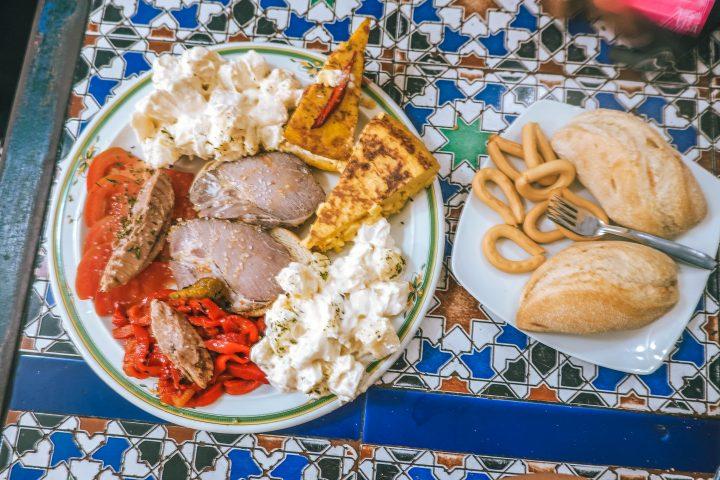 Seville – Lagos
Em and I decided to spend our free time on an early morning adventure which in Spain time is still later than my sleep-ins at home. So at around 10am we were off to get some happy snaps.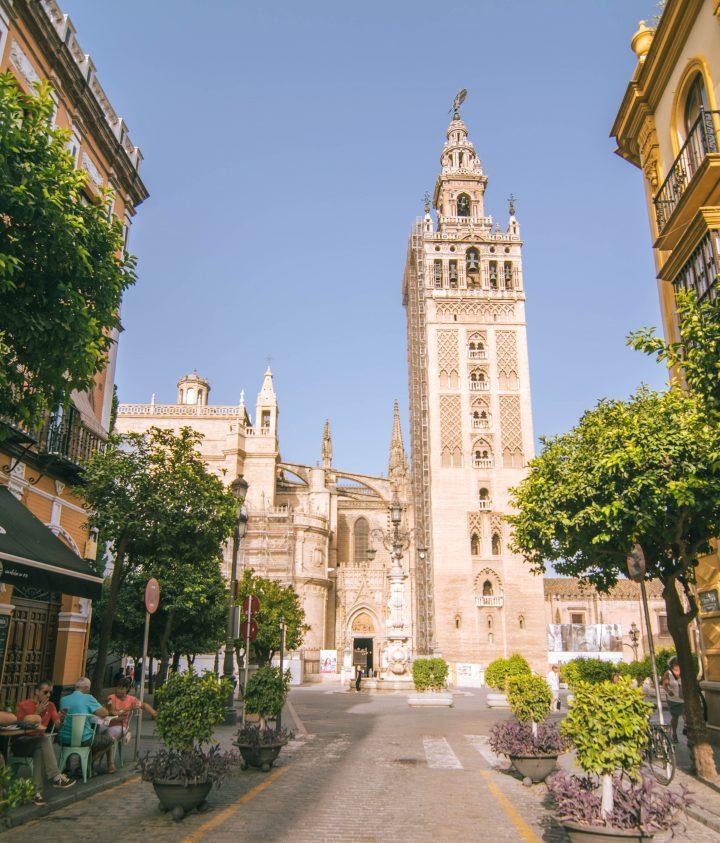 It was a Sunday, meaning most of the shops close for the day for all of the families could spend more time together. Even so, it was like a ghost town! We had the place to ourselves and it was amazing.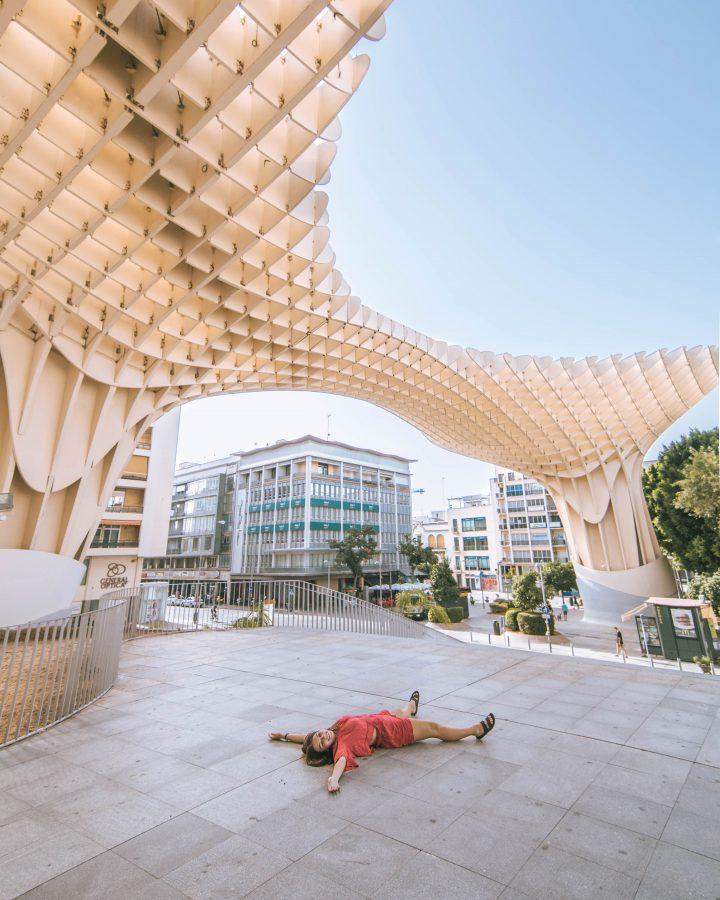 In saying that by the time we made it to the extraordinarily instagrammable Metropol Parasol (better know as the Seville Mushroom) there were a few people trickling in. Don't worry, that didn't stop me from embarrassing myself in public to get a good shot and hopefully inspiring you with a few new poses on how to stand on on Instagram.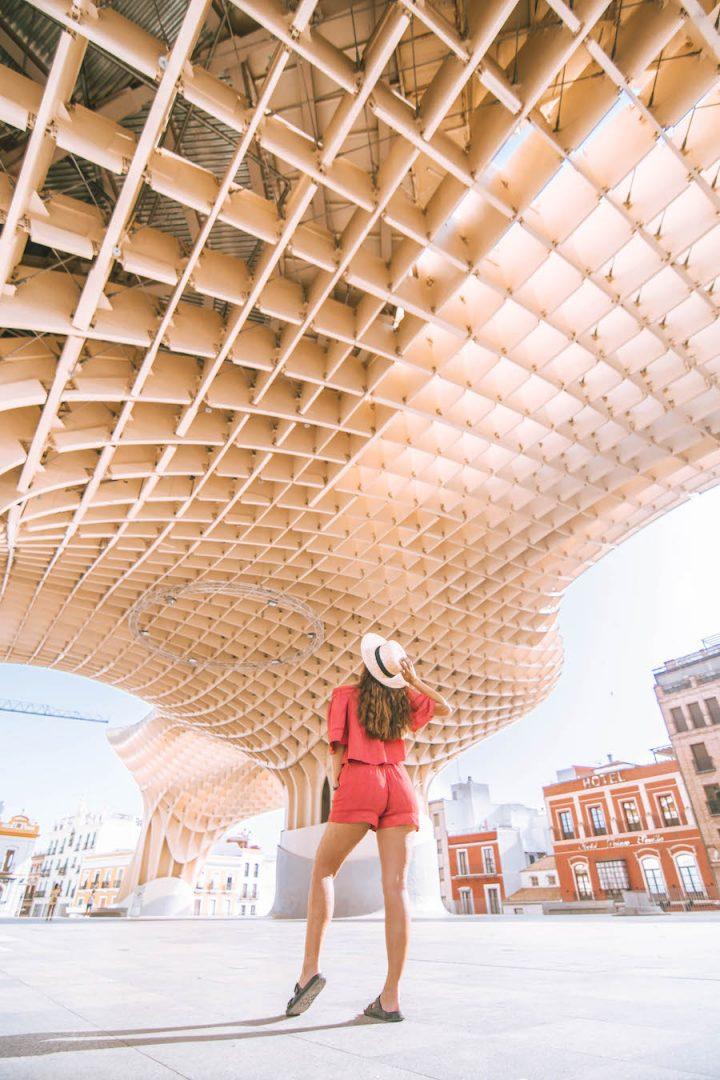 After a quick bakery shop stop to fuel ourselves for the day, we made it back to the hostel with plenty of time to spare before check out.
Luckily, we didn't have to say goodbye to Seville just yet as there was one more sight to see.
We were dropped at the door step of Plaza De Espana which from the outside isn't all that extravagant but a few steps in all our jaws had dropped.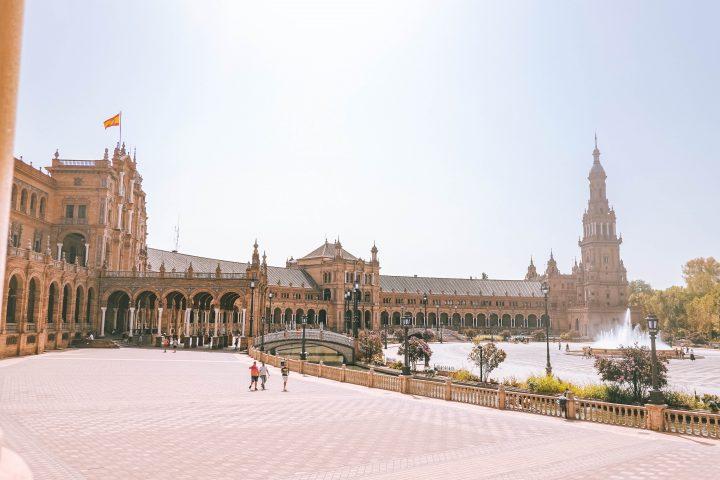 It may have been the worst time of the day with the blazing sun stealing the spotlight and making it almost unbearable to be anywhere in the open but that didn't stop us from exploring this impressive site with the limited time we had.
In such a short time I fell in love with Seville. Somewhat hoping a sexy Spanish man would sweep me off my feet because I was already picturing my life living there; sipping on sangrias, tasting tapas and exploring this captivating city more and more.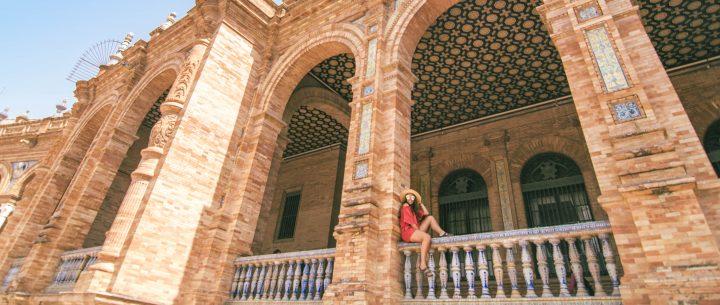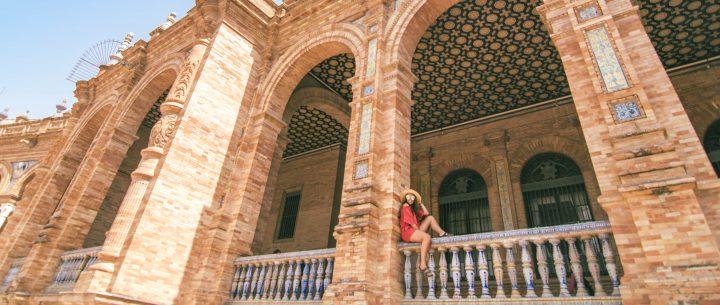 Unfortunately we did have to part ways but all was good again a couple of hours later, across the Portugal boarder, when I got my hands on my first tarte de nata. That single, delicious custard delicacy got me through the rest of the drive until we finally entered Lagos.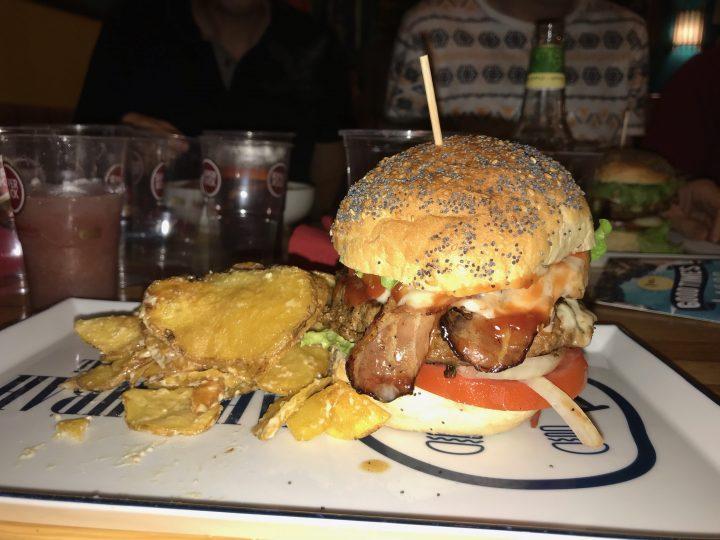 We knew the plans for the night but the afternoon was for us to do as we please. Some had a swim, others walked through the town, a few of us raided the grocery store to stock up on some necessary supplies and all of us were preparing for a magical burger experience that was drawing closer.
The Nah Nah Bah Toucan Burger is rated one of the top 50 burgers in the world by the Matador Network and with one glance, let alone a bite it wasn't hard to see why.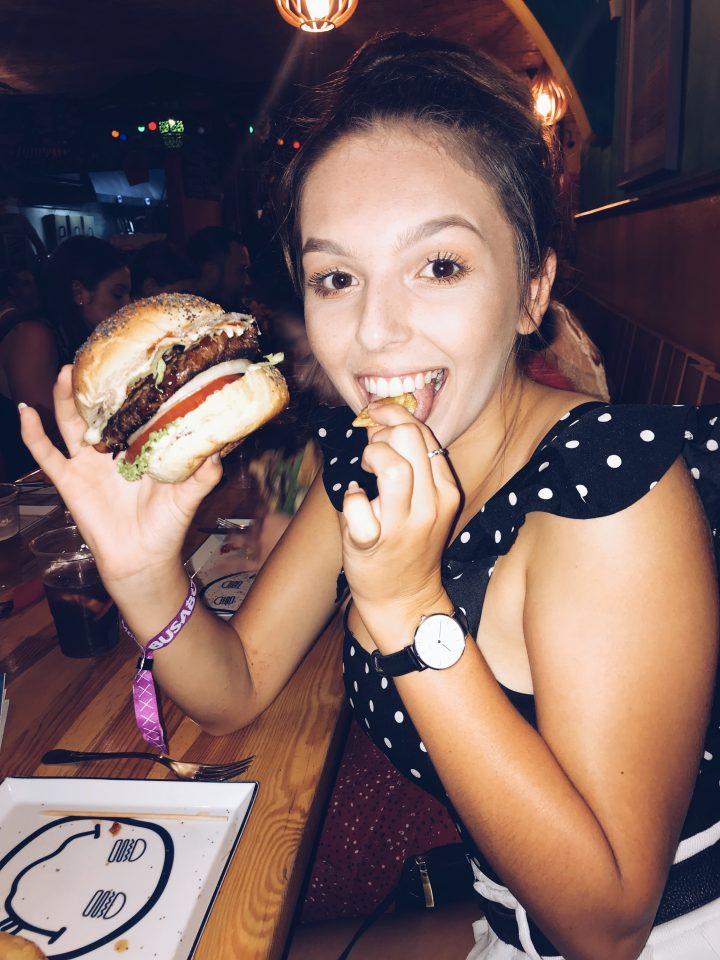 Ok, I may have been a little tipsy by the time the burgers made an appearance. After all, the meal deal included sangria so what do you expect! Nonetheless I can still vouch for the Nah Nah Bah Burger being the best burger experience of my life. In fact, it was so good that I jumped at the opportunity to polish off some of my friend's burger who couldn't quite get through this massive masterpiece.
Now it was time to dance off the food coma on our first Iberian Adventure bar crawl led by the one and only, Busabout Will (our tour leader) and dance we did!
Lagos
Recovery day thankful didn't involve another bus ride. The day was all ours except for the optional extra we all booked on to, sea/cave kayaking.
Although the weather our entire trip had been overwhelmingly hot and sunny, of course the weather was a little miserable during our time at the one place we all begged for the sun.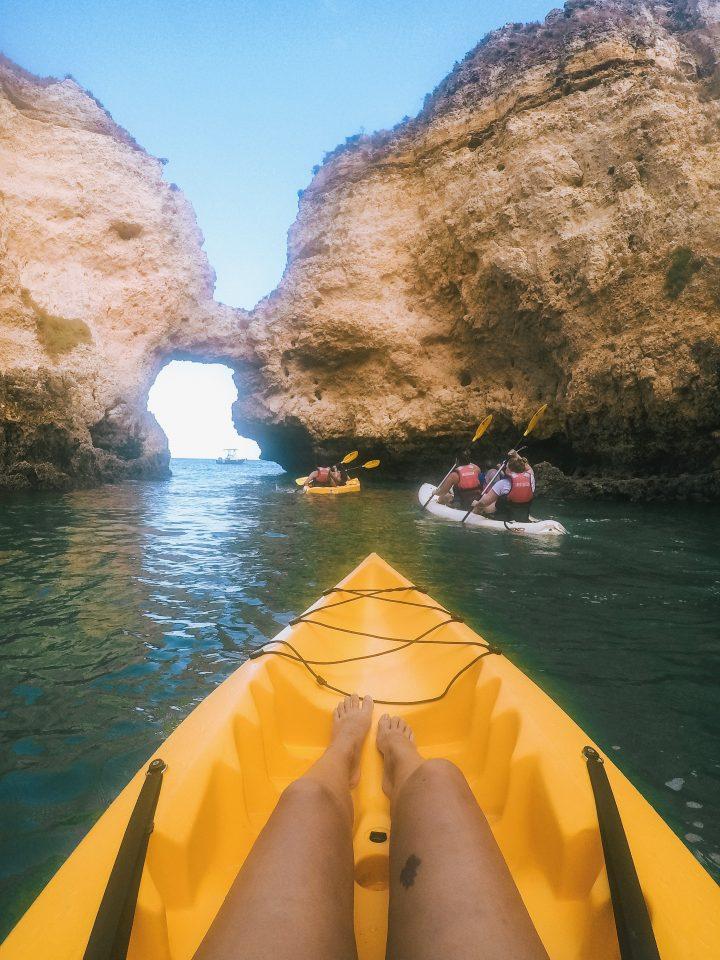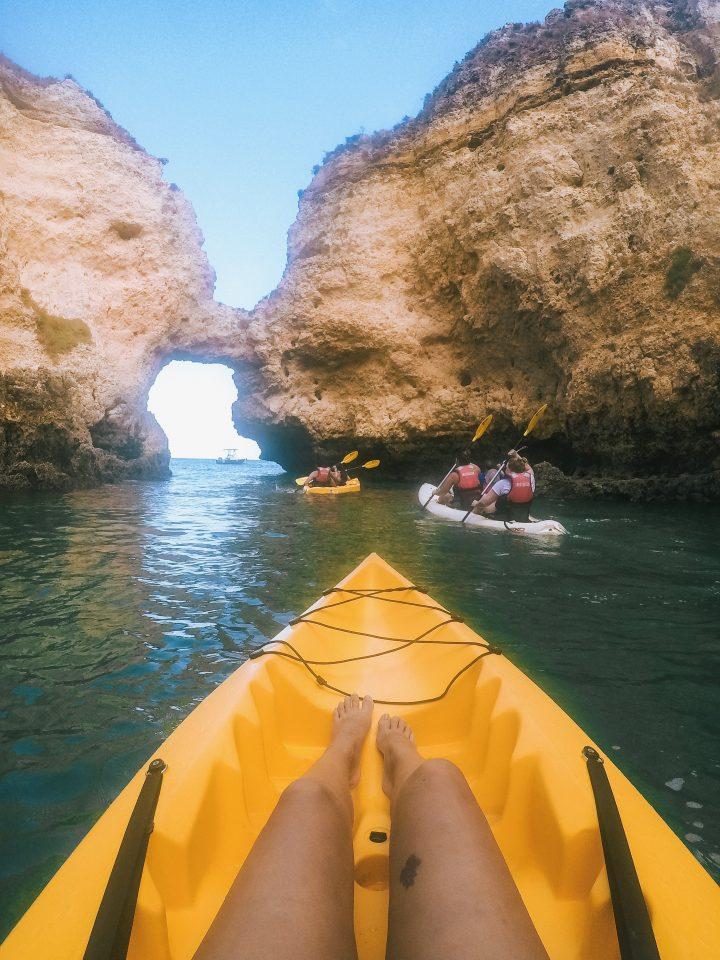 I must admit I was feeling pretty rough this day. Partially hungover and also recovering from the self inflicted allergic reaction I had to cranberry juice the night before. Due to these factors and just generally feeling unwell (later found out this was my Glandular fever making a comeback) I was very close to bailing on the kayaking trip.
Alas, I didn't, mostly because I couldn't get a refund but I am really glad I went. Not before getting my tarte de nata fix!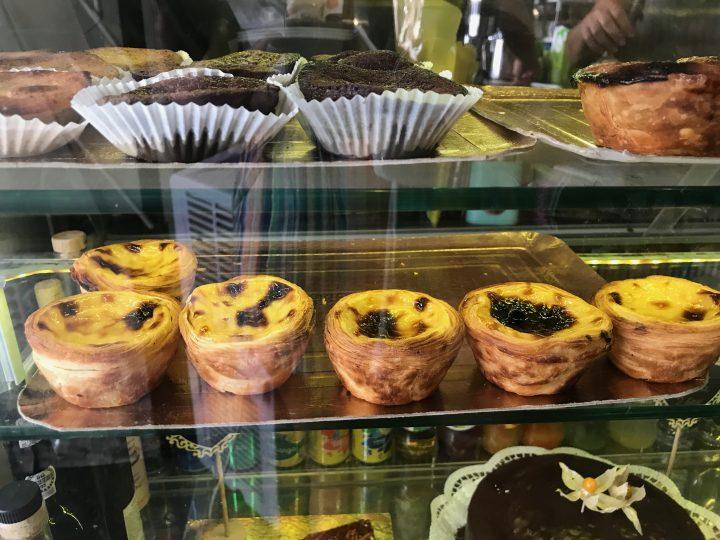 For the most part it was stunning (the tart and kayaking tour) and my anxiety that spikes around cliff edges and caves was bearable until we reached one part towards the end of the tour where the swell wouldn't stop growing and I felt like I was in a horror movie.
All in All I am glad I pushed myself to Kayak in Portugal.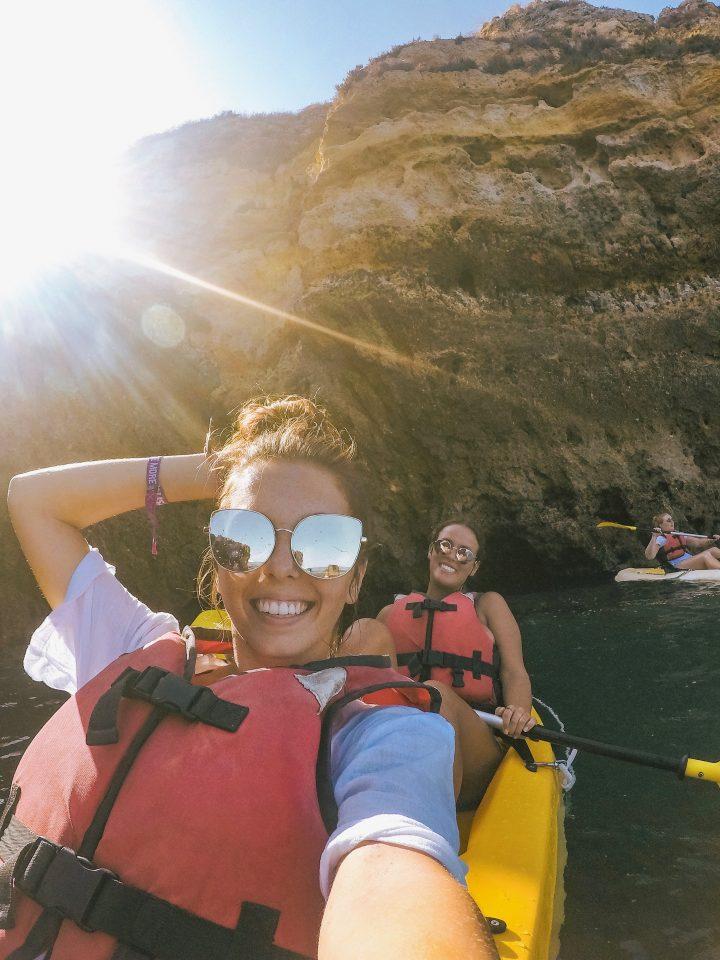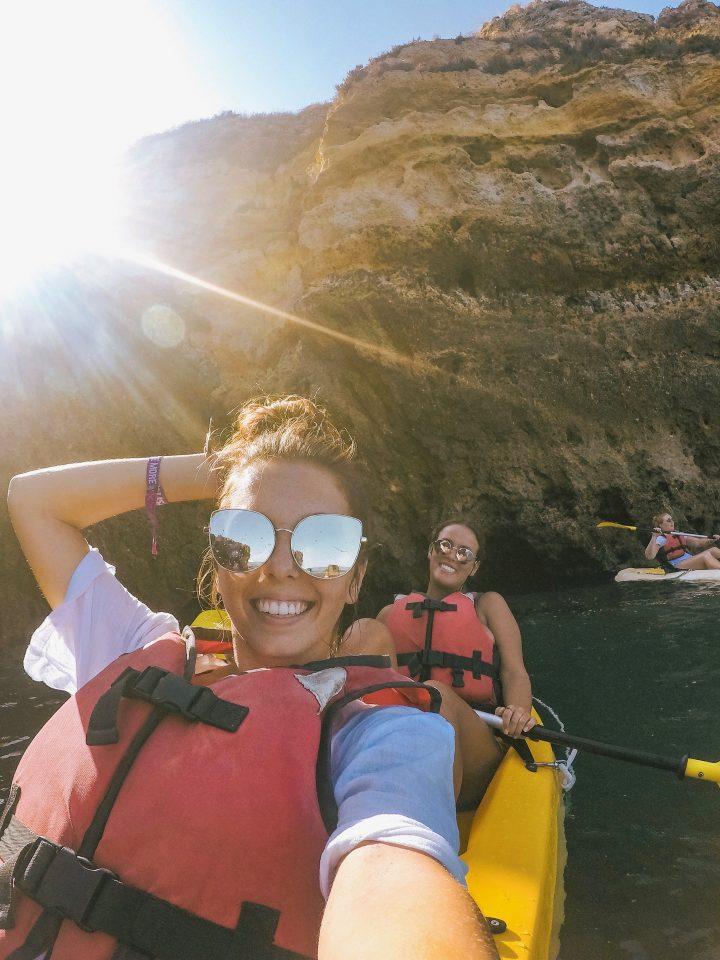 I ended up leaving the group a little early while they soaked up the last hour of beach time with the kayaking tour. I was feeling a little deflated and in desperate need of a good shower.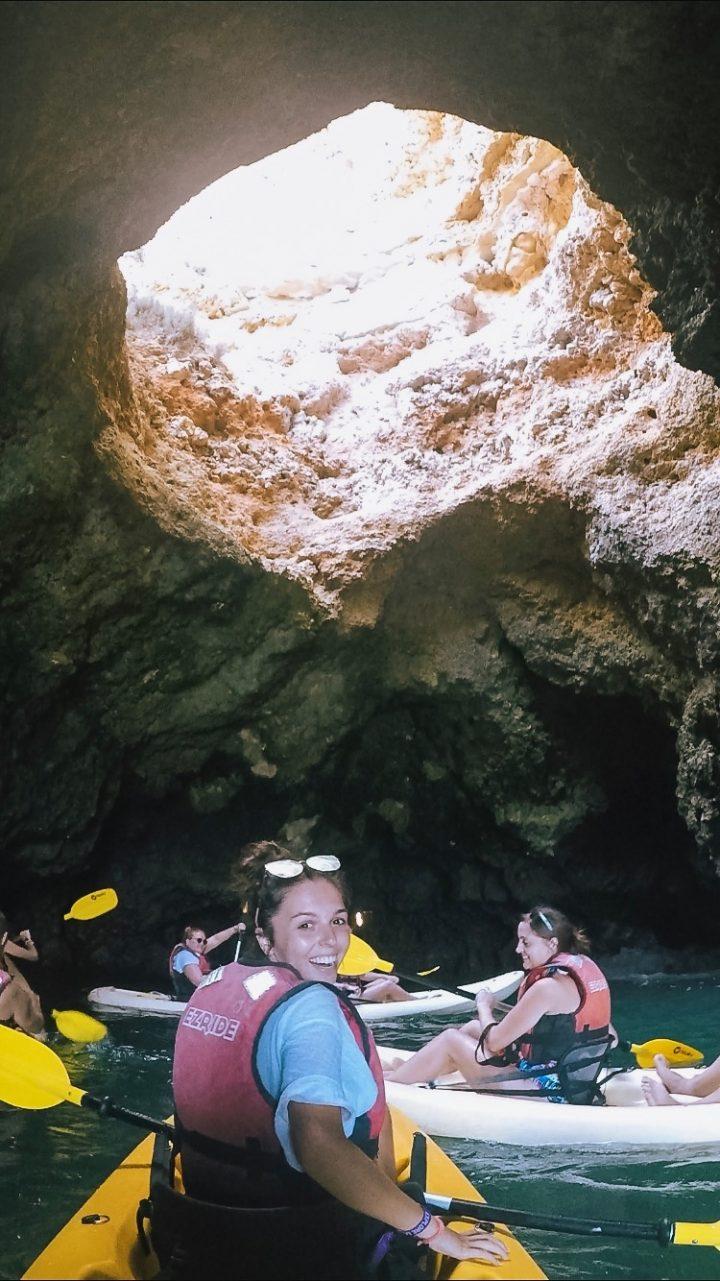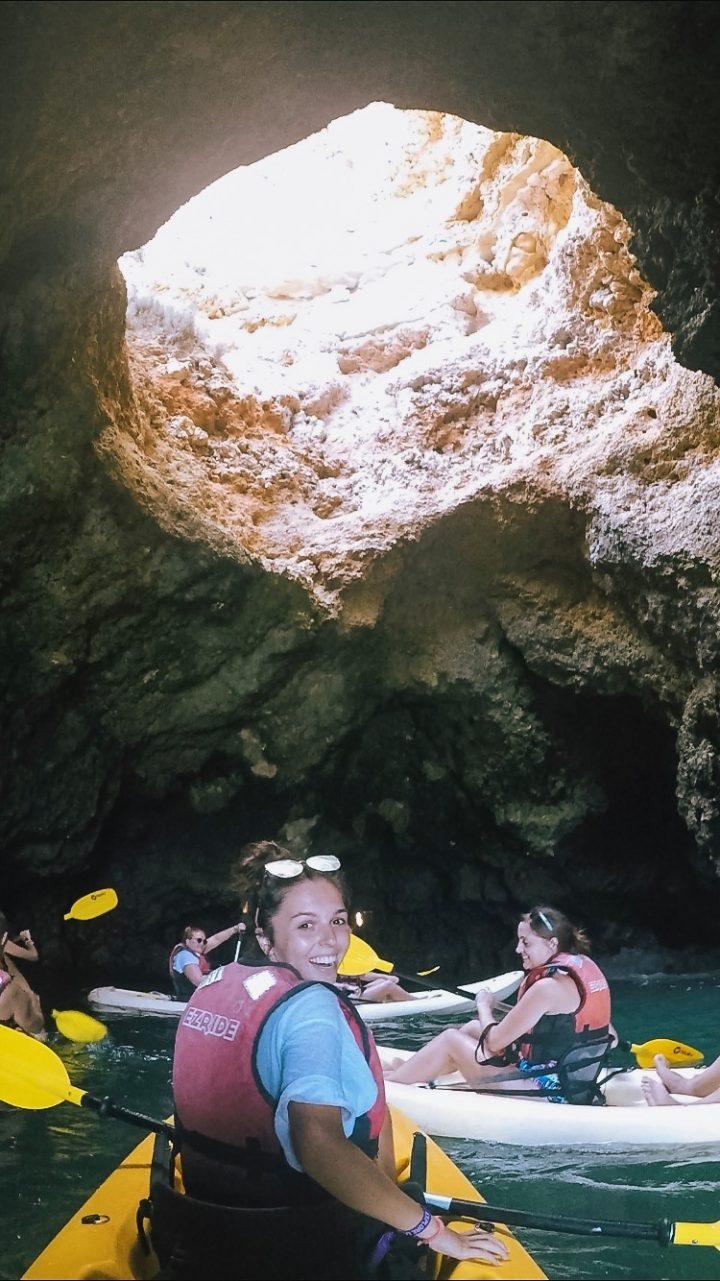 What is better than a good shower? a great burrito! Well, both really…
I never expected Lagos to have so many good food options but I certainly wasn't complaining.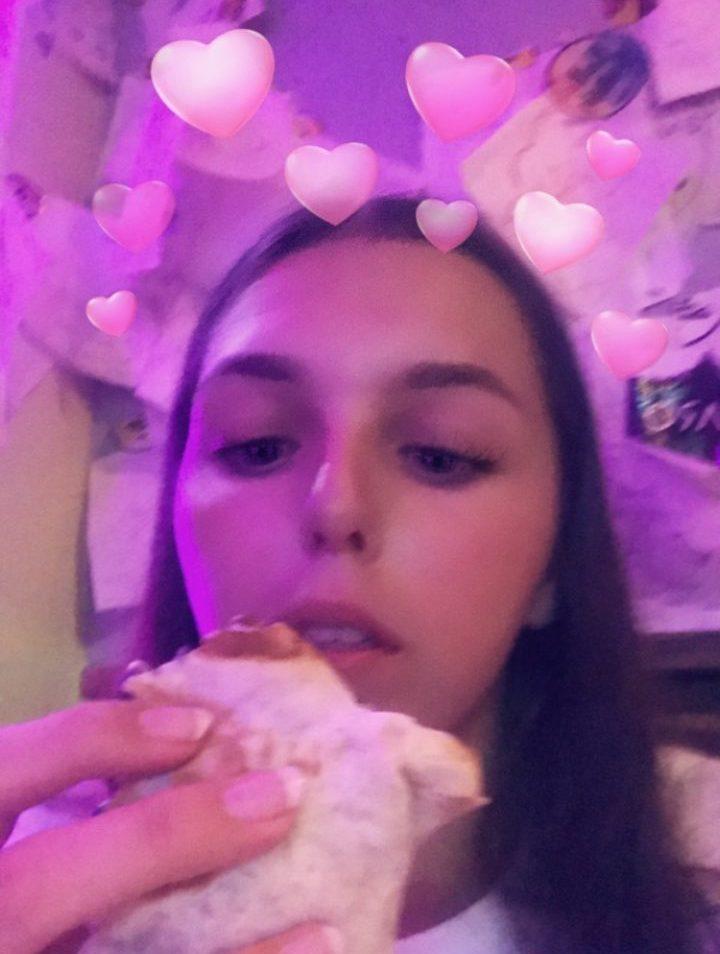 Lagos – Tarifa – Tangier – Tarifa
Breakfast in Portugal, lunch in Spain and Dinner in Morocco. Now this is an Iberian Adventure!
We said goodbye to the cute old man, that ran the accommodation our tour had pretty much taken over the past couple of nights, that waved us goodbye until our bus was completely out of sight.
It was time to catch up on some sleep and can't forget about those Busabout Will fun facts to make the long bus ride seem slightly less long.
Early afternoon we arrived in Tarifa, Spain where we dumped our luggage in our new hotel, grabbed some food and I finally realised, oh shit, I left my phone on the bus!
You see, one great thing about the Busabout buses are the outlets that allow you to charge on the go but the aren't always right near where you are sitting. So it is very easy to forget about when all you want to do is get out and explore the next destination after hours on the bus.
With the Bus already parked away, god knows where (maybe even back in Portugal haha), I had come to terms that I was going to be phoneless for the next 24hrs. How was I going to live! #firstworldproblems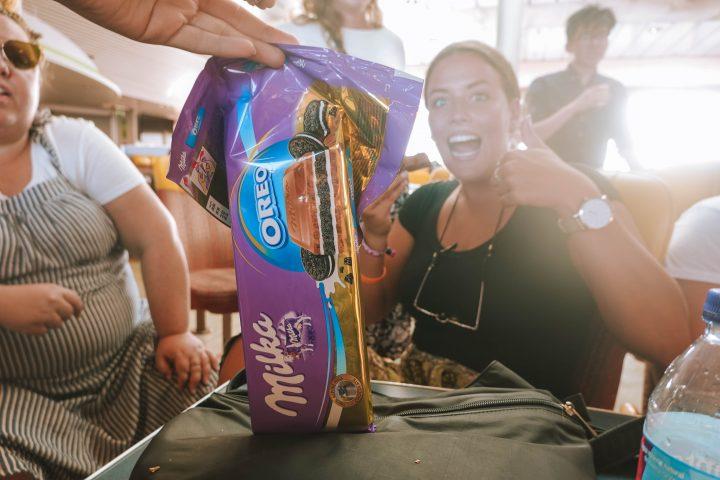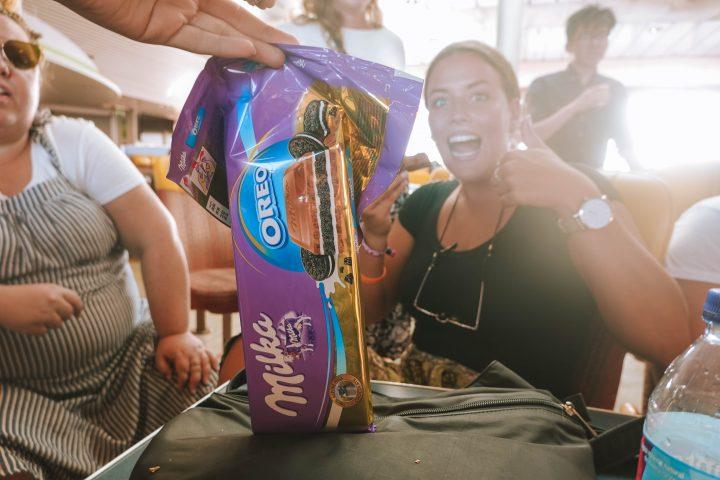 It was a little funny because Em had actually lost her phone on our Lagos bar crawl so we were able to find some comfort in the hopelessness of each other. Splurging on a huge pack of Oreos to make ourselves feel better.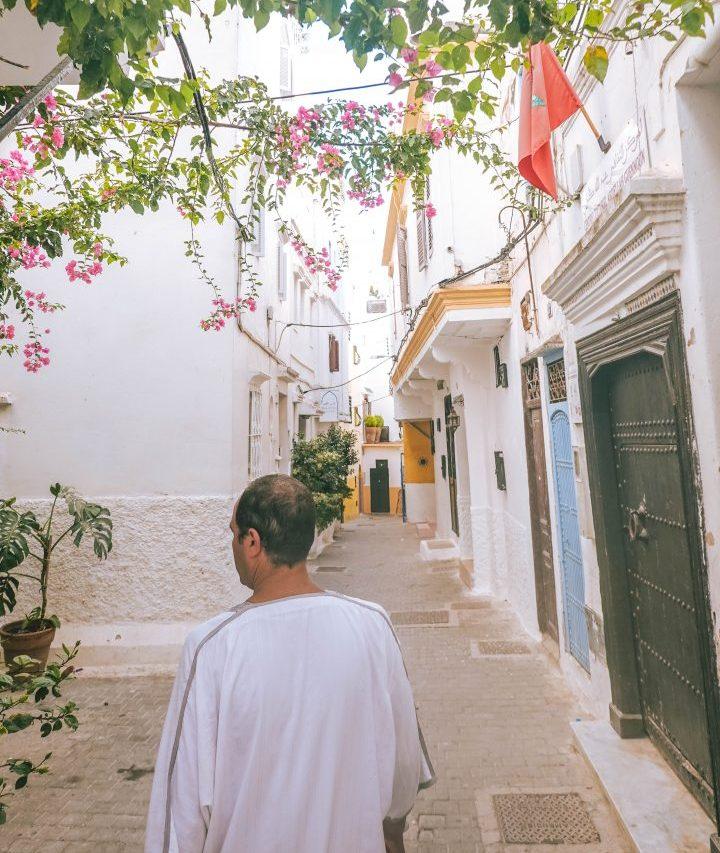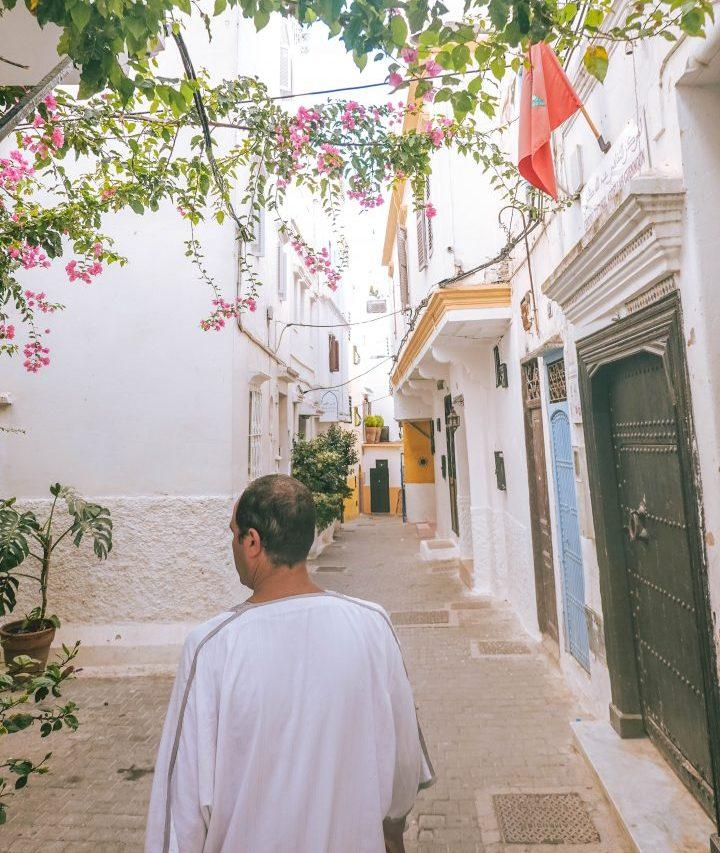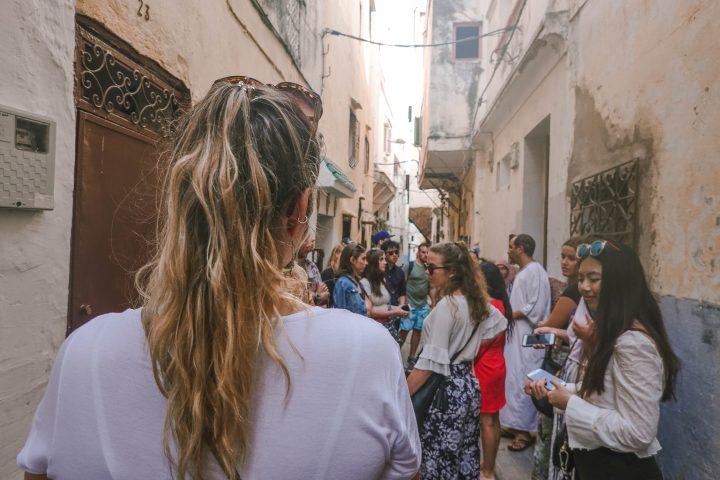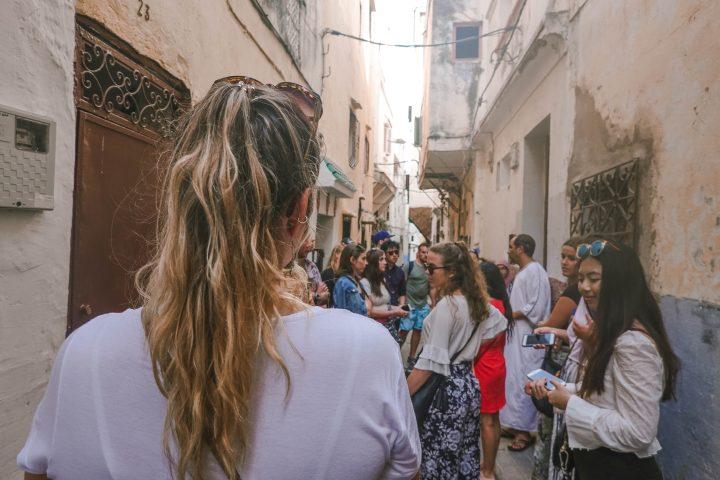 We wandered the streets guided by a local who was full of jokes and knowledge.
I was always running behind because I just couldn't help myself but take a photo at all of the Instagrammable doors Tangier had…. there were A LOT.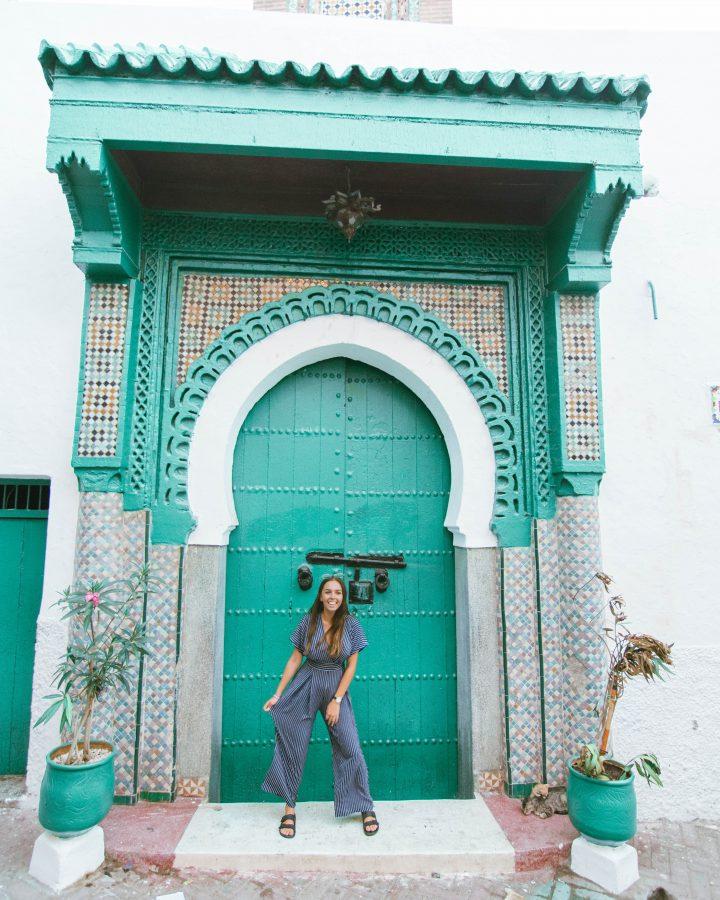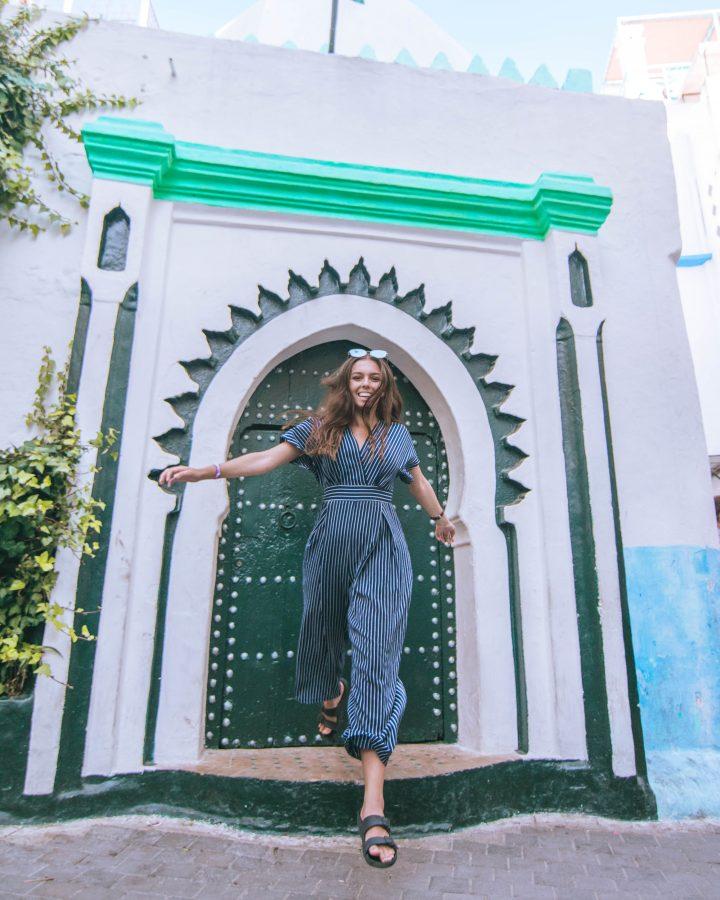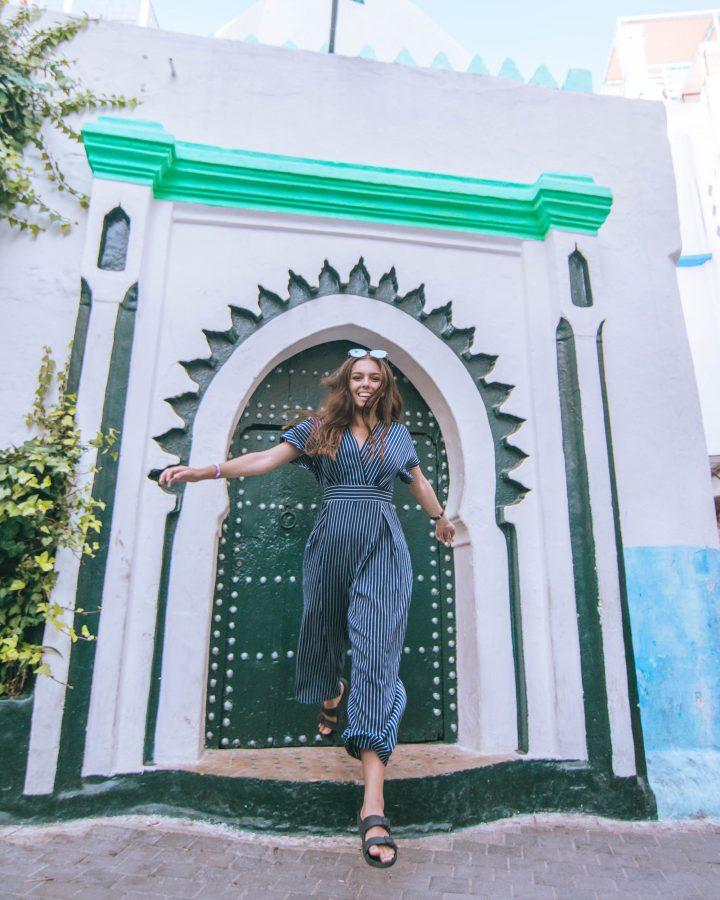 It was hard work I tell ya, so the massage I received during our quick visit to the herbalist was well deserved. The bonus of ridiculously cheap argon oil was also a highlight.
We had all worked up an appetite after trying to squeeze as much of Tangier into our limited timeframe so we were all very excited walking into our traditional Moroccan feast.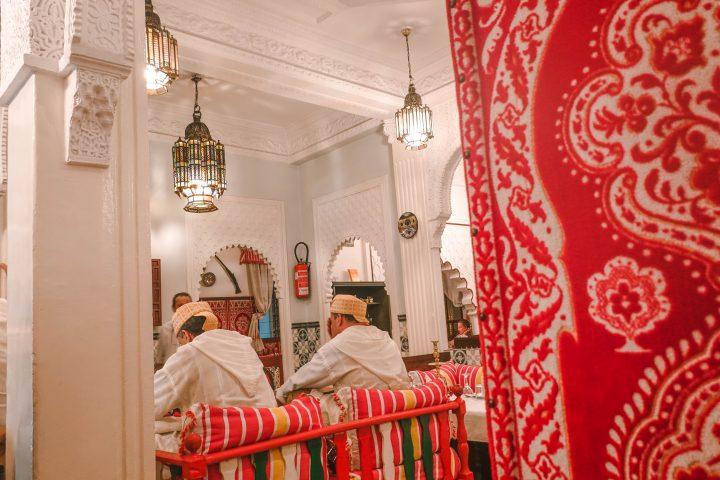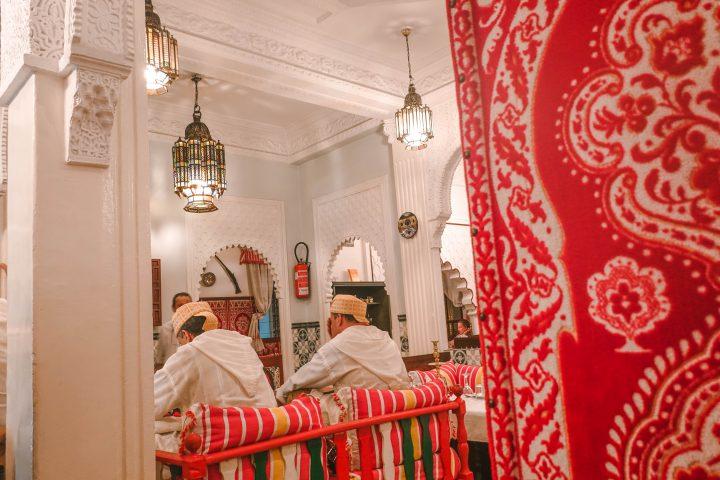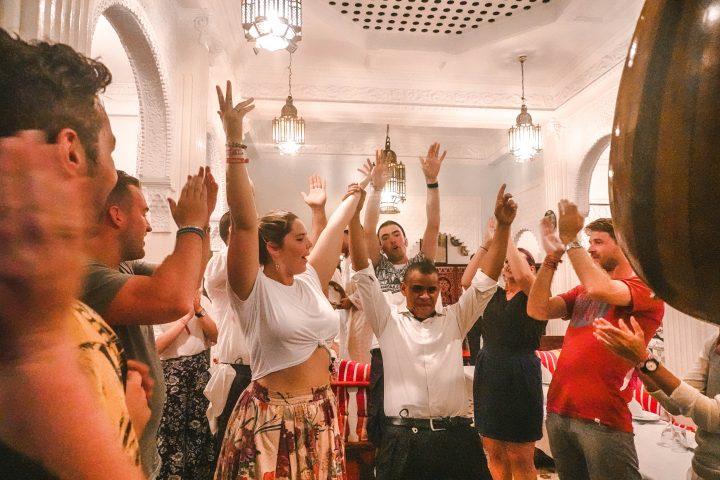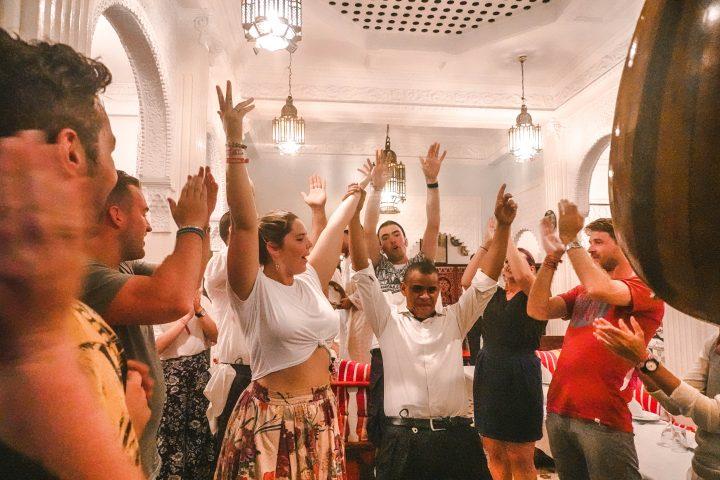 Serenaded by local musicians as we chowed down on course after course of Moroccan goodness. Immediately followed by dancing it all off.
The tiny taste of Morocco left me excited for more but it was time to ferry back to Spain and reunite with my phone.
Tarifa – Ronda – Granada
You thought yesterday was a long day, well, do I have a surprise for you!
I believe this was our biggest driving day yet, or at least it felt like it, with the endless windy roads making even the strong stomached feel weak. I need to take an anti-nausea tablet just thinking about it.
By the time we stopped at Ronda we all wobbled off the bus with a huge sense of relief. The fresh air had never felt better.
Although feeling a little off from motion sickness I couldn't contain my enthusiasm to test out the Spanish fast food chain 100 Montaditos for the first, but certainly not the last, time.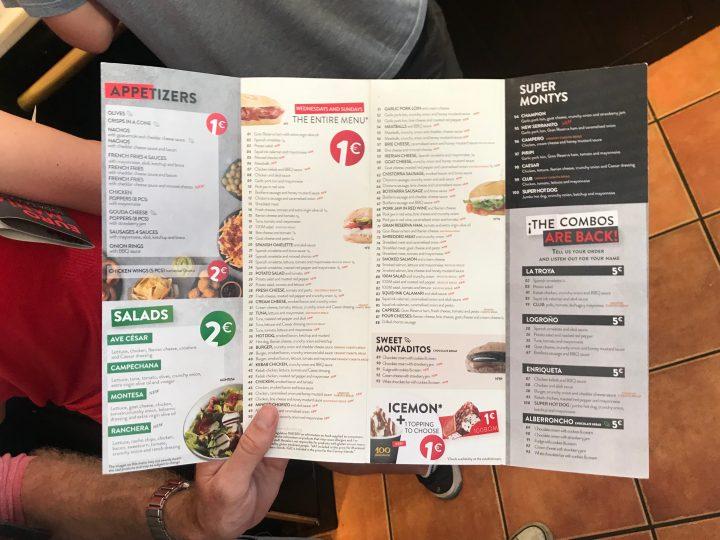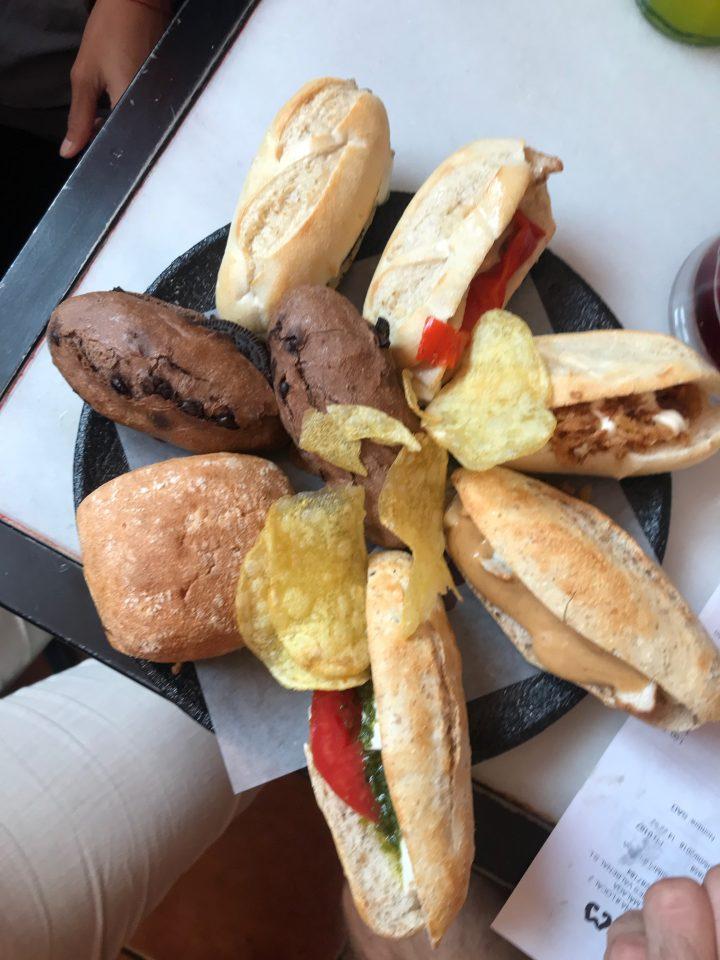 The name itself roughly translates to 100 sandwiches. Quite true to their name with a few extras here and there as the cherry on the cake.
We timed it well with there special day offer as all sandwiches were only 1 EURO. Not that their usually price ranging from 1.20 euros would have turned me away. However, it did convince me to order way more than I probably should have.
It seemed like a good idea at the time until Em and I decided to take on the waterfall hike. It may have been the end of summer but we were shining with sweat, struggling to breathe after eating so much and not dressed appropriately at all for hiking or a quick insta photo shoot but the view was so worth it.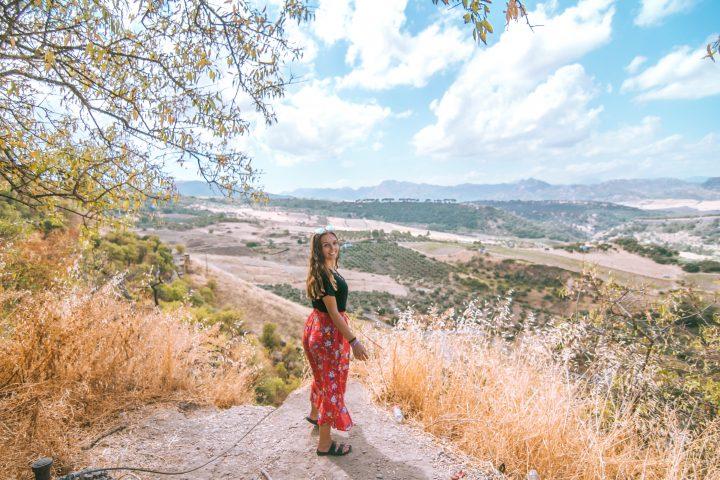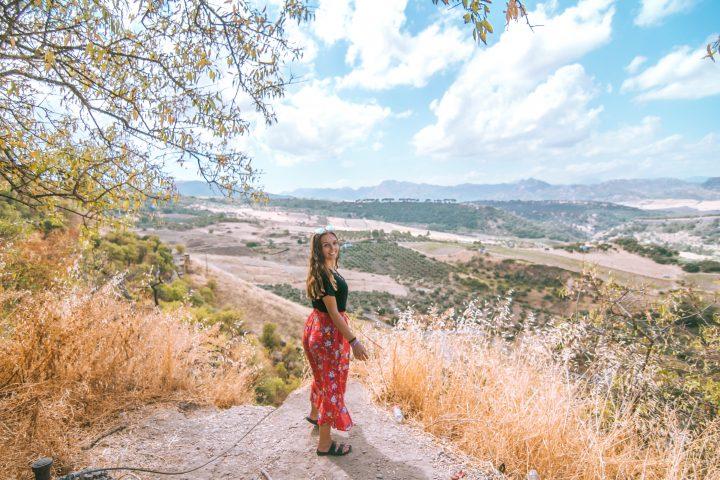 No matter how you are feeling at this point in the day, I encourage you to eat all of the montaditos and most importantly, push yourself to do this quick hike. You'll be falling in love with Ronda just like I did!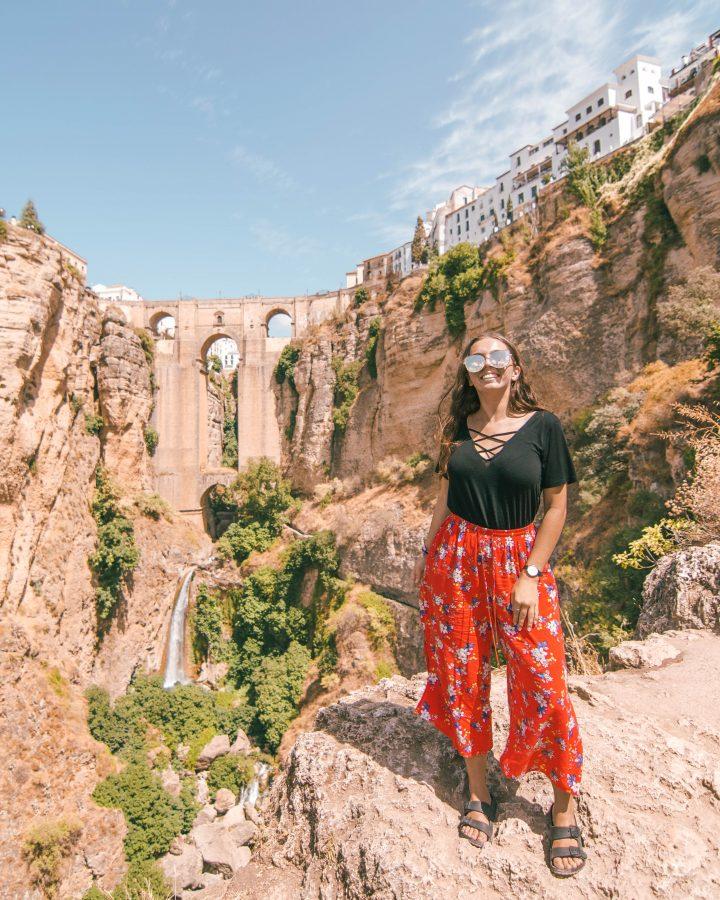 The roads slightly improved and my travel sickness tablets kicked in so it was smooth sailing all the way to Granada.
Not better way to top of another crazy day than tapas with all my new pals and my new favourite beverage, tinto de verano (red wine and lemonade).
Wait what, today still isn't over?!
Things just kept getting better on our Iberian Adventure with a Granada by night walking tour and a live flamenco show in the cave!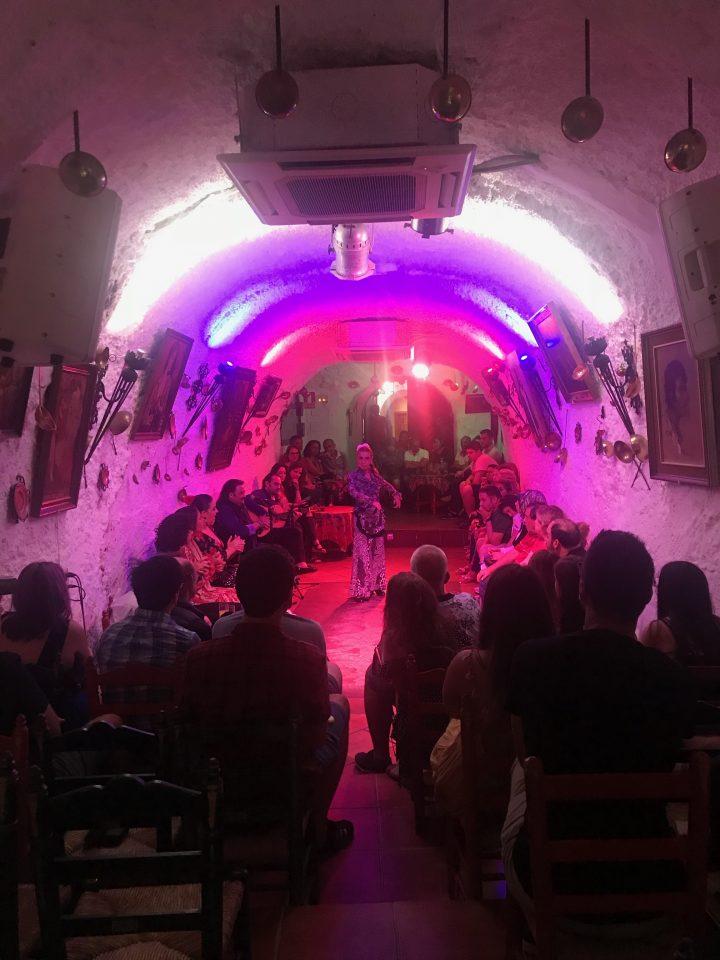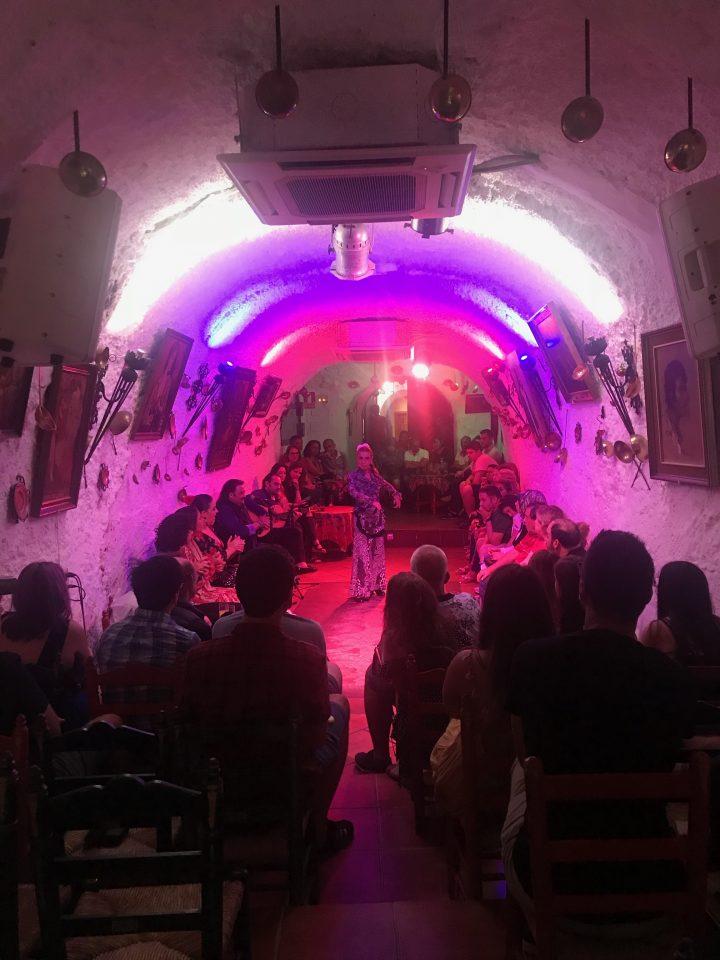 One of the most emotional and captivating performances I have ever seen paired perfectly with another glass of sangria. I was mesmerised by the power and each movement gave me chills.
I slept like a baby this night.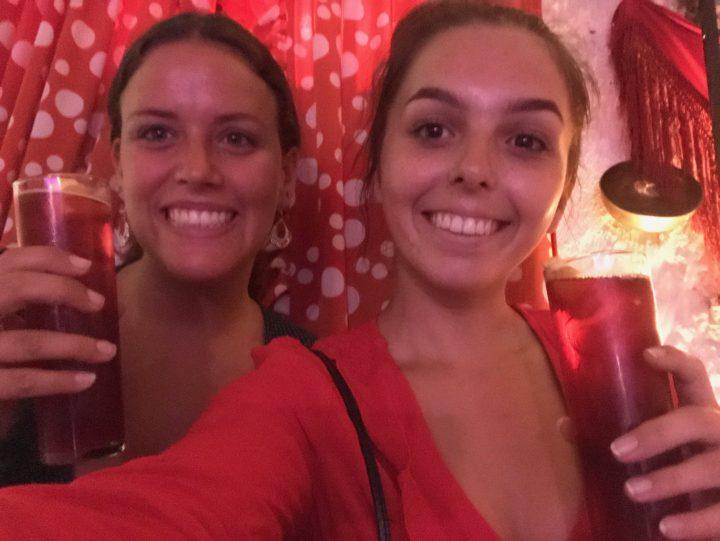 Granada
Setting off on another one of those 'early morning' Insta missions.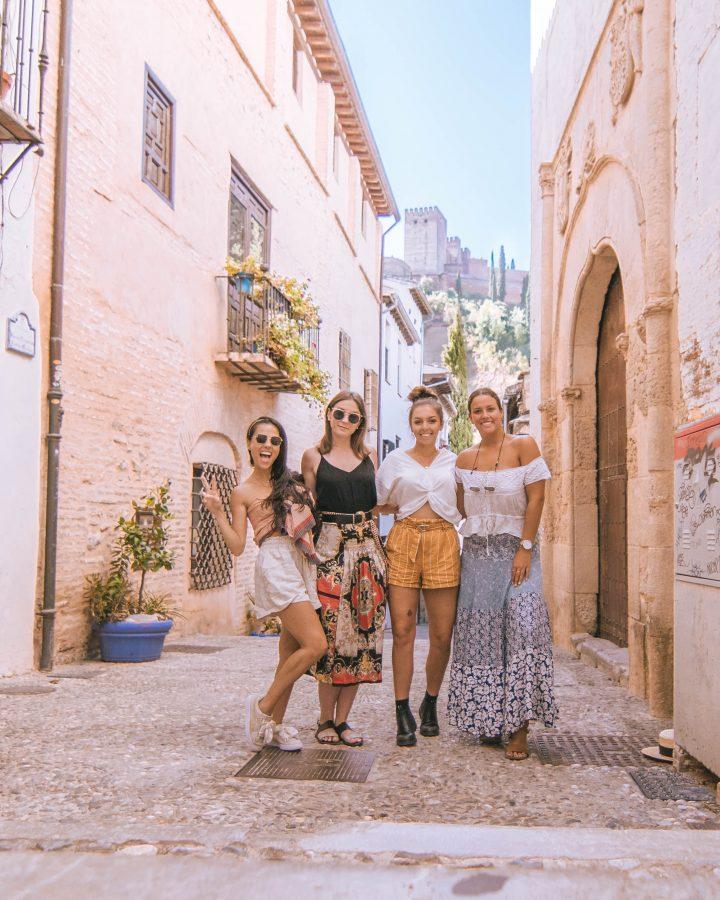 My two person team had doubled as one of the lovely ladies on tour was also an extremely talented jewellery designer. So, we set off to snap our way around the city showing off some of her gorgeous designs.
Getting lost in a new city is always one of the best parts of travel and it was ever better as it wasn't too hot yet. YET!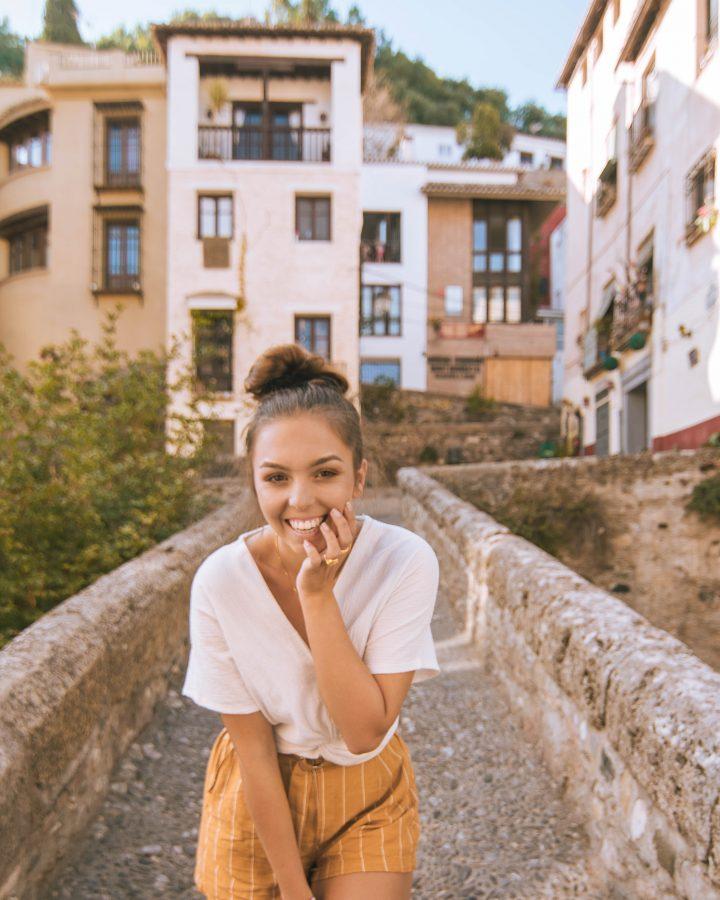 However, by the time we met up with the rest of the group to go on our 3-hour tour of the famous Alhambra, I was begging for air conditioning. Even as an Aussie girl I am not made for this heat hahaha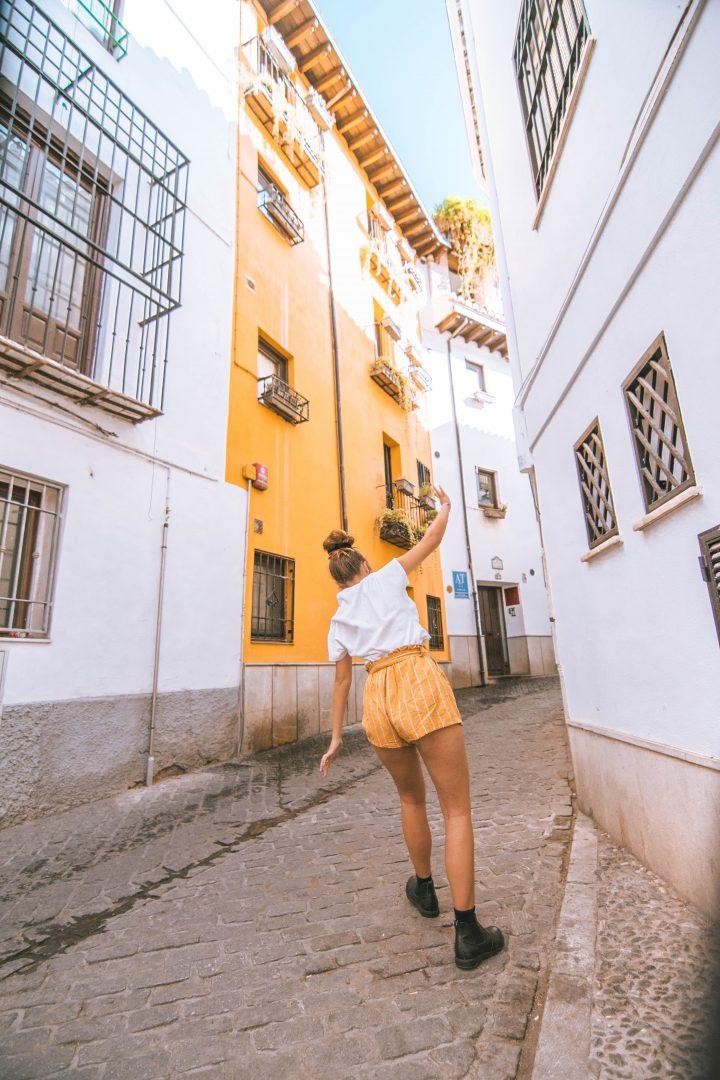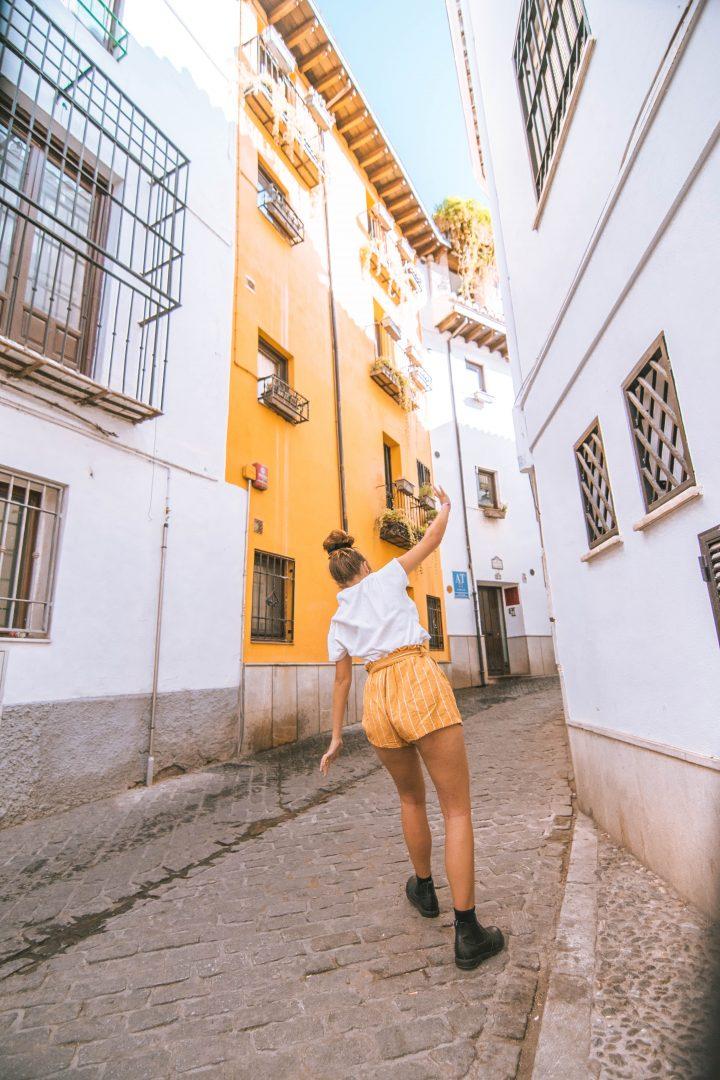 The Alhambra is absolutely stunning, flooded with history and complimented by the best views of Granada. In saying that I would have preferred to wander around myself, taking photos and really appreciating the beauty rather than having to follow around the whisper tour that you could only hear when you were a couple of meters away from the woman.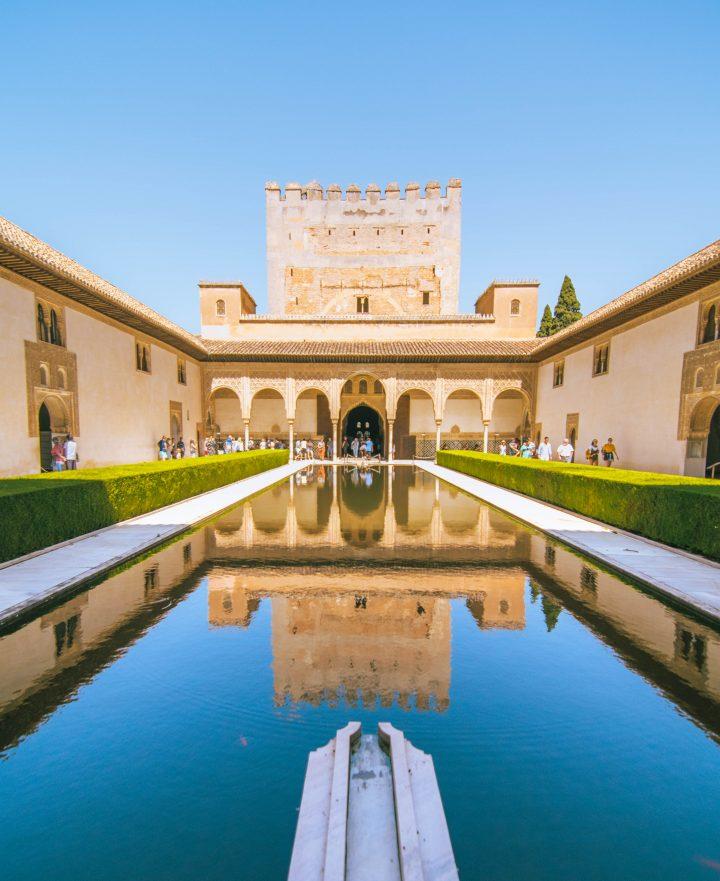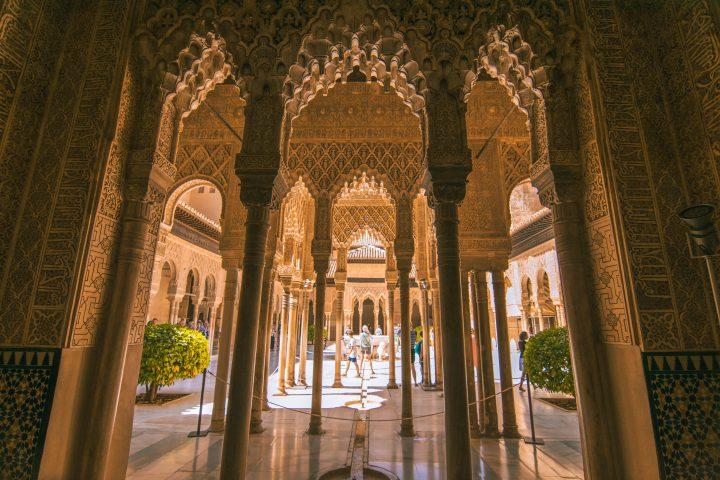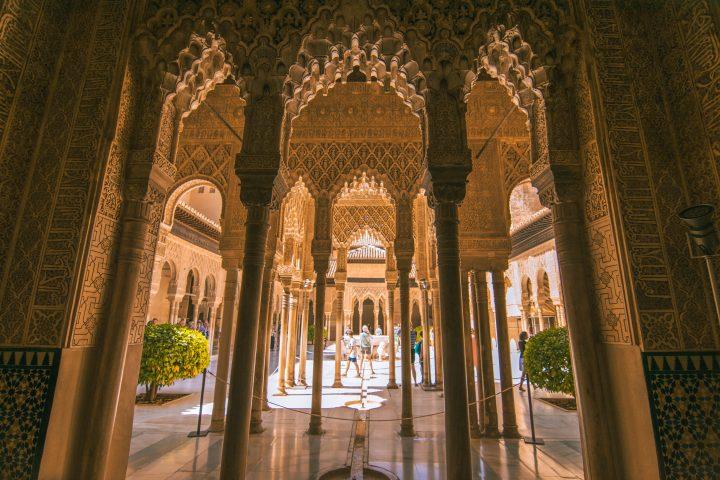 I am so grateful that Busabout got these very hard to come buy tickets and organised the tour inside. I am all about being honest though and this is just a little bit of constructive criticism for The Busabout Iberian Adventure.
For anyone else looking at purchasing tickets, try to get an early morning session as it will be the coolest and quietest part of the day!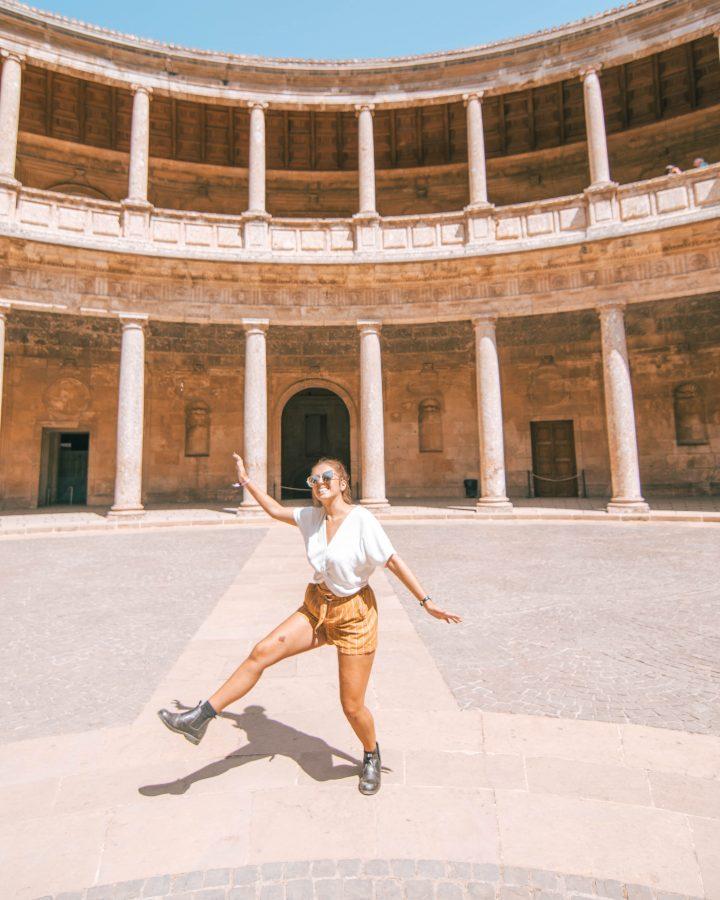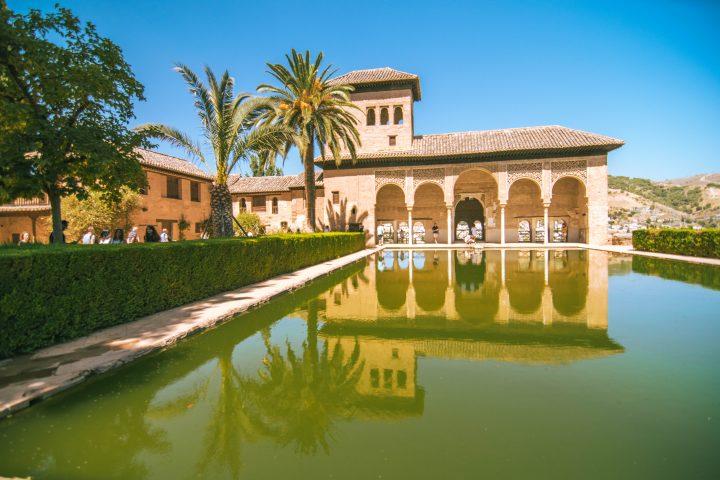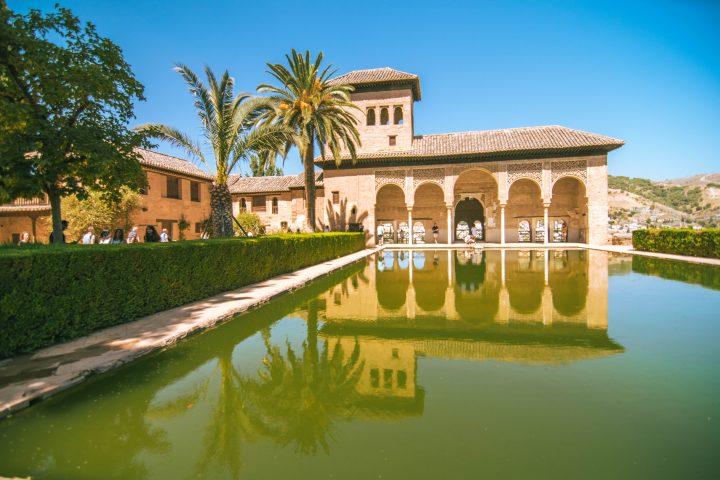 Starting to feel a little drained, no thanks to the increasing number of illnesses I kept collecting on my European Summer. Good thing gelato fixes everything and some of the best gelato in town was right around the corner from our hostel.
Recharged on ice cream and pizza, I was ready to take on another tapas crawl, or so I thought.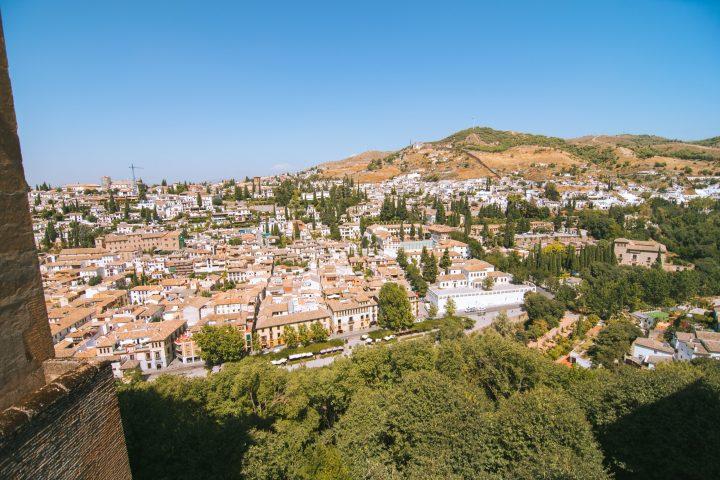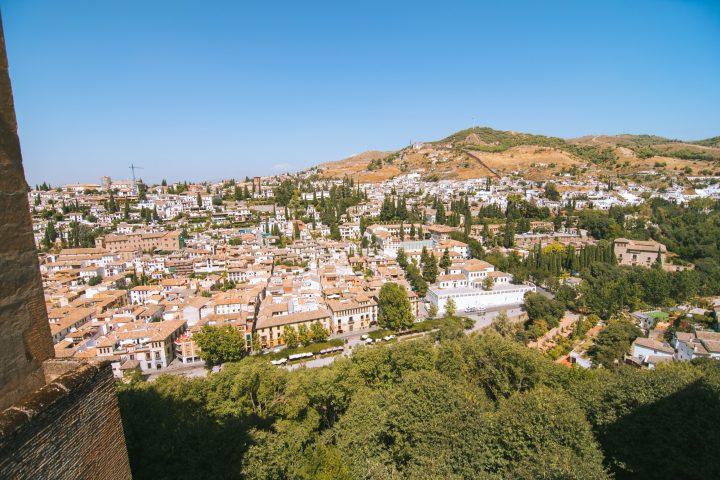 It was a new twist on a bar crawl where each place you would purchase your beverage (sangria for me of course) and receive your tapas. From traditional mushrooms to modern falafel or bagels.
Unfortunately for me an allergic reaction mixed with the illness that would not leave me alone drew my night to a close prematurely. However, I was somewhat relieved as I know we have another HUGE driving day ahead.
Granada – Consuegra – Toledo – Madrid
Another hard goodbye to a city that stole my heart so quickly. Not to worry as the sadness was soon replaced with an overwhelming sense of excitement as the Consuegra Windmills and castle came into sight.
Seemingly in the middle of nowhere, these giants looked over the valley, perched on top of the mountain.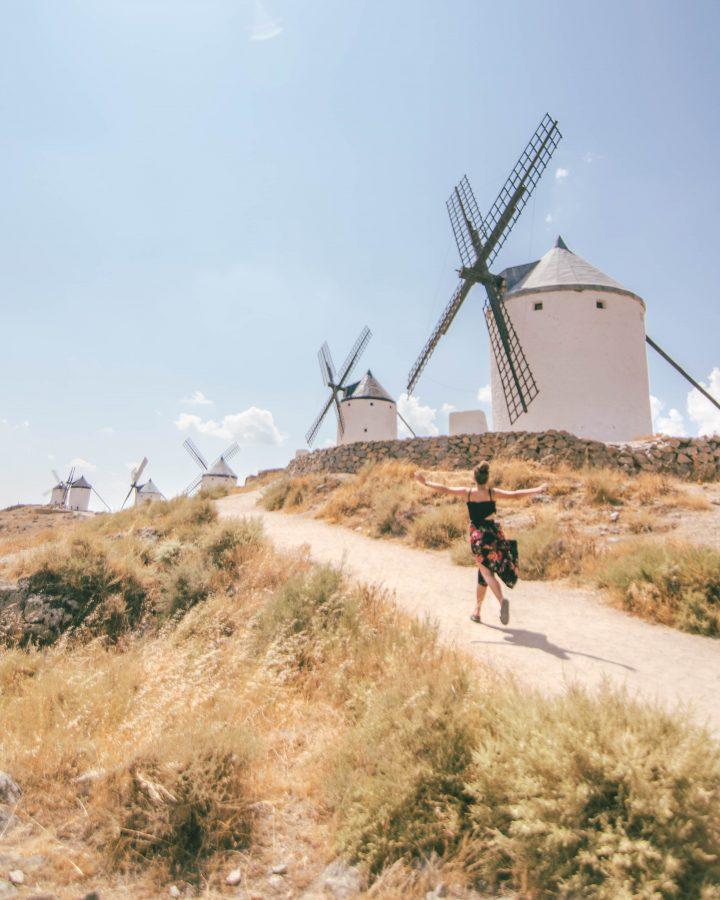 This was only a quick stop for us to stretch our legs and I must say it does beat any service station stop I have ever been to.
Although this did put time constraints on my Insta mission which was almost impossible with my camera no cooperating. Miracles do happen and I left feeling reenergised and with a couple of fun snaps.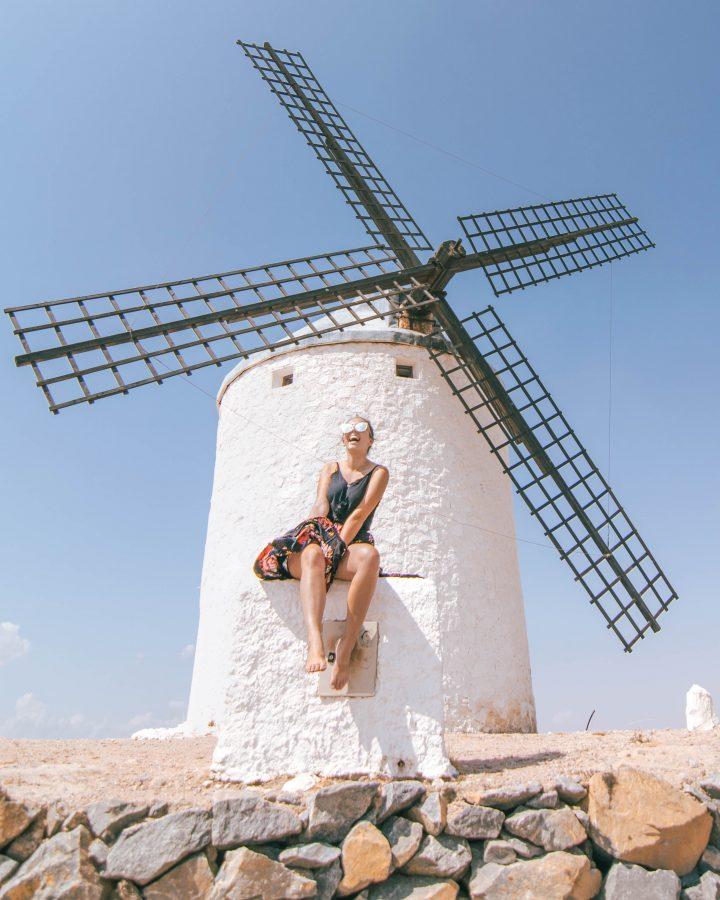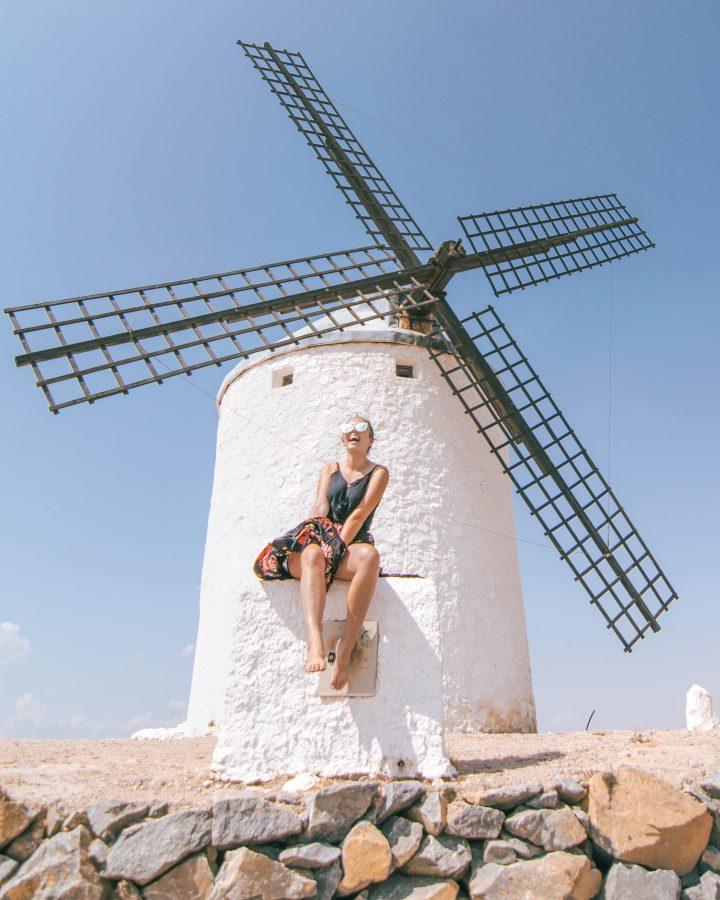 Making the most of our last day on the Busabout Iberian Adventure with the bus and crew we packed our drive with more fun facts, games, trivia and siestas. So, in what felt like no time we had made it to our last pit stop of the trip, Toledo.
Only an hour out of Madrid, this Medieval world heritage site boasts an abundance of impressive architecture and history.
To be honest, I needed a break from all of the impressive monuments Europe does all too well. Not only at this point in the day but by this point into my European Summer Adventure, I was feeling very run down and needed to find myself some food and some shade.
With pizza in one hand, a cold beverage in the other, and an ice cream waiting for me to finish while admiring the magic of Toledo from a perfectly placed step facing the Cathedral, I was already feeling better.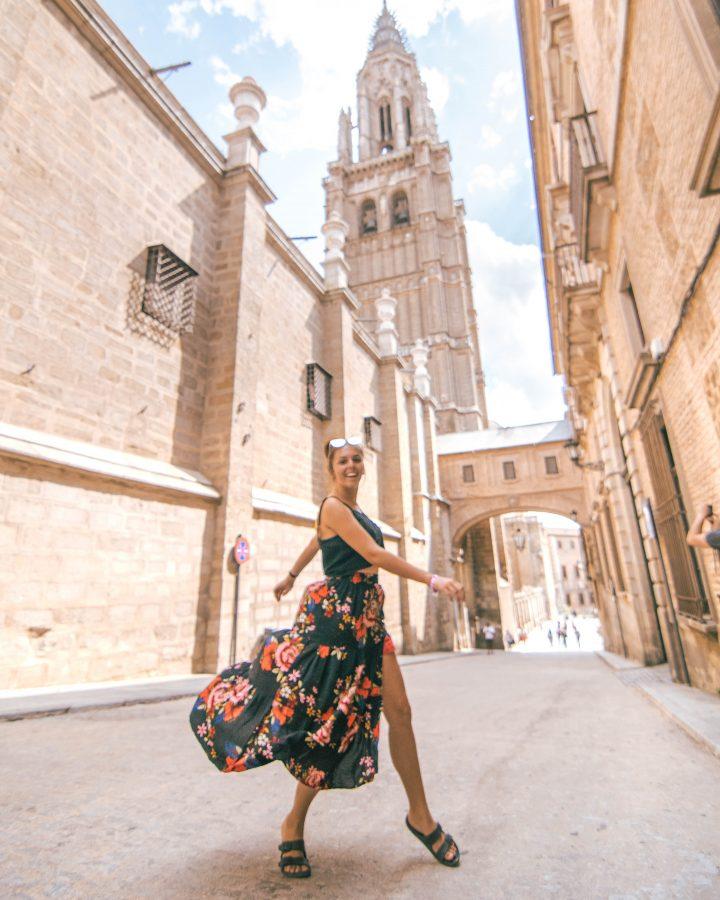 Waddling back onto the bus for our very last time on our Iberian Adventure felt very strange.
With Madrid just around the corner, it still hadn't kicked in that we were about to part ways.
It may have only been a week on this Busabout Iberian Adventure but that didn't making saying goodbye any easier as the friendships and memories I had made here we stronger than some I had made over my lifetime.
A bit about our Bus
The bus itself is surprisingly comfortable and not question about it, better than most economy airlines or any other bus I have ever been on for that matter.
All luggage storage is underneath the bus so you do not have to feel squished, in fact, the seats themselves are quite spacious on their own and more than efficient enough for napping. We didn't have a huge group either so more often than not there was plenty of opportunity to sprawl out across a few seats.
As mentioned briefly earlier, the Busabout bus had its own charging station with USB and regular outlets for you to choose from. With so many sockets to choose from there will be no need to fight it out with any other passengers for your charging spot.
And how about that food?
I had already spent some time with family in Spain, partying in Ibiza (by partying I mean, spent most of the time sick in bed) and taking on the worlds largest tomato fight at La Tomatina but the Iberian Adventure Busabout Tour gave me my first real taste of Spain.
Not only did it grow my love of Sangria to new heights it introduced me to the new love of my life, Tinto De Verano. What made it even better was that more often than not the beverages were paired with mouth-watering tapas.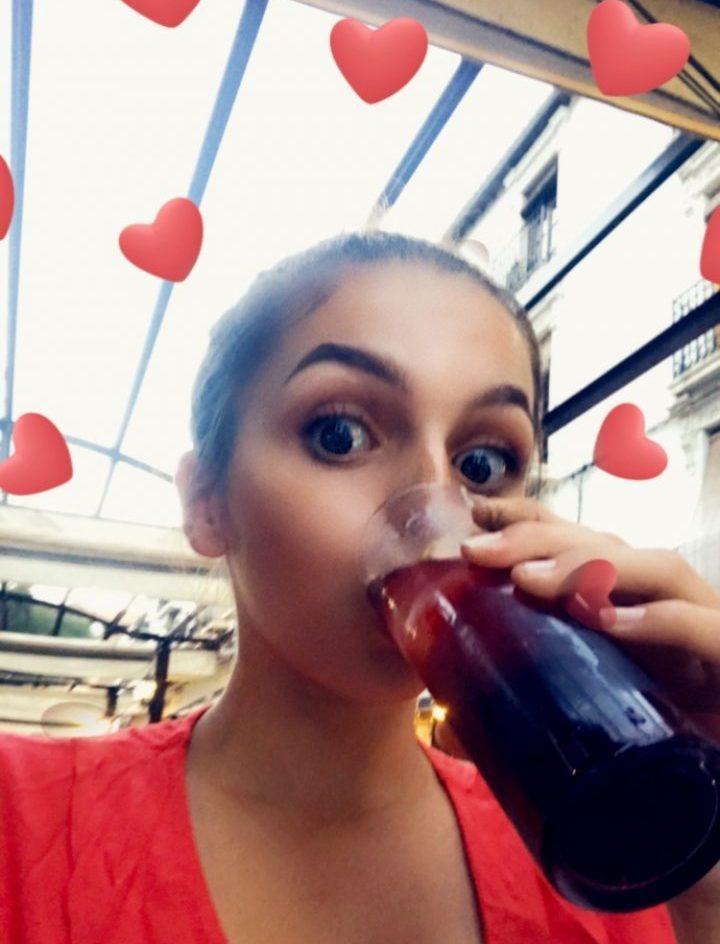 Speaking of Tapas, I had one of the best local food experiences of my life sharing tapas in Seville. My life will never be the same after that unbelievably magical meal that I never wanted to end. I am very close to booking a flight back right now to live it all over again!
In saying that, I was expecting to have good sangria and tapas in Spain but the biggest surprise was eating the best burger I have ever had the pleasure of eating during our Lagos trip. Sure, my experience was heightened a little thanks to the sangria buzz I had going on but even the Matador Network ranked the Toucan Burger from Nah Nah Bah Portugal in the top 50 burger in the WORLD.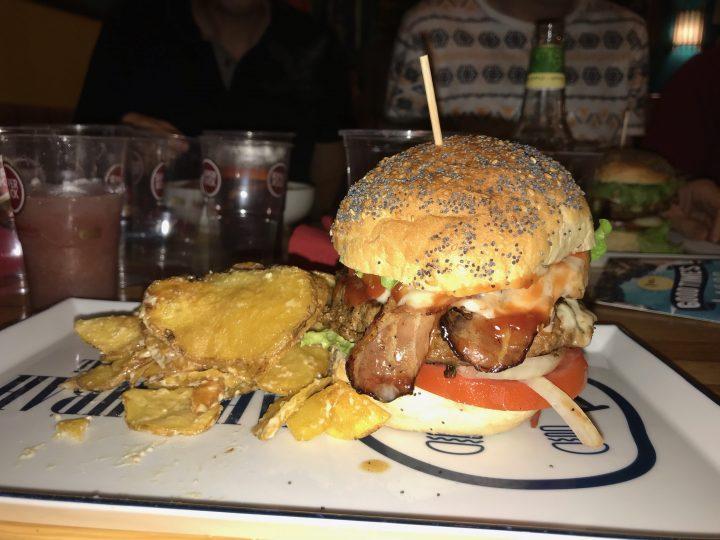 I can't forget about the surprising number of amazing burritos I devoured on this Iberian Adventure too.
Even fast-food shone with 100 montaditos becoming a new go-to for cheap eats for the remainder of my time in Spain. It is funny that once I knew about the chain I saw them EVERYWHERE for the rest of my trip.
If the history, breathtaking places, once-in-a-lifetime adventures, and the opportunity to possibly meet some of the best people you may ever come across in your life doesn't convince you enough to take on this tour you have to do it for the food!
Did I mention the people?
I have touched on this a few times thoughout this monster of a post but the people from my Iberian Adventure do deserve a paragraph of their own. Especially my temporary #instahusband for the week, Em who I couldn't imagine this trip without.
With some of the biggest age differences I have had on any tour I have been on, it really did not get in the way of forming some incredible friendship and having a bloody good time.
Even as this Busabout Iberian Adventure was one of the smaller tour groups I had been on, there were still the usual groups that form within the big group. Not to say that we didn't all get along but I certainly got closer with my little circle of beautiful, hilarious and adventurous chicks more so than some of the guys on the trip and that is totally fine.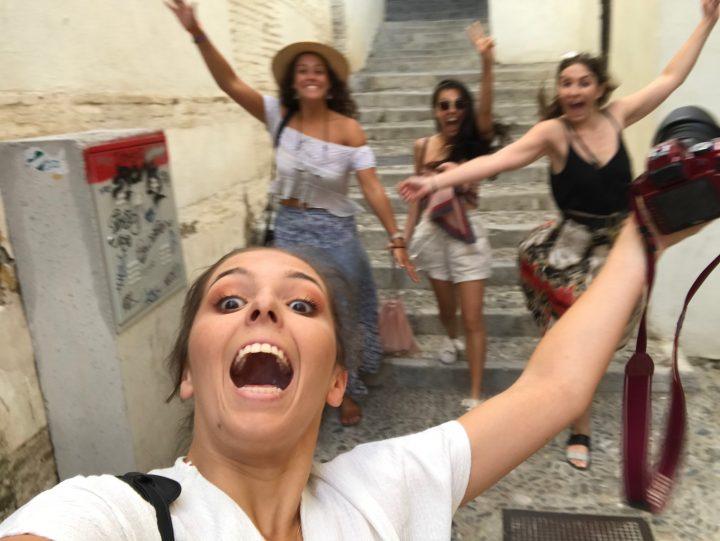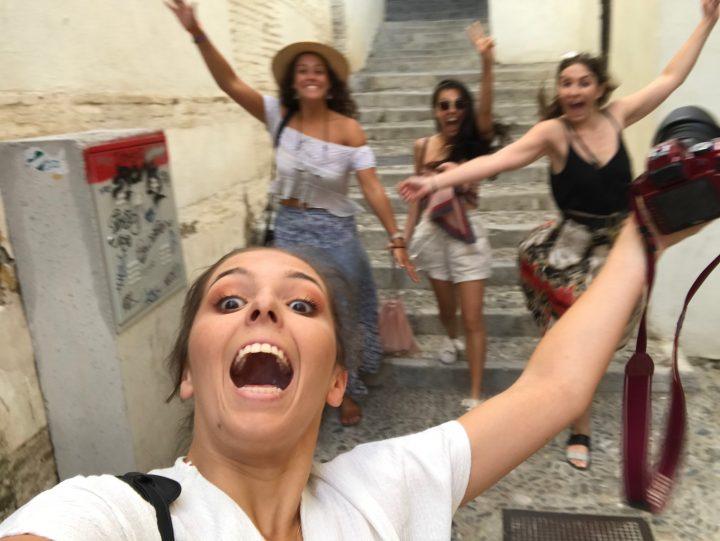 I say in most of these tour posts that a concern is not liking your tour group. Remember it is okay not to get along with every single person you meet but more often than not you are going to be pretty lucky with any tour group, especially in the Busabout network that is a major family on it's own during the summer period.
I hope this makes sense, sorry I am a little distracted still thinking about sangria.
Things to know before you go
You will likely become addicted to Sangria

If you plan on charging your phone on the bus, don't forget to pick it up before you run away

Be willing to taste absolutely everything, you won't regret it

Prepare yourself for one hell of a night on your Lagos Bar Crawl

You don't have to be a morning person to enjoy the benefits of early mornings thanks to the Iberian Lifestyle. 9-10am starts are perfect to explore the towns without the crowds and the heat.

Have your camera ready wherever you go, you're going to be snapping pics non-stop!

This will not be your last time on an Iberian Adventure, without or without Busabout

Download a few podcasts, movies, TV shows or music for the long bus journeys

You may need some anti-nausea tablets or handy hint: rub some tiger balm under your nose

Night time is for fiestas, bus time is for siestas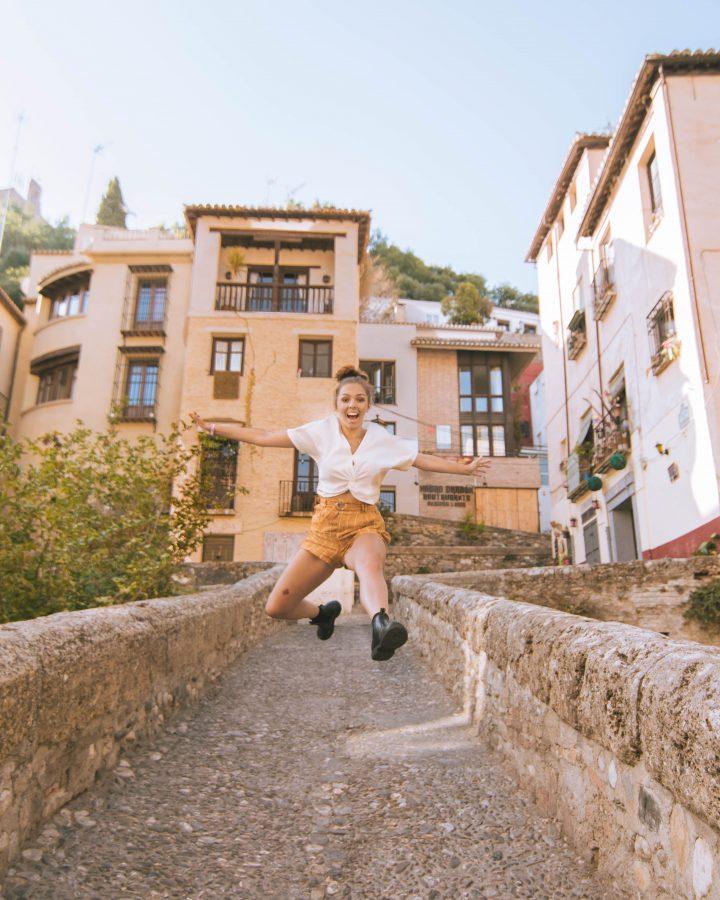 All in all, I am so glad the Busabout Iberian Adventure found its way into my life.
I went in with very little exceptions, almost forgetting where I was actually going and ended up leaving already wanting to do it all over again.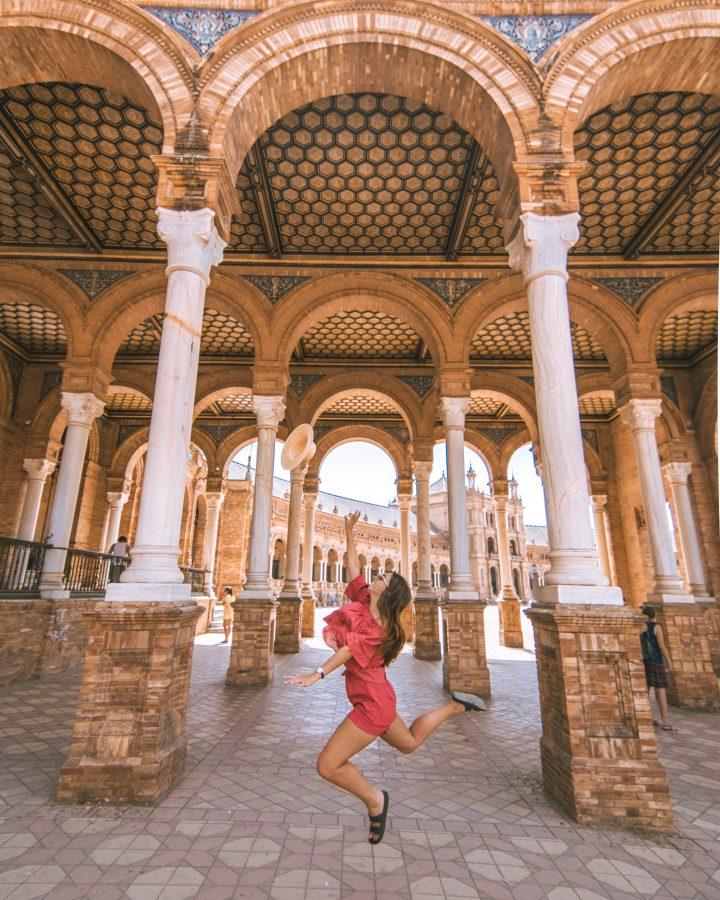 Within a week Busabout allowed me to make some amazing friends, take some of my favourite photos ever, stop by a new continent, taste some of the best food of my life, and explore 3 countries that have been underrated for way too long on my travel bucket list all within one wild week.
The flexibility Busabout brings even within their fixed tours like the Iberian Adventure makes these tours so worth it, not to mention the bargain price!
Take a chance on the Busabout Iberian Adventure or should I say the ULTIMATE IBERIAN ADVENTURE. Yep, Busabout just made this already extraordinary tour even more epic with more time, more destinations, and undoubtedly more sangria! I guess I'll see you there!