Experiences you won't ever want to forget, new friends for life, and capturing photos as awesome as your memories.
Back in 2020 (remember that year!) I released two awesome looking tours to New Zealand, asking people around the world if they would like to Wander With Me.
But before a single person had the chance to respond, the world closed its doors to travel and New Zealand would have to wait for another time.
Well, things are finally starting to look a little brighter on the travel horizon and, since I already have plans to be in Mexico for some other exciting business in 2022, I thought it would be a great time to ask that old question again…
How would you like to Wander With Me in Mexico?
Now at this stage I know I am going to Mexico, and I love the whole country and find it hard to decide where to go wandering. So I need your help deciding exactly where we should go. While these are wander with ME tours, they are all for YOU!
If you have any interest in joining me in Mexico in 2022 please fill out this survey form.
If you would like to know a bit more about the places I am looking at then scroll down and check out my short rundowns on each of them.
This town is probably best known as "Cancun's little brother" because of its location just an hour or so down the Highway. But, unlike Cancun, it still has a bit of a laid-back vibe and at least some Mexican charm. It also happens to be one of my fave places in Mexico.
Here are a few reasons I have selected Playa del Carmen as one of the tour options :
the food scene is pretty good here and my favourite restaurant in Mexico is just outside the main part of town.
there are some really nice beaches around with warm water, beautiful sand, and amazing beach clubs.
so many easy day trip options available. With the chance to visit incredible ruins, swim in cenotes, or take a snorkeling or sunset cruise.
Some fun nightlife options with plenty of clubs and bars.
It is the perfect introduction to Mexico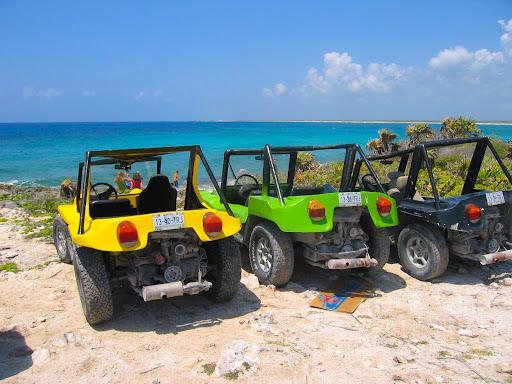 Playa del Carmen and Cozumel
For anyone who just read about Playa del Carmen and thought, "yeah, that sounds pretty good but I wish I could also spend a day or 2 on an island", I have just the option for you.
Cozumel Island is just a short ferry ride from PDC and opens up a different experience. I have only spent one night here but that was enough to make me want to come back.
Want to know why I think adding a night or 2 on Cozumel would be fun?
All the things at PDC still to be done.
Take a dune buggy or open-top Jeep tour around this tiny island.
Have time at awesome, secluded beaches where there is every chance we will be the only people for miles.
Experience some of Mexico's best snorkeling or diving right on your doorstep.
Almost get the whole town to ourselves at night after the cruise ship crowd leaves.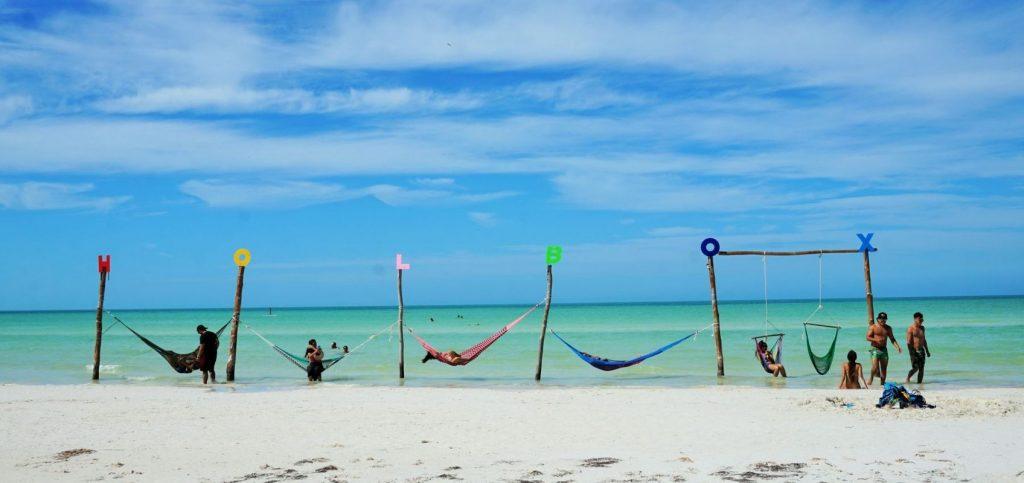 A little slice of paradise only a couple of hours from Cancun. On the North of the Yucatan Peninsula, this Island is possibly the most underrated in all of Mexico.
Its name may translate to 'Black Hole' but this small but mighty island is full of colour, character and FLAMINGOS!
But wait, there's more:
Be amazed by the wildlife from flamingos to whale sharks.
A chance to see, swim and/or kayak surrounded by bioluminescence
Chill out in the iconic Holbox overwater hammocks.
Get ready for some epic Island Hopping and day cruisin'.
How could you say no to zipping around a car-free Island in your very own golf cart!
Bacalar, Chetumal and Belize
If getting away from the tourist path and experiencing some of Mexico's "hidden" gems then Bacalar could be the perfect spot.
Known as the "lake of 7 colours" because of the different shades of blue in the water, Bacalar has topped my wishlist since I first saw it pop up in my insta feed.
We would mix it up a bit by having a few days chilling on the lake and then heading to the little town of Chetumal to get our food game in order.
And if we feel really adventurous, a short ferry ride can take us into Belize for a sneaky overnighter in San Pedro or Ambergris Caye.
So, why do I think this would be a great tour spot?
Some of the most beautiful scenery in the world. Think, BLUE ASS WATER! With no filters required.
Chilled, relaxed vibe and lots of watersport options.
Visit a manatee sanctuary!
Stay in a small town that still has its true Mexican feel.
Maybe add a quick visit to a second country for a different experience and another passport stamp!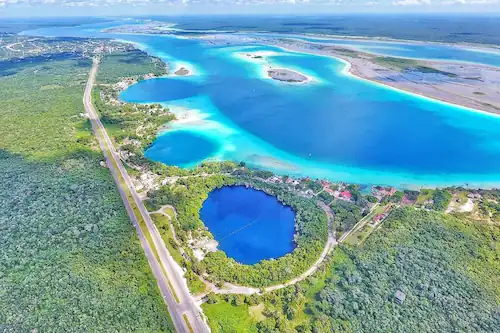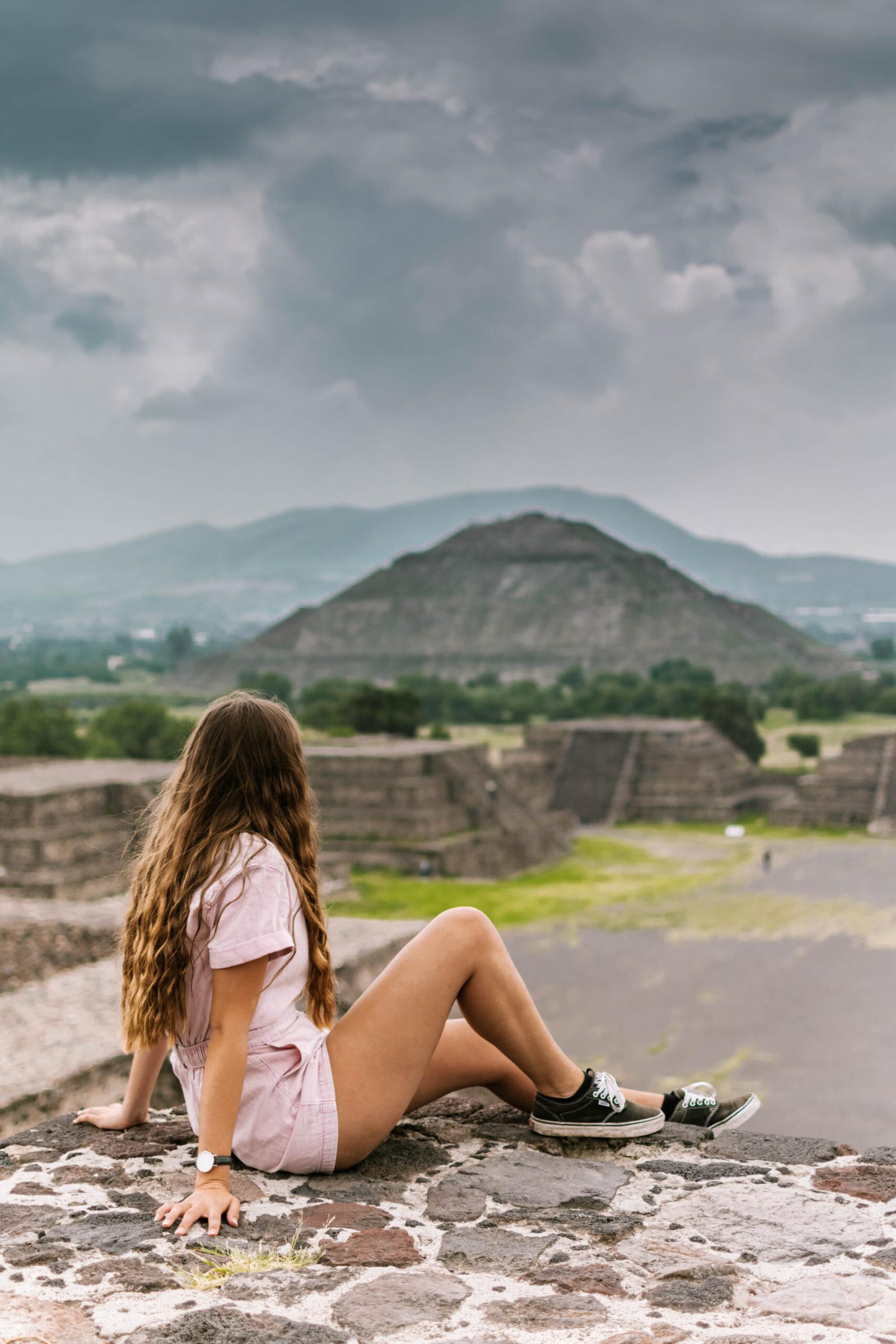 There's no beach time in this location but that doesn't mean it can't be an awesome trip. One of my fave big cities in the world, and one that felt safer than most big cities, because of the mix of colour, food, culture, food, history, and did I mention food?
Experience the true buzz of Mexico as we explore the cool suburbs like Coyoacan, home of the Frida Kahlo House, take a guided food tour through the busy central markets, visit the ruins of Teotihuacan, or cruise on a colourful barge along the canals of the "Venice of Mexico". I love Mexico City and I would love to show you some of my fave things to do and see there.
Shop at the massive bakeries in the city centre.
Tour Teotihuacan with an actual archaeologist guide.
Be serenaded by Mariachi as we eat and cruise through the canals of Xochimilco on our own party barge.
Food tours… and expect more than one.
Visit the awesome Museum of Anthropology or paddle your way around Chapultepec Park.
Eat many, many super cheap, and super delicious, tacos!
The most Mexican place I have yet to visit, Oaxaca is considered to be the culinary capital of Mexico. So expect to be eating awesome food the whole time. Think everything from chocolate, which is made right in front of you, to a bag of fries grasshoppers from a street cart in the Zocalo, and everything in between.
But Oaxaca (Wa-ha-ca) is so much more than just food. It's a place where tourists do not outnumber the locals, where the surrounding villages are filled with families of artists and craftsmen that have been making all those amazing souvenirs you see around the country, for generations. A place where family means everything and the locals love a good party.
Here is why Oaxaca deserves its place on the list.
Visit the unbelievable Monte Alban ruins.
Watch the local artisans in the surrounding villages go about their daily work, and maybe get some hands on experience.
Take a cooking class and learn how REAL mexican food is made.
Take a walk down "chocolate street" and then wander into the colourful markets nearby.
Shop for some of the best quality, cheapest souvenirs in Mexico, eat delicious street food, and experience Mexican life.