How would you like to join me on an epic New Zealand Road Trip?
It will be just you and me and a few more awesome people that are sure to become great friends along the way, and we will be exploring some of the most amazing parts of New Zealand's South Island. We will spend a night in jail (without getting a criminal record), see some of the clearest skies you could ever imagine, brave the cold weather for a dip in the natural hot springs, have a memorable bar crawl in the adrenaline capital of the world and so much more!
Want to know what I include in your tour price?
Minibus transport from Jucy Rentals.
Airport pickup and drop off.
10 nights accommodation in great Hostels, Hotels and an amazing apartment.
Breakfast supplies and water for refilling your bottle.
Get to know each other at an awesome pizza party lunch.
Have a colourful Big Night Out Bar Crawl in Queenstown.
Ride the Queenstown Gondola and race on the mountaintop luge run.
Fish and chips by the beautiful Lake Wanaka.
A fun Pub dinner at the base of Mt Cook.
Hike to the Glacier at Mt Cook.
Thermal pools, ice skating and snow tubing at Lake Tekapo.
Try to keep warm under the best blanket of stars you will ever see.
Delicious farewell dinner in Christchurch.
Donuts of course. What else would you expect on a Wandering Donut Tour?
A few things I don't include.
You are responsible for arranging your own flights to meet me in Queenstown and depart from Christchurch. I can help you find the best options but do not have the ability to book them for you.
You are responsible for your own travel insurance. It is a condition of this tour that you must have travel insurance to join us.
And this is where we will wander.
Sunday Day 1 : Meet me and your fellow wanderers in Queenstown.
Good news! When you arrive at Queenstown Airport I will be there to meet you in person. I may even bring donuts!
It's not likely that you will all be on the same flight but I will be there every time to meet you and take you back to our amazing apartment that will be home for our first five nights. Tonight's dinner will be something simple, either a chance to wander into town or maybe we all chip in for something easy to share.
And then we rest before really starting our adventure the next day.
Monday Day 2 : I give a talk and then it's Pizza Party time!
I supply the ingredients for breakfast but believe me when I say that someone else should do the cooking. We can all help out a bit and then spend a bit of time listening to me going on about some of the things we will be doing over the next week and a half.
Lunch today is at one of the best Pizza places I have ever eaten at and I guarantee you won't be hungry by the time we leave. After lunch we can walk off our new pizza babies by taking a leisurely walk around the town and along the water's edge. It's a great town to explore and there are some places you will want to take note of and return during some of your free time.
Tonight you can do as you please. I am always happy to make suggestions and we will probably all end up going out together or chilling at home anyway.
Tuesday Day 3 : High adventure and a Big Night Out.
Brekkie at home again before we head out for some of the best views of Queenstown. If you have a fear of heights then close your eyes and hang on to your travel buddy while we ride the Gondola to the lookout high above town.
We will be having some fun this morning racing around the mountain top track on luges, which are basically cool non-motorised Go-Karts.
This place is also home to one of the famous AJ Hackett Bungy towers and an incredible zip line course, so if you are interested in doing either of these activities this would be the perfect time to save you having to buy extra gondola tickets.
Free time to get some lunch and then through the afternoon but make sure to be home in time to get ready for what should be a memorable night out (unless you drink too much and don't remember anything!)
I did a Big Night Out Bar Crawl last year and it was so much fun that it I knew I had to include it this time round too. It includes entry to a number of Queenstown's top nightclubs, some free drinks, games and awesome prizes which may include Bungy jumps, Jet Boat rides and much more.
Wednesday Day 4 : Free day.
Today you can do as you please. Maybe you want to take a day trip to the stunning Milford Sound, maybe you were lucky enough to win something awesome last night and plan on doing that, or maybe you just want to wander around town or chill at home taking in the views.
If you would like to do any of the day trips or adrenaline activities just let me know. If we have a few people wanting to do the same thing then I can definitely reach out and try to get a better price from the supplier.
Thursday Day 5 : The search for snow.
Today we are on a mission… to seek out snow and explore the mountains around Queenstown.
If all goes to plan then we will be transported to one of the surrounding ski fields to play in the snow for a few hours. July usually has enough coverage to make it interesting but these days you just can't be sure.
No snow? Don't worry too much as we will still head up into the mountains for some of the most spectacular scenery you will ever experience.
Friday Day 6 : Goodbye Queenstown, hello road trip!
After brekkie today we pack the vans to head off on the next leg of our adventure. This morning's drive will stir the landscape photographer in all of us as we head through the cute, historic town of Arrowtown on our way through mountain passes to Wanaka.
We eat traditional fish and chips on the edge of the lake in a place so picturesque that one of my Instagram heroes has decided to call it home. And she could live anywhere in the world. See who can be first to spot THE FAMOUS WANAKA TREE!
Saturday Day 7 : Glacier day at the top of New Zealand.
Back in the vans this morning for the drive to Mt Cook where we will spend the night in the village at the base of New Zealand's highest mountain.
But before we get there we will take a hike to see the Tasman Glacier. It takes a few hours for the round trip but totally worth it even though it nearly killed me last year. If you follow my adventures you may recall how I misjudged the distance and didn't take nearly enough water, I won't make that mistake again and will make sure you don't either.
This afternoon we settle in to our ideally located accommodation and get together for a good Pub meal and a bit of fun through the night.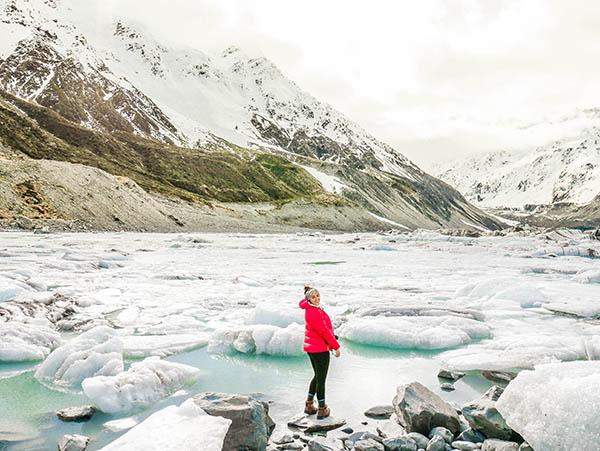 Sunday Day 8 : Another lake, a church and a blanket of stars.
Just when you thought the scenery couldn't get any better it goes ahead and blows your mind.
Today we drive by the mesmerising Lake Pukaki. You'll be begging the driver to stop just to get a picture of this insanely stunning Lake.
From one beautiful Lake to the next we are off to Lake Tekapo, home of one of the cutest little lakeside churches in the world, and probably the most heavily featured one on sites like Nat Geo and Discovery.
After dinner we will rug up in our warmest clothes and check this place out for ourselves. If there are no clouds it won't take you long to work out what all the fuss is about as we experience one of the most dazzling displays of stars anywhere in the world.
It is also recognised as being one of the most likely spots to witness the Southern Lights or Aurora Australis. So if we are really lucky we will be able to tick this off the list.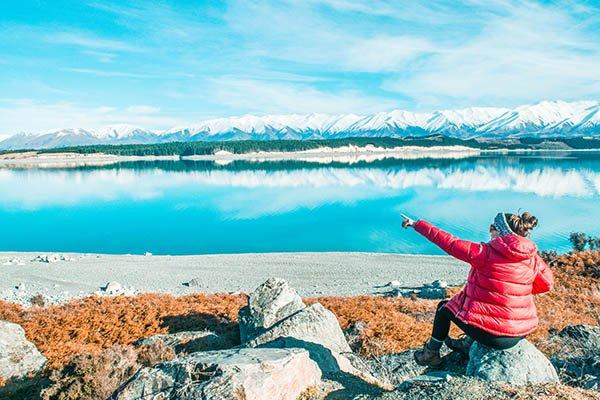 Monday Day 9 : Ice skating, snow tubing, bikinis and board shorts!
With this heading your first thought may be WTF! But believe me when I tell you that today we will rug up for some winter fun before stripping down and splashing around in some glorious natural hot springs.
Sure the air is freezing cold but come on in, the water's lovely.
Tonight we have another chance to experience that amazing sky and hopefully catch a glimpse of those elusive Southern Lights.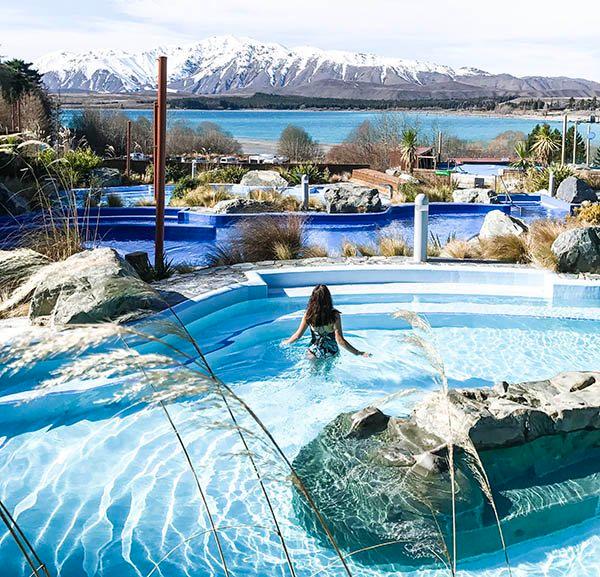 Tuesday Day 10 : Working on the chain gang.
We leave Lake Tekapo this morning for the final leg of our journey.
Unfortunately we will be going straight to jail. We will not pass go and we will not collect $200.
Fortunately the jail is no longer a place to punish criminals but has been converted into one of the coolest Hostels I have ever visited. After checking in to our cells we will do a bit of exploring Christchurch where we will see the progress they have made rebuilding the city but also plenty of evidence of the destruction caused by earthquakes in recent years.
It's our last night together and that means we need a special dinner to celebrate our time together and reminisce about the awesome things we have just done.


Wednesday Day 11 : So long, farewell, auf wiedersehen, goodbye.
Sadly it's time for me to take you to the airport and I feel like I miss you already.