Everything you need to know about the Wandering Donut and a whole bunch of other nonsense that you probably didn't NEED to know, but you will soon!
If you have lurked the Wandering Donut on social media or just stumbled across this blog you have probably been thinking…
Who is that weird girl in these pictures? What is a Wandering Donut?
Well, Hello there! My name is Dana Williamson, a perfectly imperfect Aussie who is legally defined as an adult and travel influencer but to be honest, is still trying to figure both of those things out.
I'm not your typical #instagirl with flowy dresses and I don't think I will ever master the natural laugh or perfect twirl shots. I think the only shots I will master are vodka and tequila! In fact, I am probably the reality of an #instagirl in the case of expectation vs reality.
I am your occasionally photogenic, awkwardly relatable internet friend with one of the sassiest passport photos you may have ever seen and am now about to tell you a little more about the mess that is my life, whether you like it or not… (but, I really do hope you like it)
It was inevitable that I would have an extreme case of wanderlust after all both my parents have the travel bug and I was on my first overseas adventure before I was even born, however, I was stuck in my hotel womb the whole trip so I didn't really get to experience much.
Besides a few little trips in and around my beautiful home of Newcastle, Australia it wasn't until I was 8 that I had my first real taste of travel on a family trip to the USA and Mexico and now, at 20, I feel extremely lucky that I can say I have been to more countries than years I have been alive.
After graduating High School in 2015, with a qualification in Tourism and quite a bit of anxiety, a world of opportunity opened up (literally!) and I was ready to grab life by the donuts! Some people might take that last bit as a metaphor but I literally mean, I am going to grab life by the donuts which brings me to the next chapter of this very strange biography…
Why donuts?
Why not donuts is the real question!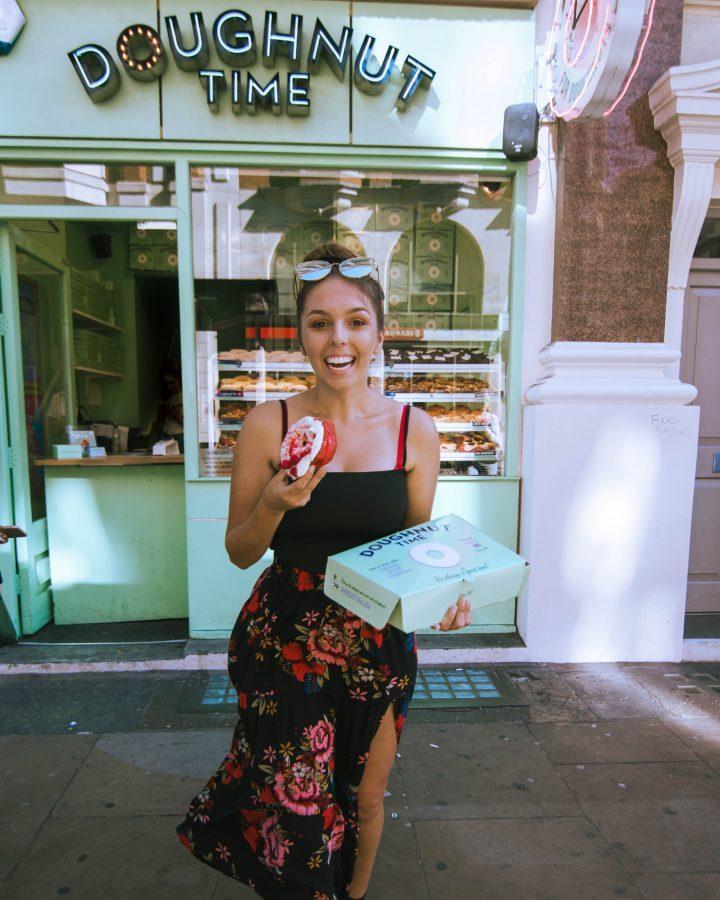 Not only are donuts one of the most magical creations on earth but it also happens to be one of my many nicknames. You see, growing up in Australia it is common to be given many nicknames during your lifetime. Apparently no one thinks the name your parents gave you at birth is suitable, and sometimes your parents seem to agree.
I, Dana Williamson, have had more nicknames than flights I have been on (I lost count around 60). These range from Daz, Dazzy and even Dazzlelicious, but the one that inspired the name of this blog is Donut, the name given to me by my family and best friend, I can only assume because I started to look like a donut after eating so many. Then as Donut I began to wander with no intention of stopping and in late 2015, voilà, the Wandering Donut was up and running on the World Wide Web.
The Wandering Donut is so much more than me as a person. It is a place to fall in love with destinations, drool over donuts, crave some funky foods, open your mind and wander with me!
Plus, there are so many basic travel blogs out there and for my very own magical creation I wanted to be so much more! What better way to do that with something that is so irresistibly delicious! Seriously, who doesn't love a good donut or two….dozen!
But wait, there's more!
Not only did I want to be more than your average travel blog, I want this to be your escape from the miserable things that seem to clutter our newsfeeds and often our life.
I want this place to be so aggressively bright and vibrant that you may feel the need to get your sunglasses out and so ridiculously ridiculous that you can't help but smile. Most importantly, I want you to feel safe in this weird and wonderful part of the internet where I share the weird and wonderful things life provides.
I am a girl with a few social media accounts and a blog who gets lost more often than I would like to admit, accidentally drops my luggage more than luggage handlers do when unloading the plane, has the strangest case of the hiccups you will probably ever come across and is extraordinarily excited to share my inescapable desire for travel and donuts with you.
Last but not least…
With the Internet filled with single female travellers and luxury travel couples, I just never felt like I belonged. After all I'm too awkward to be glamorous, prefer sweatpants to ball gowns, donuts to fine dining and while the #instagirls gracefully float around the infinity pool on an inflatable swan I am more likely to be clumsily draped over a blow up donut with my butt in the air and head under water.
Sure, I am usually a bit of a cheap b*tch but I am also all about that treat yo self lifestyle too. One night I might be cooped up in a 12 person dorm sweating in places I have never sweated before due to lack of airconditioning and the next I might be living it up in 5 star all inclusive resort sipping cocktails by the pool. (unfortunately my travels see more sweating than cocktails, but there's nothing wrong with that)
The point is I am just a female traveller with a sprinkle of donuts and whether you are exactly the same or even a little different I want you to feel welcome.
So this is me, and here's to more adventures and donuts!